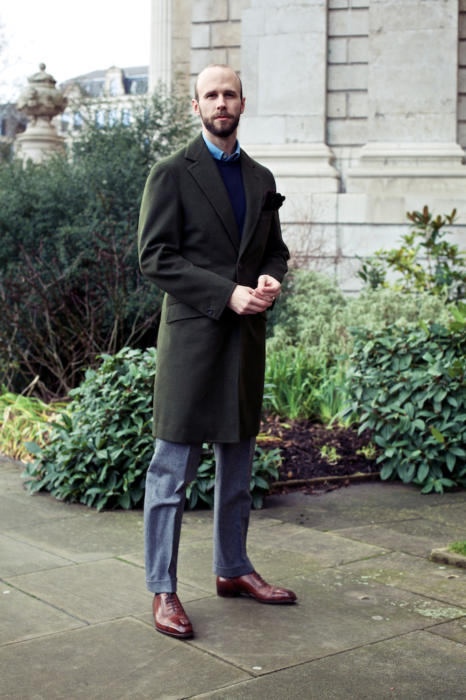 At the end of last year I began a project to create a versatile top coat with Sartoria Vergallo – the Italian tailor based in Varese that I have used twice in the past, for a navy cashmere suit and a silk houndstooth jacket.
The aim of the coat was to create something that could be worn over both tailoring and knitwear, so it needed to be cut quite close over a jacket and be adjustable at the waist. I also wanted it to function with the collar up, ideally buttoning at both the chest and chin.
Gianni, the cutter at Varese, is very adaptable – along with his fitting skill and excellent value, it is among the reasons I turn to him. He suggested a shirt-shoulder, as used on Neapolitan jackets. This would enable the coat to sit over both a jacket's padding and my sweater-clad shoulders more easily. He also put no padding whatever in the coat's shoulders themselves, just canvas.
Next, the waist. It is not easy to create an adjustable belt on the back of a coat without having unused buttonholes showing, which is a little ugly. My camel coat I had made at Graham Browne had a lose strip of material that fastened onto buttons, which was both a little simple and left the unused buttons exposed.
Our solution was to have one show button (left, in the image above). Behind that button are two poppers that enable the belt to be moved across. You can achieve the same thing with small, hidden buttons on the back of the belt, but that is harder to adjust when wearing the coat. As you can see, the right-hand side then adjusts as expected, with one buttonhole and two buttons.
This solution has worked very well in the two months I have been wearing the coat. I can even loosen the belt when I get on a bike, for example, and tighten it again when I get off at the other end.
We also included top and bottom pleats as per the Martingale style. The bottom pleat buttons up, and is made entirely with folded material. Many tailors cut the cloth in order to make it easier to construct.
On to the front of the coat. It is a one-button shape, but cut so that the lapels fasten at the chin, using the lapel buttonhole. The problem with such a design is usually that the lapels bow outwards between the two fastenings. Even a three-button coat or jacket, as my Caliendo one is, has this problem.
Of course, if you place another regular button between waist and chin, there would be a buttonhole in the lapel, which is not ideal. (You can see that effect on my Cifonelli tweed.) Gianni's solution was to place a small button beneath one lapel, and a loop of silk on the other side, with a keeper so it could be tucked flush to the cloth.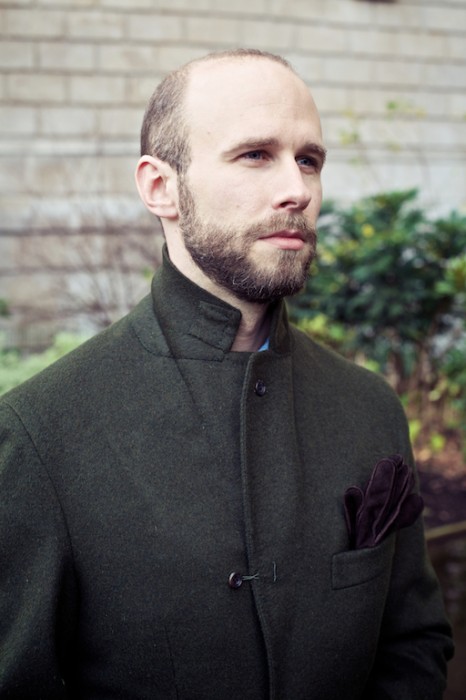 As you can see, this functions well in keeping the jacket together. It is also a nice and subtle style detail. However, the silk is a little too flimsy to be used easily and cannot be fastened one-handed. We did try a strip of the overcoat cloth but that was too thick. We're working on alternatives.
The only other thing I will change at some point is the lapel buttonhole. Gianni's finisher made a good stab at a Milanese, but I hadn't considered that it would become distorted when used. A regular buttonhole is better for functionality.
The cloth is original Loden, which is best known for its use in the deeply vented Loden-style overcoats. It is a dense cloth with a short nap that gives a more rigid feel to the coat. As with a heavy worsted, it looks particularly lovely when tailored bespoke, flowing cleanly over the chest and back.
Gianni charges €2000 for such a coat.
*UPDATE*
I forgot to add that Gianni also suggested a vertical slit for the left in-breast pocket. This has worked extremely well, as it enables me to reach in and get my wallet without unbuttoning the mid-lapel loop…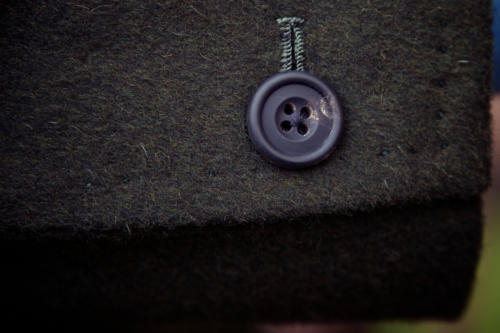 Photography: Jack Lawson