The cap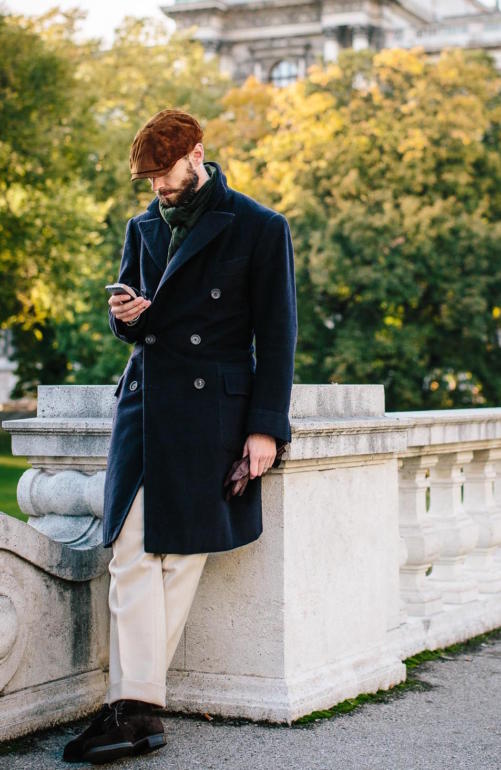 If styled right, a cap is a wonderfully useful accessory.
Not as formal as a fedora, yet not as casual as a beanie, it can bridge a greater range of outfits than any other hat.
When the temperature is in single figures, and your lack of hair makes a hat a necessity, this makes a good cap extremely valuable.
But as with many hats, they require some thought as to shape, proportion and colour in order to suit the wearer.
The basics are similar to buying a good fedora or trilby: you want something that echoes the proportions of your face (and to an extent your overall body shape).
So if you have a large, round face, you need a larger, rounder cap.
Of course, caps don't have the same number of permutations as a hat - brim width, crown height, crown taper. But the way the body of the cap is cut makes a surprisingly big difference.
For example, I always used to think that eight-piece caps, as I'm wearing here, were too big and floppy for me.
The vast majority are, but they don't have to be. You can still make an eight-piece model that is relatively trim, it's just that most aren't made that way.
I happened to try this cap at Lock & Co last year (the Indie suede model) and noted that it suited my face better than most - particularly with the brim enthusiastically bent and rounded.
Unfortunately, they had just sold out of my size (59) so it wasn't until last month that I was able to buy one. They also made it in a slightly darker shade of suede this year, which is much more versatile.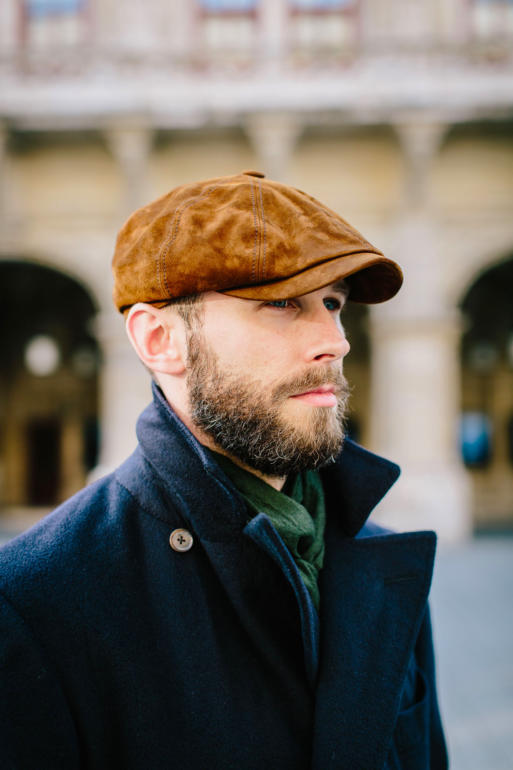 The other cap I have is a navy Wigens cashmere model from Trunk. The fact it's dark makes it more versatile than the suede, and it's Storm System-treated which makes it a lot better in the rain.
It is a classic flat-cap style, made with a single piece to the body. And yet the proportions are very similar to the Lock & Co eight-piece: rounded around the top of my head, but not flopping over to one side or the other.
I find the other Wigens caps too narrow and small in the head for me, so it's not even a case of a particular brand being of one type - just the model.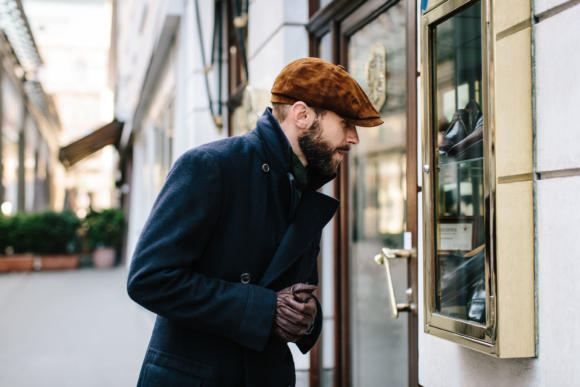 As mentioned, body shape is also somewhat relevant.
A larger or taller man will find it easier to wear a larger hat of any sort; smaller or shorter men may be better with something neater. But consider face shape first.
In terms of style, anything that makes a cap seem more personal and worn-in will help - like that rounded brim.
And try to keep the formality of the outfit roughly in line with the cap. A hairy Harris tweed is not going to work with a worsted suit.
Finally, I would say that as with much of what we discuss on Permanent Style, this is how to master the basics: how to dress subtle, simply and elegantly.
A short man with a thin face can look great in a big, floppy newsboy cap. But it will be a question of fashion and character.
If he's still wearing that style in five years, credit to him. But it's unlikely.
Elsewhere in this outfit:
Cashmere overcoat by Cifonelli tailors, Paris. (Perhaps my favourite ever bespoke piece.)

Green cashmere scarf by Loro Piana.

Cream trousers in super-heavy wool by Elia Caliendo (from the Holland & Sherry Pardessus bunch)

Suede chukka boots by Saint Crispin's. (More on those separately.)

Peccary gloves from Lavabre Cadet.
Photography: Jamie Ferguson @jkf_man