The styles of overcoat (and how to design one)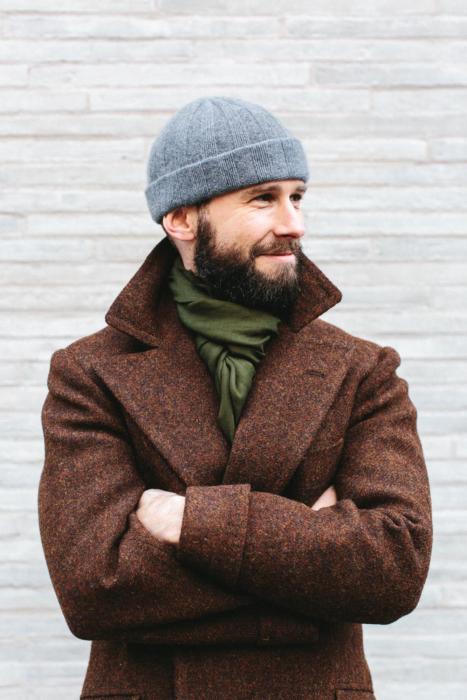 Anyone interested in buying or commissioning a new coat will be thinking about styles right now - what they are, what they're called, what their relative advantages are.
In this piece I'm going to set out the basic options, and my brief opinions on them. On formality, warmth, and other aspects of practicality.
It will focus on tailored coats - so nothing more casual like a trench coat, blouson or duffle. Those are usually best bought ready-to-wear (though a future article on an outerwear capsule will include them).
And it will not go into detail about cloth. There is a much more comprehensive article on that here.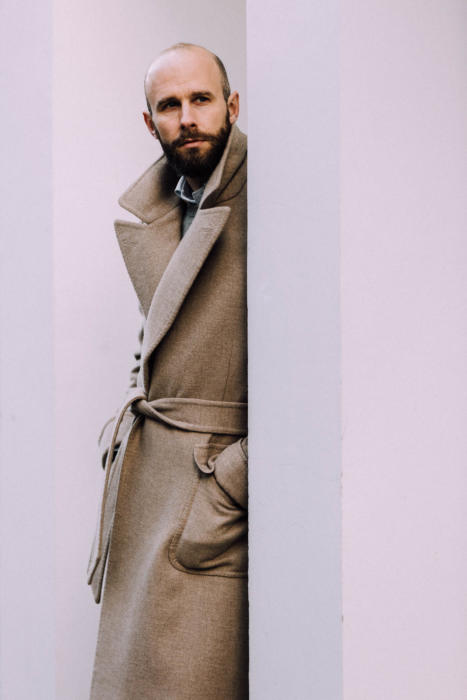 The first thing to say about names of coats is, don't assume everyone uses the same ones, or indeed has heard of the names used in online discussions.
Different countries have different cultural references, and hence different names. Tailors know the styles they make and the styles they were taught. Their frame of reference is often no wider than that.
Names are useful, because they put a label on the image you have in your head. They collect together a bunch of characteristics under a single term.
But don't assume that everyone knows what a guard's coat is. If you stride into a tailor and request a paletot, you might be met with looks of confusion, even bemusement.
So, I recommend focusing on the constituent parts of these styles. Break down what you want into its characteristics: single or double breasted, peak or notch lapel, length and cloth and buttons and so on.
This article will be organised along those lines, with the styles being mentioned more as examples.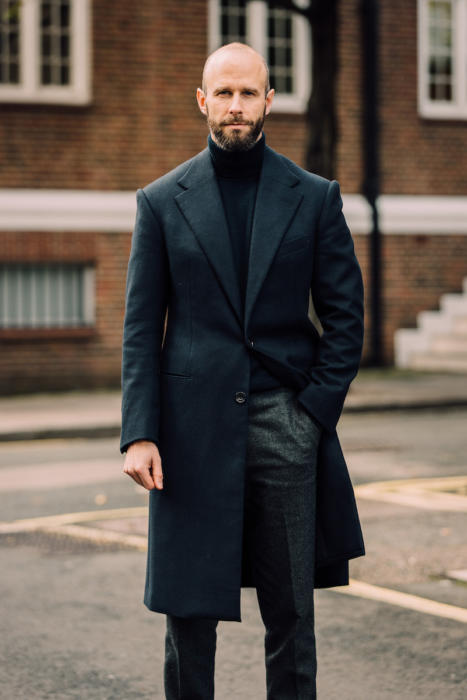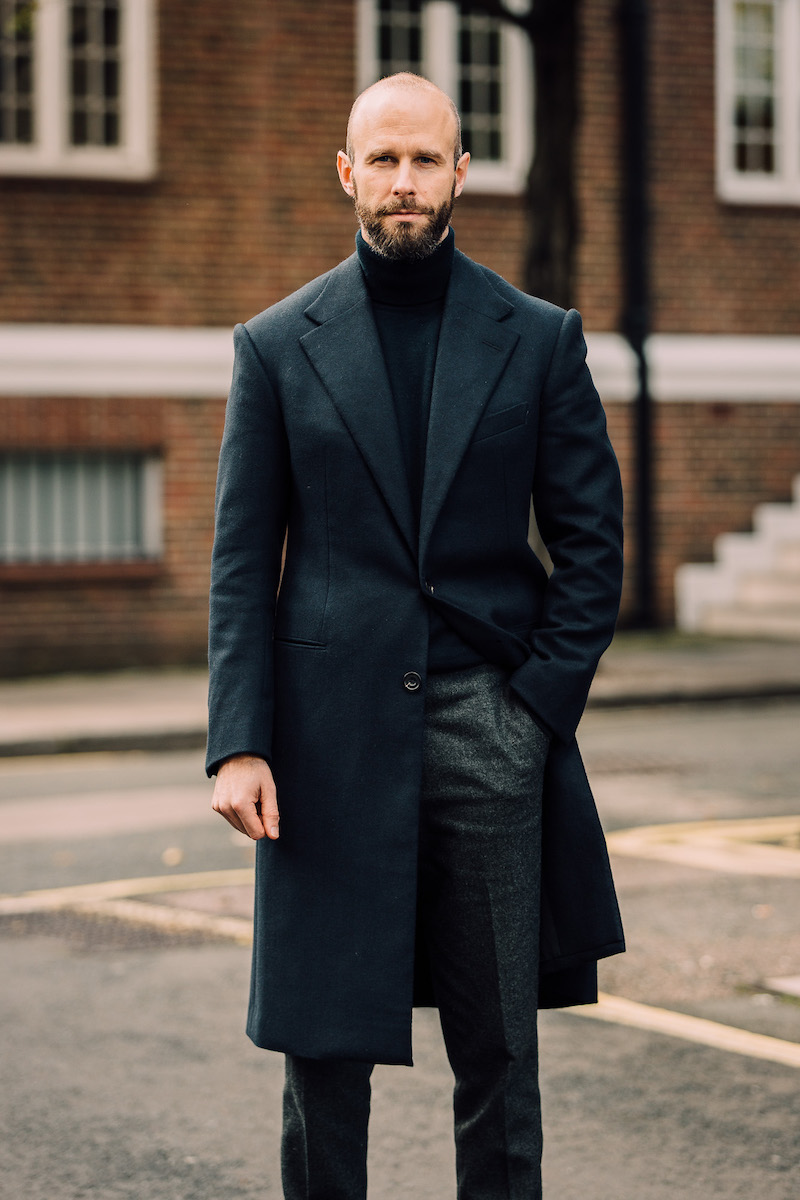 Length: Overcoat or topcoat
The first decision with an overcoat is what weather you want it for. How cold does it get where you live, and when during the year do you want to wear it?
This affects several things, including cloth and double vs single-breasted. But the first thing it determines is length. A shorter coat is - all other things being equal - less warm than a longer coat. As a result, coats intended for warmer weather are traditionally shorter - usually on or just above the knee.
A coat of this type is usually referred to as a topcoat. It's usually in a lighter weight cloth, but can be single or double breasted. The example above was made by Michael Browne.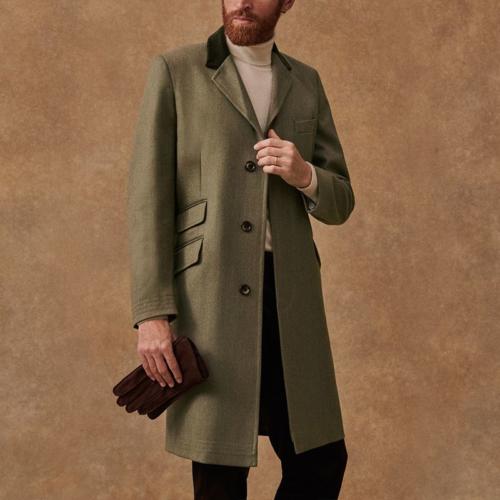 Other types of topcoat include a covert coat (above), which is defined by the covert cloth it is made from - a tightly woven twill that is also great for trousers (though it can be a little shiny, so fairly formal).
This cloth makes the covert coat very hardy, harking back to its country origins. It is often in colours like fawn and olive too, and has multiple lines of stitching on the cuffs and hem, intended to prevent rips getting out of hand.
The coat often has a fly front, and sometimes has velvet on the collar (another practical addition - as the velvet could easily be replaced).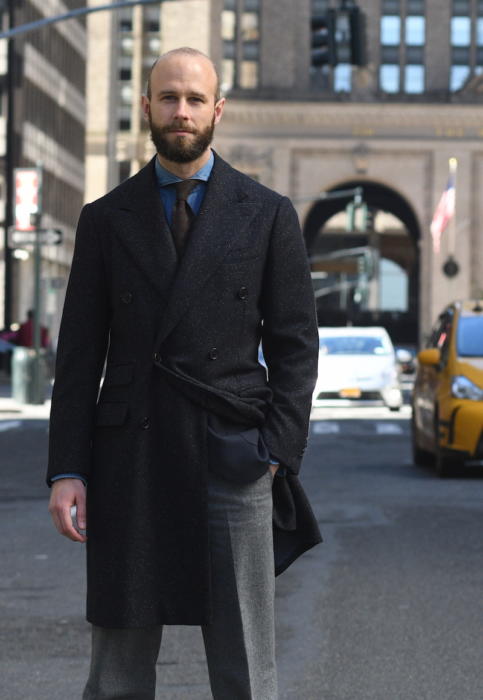 Double breasted or single breasted
The second choice to make is whether the coat will be single or double-breasted.
Personally, I'm a huge fan of double-breasted coats. This is because DB tailoring is so flattering and stylish (particularly if made bespoke) yet a coat is one of the last ways it can be worn. Anyone can wear a DB coat to the office; not everyone can wear a DB suit.
A double-breasted coat will always be a little smarter and more formal than a single, but not as much as with a jacket. It will also be warmer, and easier to add style details to (such as a belt or cuffs).
It is often thought that a double-breasted coat must be longer as well - an overcoat rather than a topcoat. But that isn't necessarily the case, as you can see with my DB topcoat from Ettore de Cesare, above.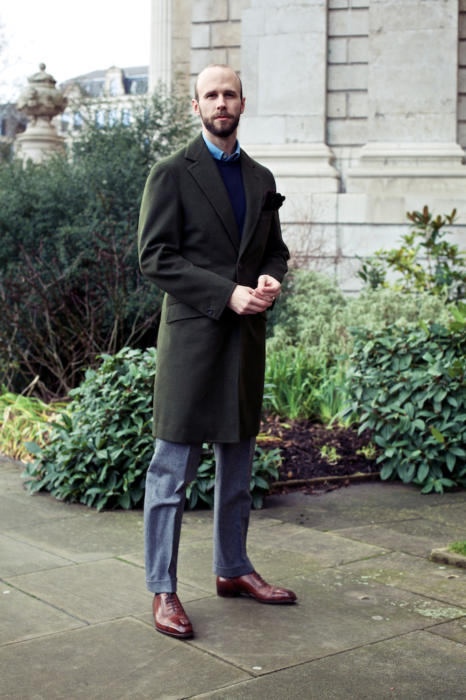 Peak lapel or notch lapel
As with a jacket, a double-breasted coat will always have a peak lapel. But a single-breasted coat can have a peak or a notch - and it is perhaps more common to see a peak lapel on an SB coat than on a jacket.
The only real factor to consider in that choice is that a peak lapel is more formal and a little more rakish. If you want something more stylised, a peak lapel is a good way to do it. If not, a notch should be the default.
And a notch can be more or less stylised too - compare the Vergallo coat on me above, with the Michael Browne one further up.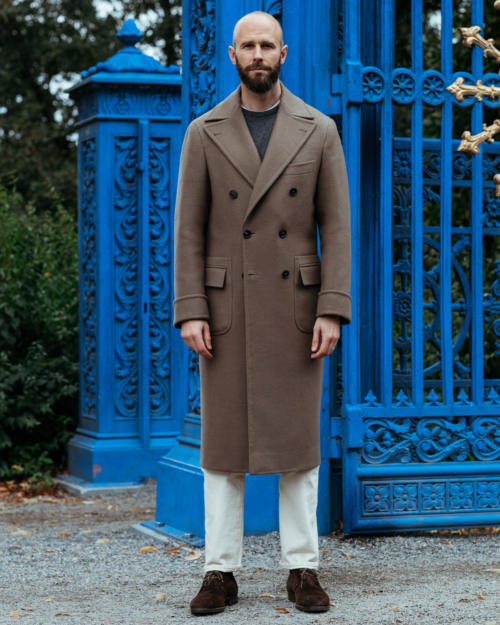 There is also an important difference between peaked lapels on a DB coat: many styles have a peak which points horizontally across the body, if not slightly downwards.
(You could argue that this is not really a peaked lapel, but it does have the peak's lack of space - or notch - between the lapel and collar. So it probably belongs in the same group.)
The reason this lapel is more horizontal, was originally so that it could be fastened across the chest, creating a double layer of cloth in the same manner as a pea coat. And even if the coat is not cut to do this, the lapel does allow the collar to be worn up against the wind, without the peaks poking the wearer in the neck.
The best-known style featuring this lapel is probably the Ulster coat - an example of which I'm wearing in the image above, made by Sartoria Ciardi. Originally a Victorian coat with a cape, often in casual wools like tweed, the Ulster has come to mean this style of DB overcoat, often with a belt and turn-back cuffs.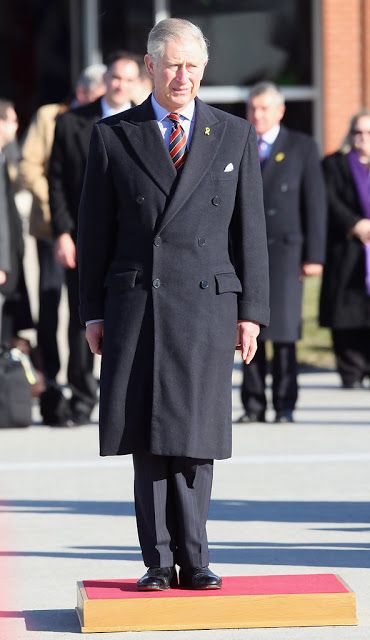 Double-breasted coats with a more standard, upward-pointing peaked lapel are given various names, including a guard's coat (above) and a paletot. Personally I don't think the styles are that relevant, given how divorced they are from their origins, and the fact that a main difference was how fitted they were - which is rarely a factor today.
However, what they all have in common is that they are more formal, and as a result tend to have no belt on the back, flapped pockets, a 6x2 button arrangement (so the top row does not fasten) and no cuffs on the sleeves.
It is this formality that should be your first consideration when designing a coat. It would be incongruous to have a smart, peak-lapel coat from the front that was cinched and belted at the back, no matter what the original styles might have been called.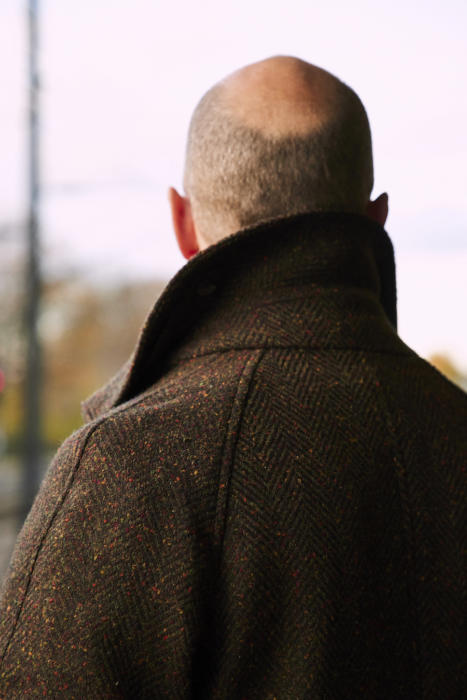 Shoulders
This is a brief section, necessitated by the existence of the raglan coat.
While all other overcoats will have a regular, or set-in, sleeve, a raglan sleeve runs right up to the collar, with no shoulder section between the two. An example is shown above.
It shouldn't surprise you to know that the raglan is more casual, and suited to coats that are worn with just knitwear, as well as tailoring. It's also a style that there's less point having made by a tailor - because its lack of shape means the tailor has less to add, and because it's surprisingly tricky to do.
There are also variations, such as a half raglan (which looks like it has a set-in sleeve on the front) and designs with a slimmer sleeve at the top, almost like a saddle shoulder on knitwear.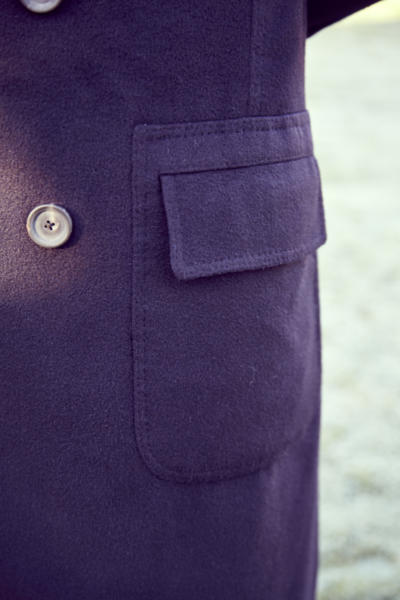 Pockets
Now we get into design details. Pockets are an obvious one, and there are three basic options: flapped (straight or slanted), patch (with flap or not) and postbox (a combination of flap and patch).
Flaps are smarter and go with smarter coats; patches are more casual and go with more casual coats. A postbox pocket (pictured above) is pretty bulky and so belongs in the casual category.
I rather like postbox pockets on casual coats such as an Ulster, because a patch can seem rather too simple for something made bespoke. But I would have flaps on most smart coats.
Ticket pockets on coats look a little out of place to me, though they are rather practical. And although some leave them off, I would usually have a welted breast pocket on an overcoat. It's very useful for gloves.
Belts
It is often said that the back of an overcoat is where the sexy stuff goes on. I think the front should look good too, but there are certainly more design options on the back.
The first is the belt. A smart overcoat, as mentioned, should have no belt at all on the waist. But most others have a half belt: one or two strips of cloth, either stitched to the material or left loose, and if loose then fastened with buttons.
The style of belt is not a big decision - it's unlikely to look out of place whichever you choose. So pick the one you like the most, and if you're unsure go with the classic 'Martingale' of two strips and two buttons (shown above). It's also not a hard thing to change later.
There are ways for this belt to be functional, with extra buttons and buttonholes, but having done that a couple of times on my coats, I no longer request it. I just find that little cinching doesn't make a big enough difference to what I can fit underneath.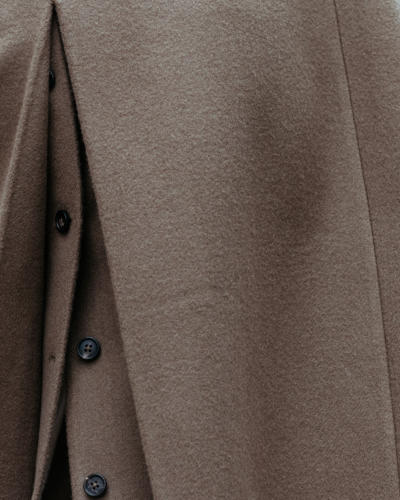 Pleats and vents
Above and below that belt there will often be pleats, as a way to put more room into the back and seat, and therefore give you greater freedom of movement.
A box pleat in the middle of the back is attractive, as are pleats either side of it - radiating from the belt - that look like actual folds made by the tightness of the belt (though they will probably actually be sewn down).
Again, as with belts, there is minimal difference in terms of formality between these options, but I would say that if in doubt, go for the simplest style that you like. An overcoat is a big piece of tailoring to get wrong (as I have found to my cost in the past).
At the bottom of the coat, there will then usually be a single vent that runs all the way down, making it easier to walk. There are different ways in which the coat can be pleated here, but the major choice is whether to have buttons enabling the vent to to be fastened, or not. In general, a smart coat would not have buttons, and a more casual one could.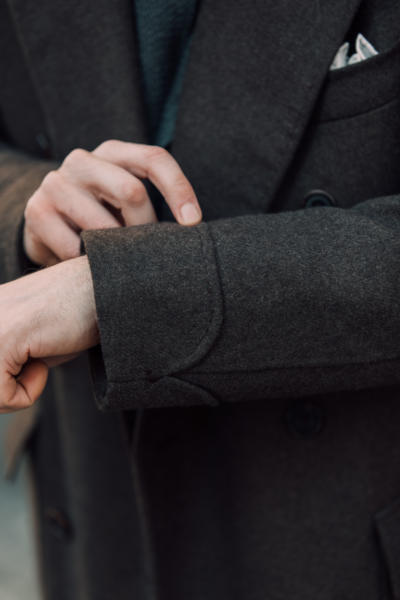 Cuffs and swelled edges
Other design elements on coats include turn-back cuffs on the ends of the sleeves. These would seem to be a casual choice, but have been included on a surprisingly large number of formal tailoring styles over the years, including evening wear.
Personally, I wouldn't have turn-back cuffs on a really smart coat though - nicer to leave it clean.
The same goes for swelled edges, where there is a row of stitching a few millimetres back from the edge of the coat. This can be an aesthetic detail, though it was also seen as practical in terms of stopping fraying or rips running too far.
As you'd expect, this is a more casual detail, and most often seen on Ulster coats or Polo coats. The latter is an interesting case in terms of style definitions, given how many different versions there have been over the years. In the end, it was a garment for a purpose (keeping warm after sport) rather than a defined design.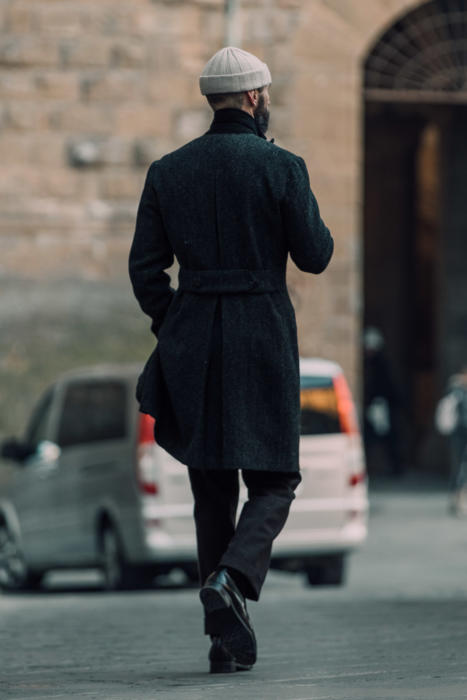 This list, for me, is the best way to break down the styles of a tailored overcoat, rather than getting into paddock coats, chesterfields, great coats and surtouts.
Such references can be useful, but they're just as likely to get in the way.
Often they can make a good starting point, rather than a clean definition. Edward Sexton and I referred to the coat we made in 2016 (below) as a great coat, for example, because of its intended length and warmth. But the pleats and seams on the back wouldn't have been seen on any traditional great coat.
Hopefully running through all these sections will help define exactly what you want, in a similar way.
(I can also do more detailed posts in the future, if people want. Eg illustrations of all the pocket options, or pleat options in the back. There isn't really room for that here.)