Strong colour in accessories
The tangerine orange looks nice against the brown tweed, doesn't it?
This combination, worn up to see Joshua Ellis recently, spurred a few thoughts on colour. Here they are.
First, I don't wear many strong colours just because I find that smarter, tailored clothing is more likely to fit in when it's subtle.
Most of us start our love of suits with a passion for Prince-of-Wales checks, tan shoes and bright linings. I certainly did: my favourite suit at one point was an Etro two-piece with a green overcheck and rampant floral lining.
But over time we settle into the subtler - perhaps deeper - pleasures of weighty flannels, tweed flecks and shoe waists.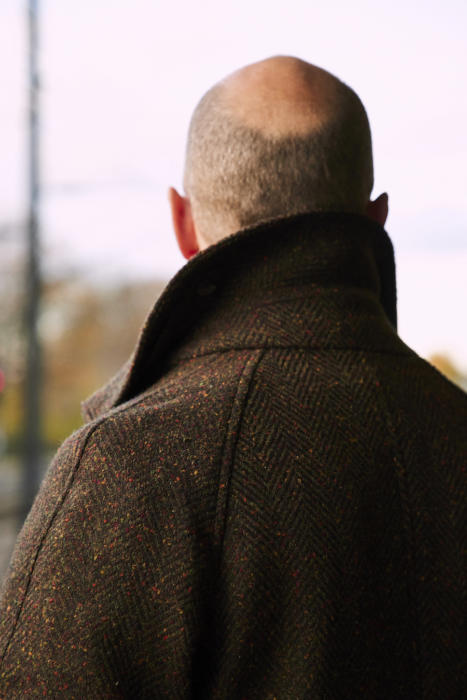 Strong colour can be showy, unprofessional and even boring: everyone notices that you're wearing 'that' jacket again.
It's easier to wear such colours in accessories.
But even there, I find young guys start with quite showy pieces: red ties, yellow handkerchiefs or spotty socks.
These aren't much subtler than the tailoring they're worn with, given how prominent they are in an outfit. And the colours are often loud, primary.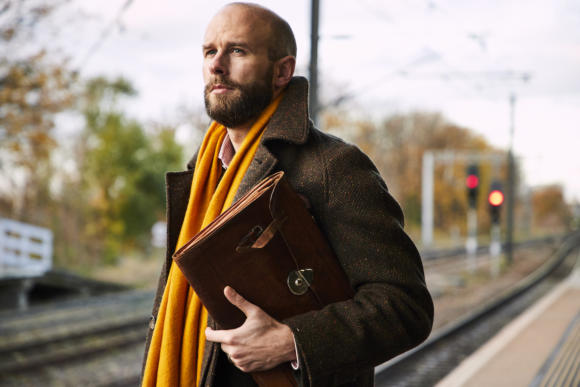 Better, I think, is using colour in what might be called second-level accessories. Those that are often hidden, or not worn all day. So scarves, gloves, even cardigans.
They're not in the face of everyone you meet, all day, like a tie. And they're so tangential to the outfit that they can easily be swapped for something more conservative.
So for example while I love this bright-orange scarf from Anderson & Sheppard, it could be swapped for something quieter, such as a cream shawl (below, also A&S).
A grey or dark-green scarf would be even subtler, particularly in a smaller size.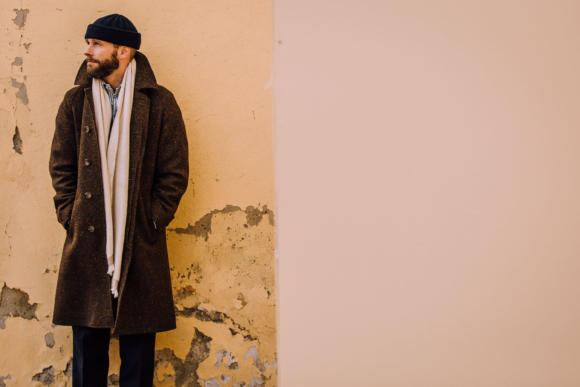 Second thought (perhaps an obvious one, but worth spelling out): such bright accessories are much easier to combine with clothing in warmer, rural colours than colder, professional ones.
Country shades like green and brown are much more amenable to bright orange, yellow or red. Their warmth means there is less contrast than against a cold colour like navy, where bright accessories can often look cheap.
It's one reason bright colours are so much more common in rural clothing - whether red cords or a yellow overcheck.
Strong colours can work with a navy business suit, but they tend to be darker and deeper, like purple or maroon.
Finally, the easiest thing of all is if the accessory picks up a colour in something else you're wearing.
This is what makes this orange scarf so easy: there are already orange flecks in the tweed coat, so you know the colour works.
It's one of the reasons tweed in general is such a pleasure.
There are far greater depths than this to colour theory, which could explain why a certain shade of orange works with a coat, but another doesn't. Small changes in saturation or acidity.
But they're hardly relevant, because as a customer you're not picking scarves from a Pantone book. Rather, your decision is whether the particular yellow in front of you works.
There, the best thing is always to try it against something you're wearing, or go home and do so.
It's what I did with this scarf. I saw it, was unsure, and wore my coat in the next day to check. The coral pink also worked, but nowhere near as well.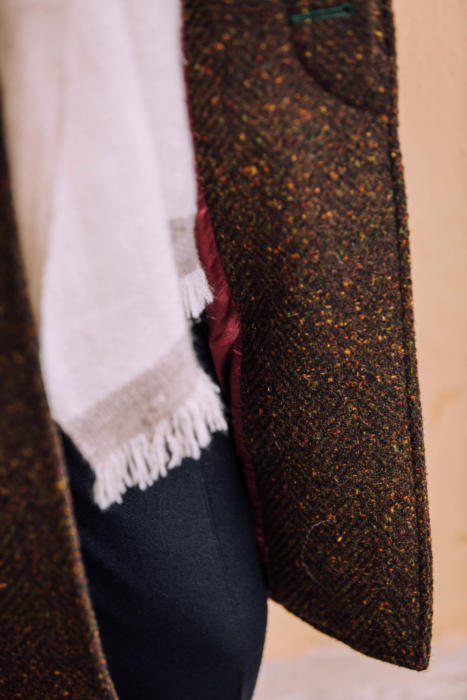 The coat, by the way, is from Cordings Autumn/Winter 2017/18. It's not available anymore, though there is a duffle coat in the same material in the sale (Medium only).
As with most things from Cordings, that material is great - a 20oz donegal. And the functional elements like the collar are well thought through.
But other style points are too loud - here the bright purple lining and green buttonholes. Fortunately both things could be changed relatively easily, as could the length.
Then again, I thought that a year ago and I haven't got round to changing them yet.
Photography: Jamie Ferguson @jkf_man