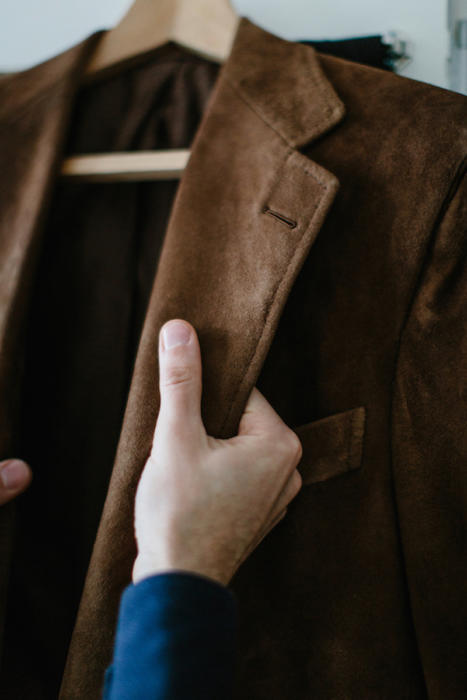 Being at home more has given me time to write about something readers frequently ask about: how I store my clothes.
The short answer is, with difficulty, particularly given how much I care about looking after them.
Tailoring cannot be too cramped, lest it cause wrinkles; knitwear cannot be stuffed onto shelves, as it exacerbates pilling; the only trousers that can be folded are jeans or heavy chinos.
And I'm fortunate to have a lot of clothes, so there is always a fight between wanting to be able to see as much as possible, and giving everything enough room.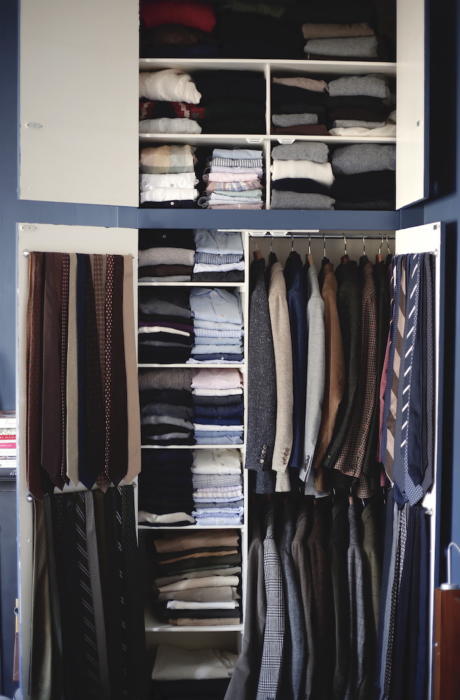 My basic solution is that I have the double-height wardrobe shown in our bedroom, which houses tailoring, shirts, trousers and most knitwear. Then a second, small wardrobe in our study for coats. Everything else is stored in the attic.
Up there I have two hanging rails, with tailoring sitting in garment bags (below). Some of this is seasonal storage, such as linen suits that won't be needed until Summer. When the seasons change, this will be brought downstairs. (Although only gradually: unlike New York, seasons here change slowly, and inconsistently.)
However, some of those in the attic are Autumn/Winter pieces too. So every couple of weeks I take some from the wardrobe up to the attic, and bring down new ones. There is a gradual rotation.
Those racks in the attic are my limit in terms of the total size of the wardrobe.
Obviously Permanent Style is now a business with requirements of its own, such as keeping examples of tailoring that can be featured in the future. But at the same time, I dislike having clothes that aren't being worn – particularly when someone else could be enjoying them.
So I've got better at giving away or selling pieces I don't wear. My brother and brother-in-law get a fair few, and I've been regularly selling things through Marrkt.
Hearing from PS readers how much they've enjoyed pieces they've bought has been lovely.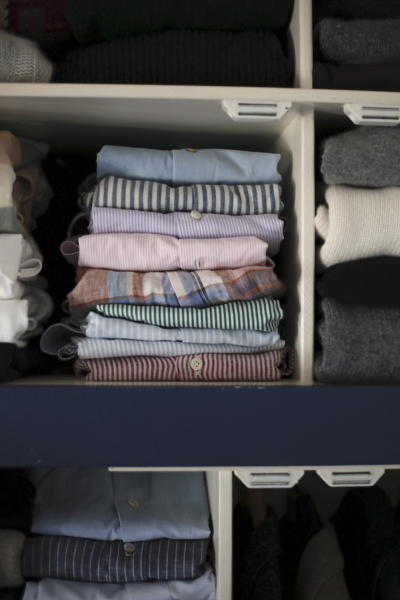 Getting back to the wardrobe, shirts are all folded up on shelves. This isn't ideal, as they will crease, no matter how carefully they're folded.
But as I've always cycled into my office (in my old job, almost every day – now running Permanent Style, probably two days a week), they have to be folded for transport anyway.
And I've never been that fussed about a few wrinkles in shirts – most shirts look wrinkled in the body after half an hour or so. Plus I wear more casual, denim and oxford shirts these days, which wrinkle less.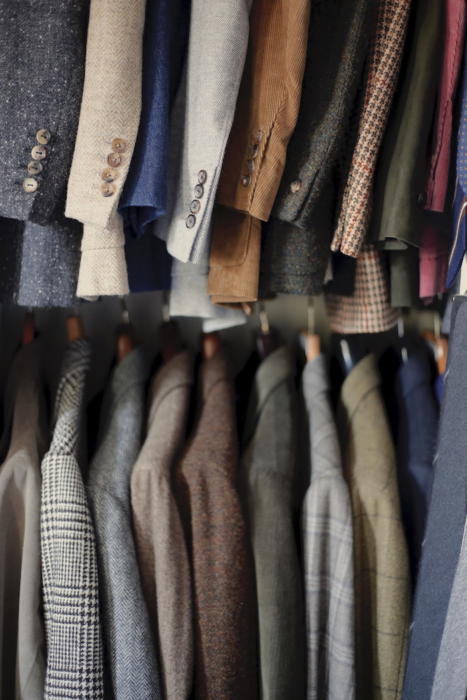 In an ideal world all the shirts would be hanging up, if only for easier access. And the same goes for trousers.
My odd trousers (not part of a suit) are all hidden away on the hangers of the jackets in the wardrobe, which means I can't see them or get to them easily. I need to flick through the various jackets to find the charcoal flannels. (I do try to keep the same trousers with the same jacket, but that always falls down at some point.)
At one point I did have the lower of those two rails dedicated to trousers. But the desire to have more tailoring on view eventually outweighed the inconvenience of having the trousers hidden.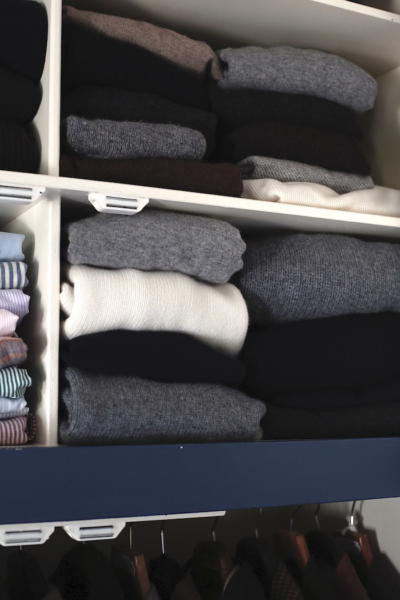 The knitwear is a little more organised, with roughly one shelf per style. So one shelf is crewnecks, another V-necks. There is a shelf of vests and cardigans (above, top) and another for roll necks (below that).
This helps particularly when – as with much menswear – colours like navy and grey pre-dominate. But even then it's not perfect, as I find I have four navy crewnecks (one cotton, one lambswool, one fine and one chunky cashmere).
And of course, the number of pieces in each category never fits perfectly into each shelf. So a few stray bits end up elsewhere.
At one point I tried to categorise shirts in the same way: patterns, oxfords, denims, poplin. But their numbers never worked out as easily - and they vary more than knitwear, so they're easier to find at a glance.
One place where categorisation works well is in the attic.
Here, the tailoring is all kept in garment bags, as an extra protection against moths (though I haven't had any problems since I started fumigating).
This means I can't see where everything is. The small plastic windows on some bags are not much help, given the lack of good lighting.
So instead I keep the two racks in order: the left is mostly Spring/Summer, the right mostly Autumn/Winter. And then on each, suits are hung at one end (the one closest to the entrance) and jackets at the other.
This means that even if I don't know where my tobacco-linen suit is, at least I only have to look through one half of one rack.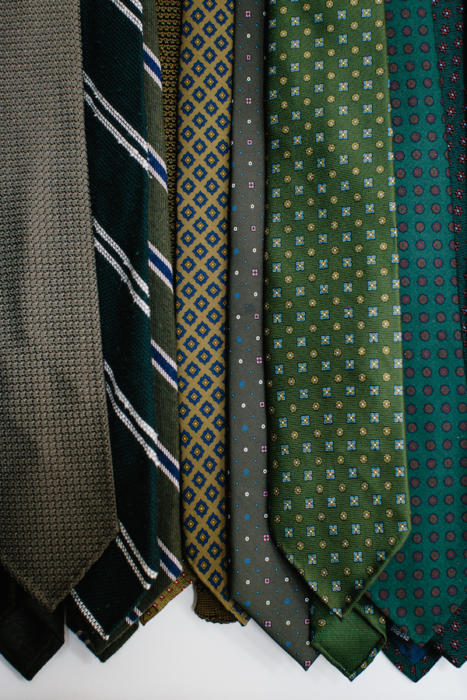 Back in the bedroom wardrobe, the two lower shelves are kept for denim and, above that, chinos. The latter are heavier pieces, like the Armoury or Blackhorse Lane chinos, which would gain little from hanging.
It makes sense to have these at the bottom of the wardrobe too, because of their weight. They'd be trickier to get in and out if they were above head height.
And then the ties: as you can see, they're all hung on rails screwed into the wardrobe doors. Four rails of them seems like a lot, but even that has been reduced recently.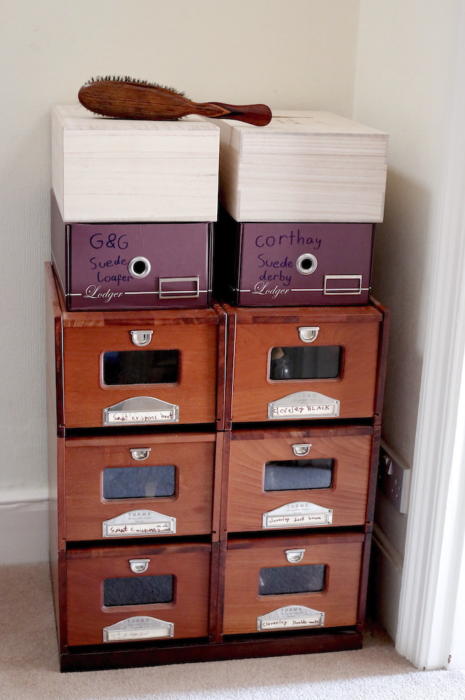 There are many other areas (of clothing, and of the house) we could go into, including shoes, socks and bags.
That would include the lovely Turms modular shoe system above, which has two old Lodger drawers on top, and wooden bespoke boxes on top of that. (My daughters were responsible for the labelling.)
But I think it was the tailoring readers were most interested in, given how much it dominates everything else. Do let me know if I'm wrong.
Overall, I think this perhaps shows that I'm not as fussy as some might expect about storage. I want to avoid the big things: crushing, pilling, scratched leather. But I don't obsessively label everything, or keep it all in zip-lock bags.
There's a good middle ground to be found between leaving your coat on the floor, and panicking when your perfect patina gets scuffed. Clothes should be cared for, but also lived in.
Photography: Jamie Ferguson or (the amateurish ones), me