The quality and style of Wellema hats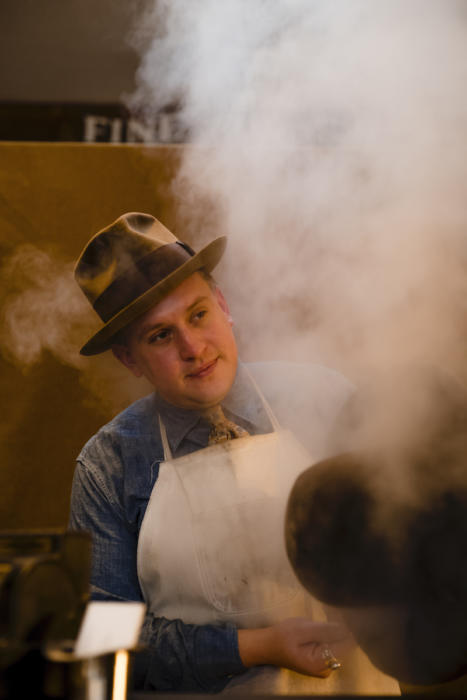 Everyone you speak to about Cody Wellema (above) agrees on two things. That he's a lovely, lovely man. And that his hats are top notch.
I can certainly attest to the former - and the latter I'll cover when I review the hat I'm having made, in a later piece.
Cody is talented and rather modest. We spent a good bit of time together when the was here for the pop-up at the end of last year, and he rarely sings his own praises - despite being almost entirely self-taught, and making some of the best hats in the world.
The hats stand out partly because there are so few good hatmakers left - making custom/bespoke, using beaver, finishing to the highest quality. It surprises people when they learn that the names they know - Lock, Borsalino - aren't making to anywhere near these levels.
Optimo is of course even rarer, being a small factory at this level. But there are also precious few one-man operations (Stephen Temkin in Toronto is the other one I've covered).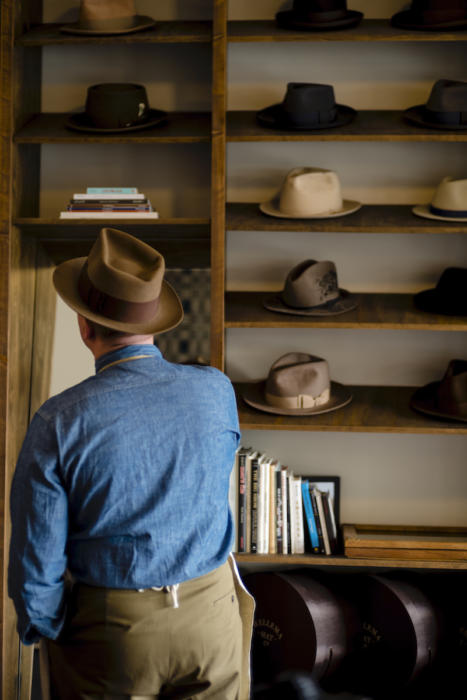 Once you meet Cody, it's not surprising that he's reached that level quickly (he only began making hats in 2013).
His earnest approach carried him through a period of frustration and pain when he was learning, inspired by the vintage hats he collected - which were so much better made than the ones he saw for sale today. (That's how Cody came to hatmaking - as an avid wearer of vintage clothing.)
He began making in his kitchen in a small flat in Santa Barbara, California. Taking apart vintage hats, seeing how they were made, and trying to replicate them.
The only books on hatmaking date from the beginning of the 20th century, and cover the business as much as the craft. And there were no companies prepared to teach anyone, or take on an apprentice.
It's one reason he took on someone - Akira, from Japan - who left in 2019 after a couple of years training.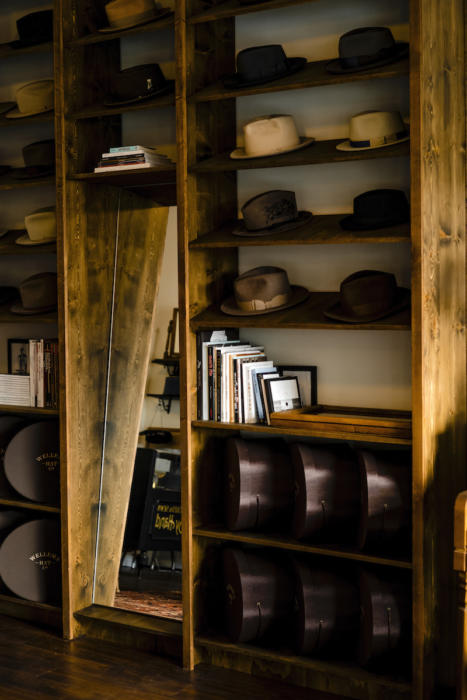 After three years in Santa Barbara, Cody moved to Altadena, a small suburb about 20 minutes from downtown Los Angeles.
The initial plan had been to open a shop in LA, but Cody and his wife liked the neighbourhood feel of Altadena, and it's an area a few celebrities live - some of whom like to hang out in Cody's store.
I've never visited, but the pictures and the way Cody describes it make me want to spend a whole day there. Looking at books, listening to music, chatting to customers.
It's probably no coincidence that Cody's attitude to retail is similar to that of Ethan at Bryceland's (who has done much to spread to word about Wellema): a shop should be a place with character and story, where you want to spend time rather than buy and leave.
The vast majority of Wellema hats are made in beaver felt, which is the best in pretty much every category: feel, fit, strength. Not using it (because it's hard to acquire, and expensive) is the most obvious thing that sets top-quality makers on a par with vintage hats, and above brands today.
"Beaver lasts longer, can be shaped and re-shaped - you can even run it over and find a way to block it back to health," says Cody. "It's a wonder material really."
He does makes a little in a mink/beaver blend, which has a slightly more luxurious feel but the same performance as beaver. And he makes a little in hare (rabbit or hare is what most luxury brands use) for the sake of accessibility.
A bespoke hat in hare is $500, while beaver is $650 and mink/beaver $800. Ready-made hats (only available in the shop) are around $100 less, while heavier 'Western weight' hats are about $50 more. Details like bound edges and vintage trimming add a few dollars.
There are other US hatmakers that use beaver, and are cheaper. But the raw material is not the only factor, even if it is probably the most important one.
There's also the quality of the leather sweatband, which makes a big difference to comfort; the time taken with forming and setting the felt, which is easy to skimp on; and most time-consuming, the detailed hand-stitching on the band and lining. Good hand-stitching should be virtually invisible.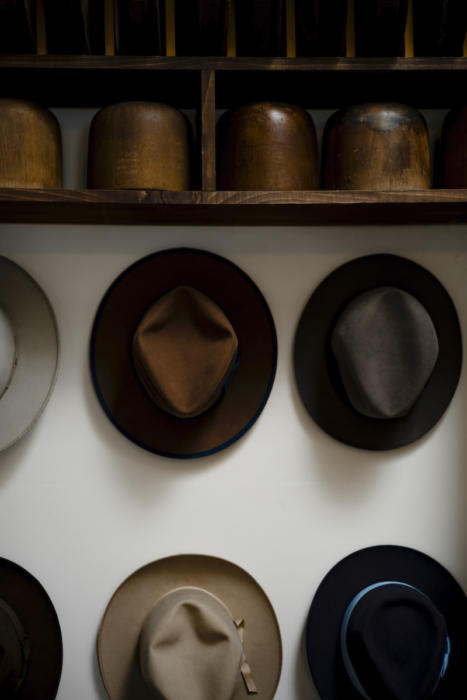 Cody buys his felts from a small US mill, and makes a good deal of Western weight or just Western-style hats. That's also the style that Ethan has made well-known.
Cody himself also tends to wear taller, pale-coloured hats, with crowns that look like they've been bashed around.
"I've always liked this very practical side of a good hat - that it's something that gets better the more you wear it and beat it up," he says. "It really does gain personality too, from the way you hold it, pinch it, wear it; little nicks and scrapes."
However, Wellema 'dress' hats are just as refined as anything you might find in England or Italy, while retaining that strength - something I know at least one reader was surprised to see when he visited the pop-up shop. These are hats for anyone's style.
Indeed, that's one thing Cody often talks about - that his customers range from sartorial guys to bikers, and dads in T-shirts and trainers. There's nothing he likes more than showing how a style of hat can work for someone, no matter what their shape, clothes, or previous experience.
"It feels like part of the hat being very American, too," he says. "There is a heritage here around hats - perhaps similar to how Scotland is known for knitwear, or England for tailoring.
"Some of the best hatmakers in the world were here in the past, and they have history with jazz and blues, with cowboys and the West, with suited guys in the city. It was a very practical thing that everyone in America wore, in some way."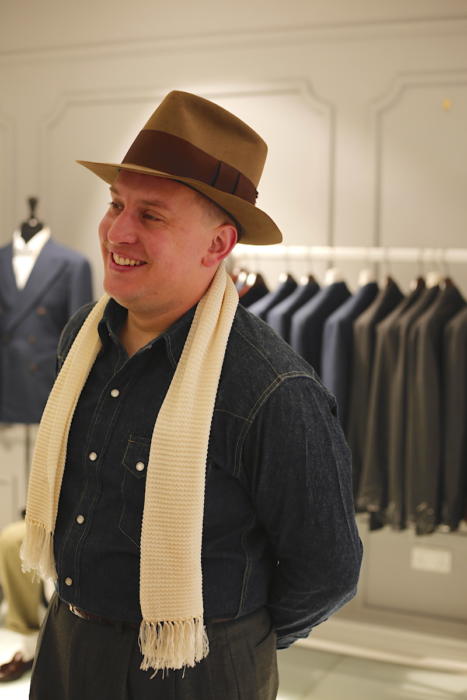 This variety of style is also something I would have liked to have spent more time discussing with Cody.
For while I'm now very used to wearing a wider-brimmed dress hat, with a tailored overcoat, I've never been quite comfortable wearing a hat more casually - without tailoring, with jeans.
I think it's a position a lot of guys are in with hats in general - it's not something you're used to wearing, so it takes a little time, interest and interaction to find your style.
Perhaps it's something I'll have the chance to do when I do get to visit Altadena. It would certainly be easier with Cody's full range of hats in the store, than with the small number he can take travelling.
For now, I've ordered a pecan-coloured beaver felt in my regular style - tapered crown, brim around 7cm. Article on that soon.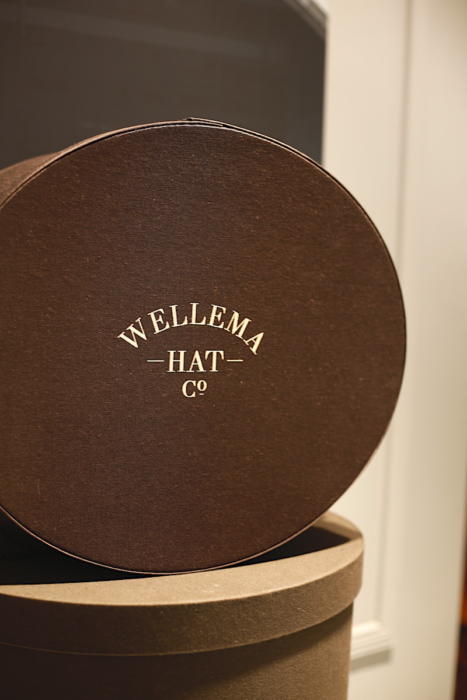 Photography: Of the Wellema shop, Robert Spangle; otherwise Wellema or Permanent Style