Best-Dressed Man of the Year: Ethan Newton
Runners up:
Andreas Weinas
Yukio Akamine
Noboru Kakuta
Bruce Boyer
Our Best-Dressed Man of the Year is Ethan Newton, founder of Bryceland's Co – the store in Tokyo and now in Hong Kong.
Ethan received many nominations from readers, as did Andreas Weinas (of Manolo.se and other publications), several of Japan's finest buyers and creators, and then a long list with two or three mentions each.
The judges, however, (myself, Michael Drake and Jamie Ferguson) were particularly interested in highlighting the originality of Ethan's dress, and his ability to combine classic style with casual, workwear clothing.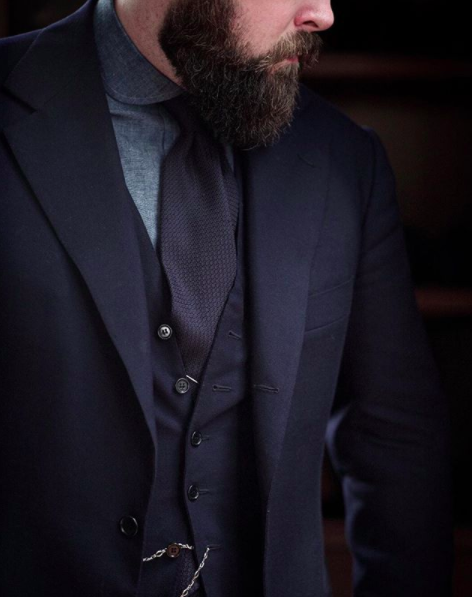 This came across in the reader comments, as did Ethan's physique:
"Ethan Newton. Perfected fit in a challenging torso, crosses over styles/eras/regions effortlessly, and creates genuinely new, quality looks."
"I think there are so many well-dressed men in the world now, especially with the rise and proliferation of Instagram and blogs…But Ethan Newton epitomizes what "Best-Dressed", as subjective as that is, is to me. The ability to combine casual and smart styles together in a way that looks almost effortless, which we all know is not, is the primary reason that he gets my vote. This is especially so with a body-type I think most men can relate to as we are not all definitely tall or muscular or good-looking; qualities I think which makes dressing well a bit easier."
"Another vote for Ethan Newton. He's not blessed with the physique of a male model (who among us is?), but he has a strong and consistent style whether he's in 1930's era three-piece suits or workwear."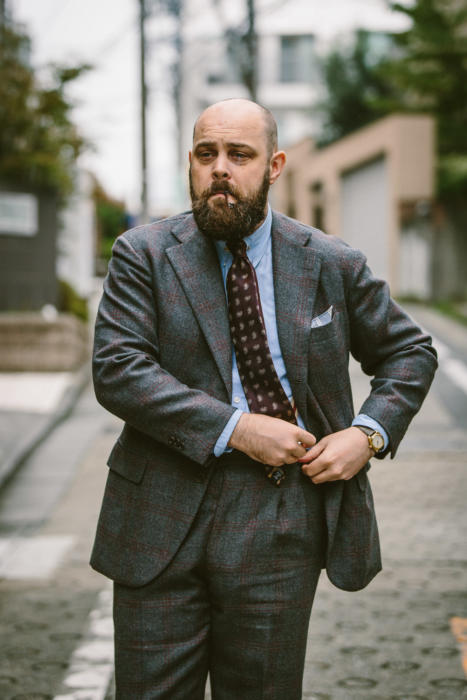 These themes of mixing tailoring with workwear, and dressing a slightly larger body, dominated the discussion I had with Ethan this week about the award.
Permanent Style: You seem genuinely surprised to win this award. Is it really surprising, given the following you've always had, even going back to the Armoury days?
Ethan Newton: I think I've always been too conscious of my size to assume that. Back at The Armoury, Alan [See, Armoury co-founder] was the one that people wanted to look like. He's tall, slim – clothes look great on him. With me, it was more like 'Well, if they look good on him then they can't fail to work on me…'
On Instagram – and Tumblr back in the day – my market was always larger guys who wanted to wear tailoring but couldn't imagine looking like Alan or Andreas or anyone like that.
That really surprises me, but I guess the things I always find inspiring are the ways people combine colours and texture, and the combinations of different styles – which aren't related to physique.
I think I focused more on those things because of my size. I couldn't rely on just being a good figure for tailoring – wearing the simple things and looking good. I needed to express myself more.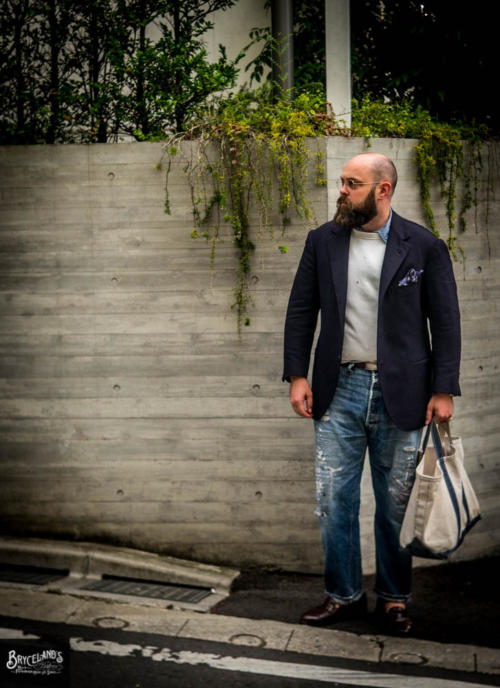 What particular aspects of tailoring are harder for larger men?
Trousers are certainly harder. It's not too difficult for a larger man to find a jacket that has enough drape to look good. But trousers have to be cut completely differently if you're big in the seat and thighs.
This was the foundation of my relationship with Salvatore [Ambrosi, Neapolitan trousermaker]. I kept on pushing him to make me something that was a little fuller, with some drape and two forward pleats.
This is also a question of style though. I've always believed that men can't look stylish if they're not elegant, and they can't be elegant if they're not comfortable. You need a little bit of room and drape to move properly.
What is the main challenge with trousers? Is it the position of the waist, whether it goes above, below or on the stomach?
That's important, but the bigger issue is often in the thigh. Few tailors, particularly in Japan, can fathom how much extra room a man like me needs in my stride – my walking thigh. Twenty-nine inch thighs probably get up to 33 inches when I lift my leg.
Then you need a back rise that's high enough, because you lose inches of it when you lift your leg. That's the only way to avoid what we call in Australia a 'tradesman's cleavage'.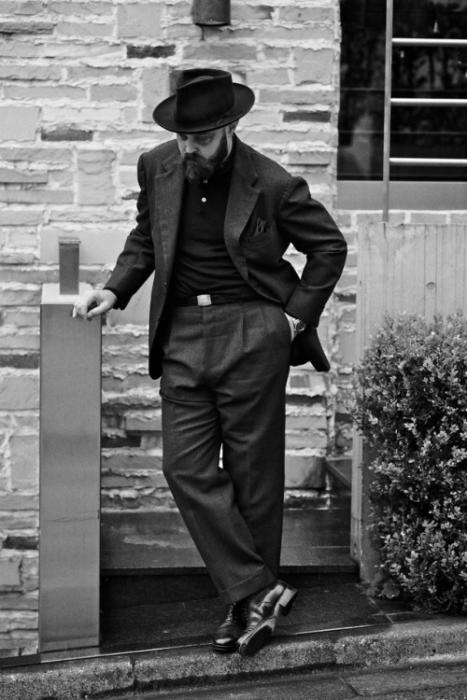 How would you advise someone on wearing tailoring and workwear? It feels like there isn't much guidance in this area, perhaps because brands tend to stick in one space or another.
That's something that has come directly out of my experience with bespoke in Japan and Korea, where guys tend to be very siloed in how they dress.
You'll have a customer where bespoke is so much a part of his identity that he goes to the beach in bespoke trousers and a sports coat, or hiking in bespoke clothes and handmade shoes.
For me, the sense of occasion is crucial. You have to be able to dress beautifully for any occasion or you can't say you're well dressed. Otherwise it's Cosplaying.
My interest in vintage is driven by a belief that there are pieces of clothing that are so perfectly designed for certain uses that they don't need improving on. And we want to offer them for those uses.
A guy that has a perfect three-piece suit for a weekday should also have a pair of 501s and a great white T-shirt for the weekend. Or chinos and a leather jacket.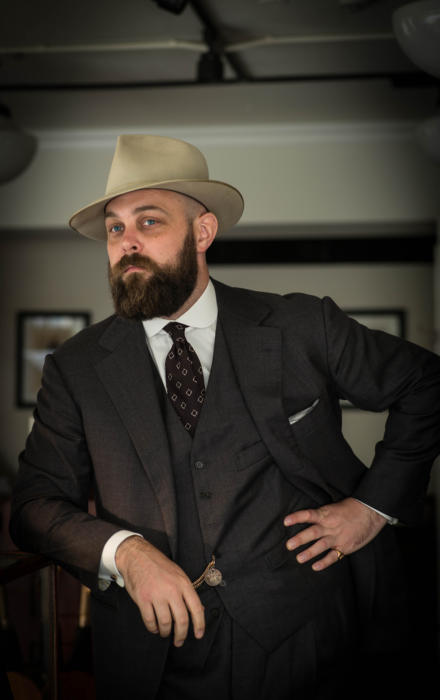 How about mixing those two together? I think that's the area that readers often find hardest – but potentially most interesting. In the image above, for instance, why does that hat work with tailoring where another wouldn't?
A lot of it comes from references. The hat in the picture, for instance, is a stratoliner from Stetson. It's an original from the 1960s.
The stratoliner was a western hat, but it wasn't an open-road hat – what we would think of as a cowboy hat. If you look at old films with Jimmy Stewart, he would wear something like this with a suit in the same way.
Is there a principle we can establish from that? For example, for a hat to work with a suit it has be similar proportions to a classic hat like a fedora, but the material or colour can vary?
Yes, although the material's not that different, it's just a lighter colour – what was called 'silver belly'. It would have been a fairly standard hat on the west coast of the US.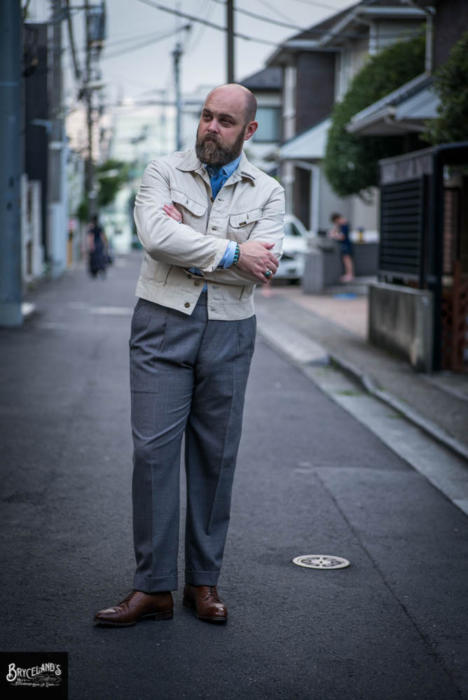 How about this second picture, in the shorter jacket and grey trousers?
That's a Lee Westerner from the 1960s, with grey fresco trousers from Ambrosi and split-toe shoes from Saint Crispin's.
What kind of jacket do you think works with that combination – with more formal trousers and shoes?
Well the first thing is always the proportions. I want to look tall and strong, so the trousers are high-waisted and reasonably loose (though not as loose as they should be – blame my expanding waistline!) They're on the waist rather than the hips, which makes me look slimmer, being a smaller circumference. And the jacket is short and neat.
And in terms of material and colour, do you see the Westerner as slightly smarter than a brown leather jacket, say, or a blue-denim jacket?
Yes. You need to keep the materials and textures in balance.
I'm wearing a necktie and a broadcloth shirt here, and I probably wouldn't wear that with a denim jacket. There would be too much of a contrast. The Westerner is in a pique cotton that isn't smart, is a little more polished. It balances out well.
And with a more casual jacket you'd remove the necktie, perhaps wear a more casual shirt and shoes?
Yes, with more casual pieces – like in the image below. Here I'm wearing a beanie and a knit rather than a shirt, with cotton trousers rather than wool. So it's much more consistent.
But again, you'd be happy to wear that same leather jacket with flannels and an oxford shirt?
Absolutely. A button-down oxford with reppe tie or a knit tie. A proper hat rather than a beanie. But not a silk tie and elegant dress trousers. That would be too far.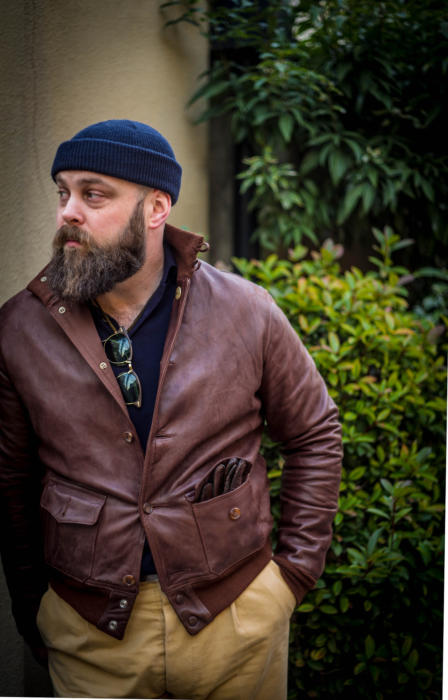 How much do you think your customers can actually wear unusual pieces like you do, such as western hats or jewellery?
I certainly don't expect my customers to wear everything I do. It has to be appropriate to their lifestyle and situation.
One of the great things Karl Sussman, a tailor in Australia, used to say to me was, 'As a retailer, we have to go to 100%; only then can we expect customers to hit 80%'.
He meant that if we consistently play it safe, and never go beyond 70% of what we think might be interesting, a customer's never going to go that far, never going to try new things.
It's my job as a retailer to suggest things, and then for the customer to take it as far as they're comfortable with. They might wear the hat, but with more casual clothing. Or they might wear the three-piece suit in the office, but without the watch chain.
I think some men feel they have to wear everything together, just as the man in the shop is wearing it, or the model in the advert, otherwise they're not sure it will all work. They don't have the confidence to deconstruct it all.
Absolutely, it's hard to advise completely except in person – which is one reason we re primarily a retail store, not an online store.
Who would you have voted for in this award?
Among the men that were nominated I think George [Wang, of Brio in Beijing] would have been a good choice. He both wears clothing well and expresses himself – he's not afraid to play with it a little.
I always prefer that to guys that just copy one, narrow look; it often feels derivative.