Ethan Newton's Tokyo store – Bryceland's Co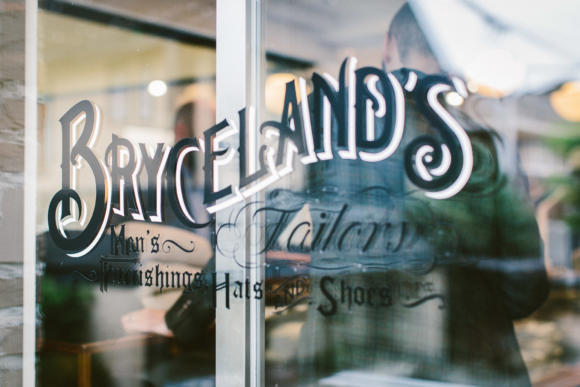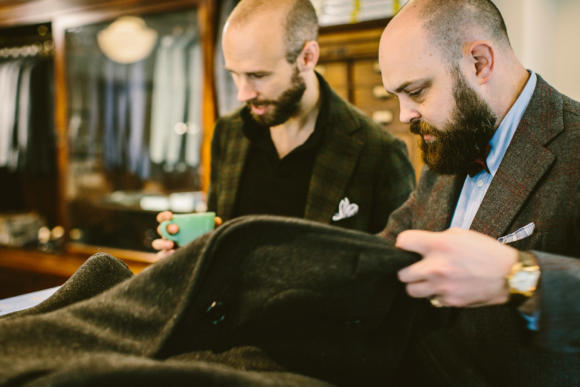 I was quite intrigued to see Ethan Newton's Bryceland's store in Tokyo when we visited a few weeks ago. In particular, how he is presenting his view on tailoring and how that mixes with the more casual americana side.
The tailoring is essentially a soft Italian make - Dalcuore, Orazio Luciano - in English cloths. Those cloths are pretty distinctive though: heavy hopsacks and coverts, all solid and hard-wearing.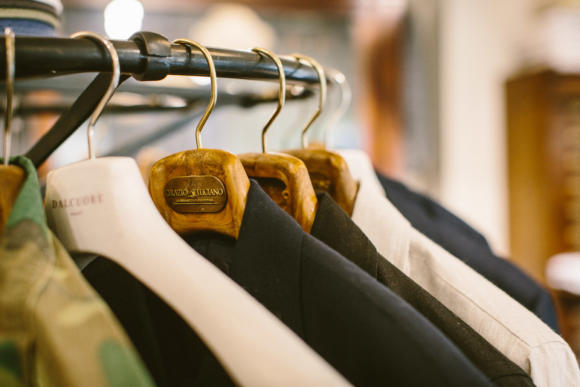 And the cut has been tweaked in several areas: a broad chest, small waist, and larger sleeve in the jacket, with a high-waisted, full-legged trouser.
"This is a man's cut - a big chest and a strong arm. It's something not all customers understand at first, but it's very intuitive when you start talking about it," says Ethan.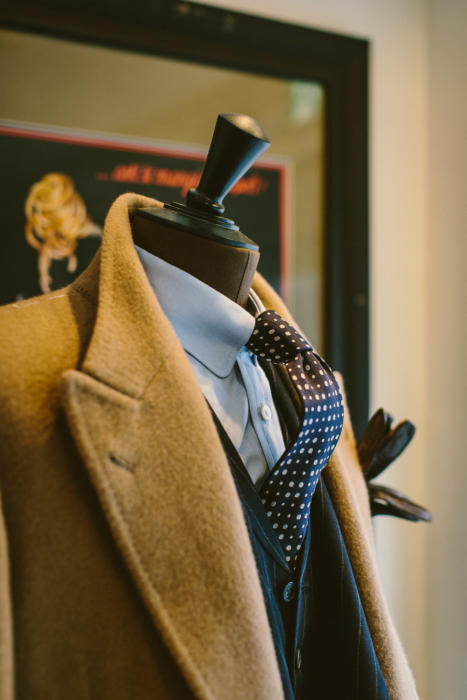 His camel overcoat from Orazio (above) has been similarly tweaked, with more belly on the lapel and a lower gorge. Adds Ethan: "I wouldn't say the tailoring draws on one particular era, but there are certainly influences from the 1920s and into the 1930s."
Ethan leant some tailoring when he was in Australia, and is trying to improve today with the help of Japanese tailor Yusuche Ono, known as Anglofilo (below), who has a studio in the back of the shop.
"My pattern making is getting pretty good now," Ethan says, "but my making is still pretty terrible."
(See separate post on Anglofilo and where he sits among the current Japanese tailors here.)
Elsewhere there are ready-made trousers cut by Salvatore Ambrosi, who was visiting for a trunk show when we were there, and shirts made to Ethan's pattern by Ascot Chang - often unusual patterns and stripes, with a full body and nice roll to the collar.
The ties are made by Kenji Kaga's Seven Fold brand, once Tie Your Tie in Florence, in some really nice muted, classic colours.
(They are also one of the only things Brycelands sells online - alongside Red Rabbit silver accessories, below.)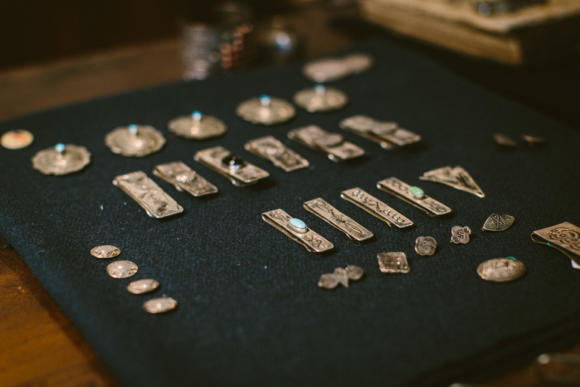 I was impressed by the fit of Salva's ready-made trousers, which deliberately have a higher rise in the back than the front (I've always struggled with a flat-top fit on trousers).
The range isn't big, but Salva visits often enough to make made-to-order versions attractive.
Of course, with the shop being in Tokyo and so little available online, all this will be out of the reach of most readers.
But it is worth celebrating a unique store that becomes a reason to travel - as we've tried to do in our series of shopping guides.
On the casual, workwear side, Ethan has a lot of vintage pieces - very nice, but one-offs and expensive - alongside some recreated ranges like jeans that mimic 1947 Levi's 501s, made by a local Japanese maker that uses original chain-stitching and butthonhole machines.
There is clearly a big market for americana and vintage clothing in Japan, but does that also mean there is a lot competition?
"In some ways, but actually the market here has become very narrow," says Ethan. "Everyone just wants the iconic pieces, the '55 501s for example. There aren't many people offering something different."
"That was one area where Kenji [Cheung, Brycelands co-founder] was very influential - he said there was this hole in the market, because everyone else had a very cookie-cutter approach."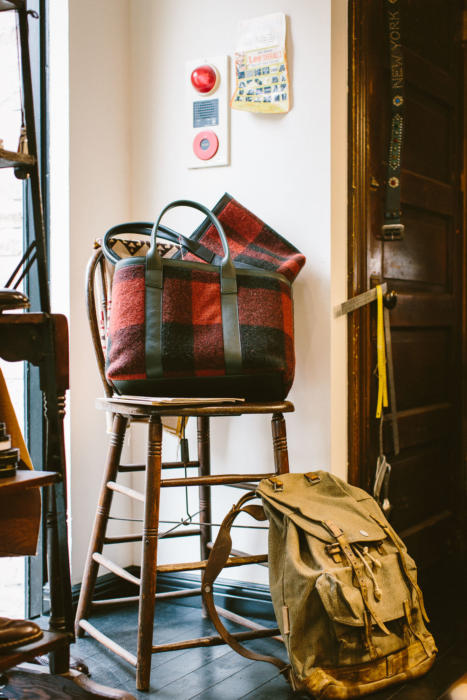 One aspect of Ethan's approach I find particularly appealing is around value and utility.
He likes brands like Alden and Saint Crispin's because they are such great value, and he tries to sell things at a fair price (without ever going on sale).
Having shirts made at Ascot Chang in Hong Kong is similar - they are well made, and a lot better value than those that could be imported from Italy.
"It links to the appeal of vintage as well - the idea that these new clothes we're selling could also go on to be great vintage," says Ethan.
Amen to that.
Photography by Jamie Ferguson @jkf_man