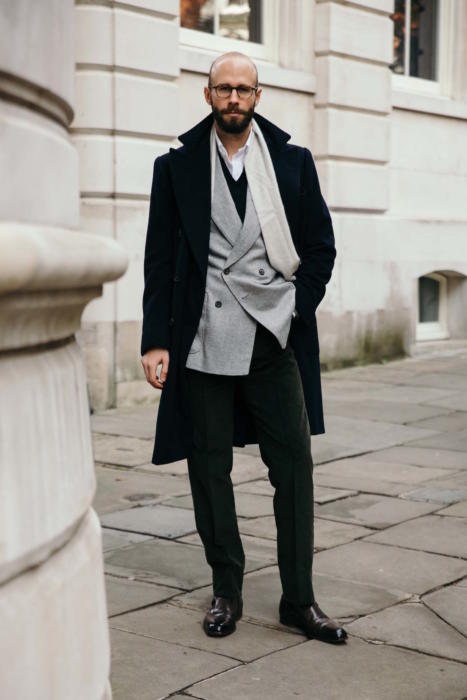 This outfit was used in a piece written recently for Drake's regarding corduroy.
The piece mentions some of the associations that corduroy often carries, and ways to avoid them; basically, keeping the colours dark and the fit contemporary.
But you can read that on the Drake's website. Here I thought I'd run through the thought process involved in the outfit, as that often seems to be welcome.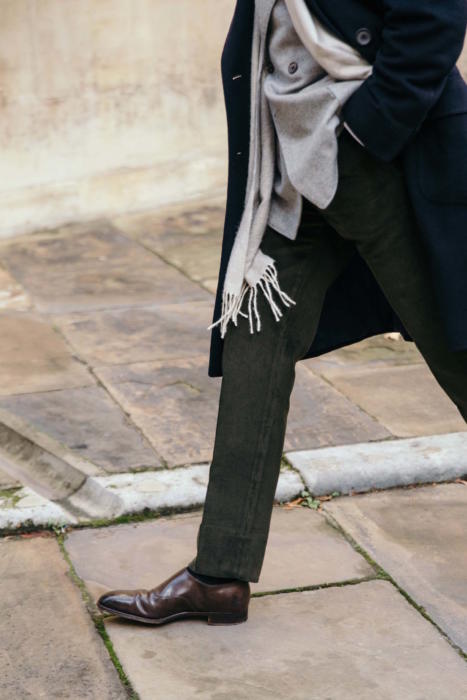 The shade of the green corduroy was a good opportunity to wear a pale-grey jacket.
Such jackets can be hard to match, as we have discussed before, with charcoal the most common partner. But this green is dark enough to work well, and is a nice alternative.
That grey jacket was my double-breasted from Cifonelli, Paris, made in a herringbone cashmere from the SherryKash bunch.
The casual material of the trouser made me go for an open-necked shirt; but its darkness, and therefore the degree of contrast with the jacket, suggested white would be a better choice than blue.
I added a lightweight V-neck navy sweater underneath to lend a little more visual interest.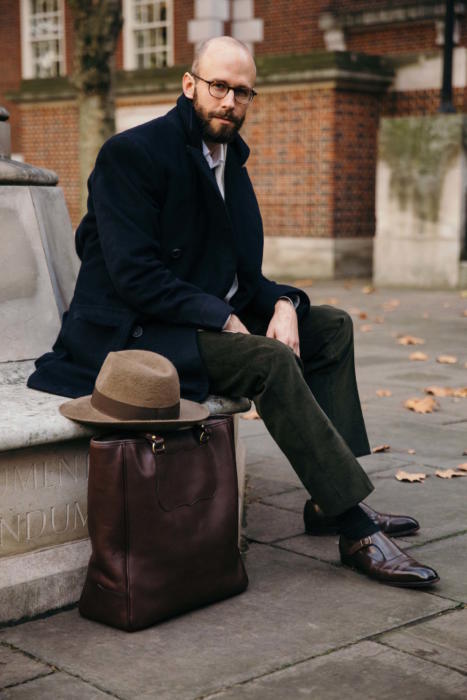 The shoe had to be dark to sit under the trouser, so a dark-brown monk strap from Edward Green.
My navy overcoat from Cifonelli sat on top of all of it, and the pale-grey scarf from Begg & Co seemed to sit exactly halfway between the shades of white shirt and grey jacket.
Dark-brown tote from Frank Clegg, which goes with anything saving the most formal of suits.
And the muddy brown of my Stephen Temkin hat (more on that soon) was a nice autumnal shade alongside the greens and browns.
Overall an outfit that would turn few heads, but had some pleasing subtleties of colour and texture.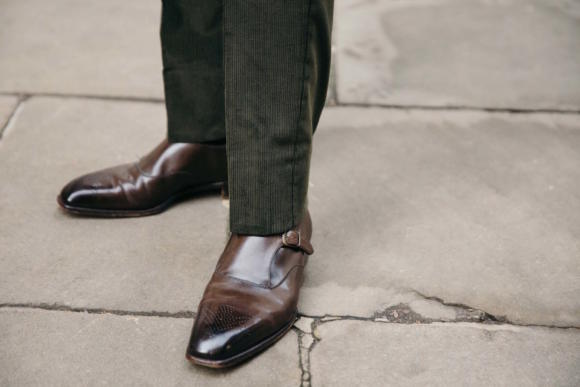 Photography: James Munro for Drake's