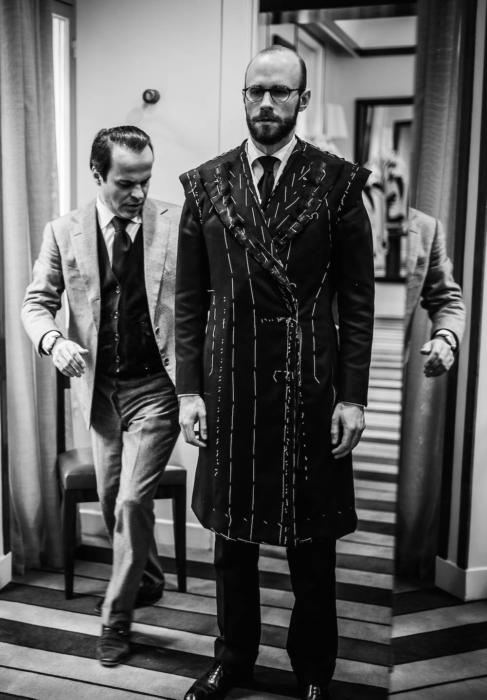 A reader recently asked me how an overcoat should fit – around the armholes, in the shoulder width – and given that I already had a post planned on this fitting on a Cifonelli overcoat, I thought I would combine the two.
The central problem with overcoat fit is that you don't always wear it over a jacket. Tailoring has substantial shape in the chest and shoulders, so for an overcoat to sit comfortably over the top it must be both bigger and wider. That can make for a pretty bulky garment when the tailoring is removed.
There's no easy solution to this: it's simply a compromise. The fit on the shoulders and waist must be a little bit big with knitwear and a little bit small with an overcoat.
With the Cifonelli double-breasted overcoat I'm being fitted on in the pictures, that's just what we've gone with. You need to err just on the side of big, so that the suit underneath is not actually squashed (risking creasing at best and damage to the shoulders at worst) but is just a little less easy to get on. For anyone deciding between ready-to-wear overcoats, that's the line you need to stay on the right side of.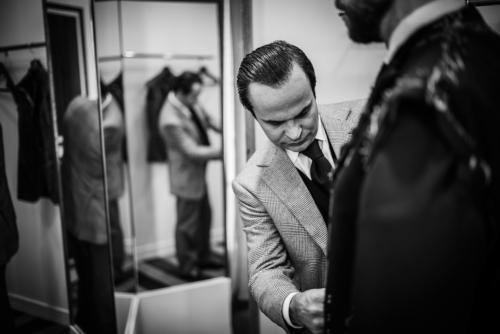 There are a couple of other things that can help. One is to minimise the padding in the shoulders. An overcoat can be big enough to fit over a jacket without adding more padding to the padding underneath. This is Cifonelli's natural style, so that wasn't a problem. With my Vergallo top coat that I had made last year, I went to the extreme of having no padding – just canvas.
The Vergallo coat also had a shirt-shoulder (sleeve running underneath the shoulder instead of on top). This didn't necessarily make it easier to wear with both tailoring and knitwear, but it did make the coat much more casual with the latter, which was good. Cifonelli's strongly roped shoulder will make it very dashing, but not quite so suited to denim and boots.
The extreme of this solution is of course a raglan shoulder, where the sleeve runs right up into the collar. Here you don't even have a shoulder line to get in the way, but for me you also lose too much shape and style. I'd only recommend it for raincoats.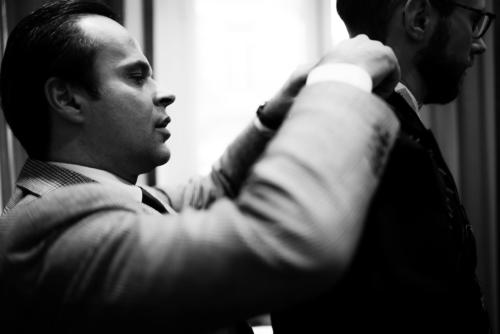 Finally, you can mitigate the problem by adding an adjustable belt to the overcoat, so that it can be cinched a little bit with knitwear. I've tried this on most of my bespoke overcoats over the years, but the construction we came up with on the Vergallo loden was by far the best. It's all about hidden poppers.
The Cifonelli overcoat should be ready in a few weeks, so I'll post something fuller on it then. For the moment, suffice it to say that if you're only thinking about bespoke overcoats now, it's likely too late. I actually started this one with Lorenzo back in December last year, but put it on hold for six months when it became clear it wasn't going to be ready in time. Now is the time to buy ready-made, or commission for summer.
The original overcoat fitting was mentioned in my Tour of Paris for Essence magazine. Below, the overcoat in that piece – in deep green from Hermes, with leather collar. Waist cinching, but no raglan shoulder…


Photos: Luke Carby