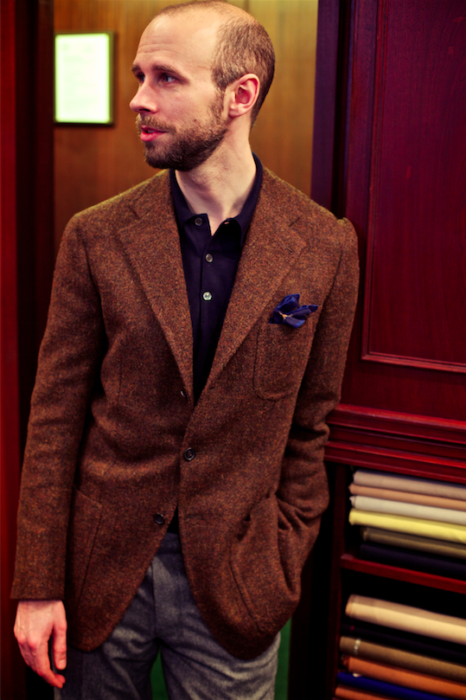 This Neapolitan tweed jacket – made recently for me by Elia Caliendo – is perhaps the perfect update of an English classic.
Tweed is a wonderful material – tough, soft and highly wind- and water-resistant. It makes a great jacket for the modern man to wear with grey flannels at work or jeans at the weekend. But traditional versions are often too structured, or in patterns associated with a previous generation.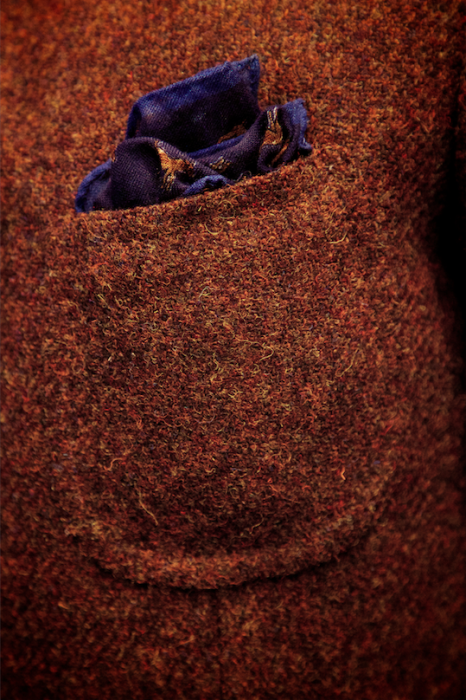 The Neapolitan version – with a light canvas, soft shoulder and curved patch pockets – takes all the stuffiness out of a tweed jacket. This vintage material, meanwhile, eschews big checks in favour of subtle but beautiful intermingling of colours. It appears brown at any distance, but bursts with orange, yellow and bright blue on closer inspection. The fact that the blue doesn't come out in these images shows how changeable it is with the light.
Above you can see Elia's lovely patch, outbreast pocket. The curved shape is, for me, more casual than English equivalents and the swelled edge serves to highlight it more than on a lighter material.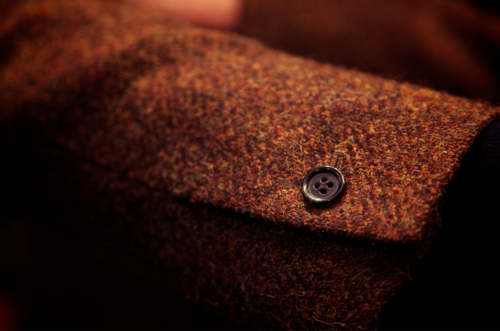 The buttons are dark-brown horn, with polished edges but matte centres. The Italians usually use polished horn or corozo buttons and, while I normally favour matte horn (as used by English tailors), this seems like a nice way to have a bit of both.
The jacket is self-lined at the front, which makes the most of the lovely tweed, and has a panel of tan lining (the same colour as the piping here) across the top of the back. The only disadvantage of having such a hairy cloth unlined is that it can be uncomfortable with the thinnest of shirts.
As mentioned on the Vergallo top coat post, the jacket was cut to fasten across the lapels. This makes it much more functional, and great when being used as the sole outer layer. The three main buttons were also placed a touch higher, in order to minimise the button-less area across the chest.
It is worn with a Permanent Style Dartmoor sweater and Drake's pocket handkerchief. In retrospect the sleeves of the Dartmoor should have been rolled a little longer to allow a little 'cuff' at the end of the sleeve. The ability to do so is one advantage of Smedley's Dartmoor and Dorset designs.
The jacket cost €2800 from Elia. He visits London every 6-8 weeks and you can see more of his work here.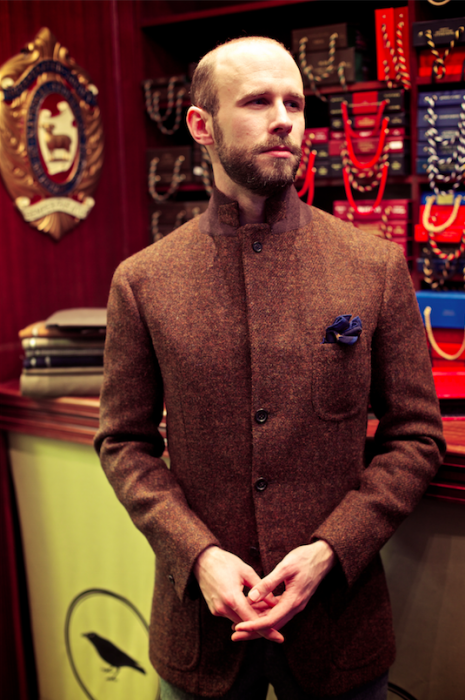 Photographs: Jack Lawson