My favourite Harris Tweed has not been available for a few years now.
Originally offered by Holland & Sherry, I was such a fan that I used it for one of my favourite tweed jackets (from Elia Caliendo, below), a fantastic ulster coat from Liverano (above) and even a self-backed waistcoat from Richard James (here).
The waistcoat hasn't had much use, but the other two are among the best pieces of tailoring I've ever commissioned. I know they've also been real favourites among readers.
So last year, I began talking to Holland & Sherry about reweaving the tweed, as an exclusive Permanent Style cloth. It is now finally (after a few Covid hiccups) available from the PS shop.
It is being cut to order by H&S, in increments of 10cm, so check with your tailor how much you need. (Although handwoven tweed, it is a standard width of 150cm.)
The prime reason I loved that tweed was the amazing colours woven into it: vibrant shades of orange, yellow and blue alongside the more standard brown and black.
And yet, at a distance, it's just a nice warm brown. Something with character, sure, but not the kind of cloth you'd believe would have these crayon-like colours in it.
This comes across particularly in the shots below, of the yarn being spun up in the Outer Hebrides in Scotland. You can see all the dyed fleeces being assembled, and then mixed together before being made into yarn.
I'd never seen the cloth like this, but it really gives you a sense of the vibrancy of the wool. The mixture looks like something I'd find in my kids' Playdough box - yet the end result is such a subtle, sophisticated cloth. It's only when you get close that you see those little coloured fibres curling together.
Being a Harris Tweed, the cloth is handwoven on manual looms - the same type of machine that been used for centuries.
Actually, manual is a little misleading, because most of the work is done with the feet rather than the hands. The weaver (shown below) uses her feet to keep the loom going at a steady rhythm using the pedals below the seat.
Her hands, meanwhile, are free to smooth the material as it goes, and sort out any knots that pop up. I saw this process for the first time years ago, at Breanish, and it is a very endearing craft.
The advantage of weaving at this slower speed is that the tweed can be a little more open, a little spongier. And you do notice the malleable, springy feel of handwoven tweed if you compare it to something mass-manufactured.
In fact, for me, it's more akin to the way the original wool feels on the sheep - less of that seems to be lost in the weaving process. I remember being in Scotland and feeling the fleece on local sheep that were used in tweed, and it is special somehow to feel that similar wool clothing you.
The sheep used in the PS Harris Tweed are all Scottish, and the yarn has to be spun and the cloth finished in the Outer Hebrides to officially be called Harris Tweed. (All such cloth has a little Harris orb printed on it, as shown below, to certify its origin.)
The tweed weighs 15/16oz (per linear metre), which is a mid- to heavy-weight for tweed, and is something I wear at least half of the year.
I happily wear my Caliendo jacket (below) into the Spring, although that is in the UK of course. And it can be worn well into Winter, particularly with knitwear underneath or a coat on top. This weight and weave is also noticeably soft - I wouldn't describe it as scratchy at all.
The warm-brown colour means it's not quite as urban as darker browns I've featured before (eg here from WW Chan) but it is more versatile probably, going with everything from jeans to flannels.
In fact, I've shown it with all these combinations over the years on Permanent Style, from sharp cream cavalry twills to rugged denim and boots.
In this article I even showed my Caliendo jacket deliberately in three outfits, descending in levels of formality. I've reproduced those three images below.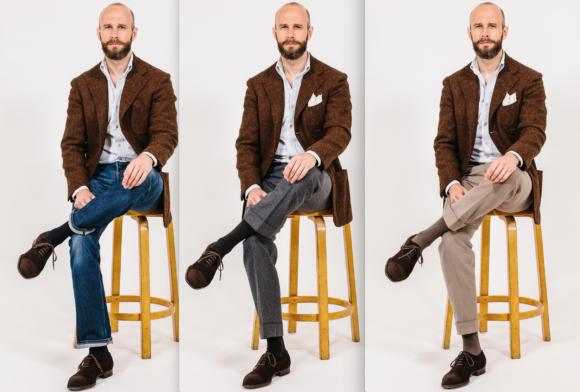 April is, of course, not a usual time to launch a tweed. Most new fabrics come out in August or September.
But this is the ideal time to be commissioning a jacket for the Autumn and Winter, presuming any tailor you use is going to take at least 3-4 months to have the jacket ready.
It might even be longer, given the current restrictions on travel. Starting now makes it likely the jacket (or indeed coat, if you prefer) will be ready sometime in the colder months.
Swatches of the PS Harris Tweed are being made available, if anyone wants to see the cloth in person before ordering. These can be bought through the shop (just order 10cm) and the cost will be refunded if you then subsequently order a length of the tweed.
A summary of the details on ordering:
PS Harris Tweed can only be ordered from the PS shop,

here

. It is not available separately to tailors, or from any other mill.

Order the length you require in units of 1m and 10cm. So for 2.2m, you need to order 2 metres and 2 lots of 10cm.

Ask your tailor how much you require. I would normally need 2.2m for a jacket with patch pockets. The cloth has a usable width of 150cm.

The cloth is being cut to order, and then sent from Scotland, by Holland & Sherry. So please allow 3-4 working days for lengths to be sent.

The tweed costs £95 a metre, plus those local VAT or duties.

If you would like a swatch, please place an order for 10cm. The cost is refundable if you subsequently order cloth. Please request this when you make your subsequent order.

As the cloth is cut to order, it cannot be returned or exchanged unless faulty. If you are uncertain, please do order a swatch first.

If you would like the cloth sent directly to a tailor, please put them down as the shipping address, but

include your name

in the address also, so the tailor knows who it's for.
Details on the cloth:
Authentic Harris Tweed, which means handwoven by islanders in their homes in the Outer Hebrides, Scotland, as well as being finished there, using virgin wool dyed and spun there.

The yarn used is from Scottish sheep, and weighs 15/16oz or 470/500g per linear metre. It has a usable width of 150cm.

The weave is a twill, but this is barely noticeable amid the colours and curls of yarn.
Further articles where you can see the tweed being used and worn are:
Harris tweed jacket and jeans

Wellema hat review
White PS Oxford shirt

Harris tweed waistcoat, Richard James