The Spring/Summer collections may be arriving, but it's 2 degrees outside in London, and I'm continuing a season-long love affair with roll necks.
The wonderful thing about a roll neck is that it is both very practical and very stylish; not many sartorial pieces fulfil both criteria so completely.
It's practical because in cold weather a roll neck protects both the throat and chest. And because, being knitwear, it allows great movement than a shirt or jacket.
That also makes it great for travel.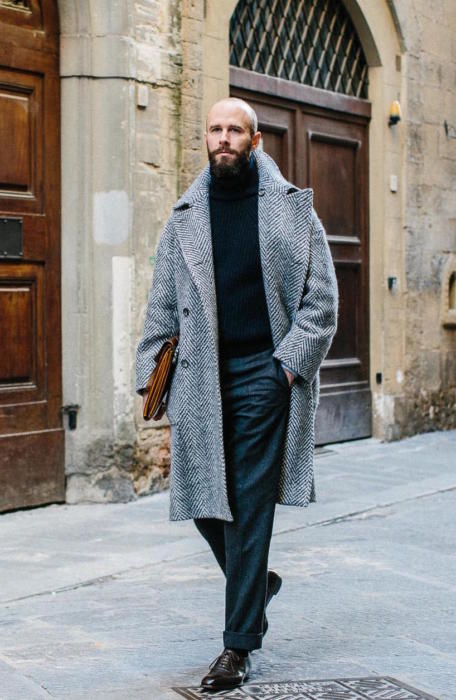 On the style front, a roll neck succeeds because it looks smart, 'dressing the neck' in a similar way to a shirt and tie.
And because it frames the face. Framing the face is flattering, as any shirtmaker will tell you, in particular for anyone with an average to long neck (such as me).
Roll necks also have nice historical associations of relaxed, elegant chic.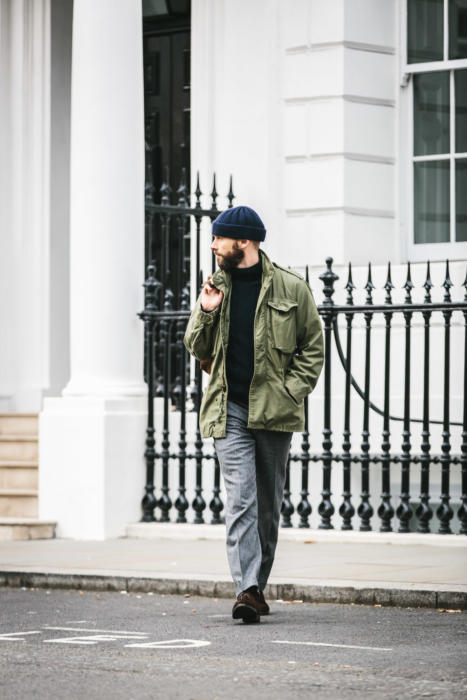 The downside of a roll neck is that it really looks best underneath a jacket or coat, rather than on its own.
This is particularly true with larger men, where a shirt gives them a flattering V-shaped opening and a long vertical line in the placket, but a roll neck presents nothing but a big, dark block.
Fine-knit versions are particularly unforgiving.
A roll neck is therefore best on a day when you will be outside more than in.
Or if inside, wearing a thicker model, perhaps with more vertical lines such as a rib or cable.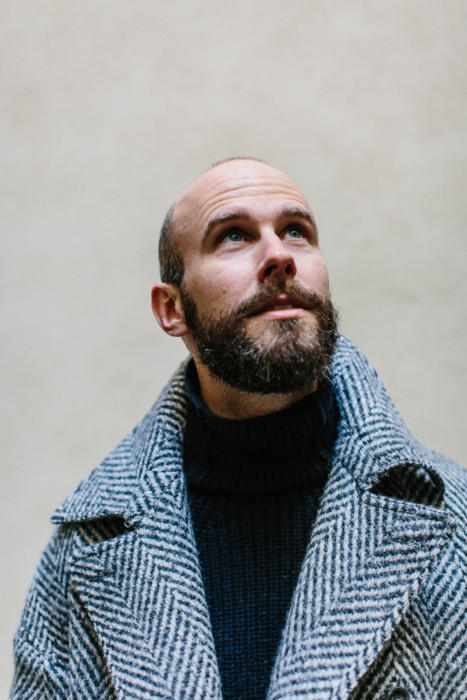 On the subject of different styles and weights, I tend to have two in a colour: one that is thin enough to wear under a jacket, and one that is not, really being a substitute for a jacket.
In the image above, I am wearing the thicker type - a 'funnel neck' style from Anderson & Sheppard.
This is chunky, short and ribbed, and can be worn folded down (in which case a shirt collar would show above it) or up, jutting against the chin.
In the latter case a close observer will notice the seams showing on the outside, but I don't mind this in something so dark.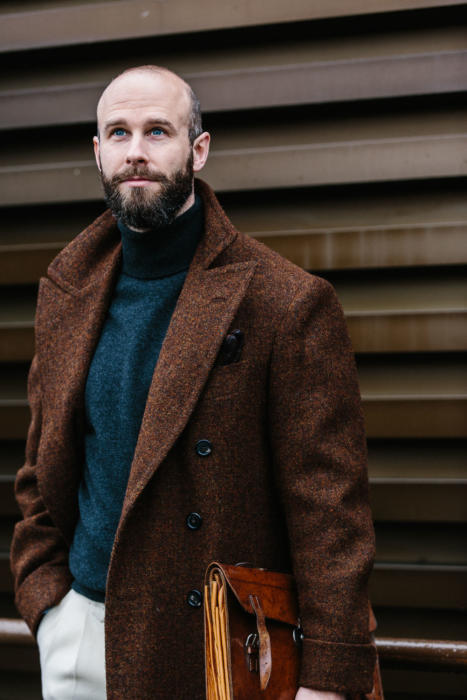 In the second example, above, I'm wearing the lighter weight - a charcoal cashmere model from Drake's.
This works under a coat, but is particularly good under a jacket.
There is also perhaps a third category: an ultra-thin version that is aimed at being closer to the thickness of a shirt, something like a 30 gauge.
I have a lovely navy model like this from Edward Sexton, picked up in our pop-up shop last November.
Even I, being tall and slim, would think twice about wearing this weight on its own, however. Best under something else, including under another layer of knitwear like a big shawl-collar cardigan.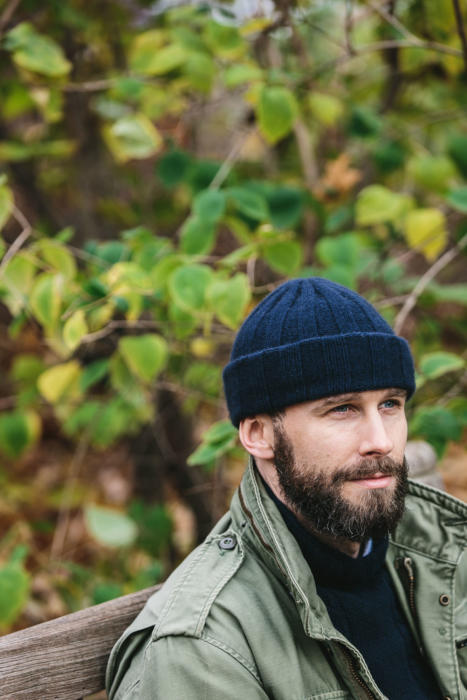 I know a lot of people find roll necks uncomfortable against the neck, particularly with stubble.
I used to as well, but find I've got used to them over the years.
I also sometimes wear a shirt underneath them (above), rather than a T-shirt, which means a collar sits between the neck and the wool. Unless the model is of the super-thin variety, the shirt shouldn't disrupt the surface.
Finally, there is the Italian look of popping the collar of your shirt, so it sticks up out of the top. This is a bit too much for me, but if you can make it look like you've been doing it for years, it can look good.
If you do adopt this look, try to use a relatively small or cutaway collar, so the points don't stick too far out.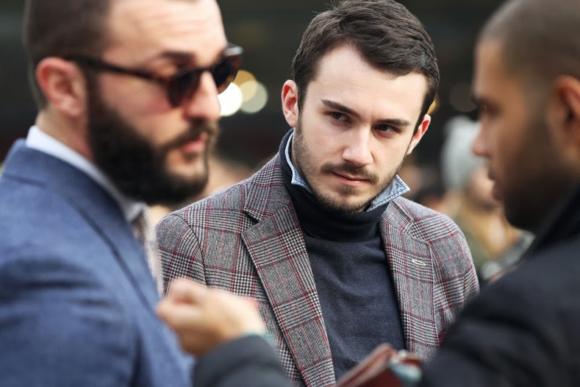 Of course, given the time of year, there aren't many roll necks available now.
Drake's and Trunk don't have any (I'm wearing a Howlin' model from Trunk Clothiers in the navy watch-cap shot above).
However, Anderson & Sheppard largely eschews the seasons and has a few roll necks and funnel necks left, and Sexton actually has its on sale (£165 down from £275).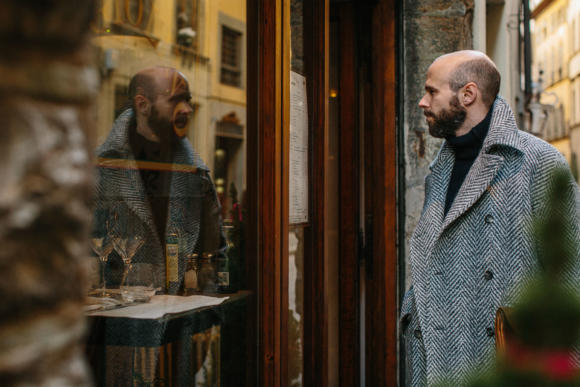 At its core, I think I love the roll neck because (like most menswear I love) it has a distinctive style without resorting to loud pattern or other extremes.
It is simply chic, warm and comfortable.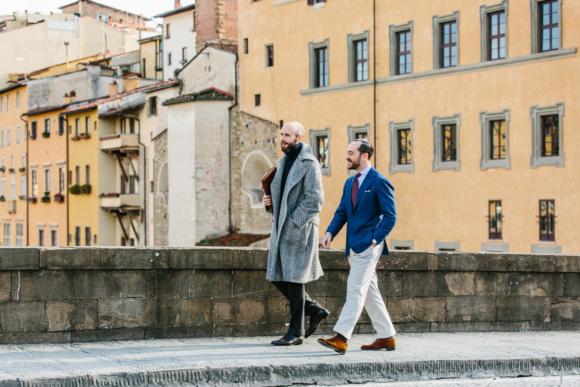 Other clothes pictured:
With navy Anderson & Sheppard funnel neck:

Connolly drop-shoulder herringbone coat
Elia Caliendo charcoal worsted trousers
Cleverley dark-brown oxfords
Vintage brown portfolio case

With charcoal Drake's roll neck:
With navy Howlin' funnel neck (via Trunk Clothiers):
Photography: Jamie Ferguson @jkf_man except popped-collar shot, Street FSN
Last shot above: With Benedikt Fries of Shibumi