What are the best knitwear colours under tailoring?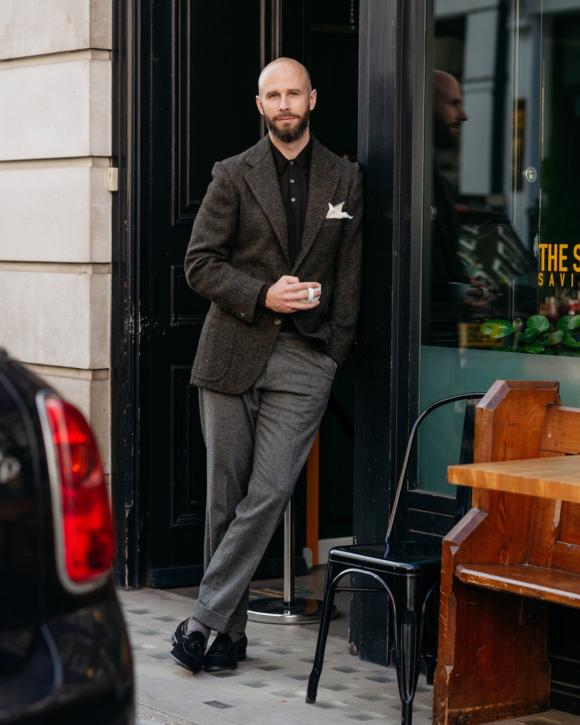 This question about knitwear worn on its own (without a shirt) came up twice recently - once in a comment about polo-collared knits (above) and once in a reader question about roll necks. So it feels like it deserves its own post.
Anyone that has worn a roll neck under a jacket in recent winters will know that it's not as easy to match as with a shirt.
There is no colour of knit that is quite as versatile as either a white, or pale-blue shirting. Those two go with almost everything; there is no knitwear equivalent.
Knits come in many useful colours, and navy, grey, cream and brown can all look great in different combinations.
But they all have disadvantages. The key is to consider those disadvantages in turn, and as a result work out which fit your wardrobe best. And perhaps accept that you just need more colours of them than you do of shirts.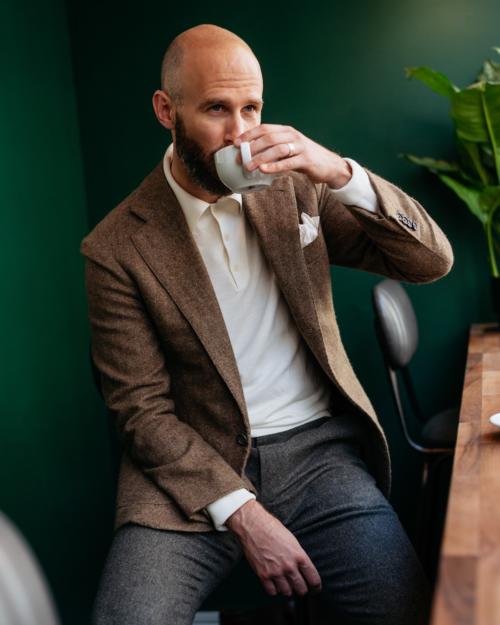 Cream
In general, knitwear is more versatile if it's more muted. A strong or rich colour is just more likely to clash with the jacket or coat.
And it is particularly useful if it's pale, given the other clothing is more likely to be dark. That's one reason a pale-coloured shirt is so much easier to match than a dark one.
For those reasons, cream is a great option. It goes with everything and clashes with nothing (except cream or white trousers).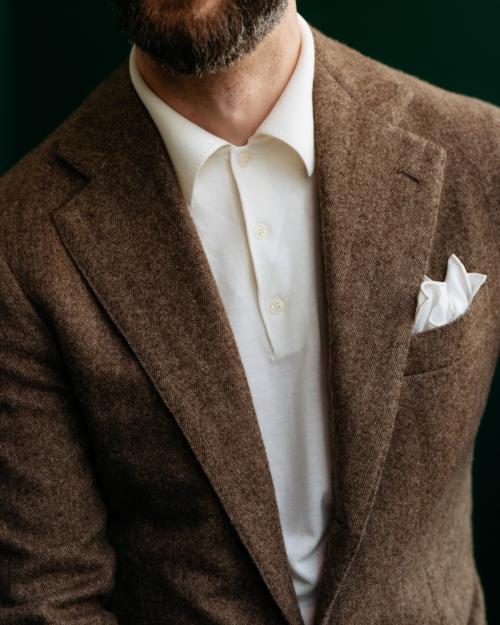 The disadvantages of cream are that it can be hard to keep clean, and that fine knits (like the one above) can be see-through. The T-shirt or vest underneath is likely to be visible.
Still, I wear mine with a vest, and don't mind the look. (See here for more on layers under knitwear.)
Heavier roll necks in cream don't have that problem. But, I don't find they suit many guys. They're great in theory, and work well under an overcoat. But on their own they wash out a lot of people.
In general, I find this is less of an issue with heavier, coarser roll necks - the Drake's rather than the Luca Faloni. So if you wear cream, head towards that end of the spectrum.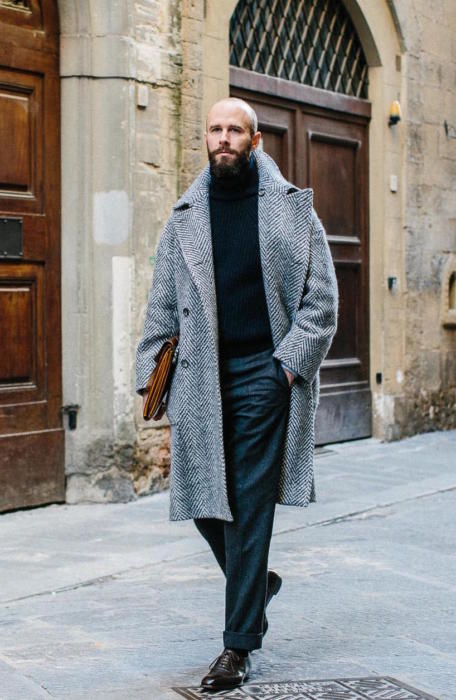 Navy
Navy is the colour most guys are likely to have. It's the most common and generally the most versatile knitwear - certainly if you don't wear dark-indigo jeans much.
And it does go with a lot of things. However, it is not a neutral colour (unlike cream or grey) and is actually fairly rich. As a result, it's not so good under some other rich colours, like strong greens, or earthy colours like brown and beige.
It doesn't work, for example, under the brown or green jackets shown below, or as a roll neck under my Ciardi taupe or Liverano brown coats. Neutrals like grey, cream or black are much better there.
You wouldn't necessarily notice this when wearing navy knitwear with a shirt. But colour has a much greater impact when it's in a larger block, against the face.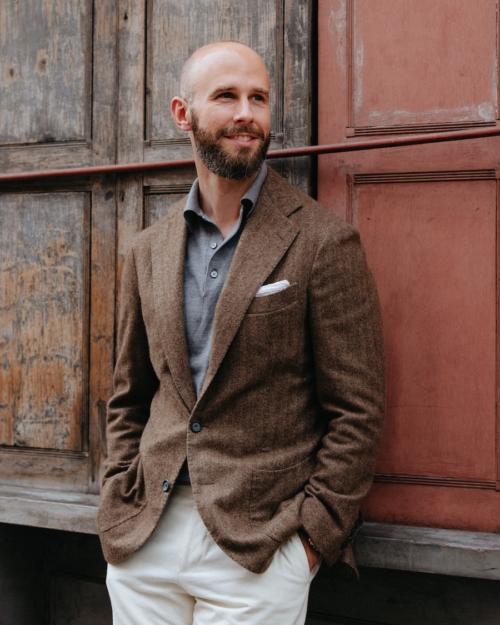 Grey
Grey succeeds on many of the criteria mentioned above.
It's a neutral - in fact, we know from discussing jacket and trouser colours that it's the most versatile partner for any colour. And there are lots of wearable shades, from pale-grey to charcoal.
The only disadvantage of grey is that you're more likely to be wearing it elsewhere (at least in a smart wardrobe), given that grey is the most common colour of tailored trouser.
I also find, personally, that lighter greys don't work that well as roll necks.
They should do, but I find they make the roll neck a little more showy that it has to be - particularly under a jacket. Charcoal is better, and I wear that far more (as you can see here).
Still, grey deserves to be among the top two or three colours of knit, and I'd recommend a mid-grey polo (as above) or charcoal roll neck to most wardrobes.
(Dark) brown
If navy can sometimes be overrated for knitwear like this, I think dark brown is usually underrated.
If it really is dark and muted, like the one above, then I think it goes with almost anything - from navy to grey to green.
Brown's only disadvantage is that you're likely to be wearing brown shoes or accessories as well. But personally I don't think this is a problem, certainly with the knit tucked under a jacket.
The other issue is that browns are just hard to find. The one above is from John Smedley ('dark cocoa') and I've never found one quite like it.
In fact I would have produced a Dartmoor in that colour, if any of the yarn suppliers had a suitable shade in their books. There are twelve shades of grey in Loro Piana Wish merino, but only two of brown.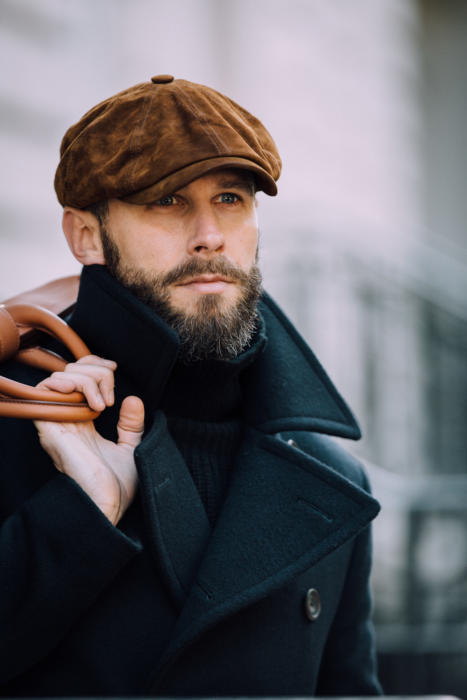 Green, black and others
Green is a useful colour of knitwear because it's unlikely to be worn anywhere else. That's the reason it was the second colour of the old Finest Knitwear, and the current Finest Cardigan.
However, it's not so good as a collared knit or roll neck - against the face, without a shirt collar to help.
Still, it's a nice occasional option, underneath grey or country colours such as warm browns.
Black is very useful, if it's your style.
It has the advantages of being neutral, dark and unlikely to be worn elsewhere (other than shoes). I picked up a black Billy knit from Berg & Berg recently, and the colour is great.
However, a lot of people don't wear much black (as discussed), and won't therefore find it the easiest thing to work into their wardrobe.
There are bright colours like firehouse red, or burnt orange, which are beautiful, particularly in shetland wool. But you wouldn't call them versatile. And the same goes for colours like beige, brown or camel.
In the end, if you want to wear collared knitwear regularly under a jacket - which can be very nice, very casual chic - then you'll likely need two or three of these colours, at least.
And even then you'll probably find there are some jackets, or some outfits, which just don't work with any of the colours. There is no equivalent of good old sky-blue and white.
By the way, the cream knit pictured above is a sample for a new colour of the Dartmoor. I'm not sure about it, given the transparency mentioned, but if it's something you would wear, do shout and I'll add it to the decision matrix.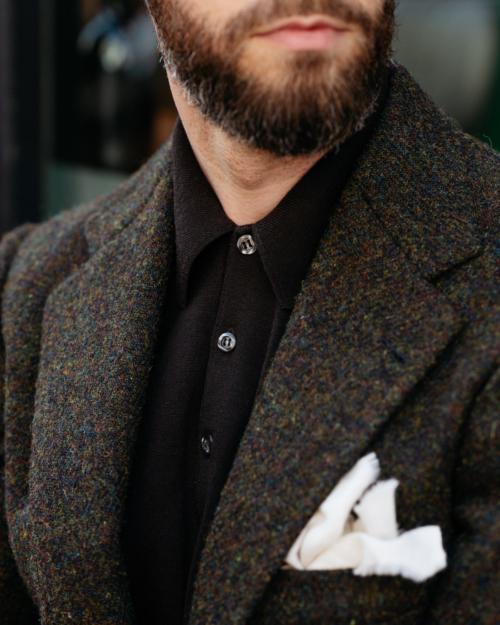 Other clothes pictured:
With cream Permanent Style 'Dartmoor' knit:

Eduardo de Simone cashmere jacket
Whitcomb & Shaftesbury mid-grey flannel trousers
Frank Clegg tote bag

With navy Anderson & Sheppard funnel neck:

Connolly drop-shoulder coat
Whitcomb & Shaftesbury charcoal flannel trousers

With grey Permanent Style 'Dartmoor' knit:

Eduardo de Simone cashmere jacket
P Johnson cotton trousers

With brown John Smedley knit:

Zizolfi tweed jacket,
Same mid-grey flannels
Black-suede Belgravia loafers from Edward Green

With black Anderson & Sheppard funnel neck:

Permanent Style Bridge Coat
Lock & Co suede cap
Dunhill leather bag
Photography: Alex Natt