Knitwear and necklines – with Ciardi overcoat in 'British Warm'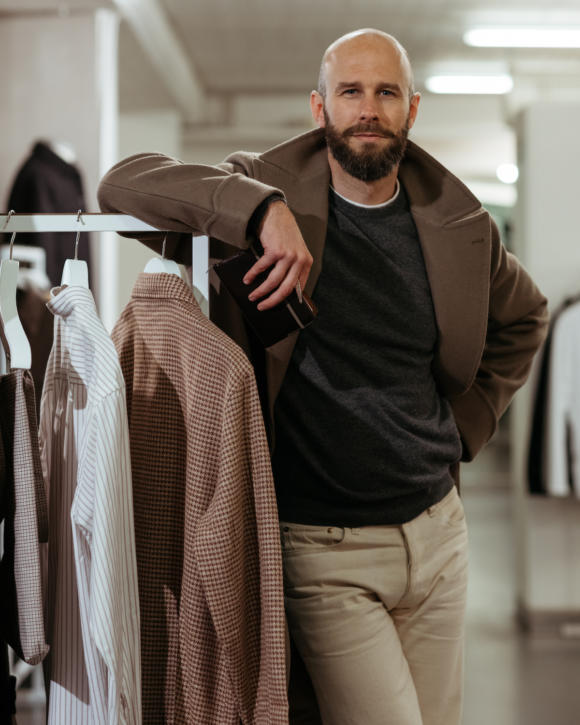 My love of bespoke overcoats continues unabated: the thing I was most excited about this Autumn was the prospect of wearing them again.
It's annoying that, useful as they are (and arguably today, more useful than a bespoke suit) they are limited to the colder months of the year. Perhaps I just need to develop an equally strong love of linen trousers; then I'd never be unhappy.
The coat I was particularly looking forward to wearing was this new one, from Sartoria Ciardi in Naples.
It was made earlier in the year, but due to some poor planning, only got worn a couple of times before the weather was too warm - and it had to be carefully packed away in the attic.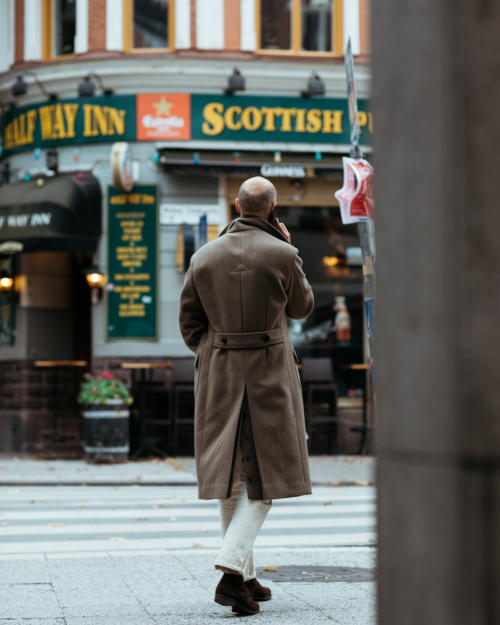 It is rather a warm coat, being made in 850g wool from Holland & Sherry. It's from their Contemporary Overcoatings bunch (code 9819306) which has some pretty wild things in it, but also this and a few lovely herringbones.
The cloth is their recreation of the 'British Warm' - a style and fabric that was worn as a great coat by British officers during the First World War. (Though not a melton, as it is often described.) It was later made popular by Winston Churchill.
It is at the heavier end of the range for overcoats, and yet, I rarely feel hot in it. During the visit to Stockholm pictured, temperatures topped out at 16 degrees (celsius). Yet I was not hot.
I wore it open except in the chilly mornings and evenings, and thanks to its beautiful bespoke shape, it still looked good, draping rather than just hanging.
That perhaps comes across in some of the images, such as the one below.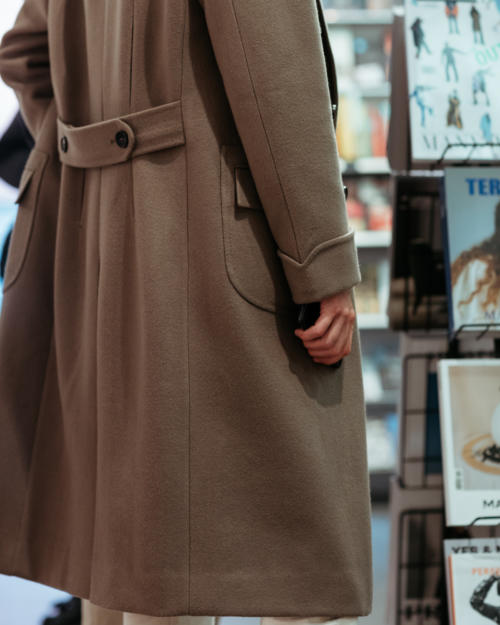 The cloth has a beautiful hand. It's wool - no cashmere in there - but soft and tightly woven. An attractive combination of pleasure and practicality, perhaps.
The colour is probably best described as taupe: a greyed, warm brown. It's not formal enough for the smartest business attire, really, but certainly for anything other than that.
And it has a feeling in common with the camel colours of a polo coat - that it could be thrown on with knitwear and jeans at the weekend, yet be smart with a blazer and trousers too.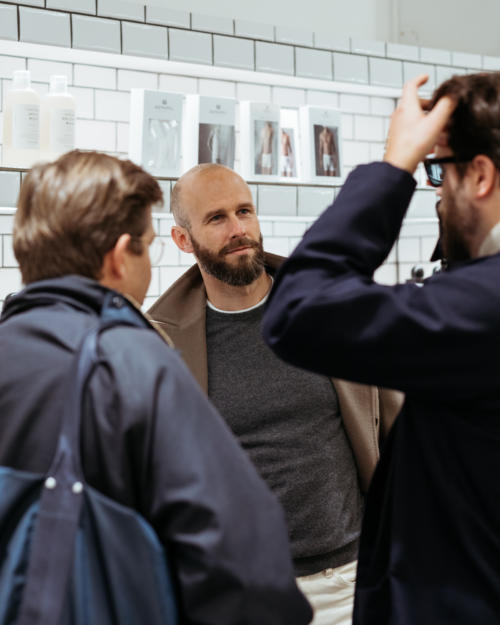 That's how I was wearing it here, when we shot in Stockholm with Oliver and Carl of Rubato (shown above - article on their newest things soon) on a walk around Sodermalm.
The jeans are from Boncuore/Drake's, from a few years back, and have a nice creamy (rather than stark/optical) white that it's not always easy to find. The boots are my suede Saint Crispin's.
On top is a dark-grey cashmere crewneck from Colhay's, with a white T-shirt showing significantly over the neckline.
I say significantly because this strip of white is a very effective way of freshening the look, making whatever is underneath sit better against the face.
If there is a colour that isn't quite so flattering on you, but looks great otherwise (as this grey is on me) then that strip is very helpful.
It's nothing new, but is a little point that men who wear a lot of crewnecks could do well to pay attention to. That no-shirt look might be rather more complimentary as a result.
Of course, the problem is you then need a T-shirt with a sufficiently high (at least at the front) neckline to keep consistently above the knitwear. This one is from Warehouse (via Clutch Cafe) but is a little thick for an underlayer.
While I do then like the look of this knit under a coat with the collar down (as above), I still prefer it with the collar up.
There is some attitude to wearing the collar like this, and a little more relaxed air, which is often helpful with tailoring. I would be more likely to wear the collar down if I were in a suit and tie.
Shrugging on the coat as you leave a restaurant, popping the collar, and then buttoning it, is also very satisfying. Like being given a sculpted heavy-wool hug (from behind).
One disadvantage to this combination of crewneck and overcoat is that the neck can look a little bare. When I'm concerned about this (as I might be with a smaller-collared coat, such as my Ettore de Cesare topcoat) I would wear a scarf loose around the neck as well.
A dark brown washed cashmere would have looked nice here.
That height of the collar was the only thing I tweaked to Ciardi's normal style of Ulster coat.
The Ulster is a particularly popular style in Naples, and most tailors have their version of it. You can see me wearing Panico's 20-year-old version here. (There's also an article coming in a couple of weeks on the various styles of coat.)
Ciardi's has the normal horizontal gorge, making it easier to wrap the coat around the throat, plus the turn-back cuff and buttoned vent at the back. There is the (non-functional) buttoned half belt and swelled edges created by the (fairly standard Neapolitan) double rows of hand stitching.
Stylistically the only choice, really, was to have postbox pockets rather than the more standard patches (something I've liked ever since my navy Cifonelli coat). And then that collar, which I requested to be raised a little to better suit my neck height.
Interestingly, English and French makers tend to have a two-piece collar - with a stand and then the actual collar folding over the top. And ready-made coats often have a crescent-shaped insert in the back. But the Neapolitan collar is usually just one piece.
Regular readers will note that this coat is a little similar to the one I had made by Whitcomb & Shaftesbury last year - both in general style and in colour.
It is, but there were some mistakes made by both sides in that commission (covered a little here) and I was keen to try a Neapolitan Ulster - for some completeness on PS as much as for a replacement on the Whitcomb commission.
I'll likely write more about my reflections on that some other time, as I have done in Reflections on Bespoke posts.
The coat cost £4800 (including VAT), which is also Ciardi's starting price for an Ulster coat.
Photography: Milad Abedi