I've been looking at a lot of old Ralph Lauren imagery in recent months. Because of the 50th anniversary, but also because of the Ivy Style talk we did in New York, where everyone admitted some kind of debt to Ralph, and reading In His Own Fashion - Alan's official biography.
I've realised that Ralph Lauren is the only designer brand I feel any kind of continuing loyalty towards.
There are many things I'd change about the product. The pretend logos always feel tacky ('RL rowing club' etc); I wish Polo was made better; and I wish Purple Label hadn't gone up almost 50% in price in recent years.
But at the same time, through my entire adult life Ralph Lauren has been a source of style inspiration, and still is. I walk through the Bond Street store every month because there's always some aspect of the styling that appeals.
Ralph was also largely responsible for reinvigorating classic menswear in the 1970s, saving it from dying with an older generation. And he has been its staunchest champion in the 50 years since. Whether you like the product or not, he is a guardian of our style.
I mention this only as a preamble to this outfit, as it was inspired by looking back over old Purple Label imagery.
Ralph always liked tonal combinations like grey-on-grey, but usually with something unusual thrown in - like a bright purple or pink, or an unexpected accessory.
One of my favourite images of him is in a chalk-stripe grey suit, with matching grey roll neck. I did try that, but it turns out you need suit and roll neck to be very similar shades of grey, and none of mine are.
So I turned to another old tonal combination, this time with grey tie under grey suit, and pink or purple-striped shirt underneath.
I'm sure I learnt from Ralph Lauren at a young age how much pink and purple complement grey.
And it's something I now do instinctively, whether it's a purple sock between a grey trouser and black shoe, or a pink handkerchief with a grey suit.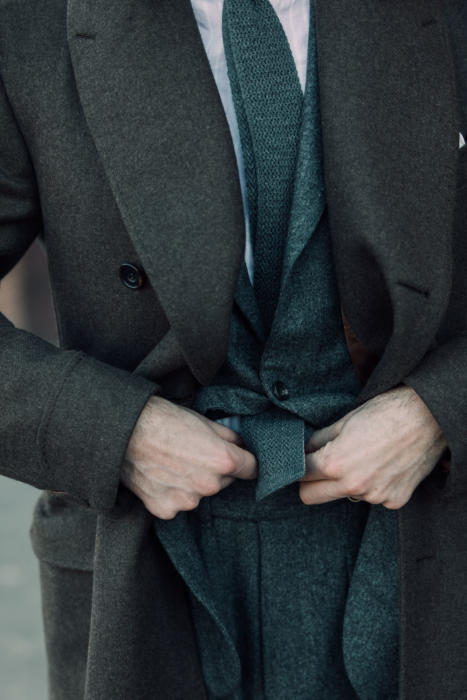 Here, I wore my grey-flannel suit from Panico with a grey knitted tie from Hermes (a nice fine wool, though I wish it wasn't double-sided - I never wear the lighter grey on the other side, and it always finds a way to show itself).
Beneath that is a lilac-striped shirt from D'Avino, in a pattern that's sometimes called a shadow stripe, or reverse stripe.
As a pattern it's useful because it's broad enough (and faint enough) to not interfere with most tie patterns. They are of sufficiently different density. Only a chalk-stripe suit or a club-stripe tie might start to clash.
It's also a linen shirt, which is a little breezy in the Florentine winter. But I remind myself everyone used to wear linens, all year long - and it's never cold if the jacket stays on. It makes for nice texture too.
Over that is a Cifonelli overcoat in muted-brown Tengri yak, a cloth we'll cover in more detail on Friday this week.
The coat is a copy of my first coat from Cifonelli, in navy cashmere.
That piece has had more wear and love than anything else I've ever commissioned, so it was nice to remake it in a different material.
The only changes we made were the turn-back cuff, which curves into the seam now, rather than looping under itself. And the pockets, which I switched from a postbox style to normal patches.
The cuff is certainly nicer this way, though I'm unsure on the pockets. Both are nice, but perhaps the postbox style is a tiny bit smarter and in keeping with the overall formality of the coat.
The Cifonelli workroom also made a small error with the coat, using a running stitch around the edges rather than the double pick stitches I had on my previous coat and asked to be replicated.
But I'll give it back at the end of the winter and they'll correct it.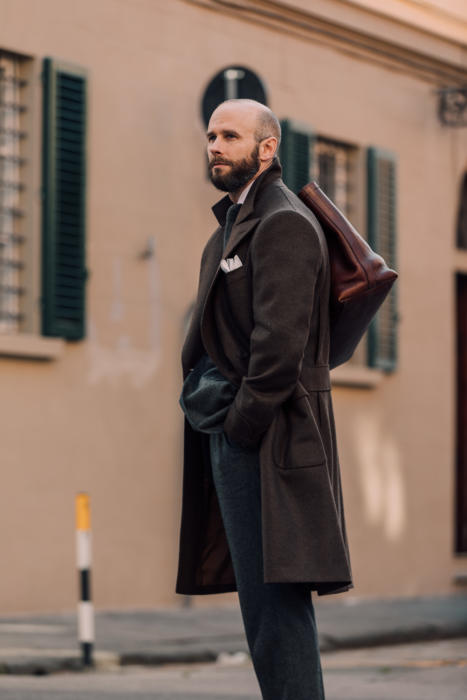 The only issue with wearing this coat over the grey flannel is that they're rather similar in tone, being both matte and muted. I therefore added the white-linen handkerchief to the coat to create a little more contrast.
I wouldn't normally wear a handkerchief in the pocket of a coat, but I don't think it looks odd, and it does help create a focal point.
The bag and shoes are similarly tonal, but in leathers with some real shine, which helps set them apart.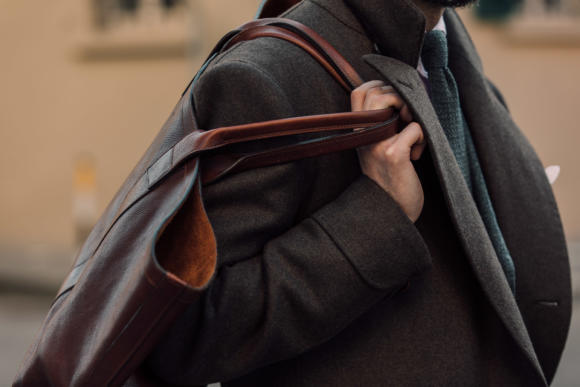 The bag is my old (and again, much loved) unlined tote from Frank Clegg.
Its heavy wear is due to it being regularly used to heft piles of clothes around, but also because it has proved to be the only bag in our house big enough to get the whole family's things to the swimming pool.
I rarely put the bag over my shoulder, by the way, as pictured.
Not because it looks like I'm going to a building site (as one reader once affectionately commented) but because if done frequently it will wear at the fabric of the coat. A good reason never to wear a backpack with tailoring.
With something that is less likely to wear, like a tweed or cotton, for instance, I'm happy to sling the bag. It contributes to perhaps the most important thing about elegant clothing, to appear relaxed. (And hopefully, over time, actually be relaxed - which achieves the same thing but is also, relaxing.)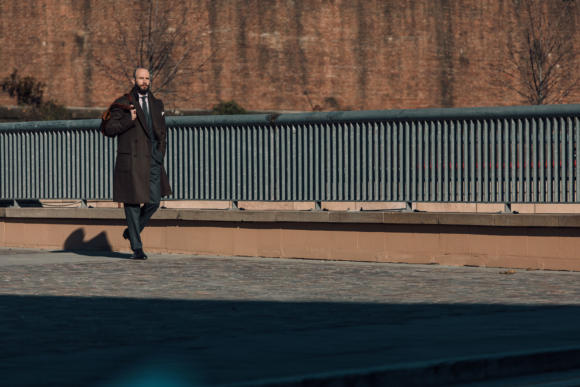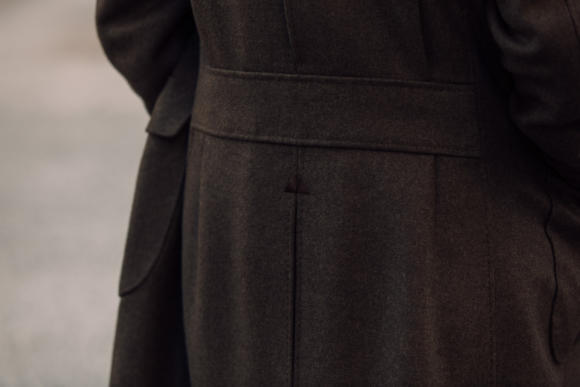 Some nice touches from the Cifonelli coat are shown above and below.
The team have now taken to embroidering a large 'C' in the upper back of coats; they use nice nut buttons on the inside, to reinforce those in the outside; and the hand-sewn triangles - known as sprat's heads in English tailoring - are done in tonal thread both at the top of the pleats on the back, and at the meeting point of the cuff.
I have no idea whether Ralph would approve of my grey-and-lilac colour combination.
But I do know (according to Lorenzo) that he's a fan of the Cifonelli details. And when done tonally like this, they're pretty subtle.
Photography, Jamie Ferguson