Saint Crispin's: Relasting, boots and US activities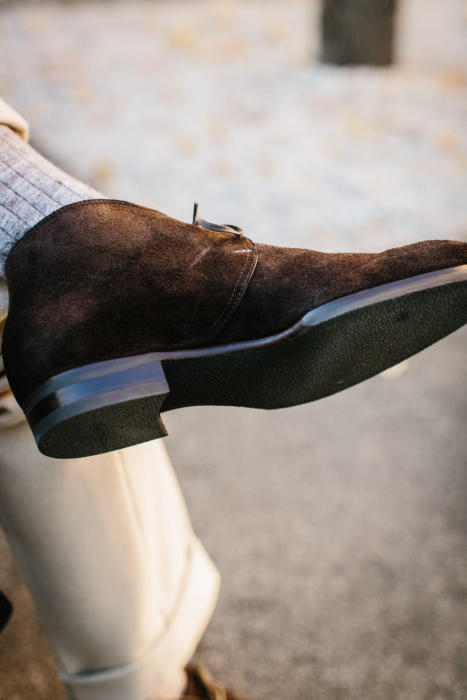 The ability - or more perhaps significantly, the willingness - of Saint Crispin's to re-last a pair of shoes is a key part of their attraction.
Having a personalised last is great, and arguably better value than bespoke, but as with bespoke it can take a pair or two to perfect it.
If previous shoes can subsequently be re-lasted on that perfected last, it can avoid any wastage - or shoes that are sadly less loved than others.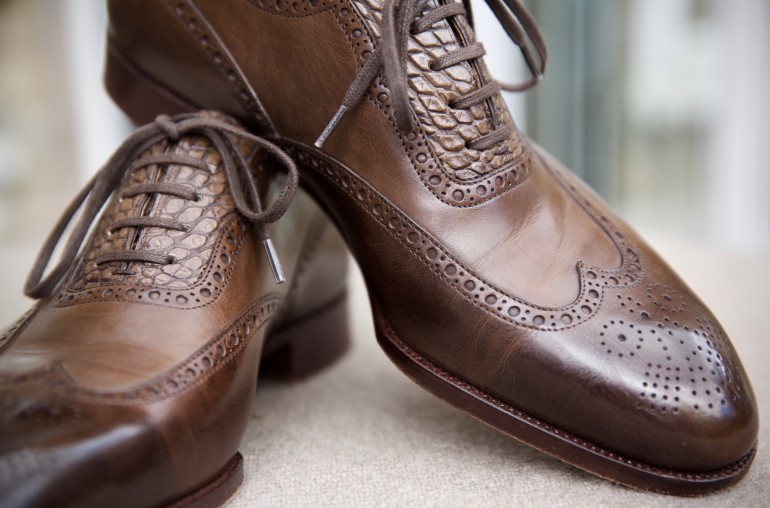 When I reviewed my Saint Crispin's shoes (shown above) back in May, the fit was generally good but had a specific issue with the length.
They were simply too short, despite fitting perfectly around the back half of the shoe.
I sent them back with notes on exactly what needed correcting, and three weeks later received them back with the length now perfect.
The sole and welt had been taken off, they had been re-lasted, and then re-made.
The medallion was a tiny bit further back, but not so much that it looked wrong. A sore point around the meeting of the wing-tip and counter had also been softened.
The wonderful thing about such a process going well, of course, is that it gives you confidence to return to the same maker again. I commissioned a pair of brown-suede chukka boots, on the same last (pictured above).
Now one of things that artisan-based brands often struggle with is consistency.
Getting the same product in the same fit to the right customer can sometimes be a challenge; little money is spent on management systems or time-and-motion studies.
So it was heartening to receive the chukka boots and find that the fit was now perfect, exactly the same as the re-lasted wing-tips. There was initially some rubbing around the ankle bone, but that has since softened.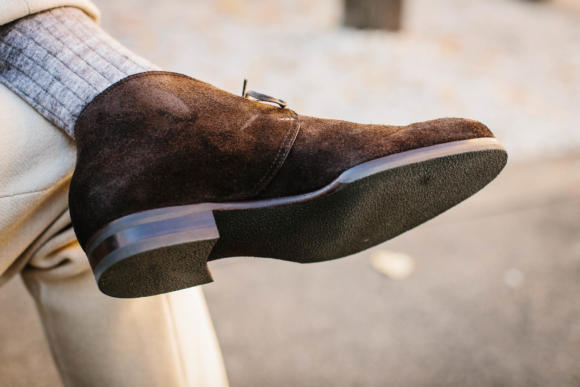 A suede chukka boot is an amazingly useful thing in the colder months, particularly when you wear a range of formal and less formal clothing.
In the images above I wore them on a trip to Vienna, and they went happily with jeans while I was travelling, chinos one day, and (as pictured) cream wool on another.
I deliberately had this pair made with a rubber sole to experience the shaping through the waist that Saint Crispin's applies to rubber.
They cut into and round the edge of the rubber here, retaining that elegant negative-space under the shoe that bevelled waists benefit from. It makes a fairly functional shoe just a touch more elegant.
I also note here the expanded offering Saint Crispin's now has in the US. (Though it will make me no less annoyed that there isn't that service in the UK!)
Earlier this year ex-Armoury man Zachary Jobé took over running the Americas side of Saint Crispin's, and how has a showroom in New York as well as doing quarterly trunk shows around the US.
Appointments can be made in the showroom by emailing Zach at [email protected], where shoes can be tried for fit and orders placed. There is no stock - retailers remain the best option for that. Address is 130 W57th Street, Suite 11A.
The trunk shows are currently taking place in Washington DC, Atlanta, Miami, San Francisco, Los Angeles, San Diego, Dallas, Denver and Seattle. The next ones are between end of January and mid-February. Details here: www.saintcrispins.com/trunk-shows/americas.
Lastly there is more ready-to-wear and a made-to-order process available on store.saintcrispins.com.
Photography: Jamie Ferguson @jkf_man