If you like the style and structure of Saint Crispin's shoes, they offer some of the best value available anywhere.
Pictured here is my first pair, made a couple of months ago - a wingtip in brown, with an alligator adelaide section around the laces.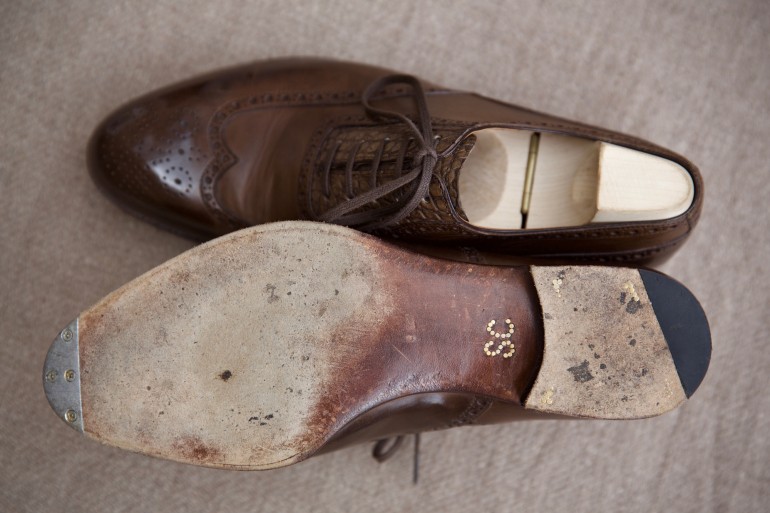 We had a couple of issues with the fit and style, which I will go into lower down. But overall I am very happy to recommend them and the service.
Key to that recommendation is price. Saint Crispin's shoes cost 1350 euros which, while still an awful lot of money, is a hell of a lot less than bespoke shoes with many of the benefits. And now around the same price as Gaziano & Girling (depending on the exchange rate).
For that price you get a hand-sewn welt - which you won't see on any of the English makers, and very few elsewhere - and beautiful finishing through the waist. You get a hollowed-out shoe tree made on-site. And you can usually make-to-order at no extra cost.
Saint Crispin's is able to do made-to-order easily because it has such a small production (about 1600 pairs a year) in its Romanian workshop. In fact, about 65% of the business is made-to-order, so ready-to-wear lines interrupt the flow of MTO, rather than the other way around.
Even the 30% of the business that is RTW is mostly small, personalised orders from various retailers (eg The Armoury, Leffot, Skoaktiebolaget).
And this is to leave out perhaps the most interested aspect of the Saint Crispin's offering - the personalised last.
For 500 euros, a customer can have a standard last personalised to his fit. This is a one-off payment, to cover the cost of making the last and not being able to use it on any other shoe. Once it's paid, that last can be used on any new shoe, for the standard price of 1350 euros.
So the key question is, does this personalised last approach the fit gained through bespoke? The process is not that different, in an age when many bespoke makers start from a pre-cut last (rather than a big oblong of wood), but do the results match?
On the evidence of my shoes, yes and no. Zach (Jobé, at that time at The Armoury) and Phillip (Car, Saint Crispin's, who did the fitting) got the difficult things right: the fit around the heel was perfect, as it was through the arch and joints.
But a couple of easy things went wrong. The shoe was too short - almost half a size - which caused my toes to touch the end when walking.
And arguably the advice on the style could have been better, as the narrow wing-tip design doesn't quite suit my wide-joints-and-narrow ankle foot shape. It leaves too much space between the brogued line and the edge of the shoe (see top image). But I must bear at least partial responsibility there.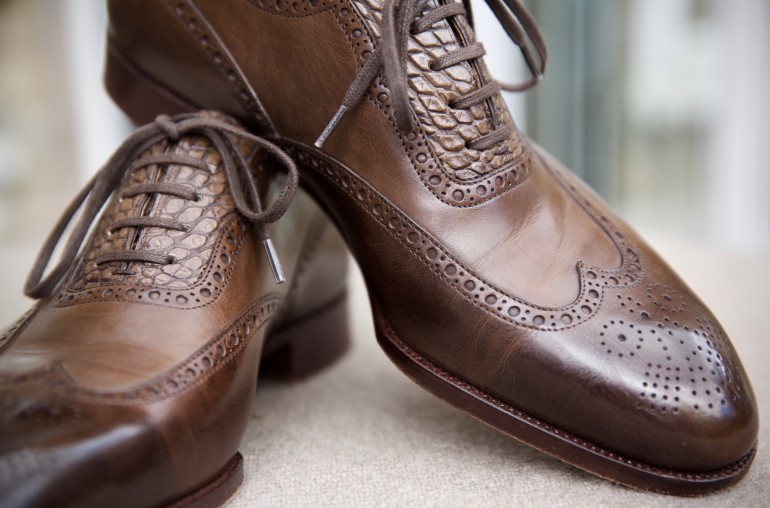 Phillip has offered to re-last the shoes to correct the issue, and says he is usually happy to do so with other problematic fits. There is usually a small charge for this (around 100 euros).
This re-lasting can also be done to improve a first pair, after a better second pair has been made. This is in keeping with Phillip's general advice that a personalised last is worth investing in if you think you are likely to eventually buy 2-3 pairs. (The logic is similar with bespoke shoes - although not usually stated that baldly).
In fact, Phillip has always argued that bespoke shoes should include a 'fit guarantee', where the maker is prepared to make as many pairs as needed to get the fit perfect. He does a very small amount of bespoke work at 4500 euros, with such a guarantee.
He argues that all other bespoke makers should offer something similar - that this is why bespoke is so expensive. Although doubtless English and Italian bespoke makers could be a lot cheaper if they were also making in Romania.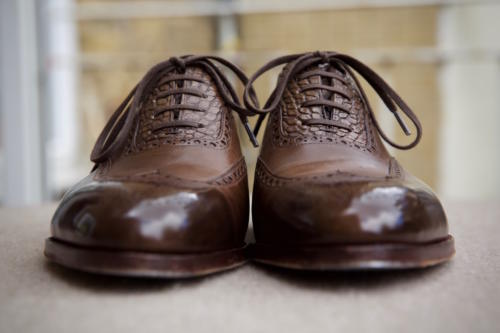 Which is not to diminish the Saint Crispin's factory at all,. As I have stated many times before, my principle is that I don't care where something is made, only about the quality.
And the quality level at Saint Crispin's is superb. The bevelling of the waist on a rubber sole; the initials in nails; the finishing of the uppers.
Actually, the way Saint Crispin's dyes its uppers is perhaps as interesting and distinctive as anything else.
For most shoes, it gets uncoloured, natural crust leathers from the tannery, cuts the pattern pieces and then dyes them itself to get the colours it wants. With some dark colours - particularly black - this can mean multiple dying stages.
This enables it to create unusual (though subtle) colours. It gives it greater control. And it means the uppers of the shoes will often fade or change colour very slowly over time. [You can see the process at 1:44 in the video below]
Of course, you can change the colour of the shoe subtly yourself, through coloured creams and polishes, but it does mean that a Saint Crispin's shoe gains an antiqued and worn look quicker than others.
In a way, this is a third approach to finishing, to sit alongside the dominant methods in England and Italy/France: the former tend to get coloured hides from the tannery and finish them with burnishing and finger polishing; while the latter are more likely to hand-paint a patina (painting with dyes).
I really like the affect, and you can see it on my shoes a little already, after only 12-15 wears. But I do understand that it also won't be to the taste of every Northampton customer - just as many don't like bright, brushed patina finishes.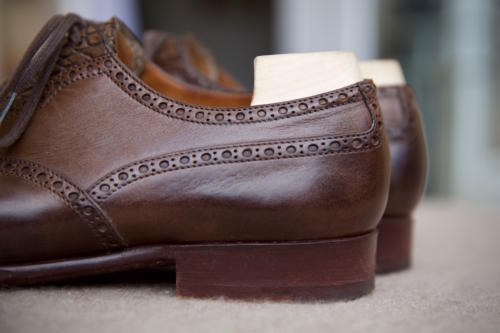 This is a nice segue into another important area: structure. Saint Crispin's shoes have thicker and longer stiffeners than most makers. This means they feel stiff and take longer to wear in.
The advantage is a cleaner, smoother look to the shoe. You are likely to see fewer wrinkles away from wear the foot bends.
Most English shoes have a decent amount of structure (certainly compared to the Italians), though Gaziano & Girling has a little less, which is one reason their shoes take less time to wear in.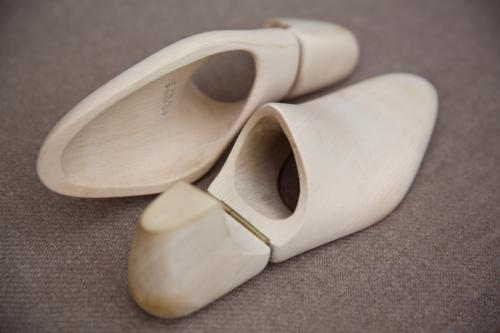 That structure is the one thing I'm not sure I can get used to in Saint Crispin's. But then I know guys who like a snug fit, and love this feeling of being held tight in a really robust - yet elegant - shoe.
My advice would be to try Saint Crispin's shoes wherever you can, and see if it's for you.
Saint Crispin's are stocked in quite a few cities around the world (see list here), but not in the UK. And those that would like to see Phillip rather than a salesperson in one of the shops can have to wait awhile - given he is globetrotting the entire world on his own.
This is something Phillip is trying to improve on, including increasing the number of local agents that can do fittings on his behalf.
Other things to mention, which didn't quite fit into the flow above:
As well as the personalised last, customers can have temporary pieces added onto the standard lasts to help improve the fit in one or two places (for a small fee, perhaps 150 euros).
The made-to-order process takes 8-10 weeks, quicker than pretty much any other maker
Four widths are offered as standard
The shoe trees are exact copies of the last, and take around 8 hours to make. Three people in the factory just make lasts
The shank is made from leather, not metal or wood
The leathers that are not dyed on site are things like suedes, prints (grains) and so on
Although a Saint Crispin's shoe has the hand-sewn welt and personalised last of a bespoke shoe, it does not have all aspects of bespoke, such as the hand-sewn sole and pitching/fineness of the heel (as illustrated on my recent Foster & Son shoes)