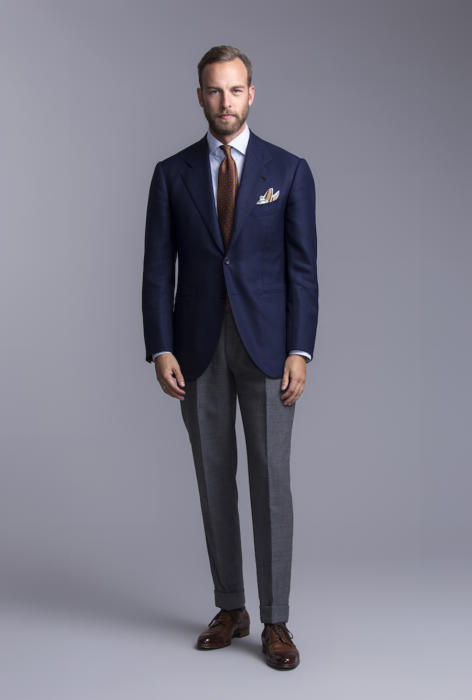 This is the latest in my somewhat infrequent series on the style of my favourite people in the menswear industry. For those that want to catch up, the previous instalments have been:
The next to feature is Andreas Weinås, editor of Swedish style guide Manolo.se and menswear magazine King Magazine. He is of course also a frequent and influential poster on Instagram.
Andreas has a subtler and perhaps more conservative style than some people we feature here, and is a master of everyday, highly wearable clothing.
We have used this piece as an excuse to revisit some of the fundamentals of combining colours, patterns and textures in menswear outfits.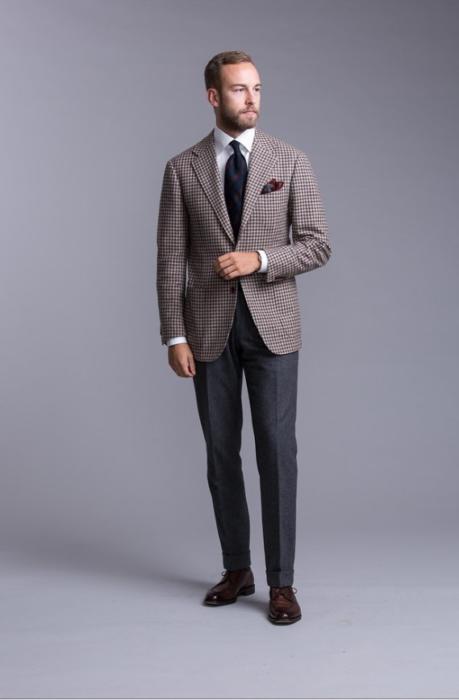 "In terms of background, my interest in clothing began quite late (early twenties) and developed quickly in the direction of tailoring. I wanted to know more about the foundations so I studied textile economics in Sweden for three years, resulting in a deeper knowledge about textiles (fibres, weaving, knitting and pattern making) and the financial side of the business.
Normally this education leads to a position as buyer at fashion companies like H&M but instead I was recruited by Egmont Publishing as the Editor for the niche publication called Manolo.
I was honoured when Simon asked me to write some of the thoughts and ideas I have when combining colours, patterns and garments in my outfits.
Please do not consider this a set of rules, however. Rather it should be seen as a source of inspiration, about which you should constantly ask yourself whether it's relevant to your style and to your personality.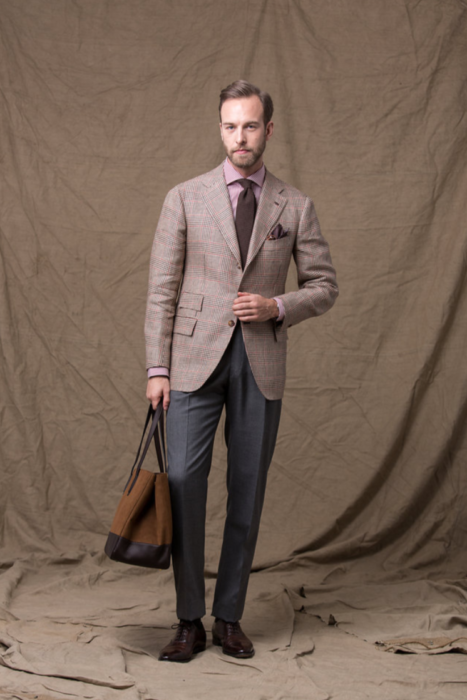 Combining patterns
Everyone probably has an opinion about whether you should match stripes with stripes, checks with checks and if so, in what way.
My personal approach is to try and have a least one solid garment out of the "triangle" of shirt, jacket and tie. If I wear a checked jacket and patterned tie I tend to prefer a solid shirt; or if a Bengal-stripe shirt and checked jacket, then a solid tie.
The other important part about combining patterns is to look at the scale of each one.
A narrow pinstripe suit is hard to combine with a Bengal stripe shirt, where a block-stripe tie with that stripe is rarely a problem because of the difference in scale.
In the example above, the checked jacket and striped shirt are balanced by a solid brown-grenadine tie. I feel a block stripe or heavily patterned tie would put the already busy outfit over the edge. The dark and solid grey trouser helps add contrast.
(Total look by Orazio Luciano)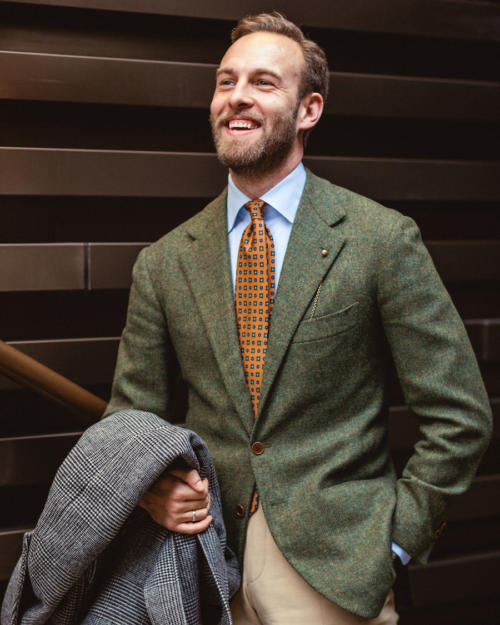 I also like to always have one part textured or patterned in the above-mentioned triangle.
Wearing a solid shirt, suit and tie can obviously look great (just look at Cary Grant) but it can sometimes feel a little flat (politicians in dark suits, white shirts and bright-red ties come to mind).
Just adding a small pattern to the tie or texture in the jacket can create some depth and bring the outfit to life.
The image above is an example of how important I believe texture and/or a small pattern can be.
The look of mainly solid garments would be less interesting if the tie was a solid orange instead of a discrete floral print. The same thing goes for the texture of the tweed jacket against the plain shirt.
Bespoke Jacket: Sartoria Corcos in a vintage green tweed
Shirt: Fray
Tie: Shibumi
Trousers: A design collaboration between Manolo and Ströms in Sweden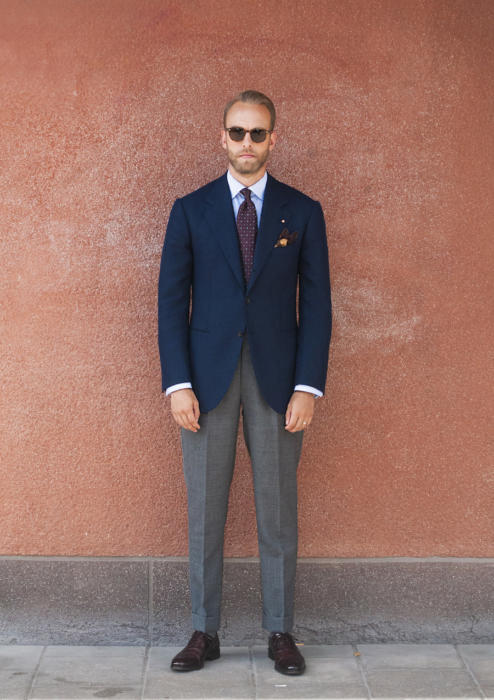 Combining colours
I like to pick up colours and shades from different parts of the outfit in a subtle way. For example, in the image above the light blue of the shirt is picked up in the small flower of the tie.
This is one reason why I find patterned ties and pocket squares, with multiple shades and nuances, to be easier to combine than solid ones.
In the picture I also matched the colour of the tie with the dark burgundy shoes. Since the two pieces are quite far apart, with different textures and material, it tends to feel like less obvious matching.
The rest of the outfit could be called the 'menswear uniform'. A navy jacket with grey trousers (fresco for summer, flannel for winter) is probably the combination I wear most frequently.
To some it might be boring, but I call it consistent. I find it a great base out of which to elaborate with shirts, ties and shoes.
Bespoke jacket: B&Tailor through Robin Pettersson in a VBC Navy Hopsack
Bespoke trousers: Zaremba in a grey Minnis fresco
Shirt: Eton
Tie: Shibumi
pocket square: R Culturi
Shoes: Yanko
Combining textures
Sometimes, and especially in a more casual outfit, texture can be even more important than colour or pattern.
Wearing a turtle neck or polo shirt with tailoring, for example, limits the possibilities for pattern and therefore puts more emphasis on textures and tones.
In these more monochrome outfits I also think it's important to get the right amount of contrast. In the outfit above I wear three or even four shades of grey, but every garment has a different texture to help separate them.
MTM tweed jacket: Saman Amel "Napoli" in an Abraham Moon lambswool tweed
4-ply cashmere sweater: Fedeli for Michael Jondral
Trousers: Design collaboration between Manolo and Ströms in Sweden.
Loafers: Edward Green
Adding contrast
A few years back I always tended to have my trousers a lighter shade than my jacket.
These days I think it's more about finding the right amount of contrast between the two: too much and I would be uncomfortable; too little and the garments tend to blend together.
I think the contrast between jacket and trousers is the most important since they are the most prominent pieces of the outfit, although the shirt also plays an important role.
In general I would recommend wearing a lighter shirt than both the jacket and tie – but this is one of those rules I tend to consider differently in a casual outfit.
I think most people would agree that a dark-coloured dress shirt (especially with a light-coloured tie) is something more associated with the Eurovision song contest than sartorial elegance.
However, if the look is casual with, for example a polo shirt, I think navy, forest green or dark brown can look wonderful, even with light coloured jackets (as above) – and add that contrast against a light coloured trouser.
This is especially true if the contrast created against the jacket is balanced out by a pair of trousers in a shade just in between the two.
That image has a navy polo shirt under a lighter jacket. I believe the key here is to create a balance in contrast between shirt, trouser and jacket. A navy trouser would need a white or light-coloured polo to balance out the contrast."
Bespoke jacket: Zaremba in a Loro Piana wool/linen/silk fabric
Polo shirt and trousers: Oscar Jacobson
Tote bag: Hermès
Many thanks to Andreas for his thoughts. You can find more of Andreas's writing at Manolo.se and his Instagram at @andreasweinas.
Some of these topics were covered historically on Permanent Style in more detail, such as:
All photography Ted Olsson, except (numbering from the top) 4 Milad Abedi, 5 Viola Weinås, 6 Milad Abedi, 7 Jamie Ferguson