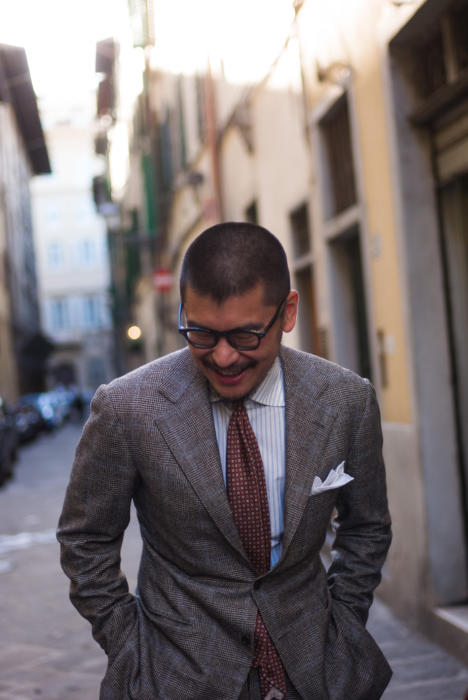 It's been a while since we've included anyone in this series – which began with Bruce Boyer and Alan See – for which I apologise.
The next to be included is George Wang, owner of the BRIO store in Beijing, China.
George is a good friend and a sharp dresser, and I'm always interested in what he pulls together.
Here, as with the previous posts, we ask George to pick out a few favourite outfits and explain the thinking behind them.
For more on BRIO, and our book launch there last year – see the earlier post here.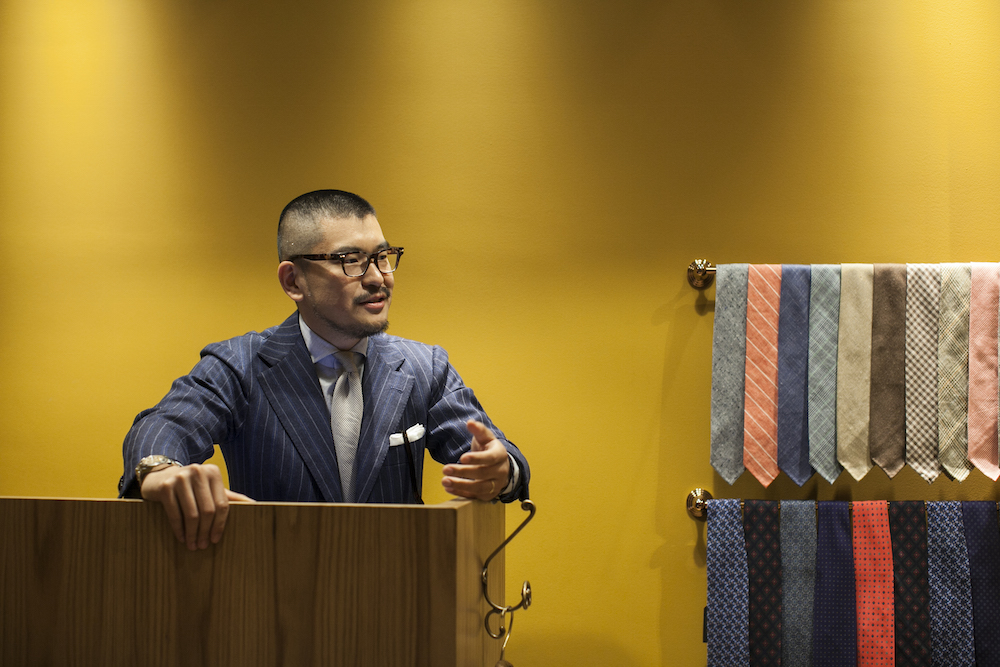 "After close to seven years of seeking out tailors and other menswear craftsmen in Europe and Asia, I feel like I'm past the exploration stage of my sartorial journey. I'm mostly enjoying the rewards from the time and money invested in discovering my style.
Opening BRIO is a way for me to share my knowledge and taste, and help my customers develop their style, to understand quality and the culture behind the products.
Like most people, when I begin to dress in a more classical way, I placed a lot of emphasis on "correctness" and maximizing the impact of my outfits.
I would research what colors and fabrics are meant to go together, whether you can wear derbies with a double-breasted suit or not, and all sorts of other silliness.
As my experiences accumulated, my taste matured – and now I would say my past sartorial failures and triumphs re the best reference I have in dressing every day.
Rather than adhering to any rules established long ago in an almost irrelevant time and circumstance, I now have my own philosophy on putting together the best outfits for me.
1.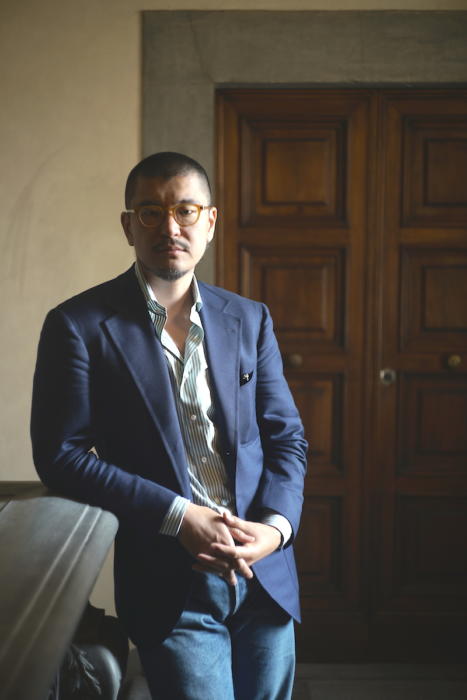 It's actually not easy to pull off the sports jacket and jeans look, as anyone that has tried will know.
Both the jacket and the jeans have to be of a certain style. A super structured English jacket will never work with a pair of vintage-style jeans, and a pair of skinny Italian-style "dress" jeans just look bad anyhow.
In my opinion, to wear jeans with a tailored jacket, you need to go with a southern Italian tailor, who cuts a soft and casual jacket with volume in the right places.
Fabric is also important of course, with the goal to echo the roughness of the denim in the sports jacket. In this photo I'm wearing a dark-blue wool hopsack jacket made by a Florentine tailor with a pair of well washed jeans from Orslow.
Also a final word on the jeans themselves. I think they have to have a certain 'tailored' look to them. That is not to say they have to be bespoke but rather the right length, width, and rise can make or break the outfit.
2.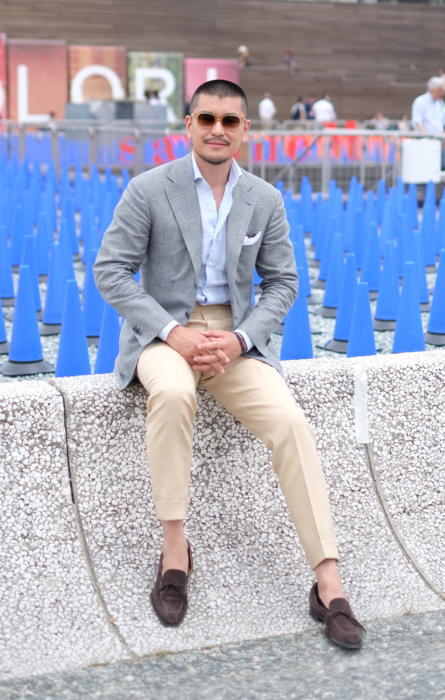 I like fabrics made from a mix of silk, linen, and wool for summer jacketing.
In this photo taken at Pitti Uomo last summer, I'm wearing a jacket made with a vintage Zegna fabric of this blend. The linen makes it cool wearing, the wool gives it a bit more crease resistance, and the silk lends it character.
A pale grey jacket can be difficult to match. Obviously grey trousers won't work and while white trousers are very complimentary, they can make the outfit look a bit contrived.
A pair of well-worn, faded jeans or medium-blue Irish linen trousers can work, but generally I prefer cream or beige trousers with grey sport jackets – one of those rare occasions when clashing colours can work in an outfit.
My shoes are unlined loafers from Stefano Bemer and the shirt is made-to-measure by Avino in cotton/linen.
3.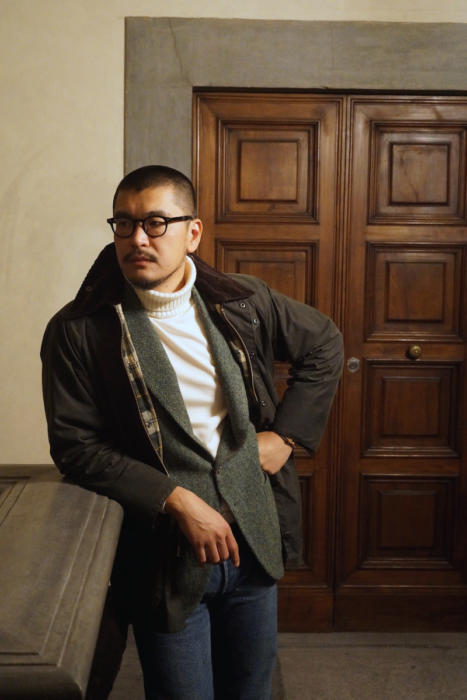 There is a trend to combine outdoor clothing with tailoring nowadays, and a classic Barbour jacket is possibly the most popular choice among many men.
They just never seem to look bad, whether you're wearing a serious Savile Row suit underneath or casual Neapolitan tailoring.
Personally, I don't like too much contrast and clash of ideals in an outfit. I don't think you need to be in the countryside to feel right about wearing a Barbour waxed jacket, but you shouldn't wear it to your office at Goldman Sachs either.
To me this is a great piece of outerwear on your days off, or when the weather is challenging. I like to throw it on when I'm heading out at the weekend.
In this photo taken on one of those less busy days in Florence this past January, I'm wearing my Barbour with a Harris Tweed tailored jacket, a cream roll neck sweater and a pair of jeans.
4.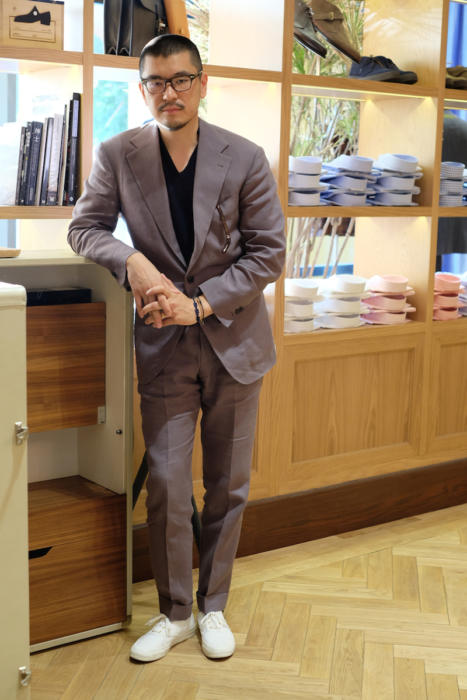 A linen suit is a bit of a contradiction today. A suit is seen as inherently formal, yet linen with all of its creases and wrinkles has no real place in a formal work environment.
Still, I find that the very fact that linen suits are never taken seriously means they can become one of the most casual and elegant examples of tailoring a man can wear.
The charm of linen is derived from both its texture and colour variety.
In this photo taken at my store BRIO last June, I had on a brown-grey linen suit made by my Florentine tailor, worn with a BRIO navy polo shirt and a pair of white canvas sneakers from a Japanese brand called Doek.
I like to wear my linen suits with casual tops and sneakers to further tone down the formality of it.
5.
China has a very casual dressing culture. Most men outside of the finance industry don't even keep a tie in their wardrobe.
I joke about buying ties for BRIO not really being concerned about selling them, but rather how they will look in the store.
On occasion though, I still like to put on a tie, even with a sports jacket and odd trousers as shown here.
I normally don't like to wear pocket squares anymore, but in this case, because the jacket is quite dark and the shirt bright, a white linen pochette brings a nice finish to the whole thing.
The jacket is made by my Neapolitan tailor using an old jacketing fabric from Loro Piana, and the trousers are made by my Florentine tailor.
The shirt is made to measure by Avino and the tie is by Kenji Kaga. By the way, the touch of sprezzatura to my shirt collar is completely unintentional, honest!"