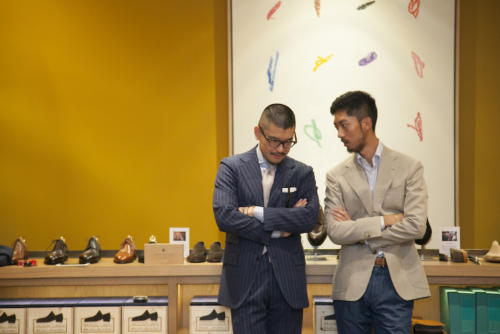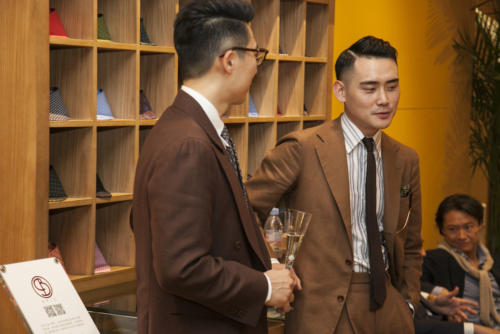 In the past week I have been in Hong Kong, Beijing and Shanghai – the images here are from the Beijing launch of our Permanent Style 2015 book at the menswear store Brio.
George at Brio put on a nice display for the book, including several pieces featured in it (Bemer shoes and Begg scarves) and a couple of looks styled after the images of my travelling outfit, my Langa suit (below) and Tommaso C in Florence.


There was a young, enthusiastic crowd of guys, all of whom wanted their books signed. Beijing is still very much a nascent market, but as in every city there are men interested in tailoring, often with exposure through education or work to Europe, and whose interest in European craft has been fuelled by the internet.
Shanghai, despite its European feel and tailoring heritage, has no greater presence of crafted menswear – there is also no focus like Brio, although the pop-up store GMT-London got a decent response and I spoke to two others planning interesting stores in this area.


China is still ruled by brands and fast fashion, and all the 'tailors' suggested to me are more young designers who happen to like suits and have big followings on WeChat. Indeed, such has been the power of social media in China that stories of guys launching loafers or sunglasses companies overnight – and reaching big markets – are commonplace.
The depressing side of this is rising commercialism. It is entirely accepted that all big social media names take money to feature brands – it's as bad as magazines in the west, with the added problem that there is no advertising on social media, so the only outlet is (undeclared) promotional posts.
As one PR described it, not only do writers expect expenses paid in return for coverage, but they require 'spending money' for every appointment. Prominent reporters can make a lot of cash on the side.
The only positive news comes from the tailors and shoemakers that now visit China, who report that the Chinese are engaging with bespoke faster than any other newly rich generation. It is obviously a generalisation, but everyone says the same: the Chinese are keen to learn, value knowledge highly, and quickly understand every aspect of the process.
The numbers are small, but perhaps the future is bright.
Brio launched at the beginning of the year and stocks a good range of shoes and clothing including Stefano Bemer, Talarico and Dalcuore. More on them next week.
BOOK UPDATE: Many thanks to those that have bought so far, it has been great to see. And thanks for the comments on the book itself. The US copies are now all in and shipping out to those that have ordered. Paul Stuart will have them on the shop floor today, and shops that have sold out (Kevin Seah, Vitale Barberis, Double Monk) are now receiving new shipments