This is our friend Tommaso Capozzoli. He is, among many other things, the sales manager for Stefano Bemer, and we usually stay with him when we're in Florence.
Tommaso has style. It is not loud, and it's unlikely to stand out at Pitti, but it is subtle and personal, much as I wish mine to be. He used to run a menswear shop in Florence and this unlined jacket is one of theirs, with trousers from Giabs (good Italian producer, mostly wholesale but some reatail). He uses a local tailor in Florence for suits, made with narrow, high-waisted trousers and 2-inch turn-ups.
This image was taken the night we arrived, as he waited outside Sostanza, slowly smoking his Tuscan cigar. Next morning, it was navy long-sleeved polo and old, pale jeans. In both cases, with well-worn Bemer shoes.
Tommaso says he doesn't want to be a style icon. But he always says it with this smile on this face. I don't believe him.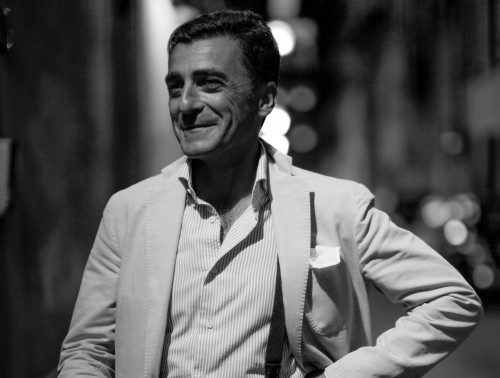 Photography: Luke Carby