Jamie's alternative Pitti picks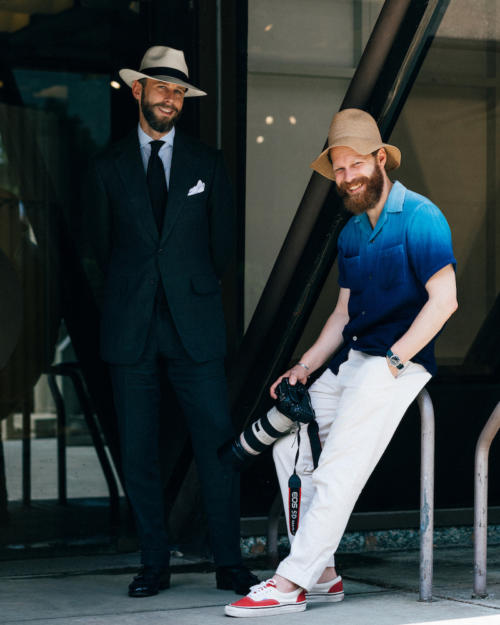 Jamie Ferguson (above), the photographer I've worked with over the past few years on Permanent Style, has a different style to me.
He gets tailoring, and wears tailoring, but he also wears more sportswear, more workwear, and experiments more. He has a wider range of influences.
I also find he sees things differently to me. Being a photographer, he's always looking at both the style and the image. The impact as well as the details, perhaps.
During this past Pitti, I asked him to take pictures of guys he found interesting, and explain why. These were his choices.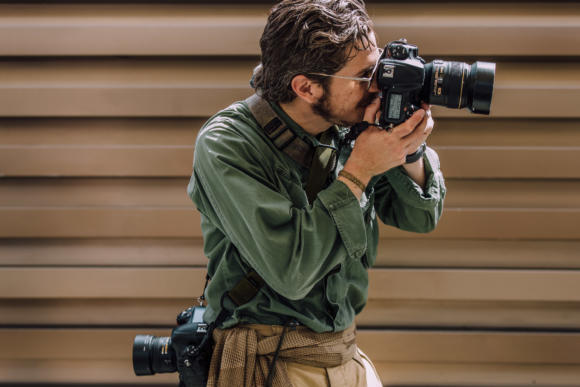 1. Robert Spangle
"I've loved watching Rob's style evolve over the years, and how he's mixing even more military into his day-to-day wardrobe.
The majority of the time I see him he's working and usually laden with gear, but he manages to take that into account with a few twists here and there and still look ridiculously stylish."
2. Tommaso Capozzoli
"Love this look. At times the jacket worn on the shoulders thing can look a little 'sprezzy' but Tommaso carries it off with aplomb.
I view it as a natural reaction to the fact that the heat was something like 34 degrees that day in Florence, and you want to take your jacket off, not have to carry it in hand, and roll up your sleeves.
It also helps that Tommaso looks like an all round BOSS especially when wearing a punchy shade of blue."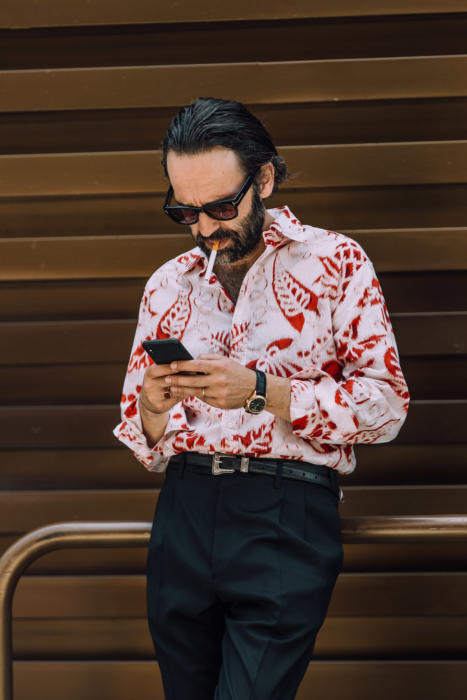 3. Anonymous
"A lot of the time at Pitti, the more casual looks can get a bit lost amongst the sea of tailoring but this guy really stood out to me. Great 70's, rock and roll, sleaze vibe going on with some great accessories.
The shirt was amazing. When I first took the shot I thought it was out of focus but when I looked back it was the pattern on the cloth that made it appear that way.
What can't be seen in the shot is the great pair of Cuban-heeled boots he had on."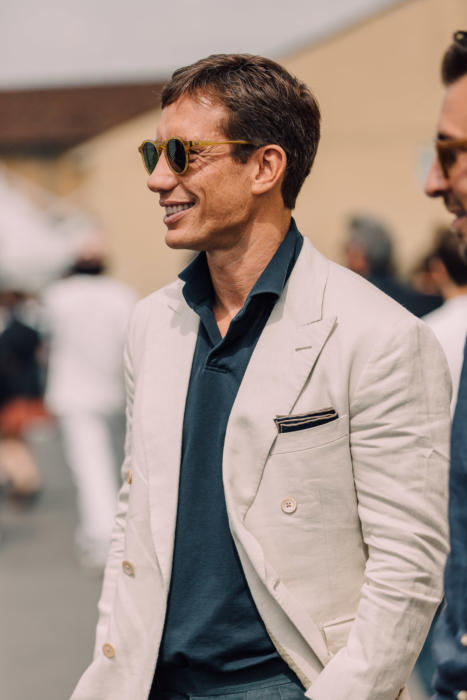 4. Thom Whiddett
"Thom's look is simple yet strong. Apart from the pop on the sunglasses, it's navy and white and nothing else. Sometimes being a little less flashy makes you stand out.
He looks comfortable, and chic and if you can achieve that in the Florentine heat, you're smiling."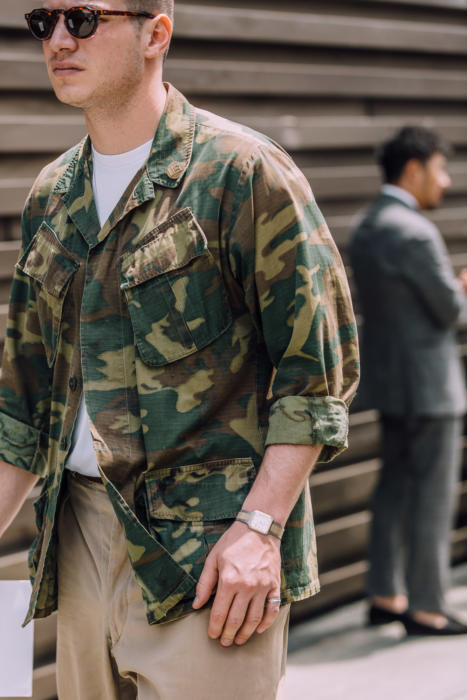 5. Anonymous
"Similar to Thom but in a different vein with military rather than tailoring. Simplicity is key. A white t-shirt and high waisted chinos anchor the camo, ripstop jacket.
Some nice accessories too with the watch and ring."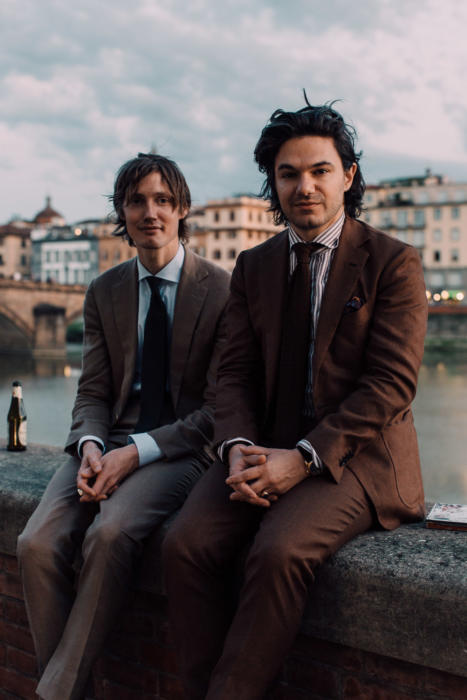 6. Jonas Sundstrom and Jake Mueser
"Brown is a fantastic shade for suiting. If you're looking for something beyond the navy and the grey you already have, I feel this should be your next port of call. Smart without feeling too dressed up.
Great for winter but especially for summer in cool fabrics like linen, cotton or fresco.
Worn expertly here by Jake and Jonas of J.Mueser. Both are wearing shirts and ties but they still look summer-y and fresh and not overdressed. Also hair game on point."
All images @jkf_man except top image, @milad_abedi
In that top image, I am wearing my Gieves & Hawkes bespoke linen suit, with Anderson & Sheppard panama hat and Edward Green cordovan loafers. Black grenadine tie on cotton/linen striped shirt. Full post here.
Jamie is wearing a straw hat from Sublime and shirt from Blue Blue Japan, both via No Man Walks Alone. Trousers from Universal Works and shoes from Vans.