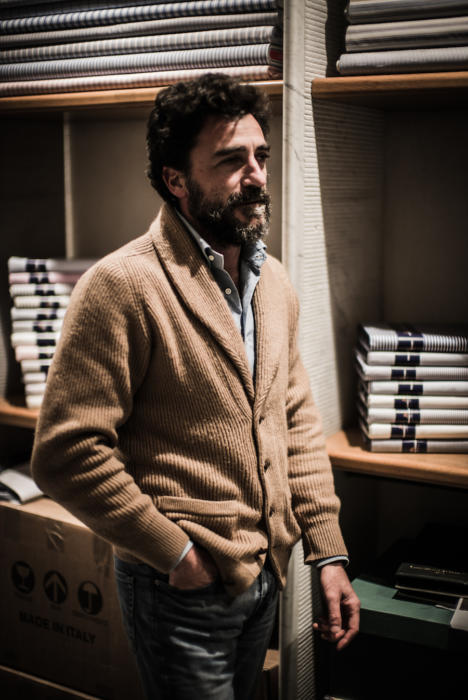 Given this is Pitti Uomo week, it seems fitting to bring up the topic of sprezzatura, which readers requested a post on a couple of months ago.
It is also fitting because the term is so misused, often in reference to Pitti.
Sprezzatura doesn't mean random splashes of eye-catching dandyism. Quite the opposite. It is the art of appearing stylish without any appearance of effort. To the lack of artifice, rather than its display.
We have to include the quote from Castiglione, who coined the term: "A certain nonchalance, so as to conceal all art and make whatever one does or says appear to be without effort and almost without thought."
Bizarre, then, that the term is used in reference to strutting peacocks at Pitti, whose striving for style is so obvious. Why is this?

Because there are many ways to give the appearance of nonchalance. One is to be truly comfortable, to have worn the same set of stylish clothes for so long that they feel like a second skin – and then have the confidence to be at ease in any social situation.
A second is to leave bits of your clothing undone, or otherwise worn haphazardly, to give the impression you have forgotten about them. This second route is much easier, but rarely successful. Usually, the artifice is obvious. It looks painfully contrived.
Unfortunately this second route is the one often taken up at Pitti, leading to things like undone monk-strap shoes, sloppy DBs, and shirt collars with the corners flipped up. These have then been equated with 'quirks' such as bowler hats, capes and pink shoes.
This demonstrates how dependent sprezzatura is on context. If you're the only man in the office that splays the blades of his tie, it could be seen as nonchalant. But if you're at Pitti and seven other men are walking around doing it, and more importantly everyone is studying everyone else, then the artifice will be obvious.
Much as we hate the fact, much about style, and certainly originality, is dependent on how the people around us dress.

There are other routes to sprezzatura – to the appearance of nonchalance. Bruce listed several a few years ago in a nice article for Mr Porter. They include clothes that are obviously well-worn (Nancy Mitford: 'All nice rooms are a bit shabby'), wearing vintage or inherited clothing, and combining casual and formal dress (ref. the trend for bracelets with tailoring – the perfect example of something that looks great until everyone else is doing it).
It is no coincidence that so many lauded attributes of style have a sense of 'ease' at their core. Sprezzatura is clearly one, as is nonchalance, and even elegance – that so often misused word – requires grace and simplicity in its bearer.
The men who have sprezzatura, therefore, are not the peacocks of Pitti but men like our friend Tommaso Capozzoli (pictured top).
Tom cares about his clothes. He is specific with his collar shape (Simone Abbarchi), obsessed with the weight of trouser cloth (Holland & Sherry Pardessus), but always gives the impression that he has just thrown on the things that were at the front of wardrobe.
When we saw him this time last year he had a cold, and came down in the morning wearing a thick, fisherman's sweater, tracksuit bottoms and Adidas Stan Smiths. It was the first time in my life I've wanted a pair of tracksuit bottoms.