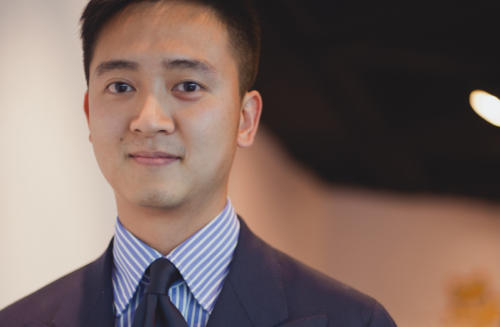 I know that one of the style areas people find most difficult is wearing sports jackets, or separate waistcoats, with everything else: shirt, tie, hank, trousers.
I've always loved the way Alan at The Armoury wears these things together, so we got together to run through some of my favourite looks of his – and what lessons they might contain for PS readers.
–
Alan: I'd like to say first that it's been a great pleasure starting the Armoury with Mark Cho, and
so much of it has been real fun. I've met truly stylish people and, being in the industry, had a lot of chances to "geek out" over clothes.
In particular I've discovered a lot of interesting textures and patterns in cloth, which I find make simple outfits much more appealing – and I've slowly incorporated these into my wardrobe.
A lot of the outfits I wear are simple and classic colour combinations, but with the added interest of texture.
1.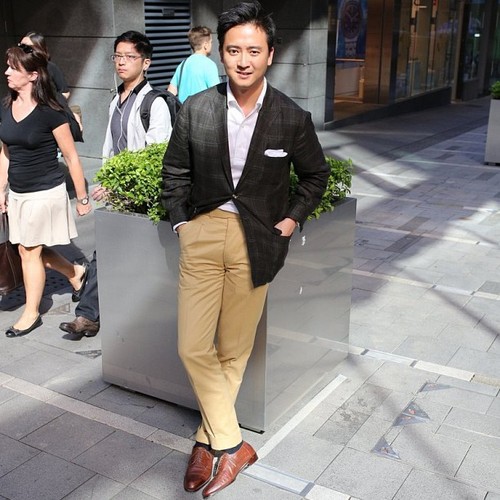 This was shot on a typical summer day in Hong Kong – hot and humid.
There are a lot of favourites in the photo, but I guess the highlight is the trousers from Salvatore Ambrosi. The weight of the cotton is a formidable 14oz and has shape and form like no other. I think Holland & Sherry must have had a lot of business from us after we started wearing these around town: I can't seem to get any more!
The colour on the trousers also has the perfect amount of yellow to it, which seems to enhance and make richer any jacket I wear it with.
I'm wearing it here with an unconstructed and very light teba jacket, and one of our long-sleeve polos.
2.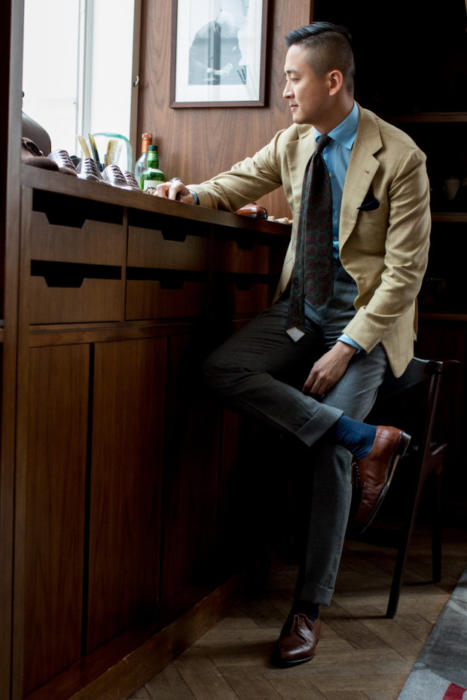 One of the perks of being in the rag trade is we chance upon a lot of little shops, sartorias, and places with interesting things that are being got rid of. The fabric on this shirt is made from a Carlo Riva fabric that I picked up at Buonanno before they closed, and the jacket fabric was chosen from the depths of Orazio Luciano's archive.
I love lighter coloured jackets like this for the summer as they can encourage much more vibrancy through the outfit. Some people find them hard to wear as they are often similar to skin tones. To counteract that I add a bit more contrast to give the jacket more of a frame, with blue or more saturated colours.

I love texture and most of the fabrics I end up choosing have a lot of it!
This outfit goes from the harder Harris-tweed odd waistcoat to the lighter tweed jacket and pants and ends up with this fuzzy and warm cashmere-knit tie. These are the kind of items I run my hands through in a shop just on reflex!
I end up wearing a lot of darker jewelled tones for the winter with these textured pieces as they make things look so much warmer and richer. The colours also tend to show a lot more depth if
they are not that dark.
4.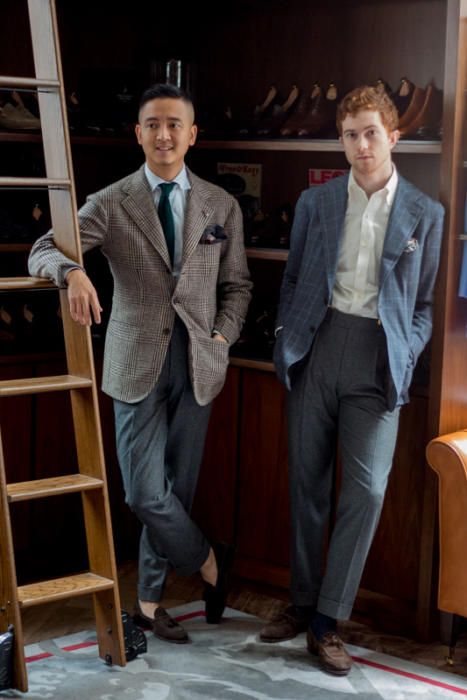 An almost spring outfit in Hong Kong! Please excuse the no-socks look: it seems to be good for making my outfits slightly more casual, especially with suede loafers.
As mentioned earlier, a lot of the outfits tend to be a combination of basic colours finished in texture. Here the main colours are a neutral tan and gray, with again an almost neutral shade of blue in the shirt. This allows me to add a bit of colour with the accessories, like my green tie, and still keep everything relatively subtle.
Most of the details on my jackets and suits are very clean and you'll notice that even on my sports jackets I prefer jetted pockets with slight details to them. I find flaps and patches don't suit how I wear my jackets and I just don't seem to wear my patched ones as much.
5.

I am sporting my beautiful other half, Alexa Bui, here. We were at the yearly spectacle known as Pitti Uomo. If nothing else it is a chance to put together combinations that are a bit more colourful!
I'm wearing even more green than usual here – particularly those amazingly heavy brushed-cotton trousers. The fabric has a beautifully rich and deep colour that translates into photos well.
You can see the brushed effect slightly through the way the light bounces off the sides. It's as comfortable to wear as it looks.
The deep colour of the trousers, matched with a similar pair of shoes, make a great foundation for the tan jacket.