The Armoury's 'Dayware' jackets reviewed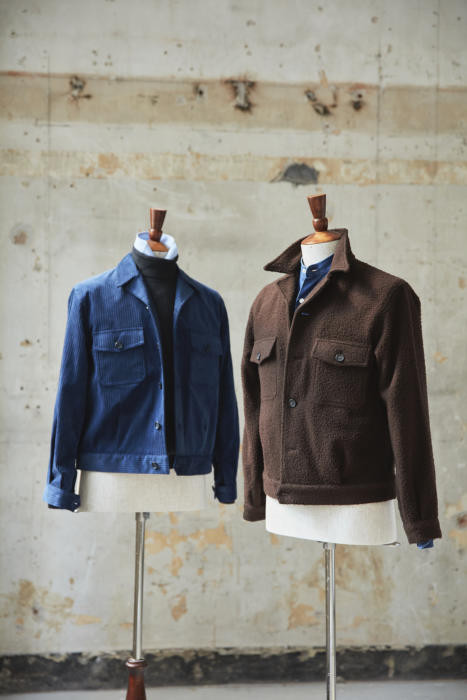 Unstructured jackets, or shirt-jackets, have become very popular in recent years, and The Armoury offers a bigger range than almost anyone else.
So I thought it would be useful to review all of them together, and run through what I think of each model. We can do the same later with other brands, such as the range of such casual jackets at The Merchant Fox, Drake's or P Johnson, if people are interested.
The Armoury has four models - all part of the casual collection they call Dayware - and they have one thing in common: there is very little internal structure. No padding, nothing more than light canvas. Basically a shell of material, usually with a lining, cut into a range of shapes.
It is those shapes that do the most to separate one model from another, partly in terms of formality but more in terms of style.
The City Hunter 2
The City Hunter is a model the Armoury have done for a while, and is basically their version of a Teba - the traditional Spanish shirt-jacket which has the distinctive lack of notch where the collar and lapel meet.
I have owned Tebas in the past, and wasn't particularly taken with that collar design, or the normally boxy fit. But this style from The Armoury is rather better, I think, and I have the brown version pictured above.
The cut is a little slimmer - more of a contemporary fit that you'd expect from a modern brand - and the details are better. They reflect the fact that someone has actually thought through what a modern wearer would need, rather than just copied an old style.
There's a buttoned breast pocket, for example, which is particularly useful for a phone when putting the jacket in a bag or overhead locker, or even when just bending down. There are two patch pockets, but also a small internal patch on the right. And there are two internal, buttoned pockets.
One thing worth noting is that the collar can be worn up and down, and this creates two quite distinct styles - one an unusual version of a regular jacket, the other more similar to a Mandarin or Nehru jacket (above). Some readers might find they like only one and not the other.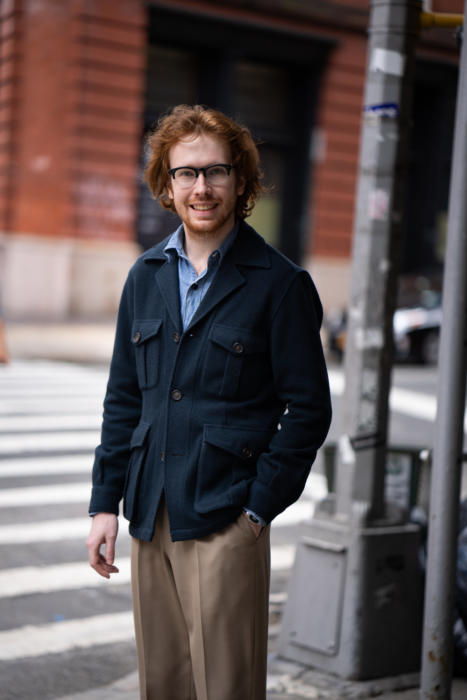 The Safari Jacket 2
The point of having a range of jackets is that different models appeal to different people, and the safari jacket is one that doesn't appeal to me.
The Armoury version is a good one. The pockets have both bellows and gussets, making them capacious, yet they don't stick out from the body when empty, which is often a risk with these pocket styles.
The buttons have been enlarged since the first version (which I had in linen) and this suits it - the look is now slightly more towards a jacket than a shirt. And the collar is one of the nicest I've seen for a safari. It has that distinctive, long point, but it's not as big as many, which seem closer to a 1960s Yves Saint Laurent style.
But the safari jacket overall still feels too trad for me. Too much like a piece of costume, or something enthused over by revivalists, trying to dress like a character from history. As I noted when designing a piece with Fred Nieddu recently, I prefer fewer pockets, and a more subtle collar.
(It is worth noting that this effect is most noticeable in traditional material, like pale linens. Of the two materials currently on offer, the dark-brown cotton panama looks rather more modern.)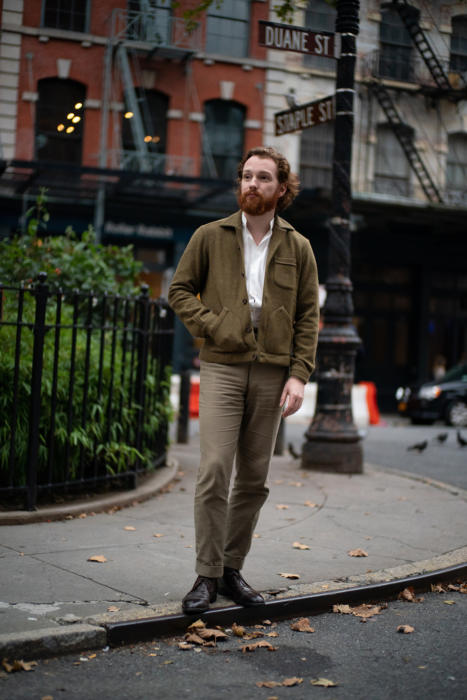 The 3 pocket blouson
This has become a familiar style for The Armoury, with Mark, Jim and others shown wearing versions in many different materials, from khaki cotton to buffalo-check flannel.
I admire the style. It's always hard to create a new version of a piece of menswear, rather than just copying a vintage piece, and I think short jackets are particularly difficult. There are so many fewer places to put pockets, and the proportions have to be just right or it becomes unflattering on many guys.
The 3PB does those things well. It's not so short that it only works with high-waisted trousers, even if it's designed more for that cut, and the differently angled patch pockets look surprisingly cohesive.
It's still not a style I would wear, as in a short jacket I prefer something which hugs the waist closely, with room for movement in the upper body above it. Like The Armoury's suede jacket, the Wright, or a bomber like my old Hermes linen one.
It's also interesting to compare the cut to the Jack bomber from Adret, which on the surface looks like a similar but actually is both straighter (without that band at the waist) and roomier.
If I was to have a 3PB, it would have to be made to order, so the waist fitted very closely. That is something The Armoury offer - the ability to do MTO versions of all these jackets should be a big part of their appeal - so perhaps I'll try that at some stage when I can get in and see the team.
The road jacket
The road jacket falls into a similar category - but as with the whole range, it is still executed very nicely.
This is more of a traditional biker style, with large patched chest pockets, an extended tab closure at the waist, and pleats in the back and front. The latter appeals to my style more than the 3PB, as it has that flattering size in the chest and back, which again is shown to best effect when the waist is fitted closely.
The nice execution is in things like the internal patch pockets that match those on the outside, the hand-sewn buttonholes, and the closed sleeve gussets. Plus of course premium materials and horn buttons.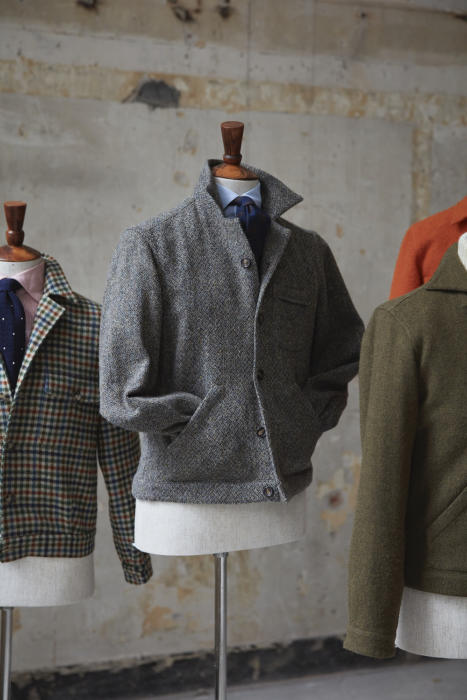 Thinking about it as I write, it's details like this that set the Armoury Dayware collection apart.
It's so common to see brands doing 'their version' of an old flight jacket or a trucker jacket, but really adding nothing new, and producing it only in the most conservative colours or the ones trending that season.
Mark and the team have never done that, and even though I would usually prefer to wear a suede blouson or a linen overshirt rather than the 3PB or Safari Jacket, I recognise the time and thought taken to do something distinct. And I know each style will appeal to different readers.
As I said at the start, there are a lot of unstructured jackets and shirt-jackets out there. It's becoming the dominant piece a menswear shop offers, rather than a sports jacket. So it's telling that among them all, the collection at The Armoury is unique.
The Armoury have their own summary of the Dayware jackets here. Prices are:
City Hunter: $650-$1050
Safari jacket: $650-$800
3PB: $595-$750
Road jacket: $595 or $750 (Casentino)
Made-to-order prices depend on materials, but start at $100 extra on top of the ready-made price for linens and cottons