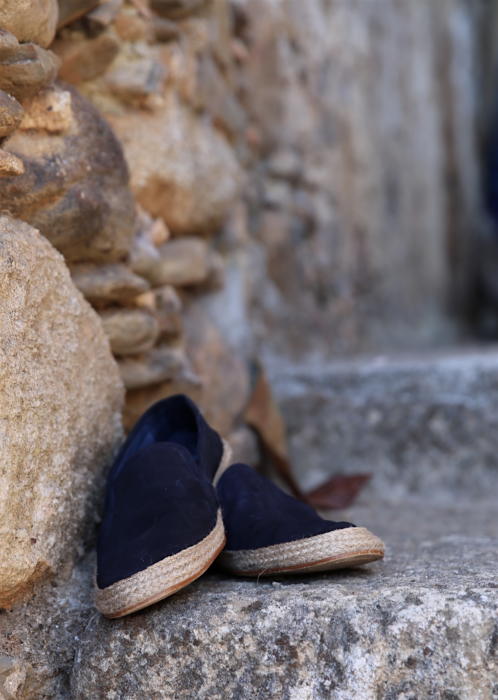 A brief post today, with some pictures from holiday. Casual but still classic in cut and colour, and catering to the heat.
First, above, 'Dani' espadrilles from La Portegna. I'm still in two minds about these, after a week of wearing them every day.
Partly because they aren't really espadrilles – just suede slip-ons with a strip of rope around the bottom. They don't have the rope-soled scrunch of a real espadrille, but then they're not meant to. The uncertainty is whether this 'faux' style bothers me.
And partly because they are very unstructured – nothing in the toe or heel to reinforce them, and therefore quickly shapeless. Then again, they are incredibly comfortable, and a subtle touch of elastic either side of the tongue makes for a great fit.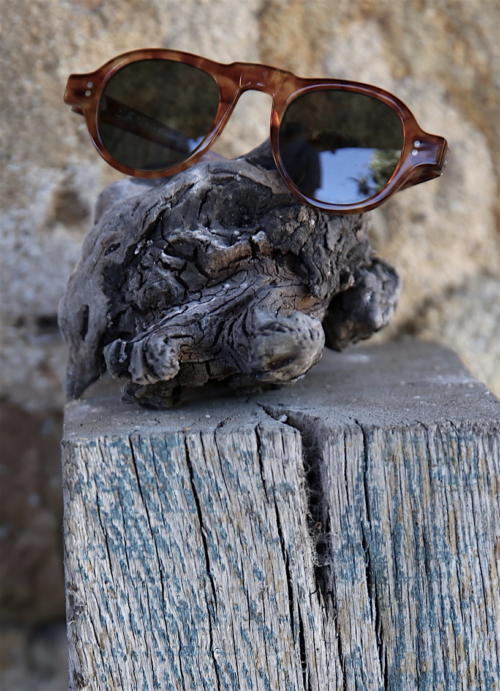 Second, my favourite sunglasses – the Starsky model from EB Meyrowitz. I now have two pairs, in slightly different tortoise-patterned acetate, one prescription and one not.
The narrowness of the frame works well for my rather close-together eyes, and its chunky style is best for casual clothing. Finer styles are better for tailoring.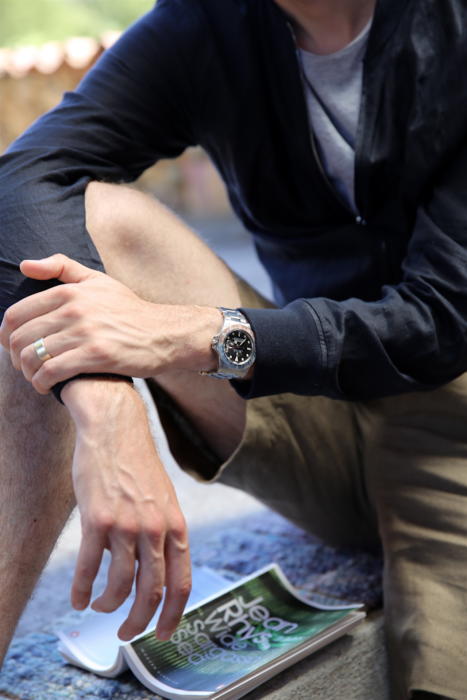 Third, a couple of things in rather different linens.
An indigo-linen bomber jacket (Hermes) worn over a grey Sunspel T-shirt. The jacket is a simple piece, and other brands do something similar, but I was sold on the particular shade, the fine linen and the cut.
The shorts are also linen, from the Anderson & Sheppard haberdashery, wide-legged in olive.
However, their large, plain weave makes them very different in texture to the jacket, and the two therefore sit nicely alongside each other. If they were more similar in texture, as most linens would be, I wouldn't recommend it.
Worn with my old Rolex GMT-Master. Casual and practical.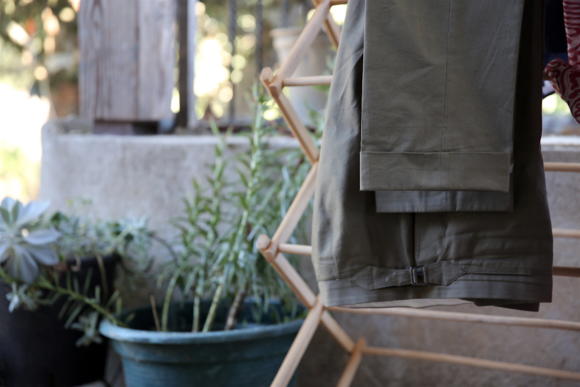 Finally, green cotton trousers from my Reillo suit. Worn in the spirit of more formal pieces with casual clothing in the summer, as discussed in our How to Dress for Summer piece.
It's too hot here to wear trousers most of the time, but great for going out in the evenings and travelling to and forth. Usually worn with a shirt, under the linen bomber.
Also taken away with me: Friday Polos (obviously), Orlebar Brown trunks and Anderson & Sheppard cotton sweater.