Adret 'Jack' bomber jacket: Review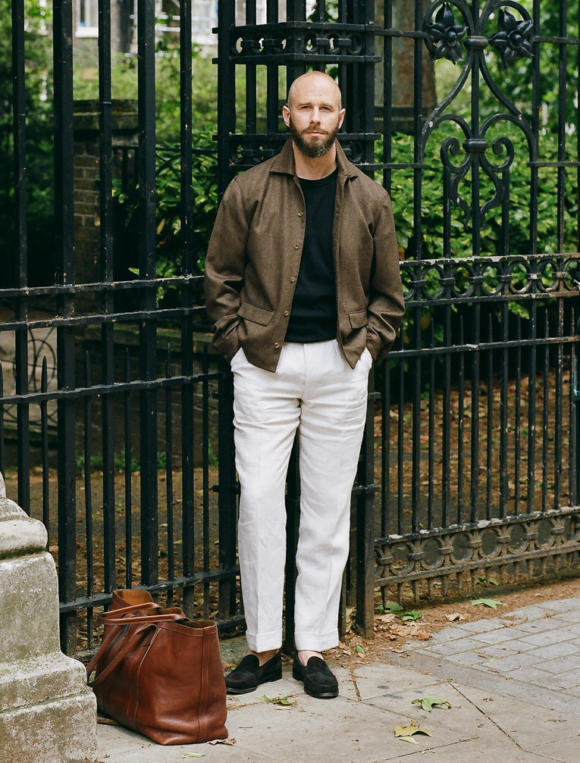 Although there has been quite a bit of coverage of Adret in the past two years (including on PS), pictures of the clothes in the wild are rare.
I thought it would be useful to shoot my most significant purchase from Adret, therefore, and reflect upon it. That's the Jack bomber jacket in worsted wool, pictured below.
(The other purchases were a thermal top, a pair of sandals, a handkerchief and a scarf. I comment on those briefly at the end of this piece.)
The Jack bomber is a short, casual jacket whose most unusual aspect is probably that it is entirely tailored.
It's more common for blousons and bombers to be elasticated at the hem, and therefore sit on the waist, letting the rest of the body flow out above. Most that are not elasticated simply drop straight, rather than trying to taper into the waist.
This does taper, with a pronounced dart on either side of the hips at the back rather than elastic. I think it's this lack of ribbing, combined with a material that you'd more commonly find in tailoring, which makes the jacket look quite smart and unusual.
The material is an old Vitale Barberis Canonico wool, which appears to have quite a lot of texture due to the mixture of black, brown and olive yarns in the weave. It would make a nice sports jacket.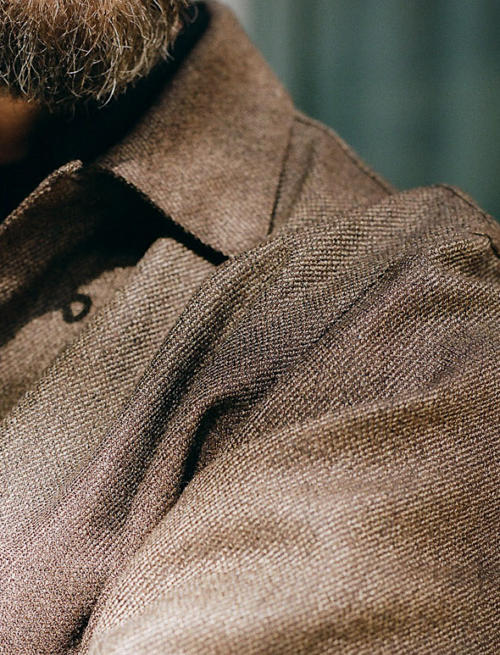 The tailoring feel continues with matte horn buttons up the front, each sitting on a good shank, and pleasingly functional hip pockets.
On most good sports jackets, the flaps of the pockets can be tucked neatly inside, leaving a clean, jetted finish instead (see below). This can be useful if you need ready access to them, or simply want to change the style.
Yet it's rare for casual jackets to do this, presumably because it's quite a fiddly job. The only bomber or blouson I own that has that feature is from Loro Piana.
One of the questions people ask about Adret is what the quality is like (presumably because of the high price).
I think it's more useful to judge that on considered touches like this, rather than simple things like precision of stitching, which should be a given.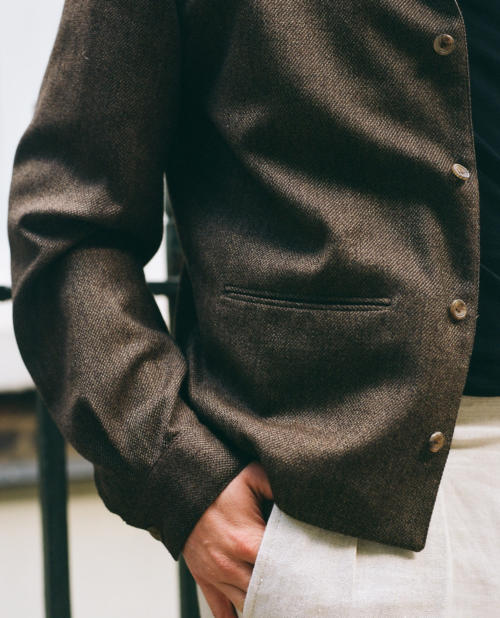 The cut of the jacket is pretty roomy, which anyone who has followed coverage of Adret will not be surprised by.
As I think these pictures show, though, the chest is generous but not oversized. Other styles of jacket, such as an old bomber or a varsity jacket, would be bigger.
What is noticeable is the size of the sleeve, which is large in the upper arm and tapers significantly below the elbow (shown below). This I think is very effective. It makes the jacket look flatteringly big but without any sloppy dropped shoulders or excess material.
The knock-on effect is that the Jack really looks better with other loose-cut clothes. These are some of my wider linen trousers - from Edward Sexton, 9-inch hem - and yet they don't look wide here.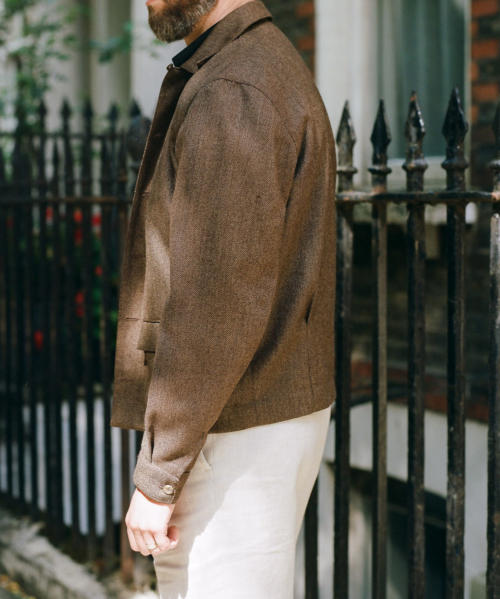 It has been asked whether Adret is a 'whole look' brand, where you really need to buy all the clothes together.
I don't think you do, but Adam (Rogers, co-founder) does have a particular aesthetic, which means certain silhouettes and certain colours. The clothes will always look best with other pieces with the same outlook.
This jacket, for example, would look unbalanced with skinny jeans, and a rich, vibrant top would be out of place. It's much better with wider trousers and muted tones.
My combination here is particularly restrained, which I guess is typical of me, particularly when I'm trying out new clothes. It doesn't have to be as dull as that - the Adret range includes a huge range of colour, from pink to yellow to green. But they're all similarly pale or muted.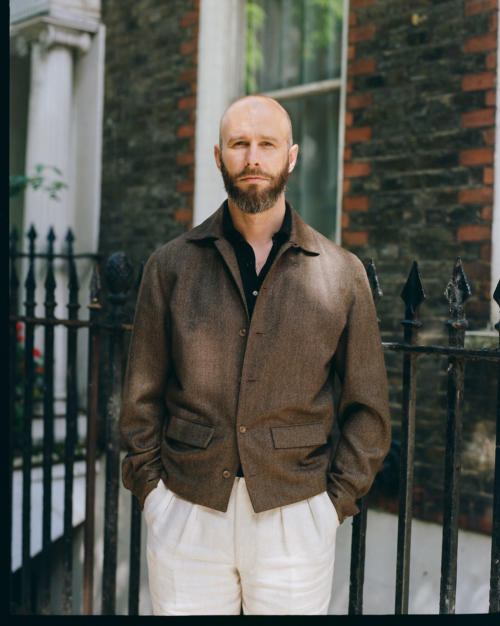 In these photos I've worn the jacket with two different tops, to show it can switch between being a little smarter and perhaps a little younger or contemporary.
I would guess most PS readers are likely to wear a jacket with a collared shirt or sweater, like the black Dartmoor above. This certainly looks more put-together, and flatters me more when the jacket is removed.
But I probably prefer the look at the top of this article, with just a black knitted T-shirt underneath. It looks more modern, and perhaps more relaxed too.
Interestingly, the collar of the Jack bomber works quite well when it's up - staying up at the back and dropping down at the front - but it's not a tall collar when folded down. It can look a little small with just a T-shirt underneath.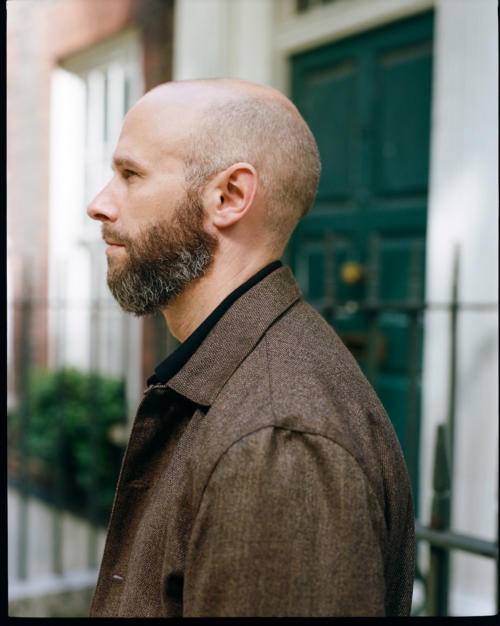 So to the issue of price. The Jack bomber was £1600; the linen version £1200. This is on a par with any designer brand, and very expensive for the kind of start-up we normally cover.
The defence is that Adam and Seto (the other co-founder) have invested a huge amount in their workforce in Indonesia, their livelihoods, workplace and training. The shop in Mayfair is one of the loveliest you will ever visit, and cannot have been cheap.
More importantly, Adam has created something genuinely distinct in menswear, and beautiful. The former should be recognised and rewarded by anyone that cares about clothing, while the latter will always be to particular people, priceless.
It is modern, easy and elegant. That's the way they describe it, and I think it's true.
But the price remains a barrier. For me, it means mostly that I can't afford to buy much. I've bought the pieces I have both because I love them and because I want to support Adam and Seto, but if they were less expensive I would certainly have bought more.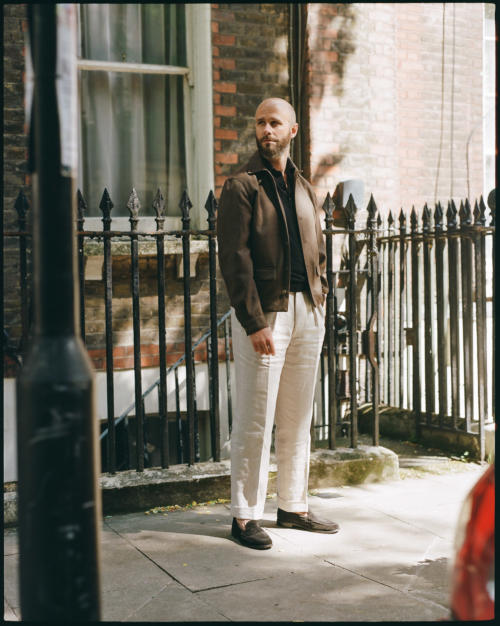 Those others pieces, by the way, were:
Fellows sandals, which are great but I bought the size too small. Currently considering putting money aside for another pair.

Yellow handkerchief. A great example of Adam's sense of colour. A soft, buttery yellow cotton that is wax-resist dyed and looks much more sophisticated than the more common bright silks.

Indigo scarf/bandana, which I love for the same reasons.

Cream thermal top, in knitted cotton. A great piece too, but I find it too like a thermal to wear on its own, so it's restricted to layering under things.
Images of all those at some other stage. Also featured in this article are black-suede Alden LHS loafers and my Frank Clegg large working-tote bag.
Photography: Alex Natt @adnatt