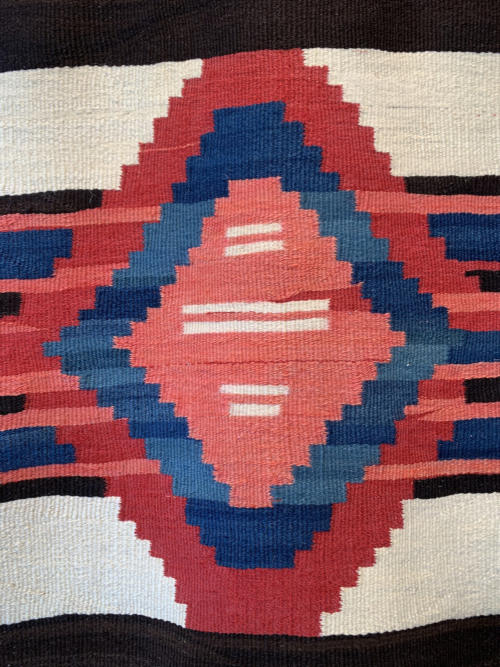 "Each coloured section of a blanket has natural variation. That's the organic dyes: each yarn is slightly different.
"Then there's the different types of dye. The weaver might deliberately mix together natural dyes like a cochineal red, with an aniline one. That's what you can see in the Third Phase Chief's Blanket [above].
"But laying across all of that there's a seeming randomness to it. Like indigo yarns extended or inserted for no apparent reason.
"This isn't inaccuracy: the weaving is very personal. Actually spiritual. The Navajo feel they are weaving themselves into the cloth, and go where feels right."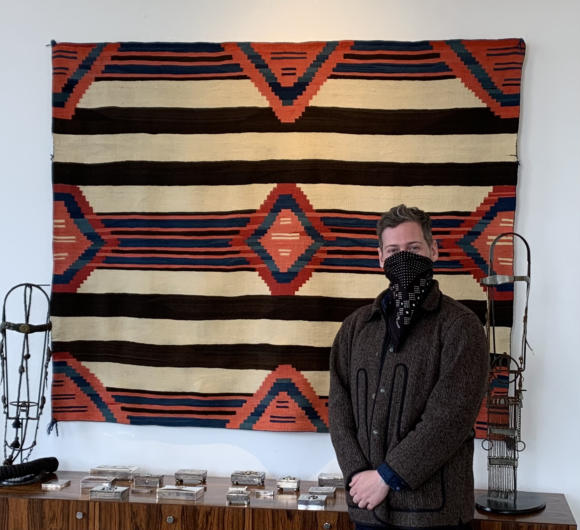 This is Peter Middleton (above), of the brand Wythe, talking to me recently about his passion for Navajo crafts.
I originally interviewed Peter for a different piece - about the design process at Ralph Lauren. But at the end we got to talking about his studies, and why he loved and collected Navajo weavings.
It's a tradition I know little about, but is very current given how fashionable Southwestern crafts have been in recent years.
So we arranged to talk again the following week. To delve into more detail.
Navajo work is the richest and most developed native weaving in the United States.
There are other traditions. Tribes in the US northeast and Pacific northwest practised it, but usually with vines and other plants, as they didn't have access to cotton and wool.
The Hopi and the Zuni, both neighbouring tribes to the Navajo in the US southwest, also weave. Indeed it's likely the Hopi originally taught the craft to the Navajo. There's also a rich Hispanic tradition (Rio Grande blankets) and the Mexicans may in turn have taught the Hopi.
But the Navajo - as with other crafts like pottery and silver - took on and developed the craft, making it richer, more varied and unique.
"They were a little bit like the Japanese with fashion," says Peter. "They watched and they absorbed. And then they ran with it."
One reason Navajo weaving has become so well-known is because it is the richest in the US, and the United States is so influential.
Ralph Lauren is a particular fan, and has consistently included designs inspired by it in his collections* - starting with the famous Santa Fe collection in 1981. Indeed, one of the easiest ways to see great examples of weavings today is in RRL stores.
(Pictured above is one of Ralph Lauren's homes, above the RRL store in East Hampton.)
The Japanese, always inspired by Americana, have then taken on Navajo designs and worked them into their own brands and products, as have other brands around the world.
But Navajo weaving does deserve its reputation purely on merit. In that regard, it should be considered among other famous weaving traditions, from Persian rugs to Indian saris.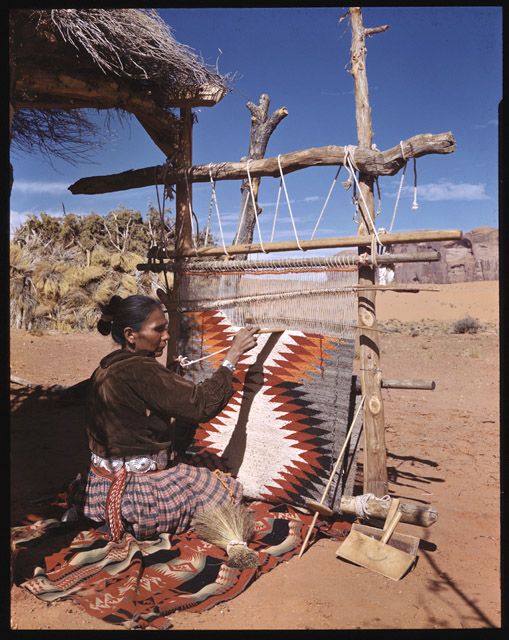 The process is most similar to Kilim weaving, which comes from most countries that were once part of (or influenced by) the Persian empire - Iran, Turkey, the Balkans etc.
This is because it's a tapestry technique: the work is done on vertical looms, with warp yarns set vertically on a wooden frame and then the weft interwoven between them by hand, before being pushed down.
"Compared to any other tradition, Navajo weaving is so idiosyncratic though," says Peter.
"The women don't weave horizontally, for example, as you might expect and as someone like the Hopi do. Instead it's woven in patches - they start with a particular area in front of them, do that, and then move onto another area just above or to the side."
This working in sections contributes to the characteristic diagonals of a Navajo weaving. Most designs involve diamonds, or figures with diagonals at the edges. In more recent times it is these figures that have been pulled across onto bags or cushion covers.
Then there is a technique called wedge weaving, where the warp is pulled across, hard, at regular intervals, to create a wavy texture.
You can see that in the image below: the pattern already looks a little playful, but then you notice the direction of the warp, and realise actually it's pretty balanced given how all-over-the-place the underlying weave is.
There are a couple of other factors that contribute to this organic feel.
One is that it's considered taboo for Navajo to plan the design - because it is meant to be an intuitive, spontaneous expression. So nothing is even sketched in the sand: the blanket just develops as the weaver works.
The other is that precision itself is considered to be impersonal, unspiritual. So designs are always going to be a little expressionistic. "If you compare the number of weft lines on a blanket - on the right and the left - they're never the same," says Peter. "Never."
Weavers sometimes also leave one loose thread in the work, as a means for their soul - which is literally in the weaving while they are working on it - to escape.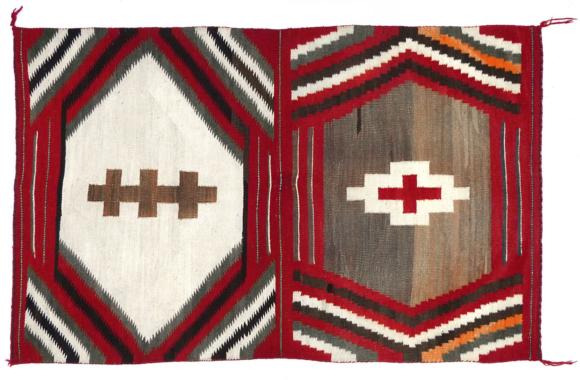 [Above: A saddle blanket from around 1940. These are usually woven in two halves, to fold under the saddle and provide two layers of cushioning]
Another imperfection that can be picked up on if you look closely, is a diagonal line showing where the woman (it was always women) left off weaving one day, and came back the next.
These are sometimes called 'lazy lines', but this is rather ungenerous.
Because the point of the designs is that they are personal and expressive. This is not like a Neapolitan tailor trying to convince you that bad stitching merely reveals the beauty of handwork.
It's more like an expressionist painter, adding colours and peculiarities because it's how they feel.
Cloth has always been one of the aspects I've loved most about clothing - whether it's hand-woven tweed from Harris or hand-patched Boro from Japan (shown above, at Sri Threads).
There's something particularly special, perhaps authentic, about clothing yourself in materials that you understand and have a connection with.
This extends to decorative textiles too. I have one piece of handwoven linen hanging on our wall that was handed down from my wife's Portuguese great-great-grandmother. It is almost 150 years old and shows no signs of age.
So I loved learning about Navajo weaving from Peter, and from various other books and resources. The best among these, by the way, are the two books by Anthony Berlant and Mary Hunt: Walk in Beauty and The Navajo Blanket.
The first sees the weaving through the prism of the Navajo's history, while the second has more academic detail on the weavings themselves.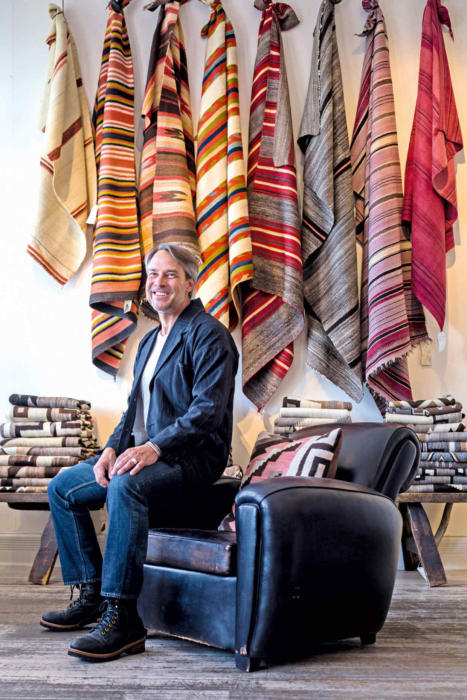 I was also, as you might expect, tempted to buy something myself.
The best resource for this - and most information on Navajo crafts - is probably the Shiprock Gallery in Santa Fe. The owner Jed (above), is fantastic at explaining the history and details of each rug or blanket. He originally helped Ralph Lauren put together much of his collection.
The problem is price. Small pieces like saddle blankets are around $3,000 and big rugs run into tens of thousands. This is antique art we're talking about.
An alternative is to commission something from a modern weaver. There are many on Instagram, and Ortegas (below) is worth looking at for a current weaver in the Chimayo tradition. Pieces are smaller, and perhaps less idiosyncratic, but no less authentic.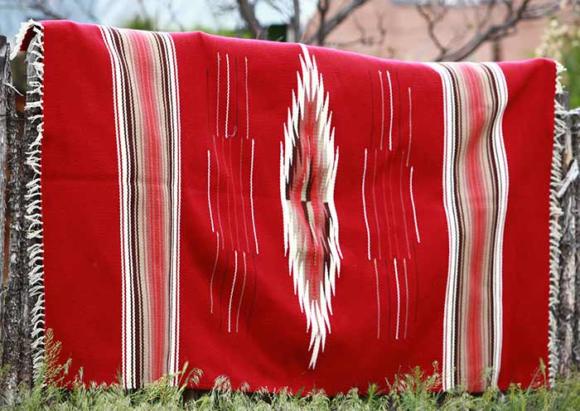 Many thanks to Peter and Jed for their help with this article. Peter's brand is Wythe, and Shiprock can be found here.
*This could lead into an interesting discussion of what constitutes inspiration and what theft - something Ralph Lauren has been accused of in the past. I'll leave that for a separate article though, if people are interested.