The unexpected inspiration of Ralph Lauren womenswear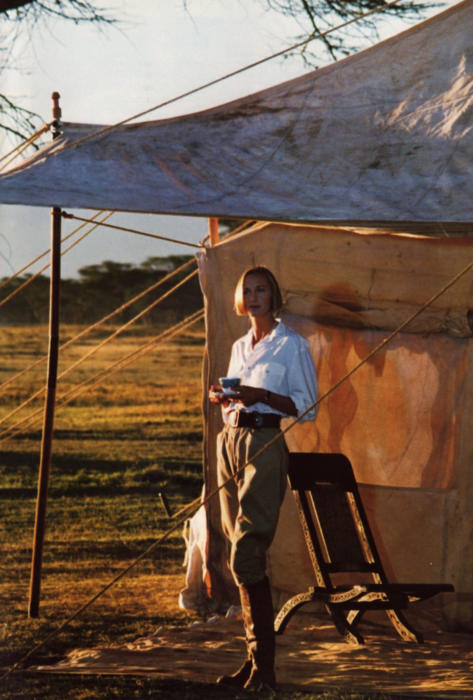 Something that I find often surprises readers is how much the brands they admire are influenced by womenswear.
It's a topic we discussed briefly with Saman Amel last year, with Dag and Saman talking about old collections that inspired them, my personal favourite being Margiela at Hermes (below).
While consumers can often be quite narrow in their tastes, designers tend to cast a wider net, whether it's womenswear, big-brand fashion or architecture.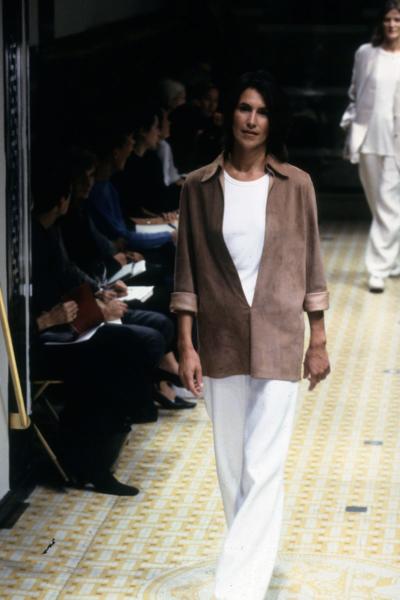 Personally, I think consumers should look more broadly too.
When you start on your sartorial journey, there is an understandable desire to copy - to lift whole outfits.
But as your eye matures, it becomes easier (and more rewarding) to see smaller points of inspiration elsewhere, even if it's just a use of proportion, or colour.
This was reinforced for me when reading the history of Ralph Lauren womenswear recently. I was really struck by how much more inspiring, in terms of new ideas, the women's collections were.
The Safari collection from 1984, for example (above). While it features men too, it's dominated by the white, khaki and rich-brown combinations of the women.
Looking through those images made me want to go away and put together summer combinations of linen, khaki cotton and brown leather. Perhaps an olive-green jacket.
It helps that the clothes are so clearly influenced by Ralph's menswear, of course. But even the women's white dresses and floppy sun hats make me think how well white linen and straw go together.
I suddenly wish I had more summer trousers with belt loops. A dark-brown belt looks like a really useful way to divide a shirt and trousers both in light colours - indeed, in some looks, in the same colour.
Certainly, some of these combinations would be more at home at Pitti than my local high street. I'm not going to wear a cream-linen suit, white-linen shirt, and butter-coloured straw hat at the bus stop.
But I could wear that white shirt with tailored mushroom-brown trousers and polished chocolate loafers. (Or, to push the boat out, mushroom-brown shirt and white trousers.) And I wouldn't have been inspired to do so if I hadn't looked at these images.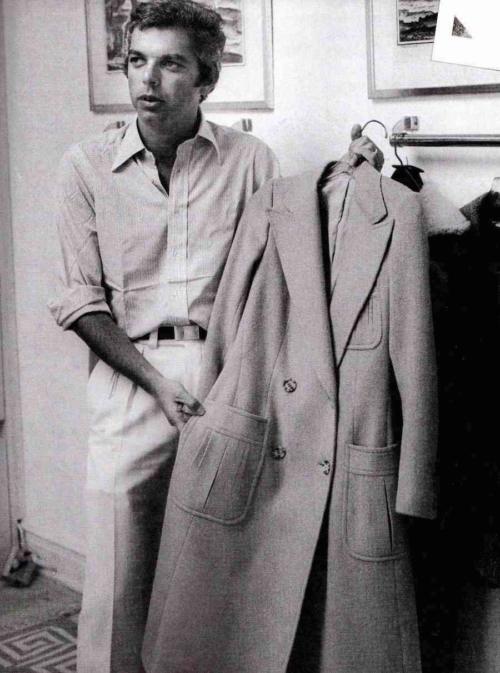 Ralph's first collection for women was basically a straight copy of the menswear, just with different proportions and details.
The polo coat was longer, waisted, and had little pleats on the pockets (above). The male-inspired shirts were apparently popular.
But he quickly realised that women's fashion was different, and if he wanted to be noticed for more than a single season, needed to offer something at least a little different.
It was that search which led to collections such as Safari, and most famously, the Western collection in 1978 (below).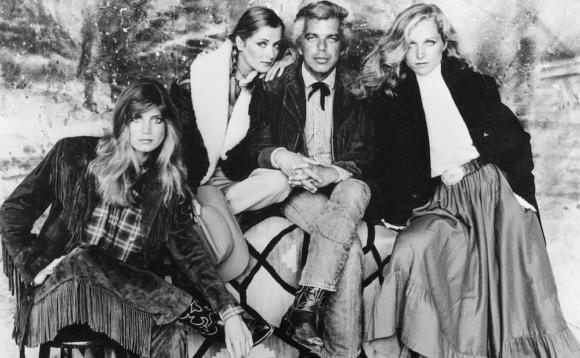 That was probably the most influential of all the campaigns, for its immediate impact and because it was the first.
There's less that I find directly inspiring there, although it does spur thoughts and denim and rough-out suede that will mature later with RRL.
The 1981 Santa Fe collection, however, is a different story.
Anyone that likes tweed, or Fair Isle patterns, will find something in these colour mixes - the combination of maroon, grey and turquoise, often with a soft white or chambray shirt underneath.
And of course this was the first mainstream exposure to south-western jewellery, which has become popular again recently.
There were then two stand-out collections inspired by traditionalism - Fall 1982 (below) and Fall 1984 (further down).
The first was all tweed and velvet, patchwork and paisley. Lots for the menswear enthusiast to dig their teeth into.
Ralph said at the time: "Everyone else was blasting the music and showing a lot of flash, and I did this chic, quiet stuff with lace and antique suits and hand-knit sweaters."
Bernadine Morris of the New York Times described the look well: "The clothes looked exceedingly well-bred, and though they were nonassertive, they make a powerful statement." I love the line further down that same piece: "It offers a quiet excitement, without reaching into the bizarre."
On a personal level, it makes me wonder whether there's any way I could wear tweed and velvet together.
Fall 1984 was the English thoroughbred collection. Shot in an English manor house, it was full of walking boots, chalkstripes and flannel.
In Alan Flusser's words, it reflected Lauren's appreciation for "aristocratic taste and the muted elegance and genteel refusal of ostentation that are its hallmarks".
Although there are again men in the campaign, it's the women that stay with you. The shot of the outdoor art session (first image below) is gorgeous: brushed cotton shirt under tweed jacket, with tweed coat draped on top. And paisley skirt.
It makes you want to bury yourself in sombre, muddy colours. To never wear anything with any contrast again.
The Diana-like shot of navy chalkstripe suit and buttoned white shirt is equally inspiring, and in a very practical way. I have a navy flannel suit, white shirt and black shoes. I can wear that look - I'd just forgotten how good it could be.
By contrast the most famous image from the campaign - wing-collar with black tie and fur-trimmed robe - is pure fantasy. With no practical application unless you live in such a country house, and give a lot of parties.
By the way, if you want further inspiration, Fall 1994, 10 years later, is also worth a look.
Finally, there's a little coda about women's style that's worth mentioning.
A central theme of Ralph Lauren womenswear has been mixing clothes in unexpected combinations. A cocktail dress with a vintage leather jacket; a battered plaid shirt over a pinstripe suit. Indeed, Flusser sees it as a particularly American form of dress.
This is what we sometimes refer to as high/low dressing. And while it's much easier to do with the freedom of womenswear, it does have the potential to make both men and women look more spontaneous and more personal.
Ralph, via Flusser, has some tips in the book on pulling it off. First is that it helps if the pieces are 'stand-alone classics'. Not a tan pinstripe suit, but a navy one. This lessens the risk of overkill.
And second, the aim is unexpected weights or textures, rather than colour or pattern. The leather jacket appeals over the cocktail dress because we can almost feel the difference in texture.
I'm still not convinced Ralph's signature look of tuxedo with blue jeans really works. But at least I know what he's getting at.