Don your highborn cloak: Ralph Lauren, saviour?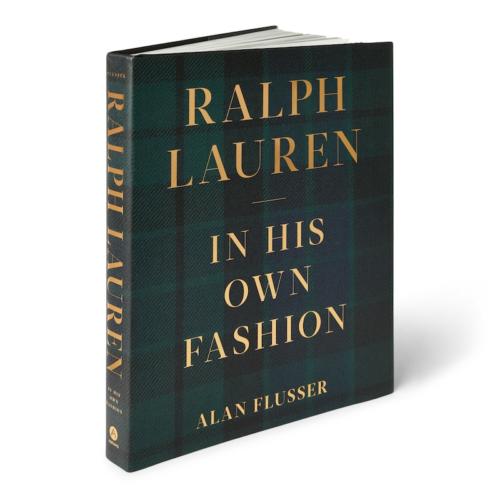 I recently finished reading In His Own Fashion, the official biography of Ralph Lauren, which Alan Flusser kindly gave me last year.
I'd recommend it to anyone - it's both interesting as a history of fashion in the past 50 years, and inspiring as an extended essay on menswear.
It is not an objective view by any means. If you want something journalistic, you're better of reading Genuine Authentic by Michael Gross.
Alan raises occasional points of controversy - including the accusation that Ralph plundered traditional cultures such as the Navajo - but only to neatly deal with them, in this case by pointing out that he was later honoured by the American Folk Art Museum.
And Alan's writing has a tendency towards the flowery, perhaps even fluffy. He will talk of Ralph trying to "represent a plateau of taste that would catapult him above the clutches of fashion's artifice and impermanence" - words that are by design emotive rather than explanatory.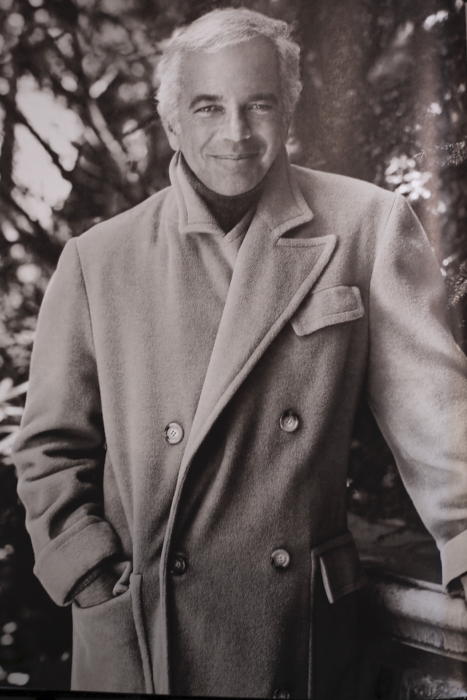 But that emotion can also be genuinely inspiring. For example he says of the polo coat: "To ensure the classic mantle's survival, Ralph had to defend it on multiple fronts and over multiple decades. First, he had to protect it from becoming a casualty of the anti-establishment sixties; then he had to defend its honour during the decades of designer-driven fashion excess."
The next paragraph makes you want to get yours out of the closet, and wrap it around yourself as you continue: "Whether vintage or new, custom or ready-made, this highborn cloak has long been depended upon...From blue jeans to formal-wear, bowlers to baseball hats, there is no style boundary that this blue blazer of outerwear cannot navigate."
OK, are you wearing your 'highborn cloak'? Next are the chapters on Ralph's background.
These are superficially interesting, but there isn't really much on his personality and character.
The highlights are always the points that turn on clothes. Such as the 'pants and pearls' look of Katherine Hepburn, that he so loved (and would later be a foundation of his women's line) or the teenage gangs in Mosholu Parkway: the 'rocks' in black leather jackets and the 'preps' in crewnecks and penny loafers.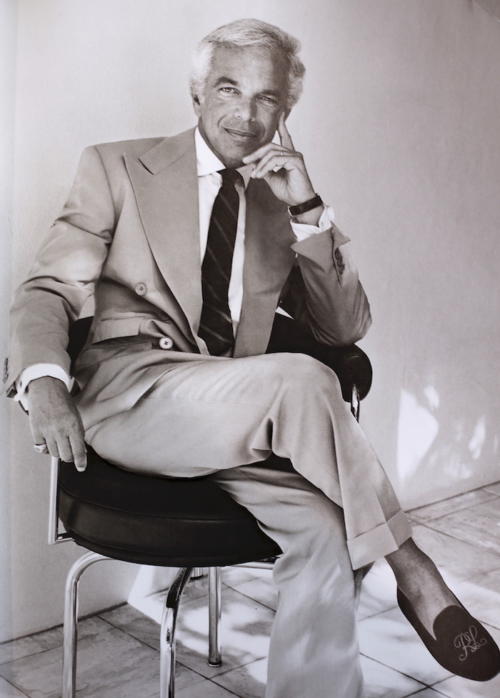 Strikingly, the thing that stands out in the next section - charting Ralph's rise through the industry - is how unappealing his clothes are.
No matter how they are described, or how successful they seem to have been, Ralph's super-wide super-thick ties sound horrible.
Topping out at four or five-inches wide, they were made of upholstery materials, such as velvet and silk tapestries. And they were usually as wide in the neck as they were in the apron. As Alan says, "the necktie's sheer bulk attracted attention on its own".
The tailoring isn't much better. Although frequent references are made to the understated elegance of Fred Astaire, or Paul Stuart legend Cliff Grodd, the RL suits are extremes of fashion.
The lapels are so wide they hang off the side of the chest; the shirts are loud, with contrast collars; some of the trousers have a large chain-link pattern running down their outer seam (examples below).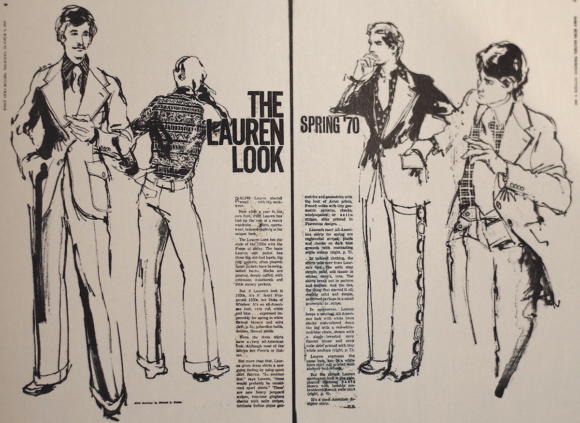 It's only when we get into the early 1970s that the Ralph Lauren look seems to mature. He is in his mid-thirties, has been doing this for 15 years, and the looks we know and love start to come together.
The polo shirt is launched, with a key selling point its full-cotton piqué and mother-of-pearl buttons, in deliberate contrast to Lacoste's poly/cotton blend and plastic. (Interesting, given it's fair to say quality is not a selling point of the Polo polo shirt today.)
The chino also comes into its own as a foundational part of the Ralph Lauren wardrobe. And Flusser is inspiring again:
"No article of men's apparel facilitates as many dressing genres and clothing coordinations...Paired with a solid or patterned woven or knit shirt, any colour or model of sweater, sport jacket, or outerwear, the chino is the male's idea of clothing heaven, the epitome of default dressing."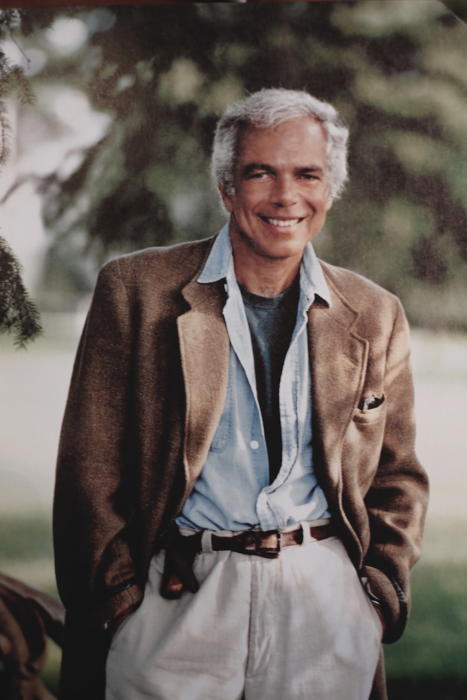 Ralph also tries to sell unstructured tailoring, without much success.
Ironically, given the later success of Armani and the artisanal Neapolitans, it fails because customers persist in seeing an unstructured jacket as having less in it, and therefore less value. (Despite, of course, it being harder to make.)
In 1973, there is the watershed moment of Ralph's clothes for Robert Redford and others in The Great Gatsby, where he finally gets to fully present his vision of designing dreams - not clothes.
"The notion of creating Gatsby's suits and shirts - the beautiful shirts that made Daisy cry - was a dream assignment," says Bloomingdale's chairman Marvin Traub.
When these significant points in time come up, it's particularly interesting to hear about their contemporary significance - something hard to appreciate from this distance.
For example, Alan says it "raised interest in American menswear in general. The first film in many years to glamourise male fashion, it introduced an entire generation to prewar American male elegance and taste, which back then was on a par with anything Europe had to offer."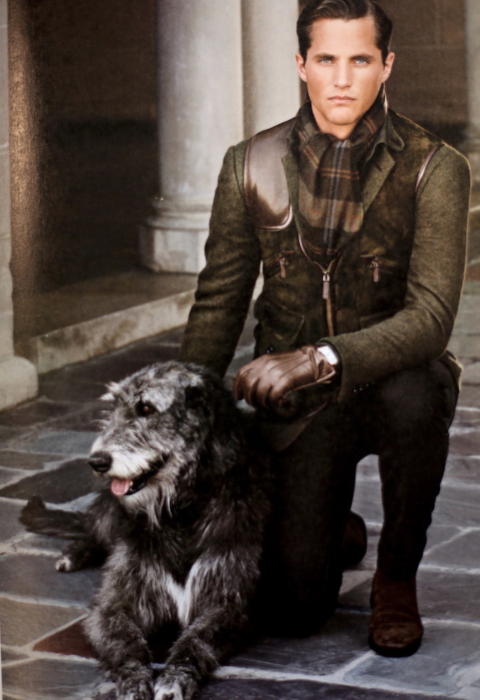 The other big changes come in the 1990s, with RRL in 1992 (earlier than I realised) and Purple Label in 1995.
Purple Label is the Ralph Lauren I grew up on. Rich brown leather, dark-green suede and charcoal flannel; tie bars and dimpled tie knots. Deeply aspirational. I remember particularly loving the image above, with its textured greens and shiny browns - even though I'd look ridiculous in it.
Interestingly, when Ralph showed it as a collection for the first time, he deliberately described Purple Label as the antithesis to the 'dress down' trend: "Men can look cool, sexy and elegant at all ages in sophisticated clothes. It doesn't have to be trendy; it doesn't have to be flashy," he says.
"The most important thing was that it's not this year's look, it's a forever look."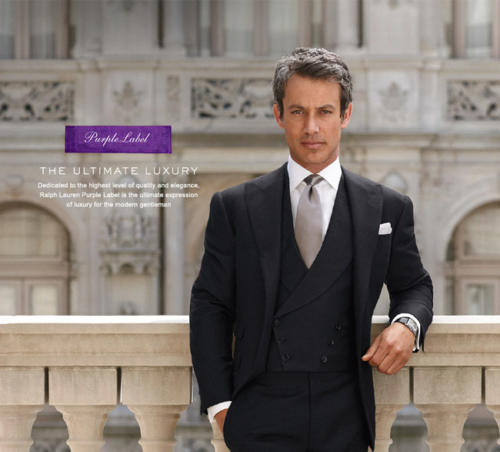 By the time the menswear section of In His Own Fashion concludes, you are fully bought into the fact that Ralph Lauren has been the saviour of classic menswear.
He may not have been quite as pivotal on trends as the book suggests (to read the women's section in particular, you would think he pioneered every fashion from 1970 onwards).
But the evidence of continuity is too overwhelming elsewhere, particularly with menswear. Fans of Ivy League style may not like the way Ralph Lauren commercialised that look, but without him it seems likely that it would have died some time around 1968.
And since then, he has consistently defended it, no matter how out of step with fashion.
The same goes for Western clothing, which flows in and out of collections every year, or for Southwestern crafts and patterns, which a new generation is discovering almost 40 years after it was introduced by the 1981 Santa Fe collection.
For a diehard fan of classic menswear, Ralph Lauren will always be offering some clothes that are too fashion.
But look around at the competition - the other fashion houses, which trumpet revolution every year or two, under a new creative director, and try to sell a whole new look.
In a world like that, Ralph Lauren is still the closest thing to the 'forever fashion' he has claimed the brand is about. And that's just a couple of synonyms from Permanent Style.
"I propose Ralph as not only our generation's preeminent tastemaker, but also the leading guardian and ultimately the saviour of high-class taste and style," says Alan. "As his influence widened, Ralph forged a bulwark against the culture's deteriorating taste level by championing time-honored style over fashion's more provisional solutions.
"Reinvigorating the public's interest, he ended up democratising it more profoundly than any of his peers - and maybe more than anyone in modern history."
I've always felt this way about Ralph Lauren - as I briefly set out in my recent grey-on-grey outfit.
My whole adult life, Ralph Lauren has managed to present clothes each season that feel fresh yet familiar; new, yet completely him; and across an amazing range of styles, from cowboy to sailer to banker. No other brand has come close to producing so many clothes, and defending so many styles, that I love.
It's nice to have someone put it all into words.