The biggest potential pitfall with tailored dressing is looking fussy.
Fussy is not sexy; it is not attractive. It is closely related to appearing 'affected' or 'mannered'.
Looking relaxed in clothing, on the other hand, is very attractive. It lies at the core of terms such as sprezzatura, grace and elegance.
It is why Hardy Amies told us to forget all about our clothing, once we had put it on.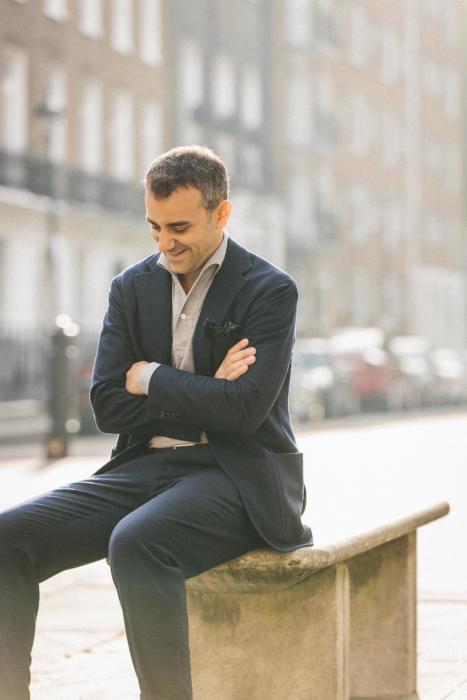 I would argue this is at the very core of dressing well as a man, and is the thing sartorial dressers most frequently get wrong.
Fortunately, there are many ways to achieve it.
The first is dressing more simply, or avoiding anything that you feel you need to fuss with. The second and easiest is just being at ease, but this usually comes over a long period of wearing the same things. And a third is deliberately having some aspects of your dress imperfect (sprezzatura).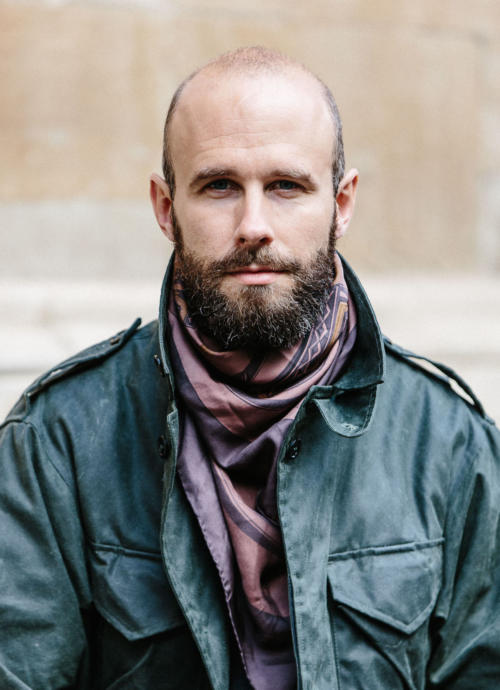 Here we will look at a fourth: mixing casual and formal elements together - sometimes called high/low dressing.
It is not the easiest way to avoid looking fussy or mannered; indeed it is easy to get wrong.
But it is perhaps one of the most stylish way.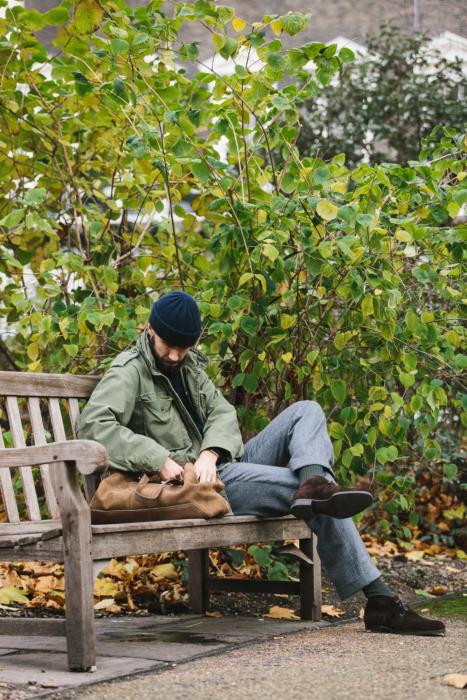 One guiding principle for high/low dressing is to play with the accessories, not the core. So outerwear, not jackets; shirts, not trousers.
A second is to be aware there are grades of high and low, which should not be pushed too far apart. So a Barbour jacket with a casual suit, but not with black tie.
The further apart these two extremes are, the easier it is to get it wrong.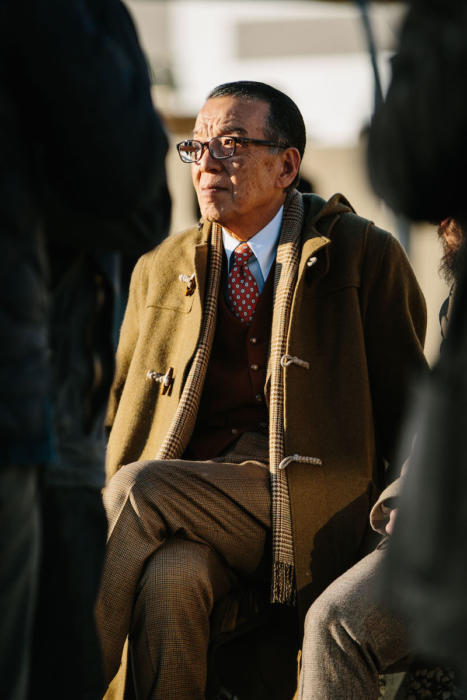 1 Outerwear
The easiest and by far the most popular way to add casual, or low elements to an outfit is with outerwear.
Examples of casual (and often cheaper) outerwear pieces that can work well are:
Waxed/hunting jackets (Barbour, on Jake below, often being good because many are long enough to cover the full length of the jacket)

Duffle coats (Gloverall's Monty - above - being the classic, but there are lots of other options)

Tweed/raglan-sleeved country coats (Smarter, but still definitely more casual than a tailored overcoat)

Cotton army coats (Largely field jackets like the M-65, and at a stretch a fishtail parka)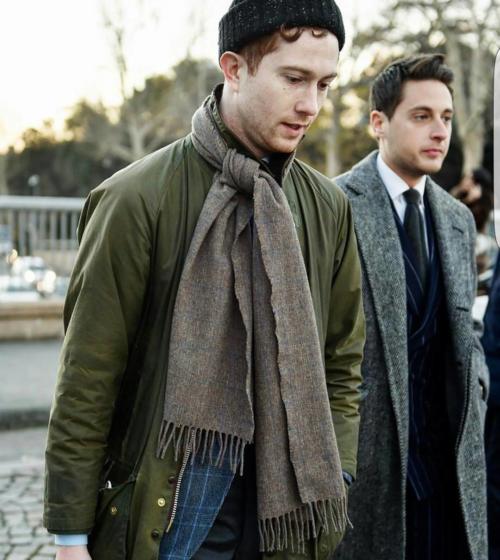 It's easier to look casual and unfussy if the coat is a little beaten up, which leads to a lot of men buying them vintage.
If the fit can work on you, that's fine, and certainly better than buying artificially aged versions from designer brands.
But be careful with the length. For example, I love my vintage M-65 (shown in the introduction) but my height means it is too short to wear over a tailored jacket.
The issue there is milder version of short gilets over jackets. This is certainly a look, and I can see why some people like it, but for me it stretches the high/low separation too far.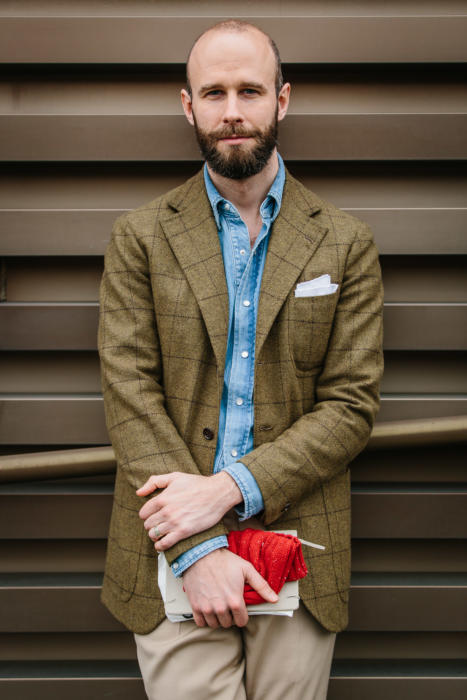 2 Shirts
Second easiest is the casual shirt. Two examples of this have been ubiquitous in recent years: the denim shirt and the polo shirt.
One extreme of the denim shirt is the thick, pearl-snap cowboy shirt (above). The other is the Everyday Denim shirt, which is closer to being a dress shirt that fades nicely.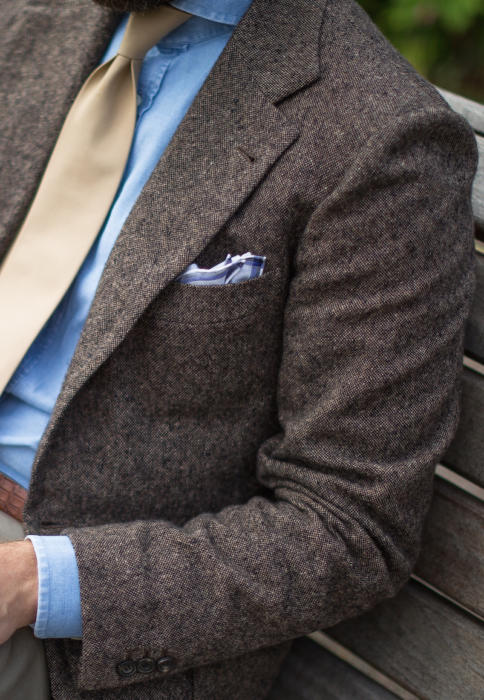 Mostly it's safer to have something in the middle - which is obviously denim, but still functions well under a jacket (above).
My advice here would be to never sacrifice fit points (eg long tails to tuck in, collar at a decent height) but feel free to play with the colours, washes and design details.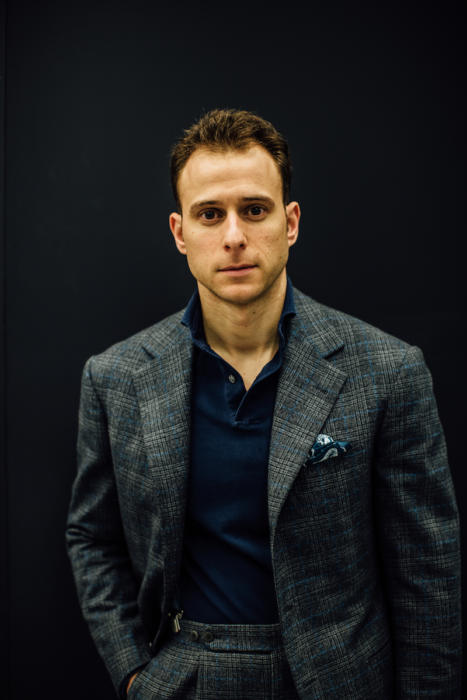 On the polo shirt, of course, my favourite is the two versions of the Friday Polo I've offered here on Permanent Style. But many others, particularly The Armoury (above), offer really nice versions to wear with tailoring.
It subverts the assumptions of tailoring in exactly the same way as denim, but if cut like a regular shirt, mostly just shows in the material and texture.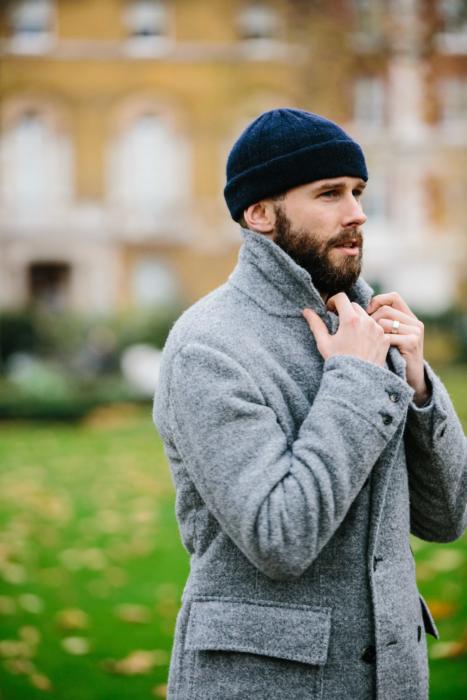 3 Accessories
Accessories are one of the easiest things to add an outfit, but don't tend to make as dramatic difference as outerwear.
A beanie that sits close on the head and retains a clean look (above) can be nice with tailoring, and is a big contrast to the alternative of a fedora or trilby.
Caps sit somewhere in between.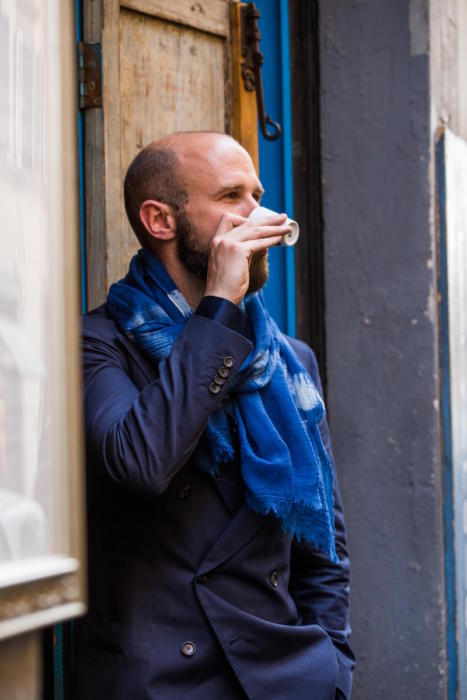 Colourful scarves, such as those from Drake's, Liverano, Rubinacci and others, are not so much more casual and 'low' as more fun. They're colourful, more playful, and can soften tailoring in that way.
They can also be a little flamboyant though, and if anything I tend to prefer more muted scarves such as indigo dyes to achieve the same effect.
I also often wear, as shown at the top of this post, Hermes silk scarves with coats and knitwear.
If anything this is high/low the other way round: the fanciness of a silk scarf being brought down to earth by a wax jacket.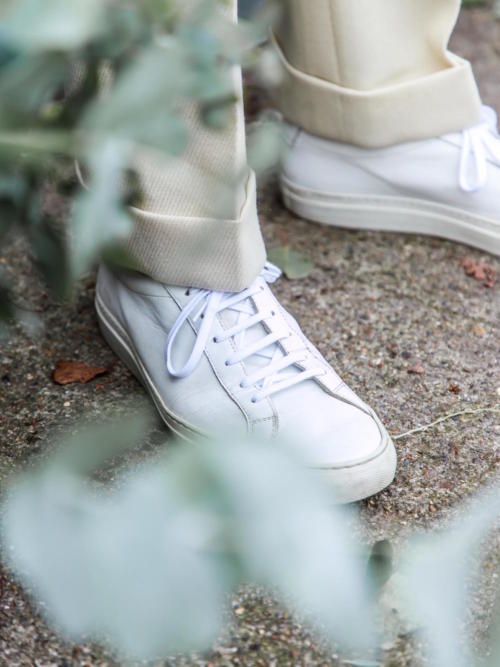 4 Shoes
A difficult area, largely because guys want to wear trainers with everything and it rarely works.
I've covered this in detail in my posts on how to buy and how to wear trainers, but in summary:
For a trainer to work with tailoring it must mimic some aspects of a dress shoe. Specifically long, clean lines, plain colour and a simple design.

They are best worn with more casual tailoring. So a cotton suit rather than a worsted suit, and most often just smart trousers, without a tailored jacket.
Most of the time, the best way to use shoes to look more relaxed is to just wear them - so they get worn in, look much loved and a little beaten up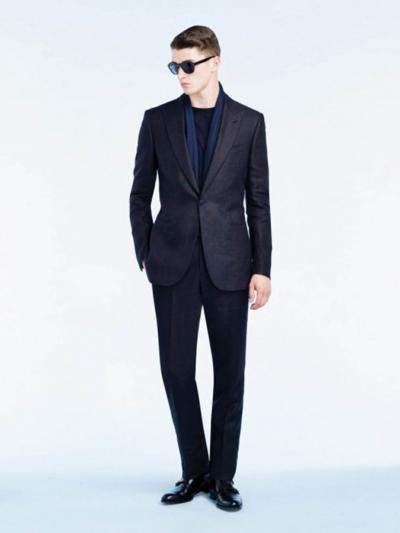 5 T-shirts
A T-shirt under a jacket is a favourite of fashionable types, but rarely works.
If you have anything but a short neck, it will be much less flattering than a collared shirt. Also not great for the jacket collar against the skin.
In general - although not as casual - a rollneck or polo-collar buttoned up to the neck will be more effective.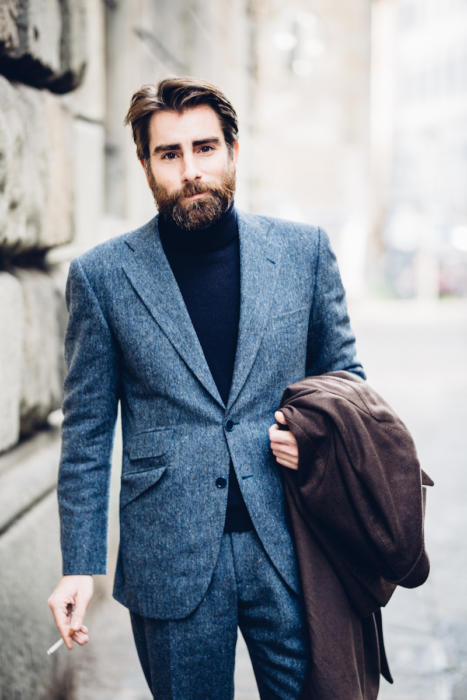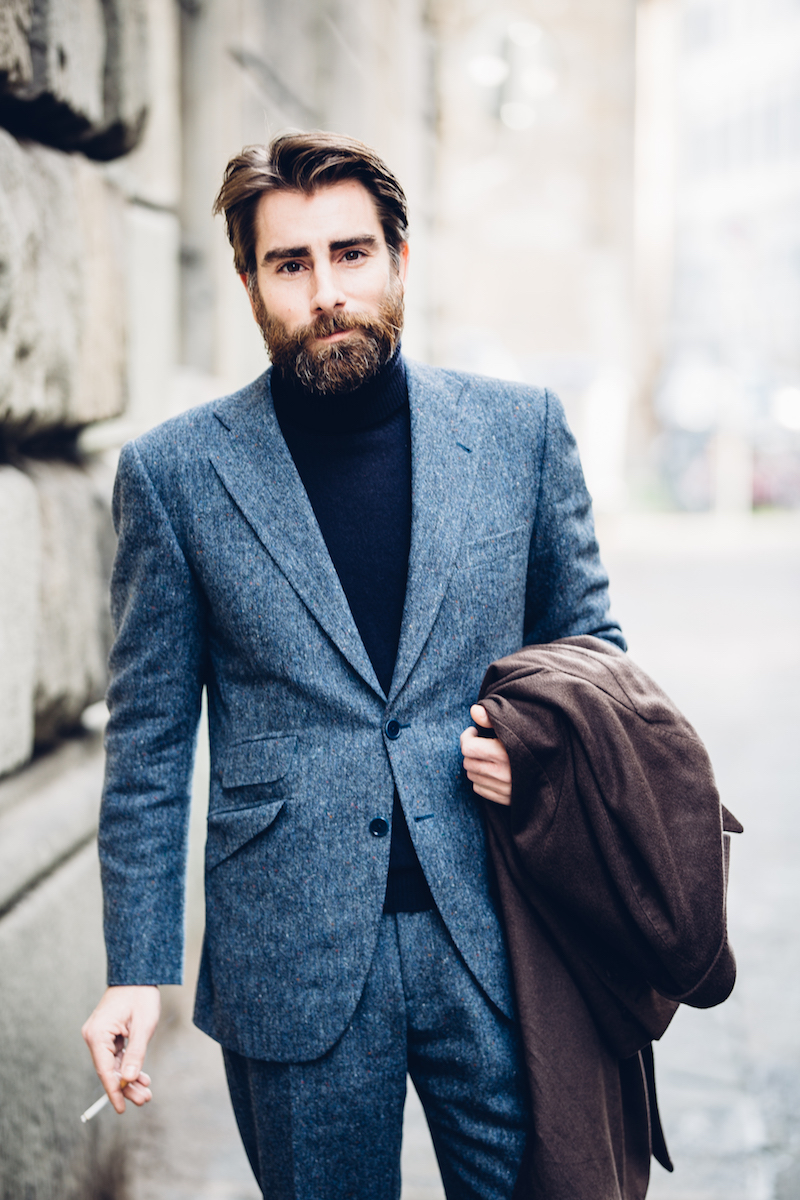 If you do want to try it, go for a lightweight crewneck sweater underneath the jacket, rather than a T-shirt.
If it's in cotton, it won't be much warmer than a T-shirt, and it will make the neckline much smarter. John Smedley even does short-sleeved cotton knits in the summer.
Wearing a slim scarf underneath (as shown above) the jacket can help, as it will create a substitute collar at the neck, and follow the lapels of the jacket nicely.
-
If you want to try something along these lines, I recommend starting with outerwear.
Wear a sports jacket and flannels into a vintage store, and try various things over the top of your jacket, to see how you like the look.
And don't be fooled by magazine shots. If you think someone looks good in a T-shirt and jacket, cover up their good-looking face and athletic body, then reconsider.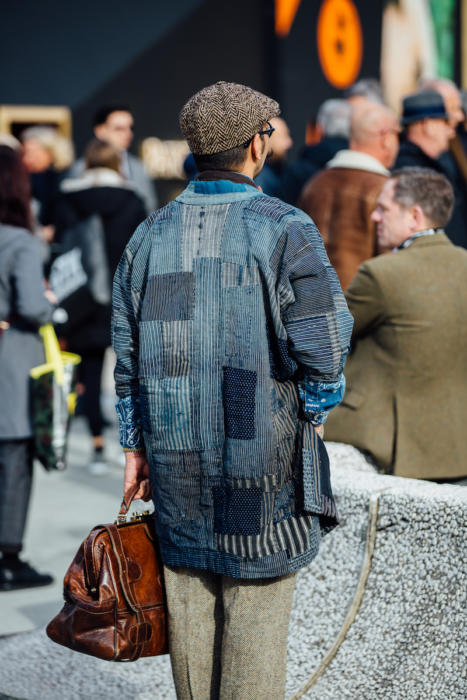 Photography: All Jamie Ferguson except silk scarf/D-43 and indigo scarf (both Drake's), white trainers (James Munro) and T-shirt (Gieves & Hawkes)