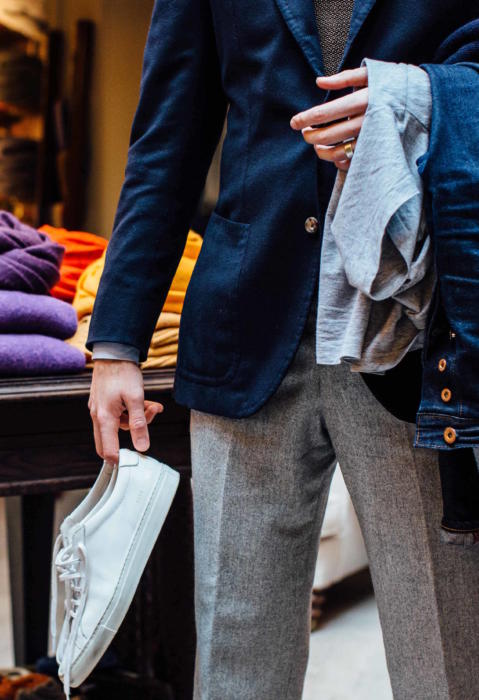 Designer trainers – or sneakers as our American friends call them – are all the rage.
A cynic would say that's because brands have realised they can make big margins on a cheap, lightly designed product. An optimist would say it's a reflection of men's increasing desire for stylish, quality clothing that can transition from formal to casual.
As always, the truth is a combination. I like classic, high-quality trainers, as recent posts on
my Common Projects
and
Levels of Formality
have showed. But I'm not going to buy designer trainers, just like I don't buy designer T-shirts.
I want simple, subtle design and high quality. Both because it won't go out of style, and because the vast majority of the time it's the only thing that works with the tailoring and classic clothing we write about here on Permanent Style.
I like wearing my Common Projects with chinos (usually Incotex) but also with flannels. I rarely wear them with a jacket, but if I did it would be a cotton one like
my green Reillo
, with linen trousers and an open-necked shirt.
(I'll do a separate post with a few style shots to illustrate – these things are much better visual than verbal.)
But, for a trainer to work in this context it has to be of a certain design. It has to be, in some ways, similar to a dress shoe.
1. They must be slim
The first thing a trainer needs to work with smarter clothing – and one that people often forget – is slimness.
The shoe must be slim not just because that makes it more similar to a dress shoe (though it does), but because it enables a trouser leg to sit nicely on top of it.
Chunky running shoes look awful with smart trousers partly because the material gets bunched up on top, and ruins the line of the trouser.
This is one reason Converse are so often worn with smart trousers – particularly well by women actually. It's not my style, but that's one reason it works. The Stan Smiths on the right above, by contrast, are too wide.
2. They must be sleek
Dress shoes are dressy because they have an austerity of colour and line. When the addition of small lines of holes can shift an entire shoe from formal to informal, the margins are small.
So for a trainer to be remotely dressy, it needs to have the same simple, sleek look. No chunky eyelets, no oversized laces, and a sole that is neither too thick nor too thin.
Although the Buttero example above-right is slim and has a good sole, it has cut edges and thick leather laces, which make it too chunky. The Givenchy on the left, by contrast, is everywhere simple and pared back.
3. They must be monotone

An elegant trainer will likely be one single colour – the more changes in colour, even subtle ones, and the more it risks losing its simplicity.
This is why the majority of new designer trainers are white. I would argue even bright single colours are better than multiple conservative ones.
In the examples above, the Common Projects sneaker on the right has a differently coloured sole, where the Cos example does not. It's a small difference, but an important one – akin to a contrast welt on a dress shoe.
4. But not black

A classic mistake people make here is thinking that a black trainer will be smart. Because a black dress shoe is, right?
Unfortunately no. It just looks like you're making a rather poor attempt to pretend you're wearing a dress shoe – when a half-second glance makes it obvious you are not.
I'm not a big fan of tan or dark-brown trainers either, for the same reason that they look too much like they're mimicking a dress shoe.
A smart shoe is smart because of its simplicity and cleanliness of line, more than its colour.
5. And you should look after them

You don't have to be a trainer obsessive, but look after your shoes. Wipe them down, keep them in a box. Even put shoe trees in them – it helps.
A trainer will never keep as smart as a dress shoe – you can't maintain or recondition the leather in the same way. But it will age and wrinkle a lot slower if you look after it.
There's a good video on trainer maintenance above from Mr Porter.
I know there will be purists out there that shudder at the very idea of trainers. I'm with you; I get it. We both share a love of tailoring, but around that tastes can be narrow or broad.
For everyone else, perhaps looking to experiment with sockless trainers under their cotton gabardine this summer, this is where to start.
(I will do a separate post also on the quality of trainers – how they are made and what makes quality in that market – at a later point also.)