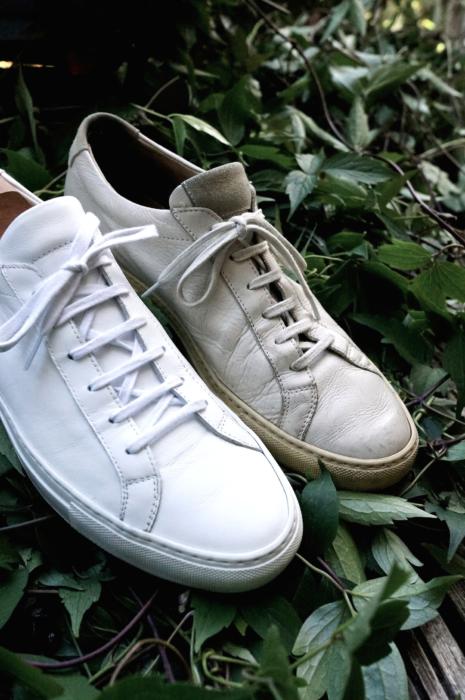 Some readers might be surprised to learn that I regularly wear trainers. Few should be surprised that there is a rationality both aesthetically and functionally to the selection.
My brand is Common Projects. I was introduced to the team there a few years ago, and invested in them based on learning about the construction. My experience since then has pretty much backed up that decision.
There isn't much to making trainers. The soles can be glued or stitched on, but most high-end ones will be stitched. There are small differences internally as to how both methods can be performed, but they are small and they're hard to verify without ripping the things apart.
After that it's about quality of materials. Good quality leather (and leather linings) will make the shoes more comfortable and, perhaps more importantly, look better as they wear. That was the biggest attraction with Common Projects, and it has been backed up by experience. The only small caveat is around the linings around the heel, which have worn more than expected.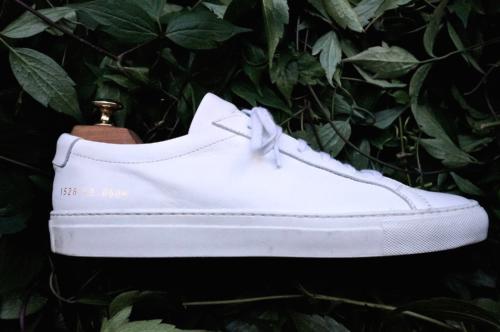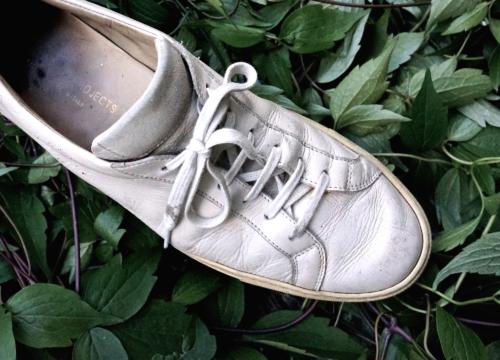 Aesthetically, I generally prefer neutral, versatile colours – and with sneakers that means white. There are then two pairs of the Achilles style with very different functions. The cream pair are worn to death: with denim or chinos, to do anything including playing football with my kids. The white pair are kept pristine: worn occasionally, stored with shoe trees, and wiped down (with baby wipes) after most wears. Similar behaviour to dress shoes, therefore, if only otherwise found in trainer obsessives.
The white pair are worn as an accessory to preppy outfits, such as beige chinos, blue button-down and charcoal shawl-collar cardigan. Every now and again they are also used to subvert otherwise formal clothing, such as cream linen trousers or cotton suits. I'll post pictures at some point this summer.
Common Projects are expensive – £260 in this case. But the aesthetic can be replicated with any type of sneaker. Stylish women do this particularly well, wearing a navy flannel suit with a white shirt and box-fresh white Converse, for example.
There is also a good number of trainers being made by small Italian companies as the area gets more popular. It's worth looking at Diemme, for example, as a sportier alternative, and Buttero makes a rougher, stripped down model, with cut edges and no lining. Just don't buy trainers from big fashion brands. They have the biggest margins of anything they sell (aside from sunglasses).