How to wear trainers: Part 3. Style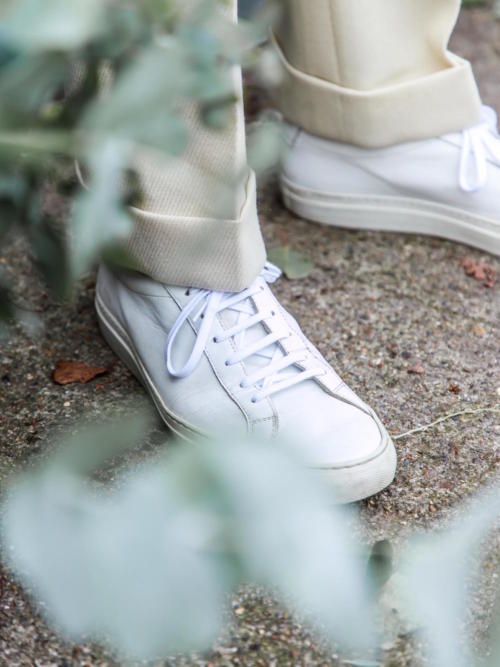 This post is an illustrated explanation of how I wear trainers, or sneakers.
As with similar exercises on the blog, I have attempted to be as structured as possible, keeping some parameters constant in order to focus on those being discussed.
So in the outfits shown here, we take a single pair of trainers (white Achilles Low from Common Projects), and put them with trousers and knitwear that vary in their material, texture and fit; but not in their colour or pattern (all are plain navy/blue and cream/beige).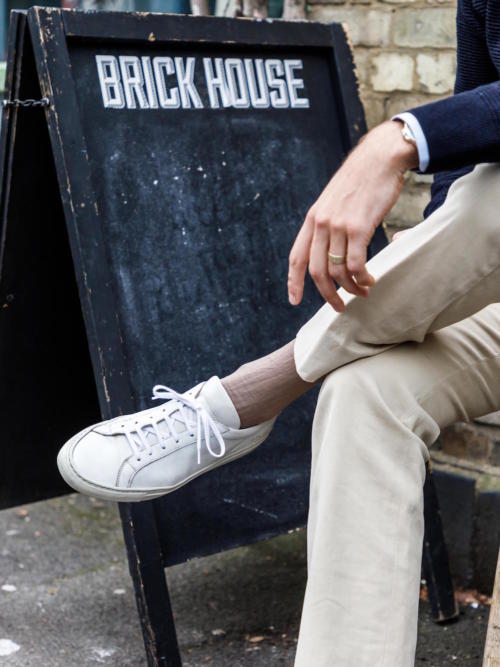 The first outfit (number 1, below) is a refined casual look. It is what I think trainers such as these were made for, and how I wear them the majority of the time.
The other two outfits demonstrate how far I think the shoes can be pushed stylistically in either direction - towards the more formal, or the more casual.
They set the limits. Any smarter than outfit 2, and I think you need a classic welted shoe. Any more casual than outfit 3, and you need a more casual trainer.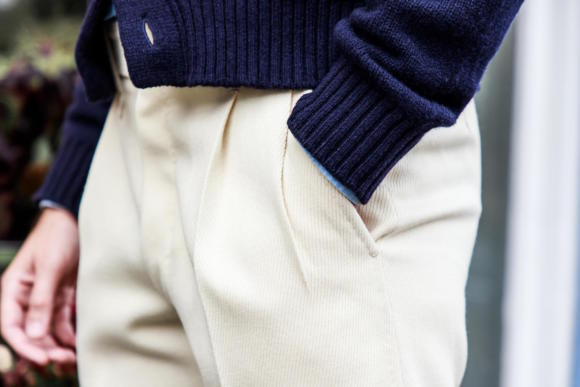 All three maintain the principles we exhort here on Permanent Style - in particular in terms of quality and the primacy of fit.
I know a lot of readers still won't like this. On the surface, it has little to do with bespoke suits and Northampton shoes.
But I also know many readers will respond well. Primarily, those that want to dress intelligently but less formally, that are interested in extending their principles of dress to other areas.
I hope more conservative readers will still find it an interesting exercise. As a way to reaffirm their own principles, if nothing else.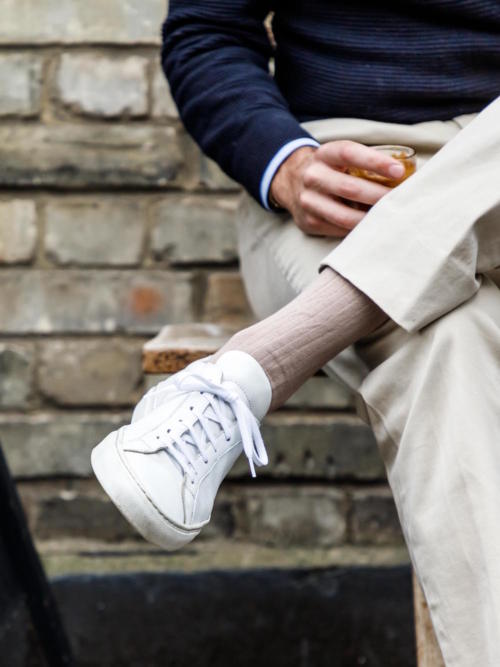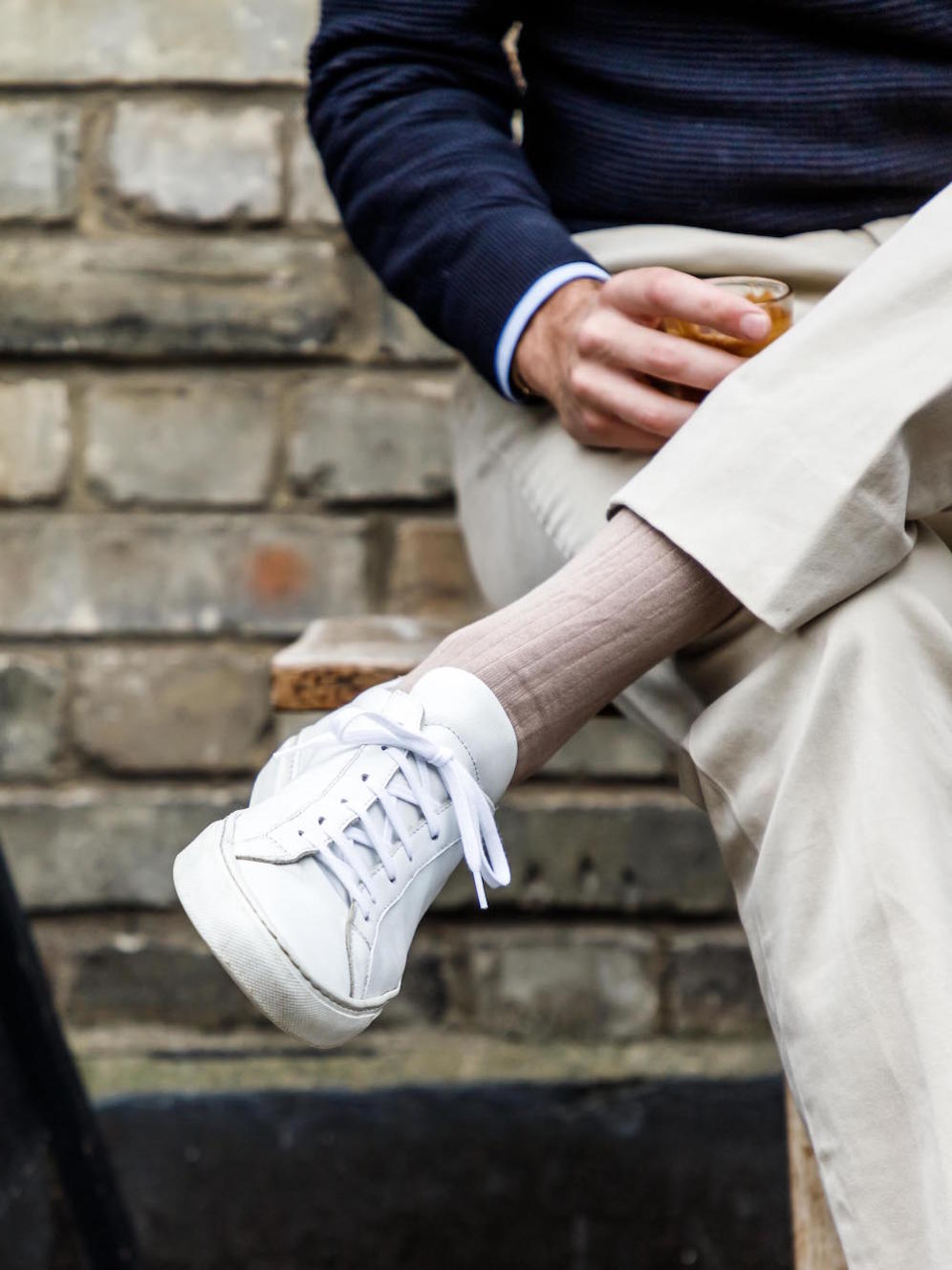 1 The refined casual look
In this outfit, all the items of clothing have a similar refinement of colour, style and shape to the trainers.
The trainers are plain white leather. There is no branding, no designer flourishes. The shape is elegantly elongated, with a slightly longer last than most.
The clothes are similar. Plain, classic colours of blue, navy and beige. Simple texture-based design in garment-washed cotton or waffle-knit wool. And a slim, neat fit.
All of them also share an interest in the best materials, with the aim of ageing well.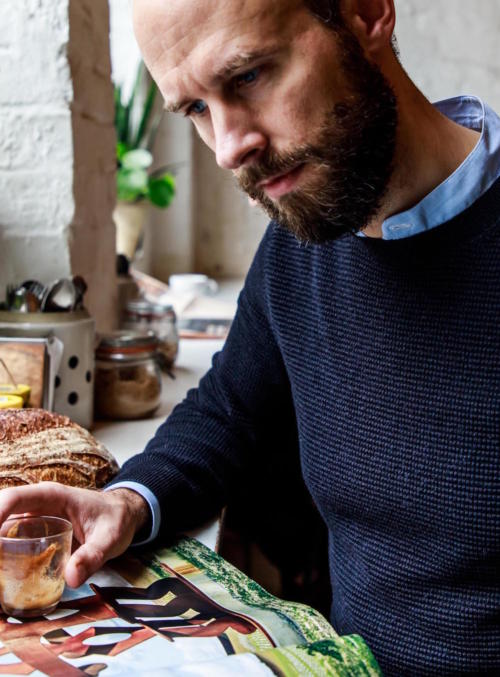 This is a very simple, versatile look - one Trunk Clothiers has done a lot to promote in recent years.
It's also really useful for anyone looking to dress better in an inherently casual office - taking pretty much the same clothes as everyone else but making them simpler, better fitted and better quality.
Shirt: Collarless bespoke shirt in chambray by Luca Avitabile
Knitwear: Waffle-knit merino crewneck by APC
Trousers: Incotex classic-fit chinos, via Trunk Clothiers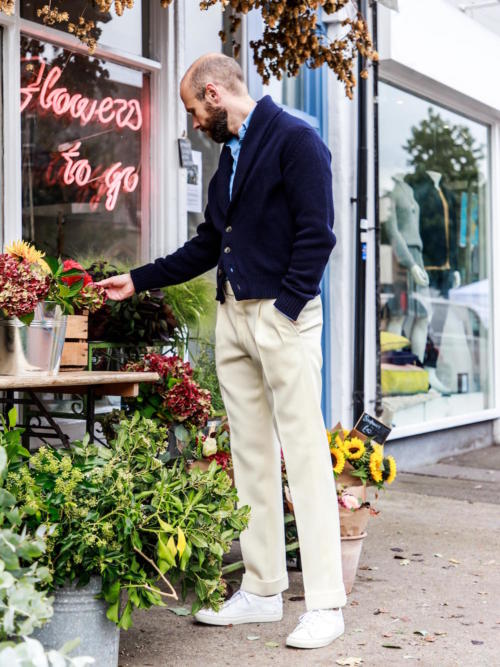 2 Smarter and bolder
This second outfit shows the limits of how far I would go to combine trainers with tailoring.
First off, no jackets. Personally, I wouldn't wear a tailored jacket with trainers, no matter how casual and unstructured it is.
The closest I would get is knitwear like the Anderson & Sheppard cardigan shown here, which is more sartorial in style - with its close fit, buttoned front and prominent collar.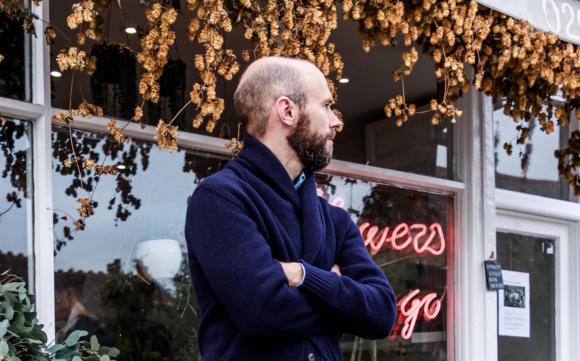 Secondly, and more complicatedly, smarter trousers.
These bespoke Pommella trousers in vintage Fox Brothers wool are more formal than the Incotex chinos in outfit 1 by virtue of their material, their cut, and the extra details like the crease and pleats.
But they are not that formal. Worsted wool (what most suit trousers are made of) would be too smart for trainers, for instance. And even a woollen such as flannel would probably be too smart.
In general, cottons are a safer bet for tailored trousers with trainers. Cotton gabardine in summer, cords or heavier cotton twills in winter. Linen also.
Colour also makes a difference - more formal colours like charcoal or navy might be too smart.
Overall, this outfit is also more unusual or showy than the first.
This comes primarily from mixing pieces that are less similar in terms of style and formality (often referred to as high/low). Unlike the first outfit, where everything was of the same level.
For most people, being unusual makes it less suitable for day-to-day wear.
But for those that like to be a little more individual, it can be a nice way to express your character. Better to do it in material, cut and combination than with gaudy colours and patterns.
Shirt: Bespoke denim button-down from Luca Avitabile
Knitwear: Shawl-collar lambswool cardigan from Anderson & Sheppard
Trousers: Vintage Fox Brothers cream wool, bespoke from Pommella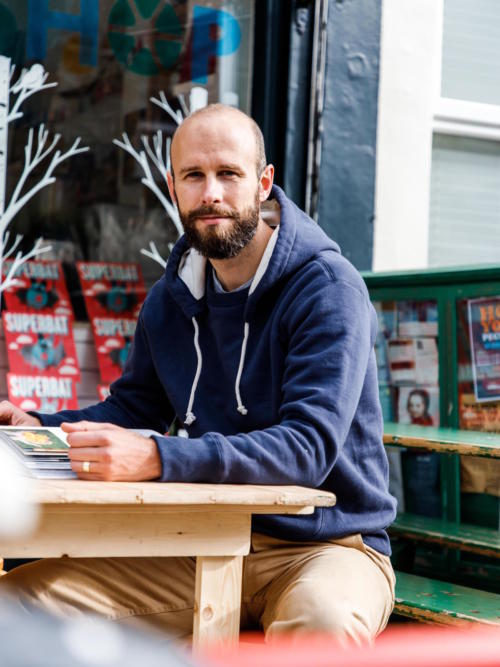 3 Relaxed and casual
This third outfit is perhaps the most casual thing to ever appear on Permanent Style.
I'm sure many will dislike it, but it's worth setting out the few things it has in common with other things discussed on the blog.
Most importantly, quality. The hoodie is from The Real McCoy's, which readers probably know is a Japanese brand that reproduces vintage Americana with fanatical attention to original materials and manufacturing.
This piece is a reproduction of an American cold-weather sweatshirt, which is actually two loopback sweatshirts sewn together. This makes it incredibly warm and comfortable.
The chinos are from The Armoury, made in a heavy selvedge cotton that wears in much like jeans do, even feathering and fading slightly.
Like the best workwear, you can wear the crap out of them - camping, playing in the park with the kids - and they look all the better for it.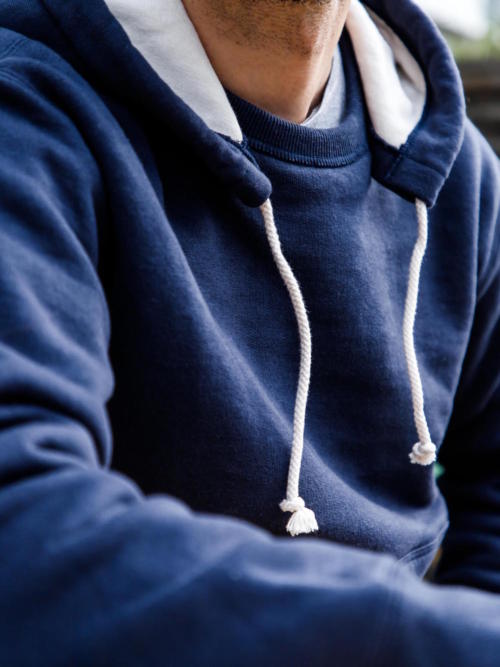 Fit is also just as much of a consideration as with tailoring, just with different aims. So the sweatshirt sits high on the waist, but is big on the body. It's a nice style for workwear and very practical.
And the chinos are high-waisted (which works with that sweatshirt cut), quite wide in the leg (again, practical) but tapered slightly at the ankle.
For me these rugged, practical pieces still work with the trainers because they are simple and restrained in terms of colour and pattern.
But the fit and texture are much more casual than outfit 1, and therefore you could argue that a chunkier, stubbier trainer would be more suited - such as Common Projects BBall style, or the CQP Racquet.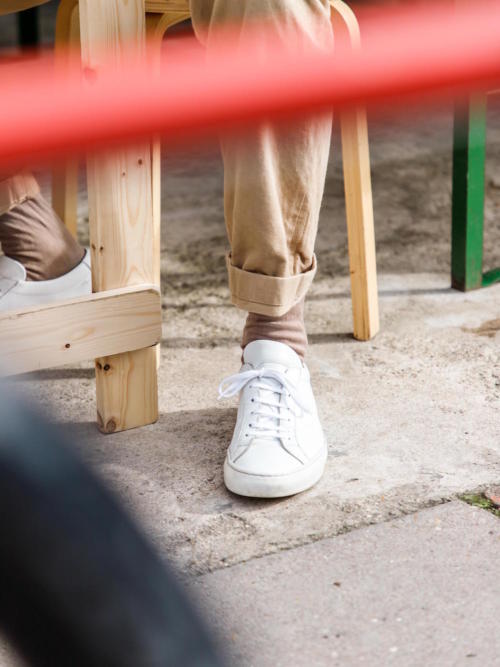 T-shirt: Grey Riviera cotton shirt from Sunspel
Sweatshirt: Double Face after-hooded sweatshirt in blue from The Real McCoy's
Trousers: The Armoury chinos in beige cotton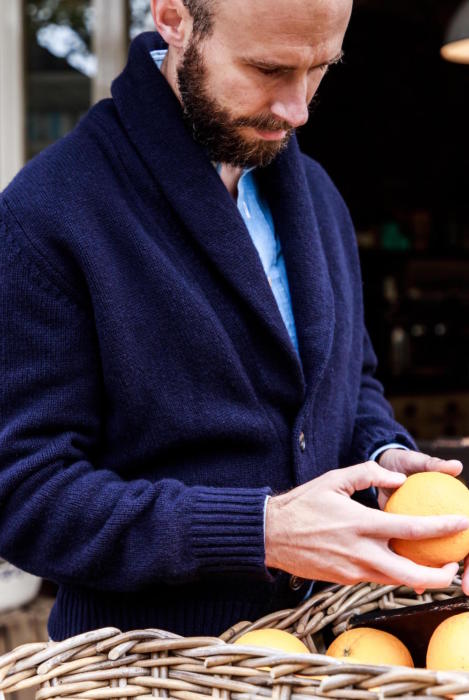 This is the third in a three-part series on how to wear trainers. Read the other two here:
Photography: James Munro