Colour combinations, from casual to formal
The colour combinations that we discuss every week in regards to formal wear, can be applied just as readily to casual wear.
Although there will always be elements that don't crossover (such as the immense versatility of denim) a lot of the themes and lessons are the same.
This post is an attempt to illustrate that, using a progression of outfits similar to those in our popular 'Which office are you?' post.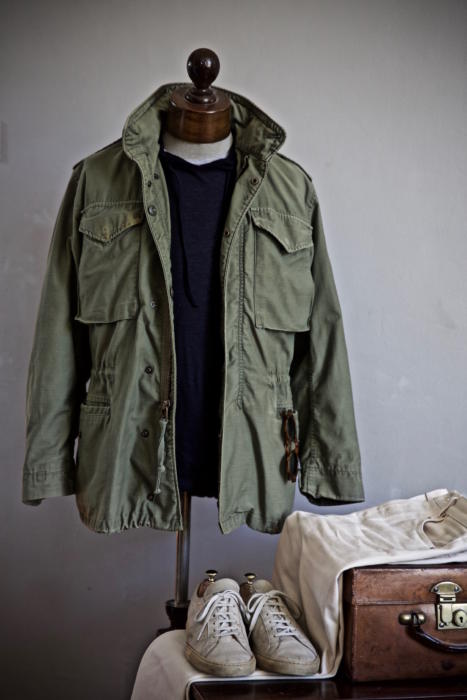 1. Green, cream and navy
We start with a very casual outfit (for me, anyway). A green Vietnam-era M65 jacket, worn with navy sweater, cream denim and my beaten-up Common Projects.
As mentioned in our post on trousers to wear with grey jackets, cream is a fantastically useful trouser colour, but not easy to wear in England (where it is rarely consistently bright and sunny).
White denim is even harder, as it has associations all its own. But this cream from Japanese maker Boncoura - stocked at Drake's - is a lot less bright, and has a big twill with subtle flecks in it that lends it a nice rugged quality.
The knitwear is also one of my summer favourites: a very lightweight cotton/cashmere-mix hoodie from Anderson & Sheppard. Worn over a Sunspel grey T-shirt.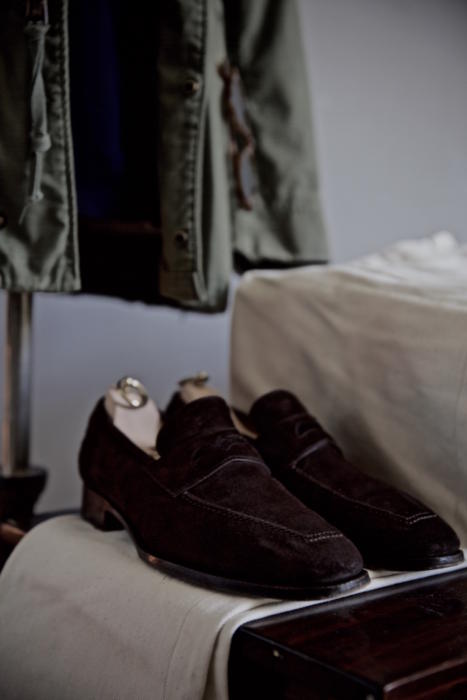 2. Brown suede slip-ons, rather than trainers
The outfit becomes considerably dressier when the most casual part - those trainers - is swapped for some dress shoes.
Brown suede is probably the most versatile of casual materials in a dress shoe, and the slip-on keeps it summery.
These are from Stefano Bemer, machine made on my bespoke last. The style is called the Janus because of the supposedly two-faced contrast between the round toe shape and squared-off apron.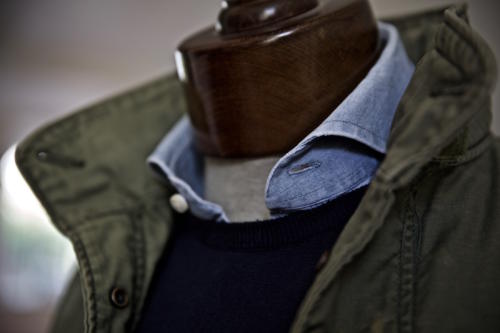 3. Shirt and sweater
The next most-casual element is that T-shirt and hoodie, so they are swapped for an open-necked shirt and crewneck sweater.
Note that the colours are kept consistent throughout: if you know your cream trouser looks good with a green jacket and navy sweater, keep that palette but just dress up the pieces.
The shirt is ready-made, from Phineas Cole at Paul Stuart. The knitwear from John Smedley.
4. Cream woollen trousers
One of the wonderful things about woollen trousers, such as flannel, is that they look immediately smart in an age when everyone is wearing denim. But actually they are quite casual - and appear so, making them very versatile.
Any flannel would therefore happily work with this M65 jacket, the obviously worn-in nature of the one contrasting nicely with the sharp creases of the other. And even cream woollens, like this made in Holland & Sherry's super-heavy Pardessus cloth, work in that combination.
The trousers were made by Elia Caliendo, with some lovely finishing around the waistband and side buckles.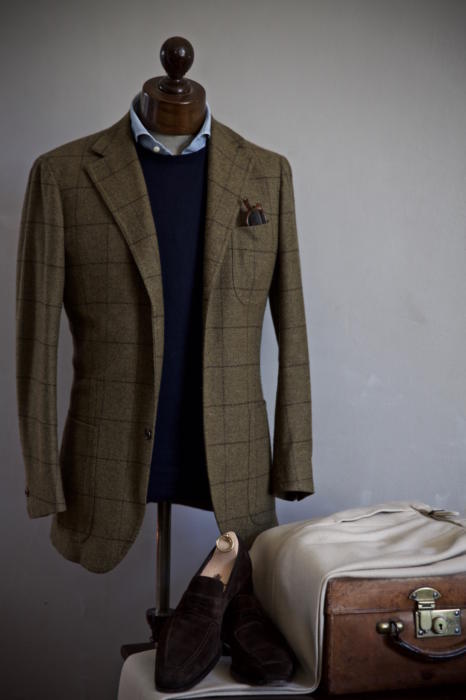 5. Finally, tailoring
The last thing to change is that jacket, swapping for my olive-green Escorial jacket from Solito.
As with the 'Which office are you?' post, these items could have been swapped in different orders - the shirt could have replaced the hoodie one step earlier, for instance. But the jacket can really only come at the end (unlike that earlier piece) as the cream denim is too rough (and too wide in the leg) to sit comfortably underneath it.
The important thing to remember is how different items can be swapped in the same colour combination, to alter its formality.
I particularly liked the olive-navy-and-cream combination here, but I could retain that while altering the formality to different days or occasions. And I could change it again replacing the brown suede loafers for oxfords, for instance.
Sunglasses by EB Meyrowitz. Vintage leather case from Bentleys.