I've been looking for rather a long time for my perfect T-shirt. One quality maker, one perfect model, with the intention to stock up on white and grey crew-necks and (in theory) never shop again.
Readers will, I'm sure, empathise with this approach. While a man might justifiably have 2-3 tailors, he is unlikely to want more than one shirtmaker, for example. He wants consistency : the same collar height so it goes with all jacket collars; the same sleeve length so it goes with all jacket sleeves; the same fit in the waist to keep one's weight in check.
This is even more true of underwear. Here you want identical pieces that can be put on without thinking about; good quality, but also a good relation between quality and price. And as I wear T-shirts as underwear – not on their own, but under knitwear or shirts – the comparison is apt.
Brands I've tried in the past include Zimmerli and Hanro, Albam and Schiesser, Orlebar Brown and J Crew, The White Briefs and Merz b Schwanen. The persistent difficulties have been finding a nice slim fit, and that relationship between quality and price. Cheaper T-shirts often lose shape quickly; more expensive ones offer little more other than unusual fits or fabrics.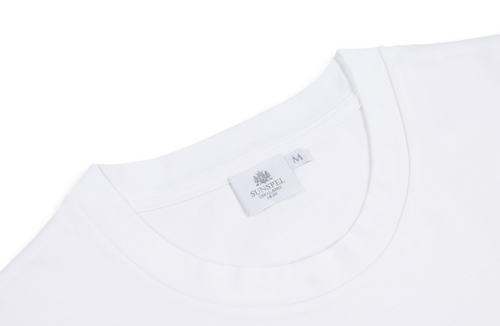 I always liked Sunspel. I'd worn their T-shirts too, and found them well-made and decent quality. But there was no option on fit – until now.
There was also a T-shirt introduced at the same time, a grel-marl crew neck, but it didn't get much attention. The range has now been expanded with
crewnecks in white
, navy and charcoal, as well as
a V-neck in white
.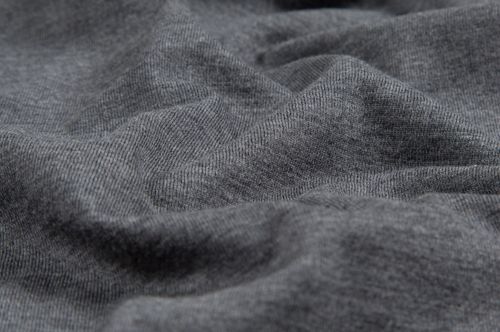 I've been wearing the grey crews for the past 6 months and they have performed very well. Fine and soft, in a long-staple Egyptian cotton, but without the sheen of the more expensive Sea Island models.
They need a little more care than regular cotton Ts, but most of us are used to that by now. Wash regularly at 30 or 40 degrees, and then shake them out a little when they come out – hold at the bottom or side seams – before drying flat.
At £55 I think they're pretty decent value for money, given this is the nicest fit and model I've found anywhere. They're not made in the UK, unlike many of the Sunspel garments, but in my opinion that shouldn't make any difference. It's all about quality.
Speaking to the design and production staff at Sunspel, this expansion of the range is part of a general aim to produce the basics that could accompany a top-end wardrobe. The Sea Island range, though not for me, was also a step in that direction. Sounds promising.