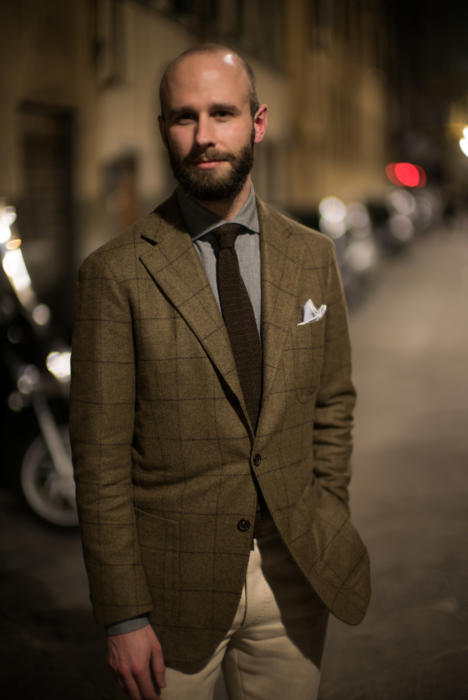 There are many ways in which you can make a sartorial outfit look younger or more modern. Extremes are always wrong: very short jackets, big puffy shoulders. They just look trendy, for a bit.
But aside from the extremes, I would argue proportions are also the wrong place to start. Focus on small changes in colour or texture instead. Wear a navy flannel suit, rather than a navy worsted. Wear a denim shirt, instead of a poplin. Wear more muted or less corporate colours.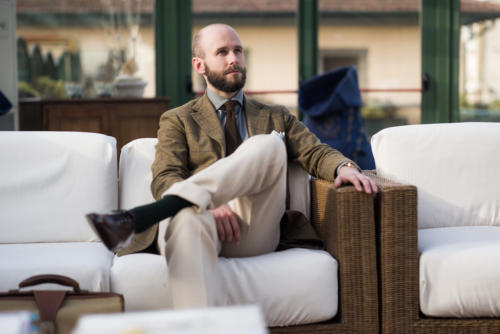 Take this green jacket, for instance, in a beautiful Escorial wool. If you hadn't seen the photo, and someone said it was a green jacket with a big windowpane check, the first thing that would pop into your head would be a countrified tweed hacking jacket. Very old-fashioned, or at least very vintage.
But the shade of green here is actually a muted olive. There is less colour, less pigment in the yarn, plus a dose of grey, which dials down the country factor. It makes it feel more urban, as most greys do.
And the overcheck is not a bright popping orange or red. It is a deep purple, dark and subtle against the green.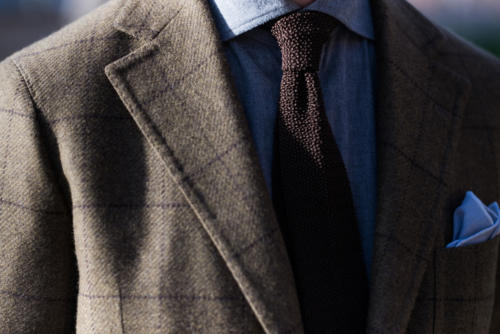 I love Escorial cloth, by the way – it's a merino fibre but almost as soft as cashmere, and with an incredible amount of natural stretch. That helps it recover when you're travelling, and makes it easier to wear all day long. More on them later.
This jacketing cloth is ESC22 quality, A1009 design, A1 colour. Escorial are only just at the start of their process of offering woollen jacketings, so this is not available in all bunches, but cut lengths can be obtained from Kristie Reeves at Joshua Ellis, who are making it ([email protected]uk).
The jacket was made by Solito, who are here in London next week (April 14-16) with Luca Avitabile shirts. And in New York again at the end of the month (April 20-22). Contact at [email protected]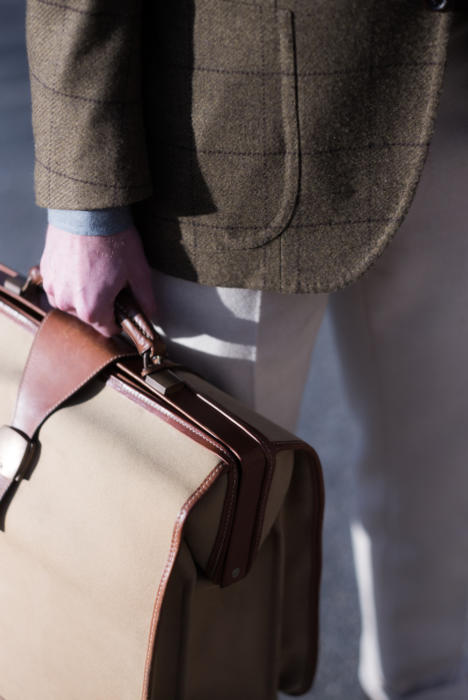 The cream wool trousers are from Elia Caliendo in Holland & Sherry's super-heavy Pardessus cloth. The shirt is my brushed grey-cotton from Simone Abbarchi. And the brown knitted-silk tie is from Drake's. Canvas and leather doctor's bag from Dunhill.
Below, with Tommaso doing the 'Lino' thumbs up. He wears popping orange well.