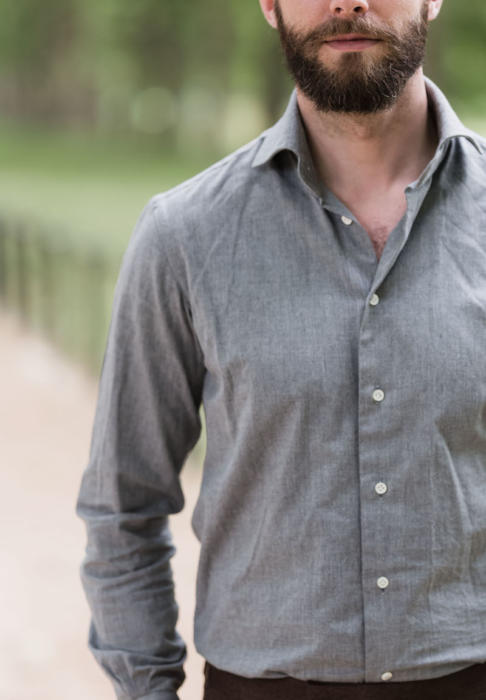 It's probably worth saying this once more. These images are merely indicative. They are intended to give a general impression of the shirt (a lovely grey from Simone Abbarchi). They are not intended to be the basis of an assessment of the fit.
There. Got that off my chest. So, how did my first commission from Florentine shirtmaker Simone Abbarchi turn out? Not bad, overall. Probably a worse fit on the body than most other makers I have tried, but only just and the collar is spot on.
I've said before that the collar is the most important part of the shirt, and it's true. It's particularly important for men that wear jackets a lot, but even for those that don't, the body of a shirt is never going to flatter you like a tailored jacket. If you aim for that, you'll have the shirt cut too tight, and you'll start popping the buttons when you sit down.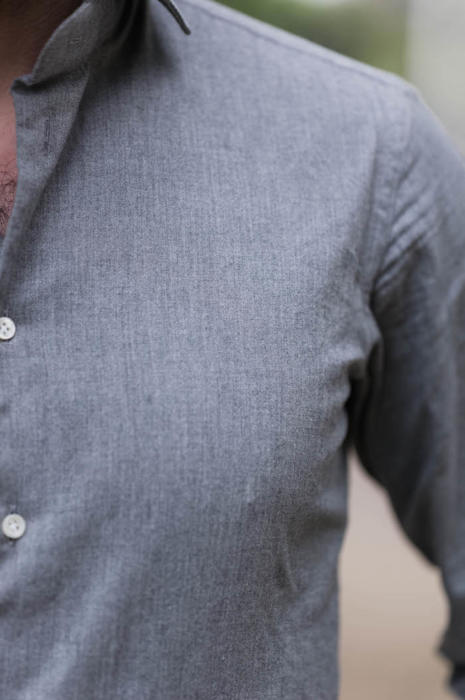 Look to the collar first. The fit through the waist can also be nice. The sleeve length should be bang on. And it's nice when the slope of the shoulders is correct, so that the chest of the shirt is relatively clean.
If you have sloping shoulders like me, and are therefore used to ready-made shirts bunching around the sides of the chest, correct shoulders are a lovely thing. And to be fair, this is one thing Simone got right. (The best I've ever had was Mariano at Sastreria Langa in Madrid, but the collar was horrible.)
The places where Simone's fit let it down are across the shoulders, and through the waist. The former are too tight, particularly after washing, and the waist is a chunk too big. The shoulder isn't uncomfortable, and the waist isn't bad, but neither are as good as you should expect from bespoke (or made-to-measure for that matter).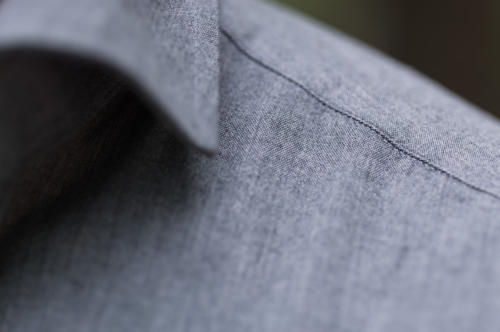 Simone does both – bespoke and MTM – but with no handwork at all in the making. This makes him quite cheap, starting at €150 for bespoke and €120 for MTM. And despite that lack of handwork, the finishing was good – indeed, the initials I have just above the hem at the front were probably finer than any other maker.
I had some adjustments made to the pattern in Florence, and should have a new shirt in a couple of weeks. If I had paid £200 for the shirt, I might have been a little disappointed with the fit. But at £100 it's OK, only because it's worth working a little more to get a good pattern that can be used for subsequent £100 orders. That will be good value.
(A reader asked on the last post how high the collar was, by the way. The best way to assess this is to measure the height of the collar stand at the back – Xcm here. Of course, the width will likely vary from back to front, but this is the best starting point. And remember, the collar should always be in proportion to the length of your neck. Mine is relatively long.)