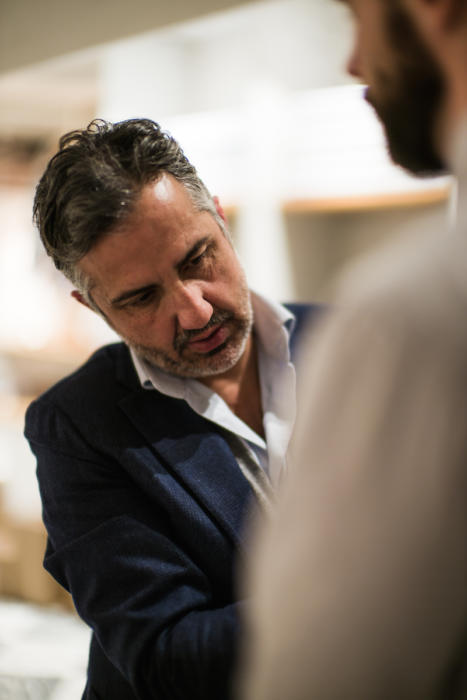 Simone Abbarchi is a Florence-based shirtmaker that has made for my friend Tommaso Capozzoli for a long time. He has always said that they have a very good relationship between price and quality, and he's right.
Simone's made-to-measure shirts start at €120. That's pretty much the price of the mid-market ready-made shirts readers talk about, from Pink, Hilditch & Key or others. (There is also a less-offered bespoke option which starts at €150.)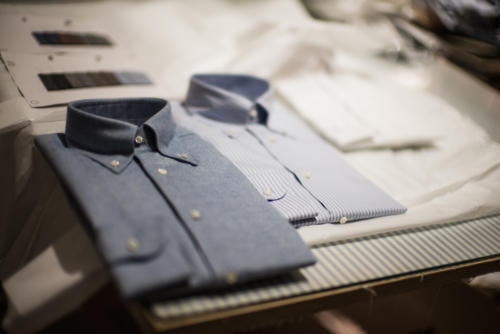 Simone's are of course all made to specific measurements, so the fit is a lot better, and they have the Italian collar construction that so many readers will like: lightly fused lining, which curls around the collar of a jacket when the neck is undone, and yet sits stiff enough with a tie when the neck is fastened.
(As with other Italians, this stiffness usually requires the use of collar bones; although if you go without collar bones you can also have the 'sprezzatura' look of a collar that curls at the corner, perhaps cheekily outside of the jacket lapel.)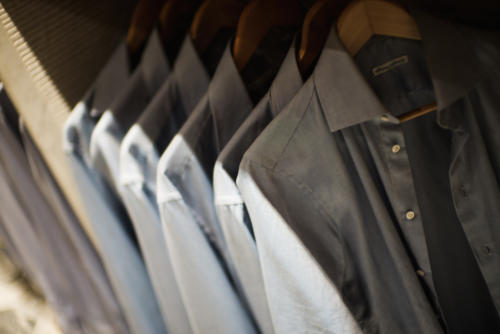 Simone's shirts are so reasonable, in part, because they have no handwork. The buttons are sewn on by hand, but that's it. As I've discussed before, I prefer a hand-attached collar and sleeve, but you pay more for that – around €220 in the case of Luca Avitabile.
The made-to-measure offering involves no paper pattern, and you should expect small aspects of the fit to be not as good (as for all MTM, it's about 2D changes rather than 3D). But this is far less important on shirts than tailoring.
Bespoke, as with other makers, does involve a pattern and also has a fitting on a partially made shirt. MTM shirts are usually finished and sent straight to the customer.
For anyone that hasn't looked into this area before, it's worth reading my breakdown of D'Avino shirts, which presents these three names as three tiers of construction.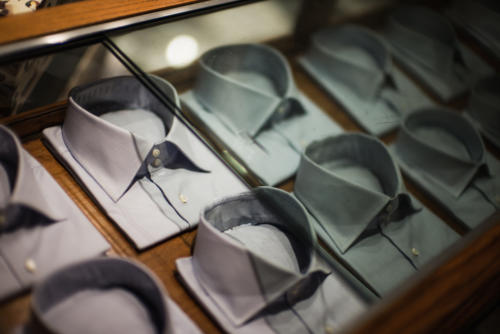 Another good thing about Simone (or Gianluca Cocchetti, who works with him and is pictured here) is that he already visits both London and New York. He has a good few clients in both locations, and so comes over twice a year to each – February and September for London, and March and October for New York.
He doesn't have a minimum for an order, and will usually do two fittings for a first shirt, but can just do one. If you're unlikely to travel to Florence, perhaps best to just do one, and accept there might be tiny things you'll change next time.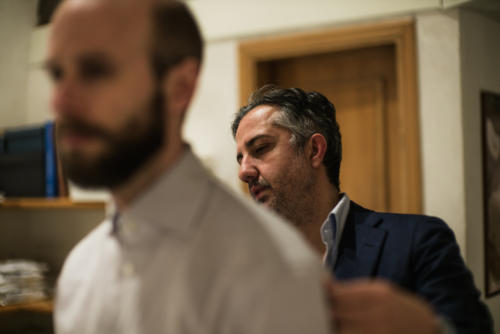 I commissioned a grey brushed-cotton shirt from Simone earlier in the year in Florence, have had the fitting in London, and will write about the final shirt in a couple of weeks. (The cloth selection is also very good, particularly in Florence.)
For anyone just getting into bespoke and MTM shirts, or indeed looking for a much better alternative to the British/American high street, hopefully Simone will be a great choice.