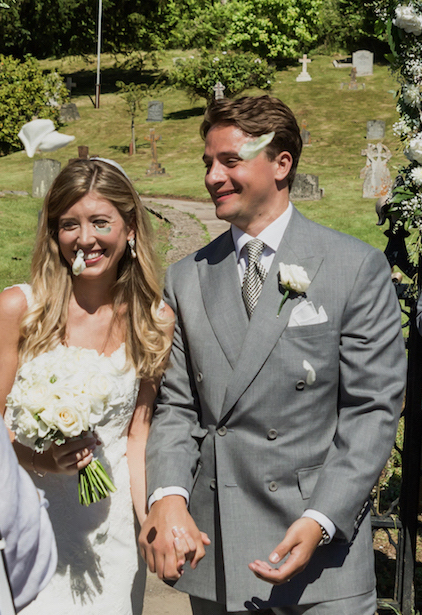 It is the time of year for wedding preparations, so I thought I'd take the opportunity to share images of my friend Oliver's wedding last year.
He is wearing probably my favourite groomsman's outfit.
First, the colour. Pale grey is suitably serious – being plain and monotone – that it befits the formality of almost any wedding.
(And remember this is an important event, and therefore to at least some extent serious.)
But, the grey is pale enough that there is no chance it could be mistaken for a business suit. Mid-grey and darker, yes. Pale grey, no.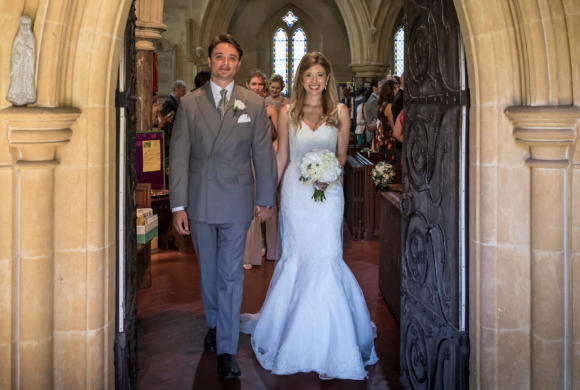 Second, the style. A double-breasted jacket is slightly unusual, but only slightly.
That means it's unlikely anyone else will be wearing the same thing; you will feel satisfyingly stylish, and sartorial; and you'll stand out without resorting to bright colours or a silly waistcoat.
A double-breasted pale-grey suit also stands a slight chance of being worn again – which is understandably a desire for most grooms, given it may be their most expensive piece of tailoring.
You're unlikely to wear it to the office, but it would be good for any other formal day event.
If you want something more office-suitable, make it a mid-grey, and/or single breasted.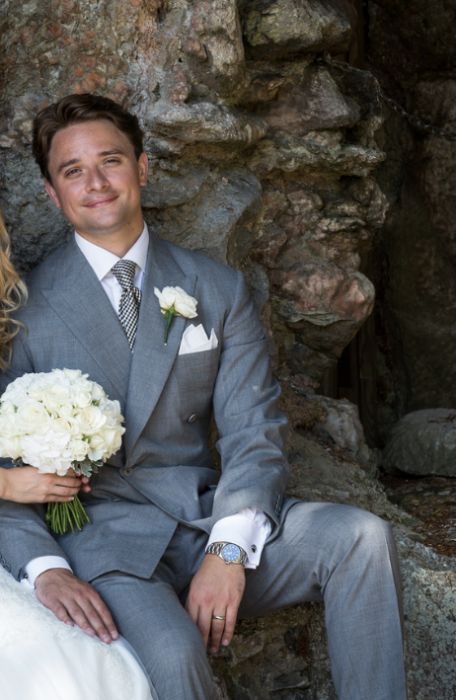 Third, the shirt. Only white will do really, being more formal than blue or any pattern.
But take the opportunity to wear one with double cuffs, so you can have cufflinks. There may even be an old family pair that would bring a sense of tradition.
Fourth, the tie. A small black-and-white check is a traditional pattern for a wedding tie, for formal for similar reasons to the rest of this outfit: it is monotone and discreet.
Styles similar to this are often called a Macclesfield (the British home of silk).
The shoes have to be black oxford – the most formal colour, and the most formal style.
You could get away with a very dark brown, if black shoes are just too office-y, but black suits the refined elegance best.
Plus a white-linen handkerchief.
The only thing I'd personally change from Oliver's outfit is a smaller boutonniere, inserted through the buttonhole.
But that can be specific to the event: remember, this is no way your day; it is your bride's. You are merely elegant support, which is another reason a subtle and refined outfit works so well.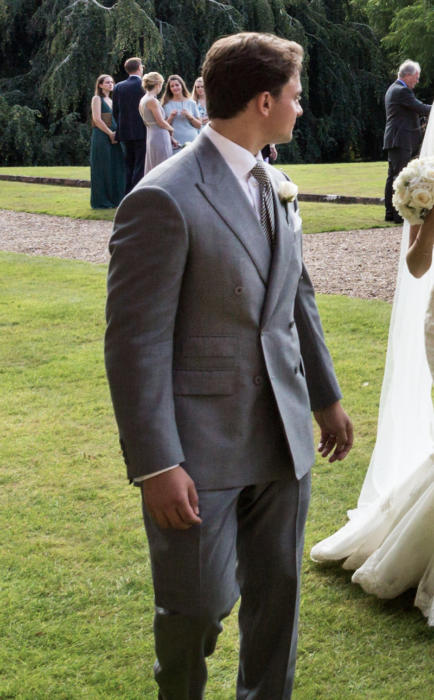 The suit, by the way, was made bespoke by Whitcomb & Shaftesbury. Smith Woollens, Gilt Edge range (SW 6114), 8/9 oz pure merino.
Double-breasted jackets are so hard to fit well off the rack, and so are another reason to have one made for a wedding.
This also fits beautifully – snug at the neck and through the top of the back, smooth drape through the chest, and a lovely pitch on the sleeve.
The tie was from Tom Ford, shirt from Eton, and shoes from Foster and Son (ready to wear).
I'd recommend it to grooms everywhere.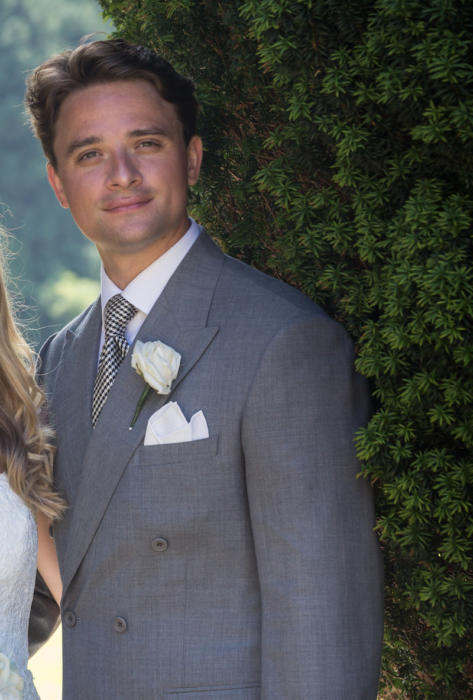 Photography: Graham Warrellow