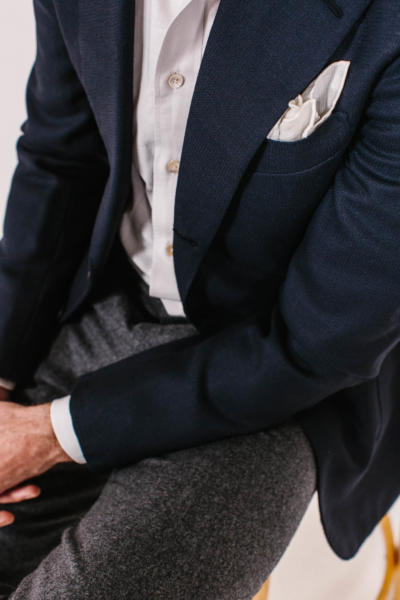 This article was spurred by two things.
First, by a reader specifically asking for it, on another capsule post in this series (always a good sign). And second, by some consultancy work I've been doing, where the client had assembled an impressively detailed plan of their own for a versatile, quality wardrobe.
In response, below I've set out a complete proposed wardrobe, with links to the relevant clothing categories on Permanent Style (which of course includes coverage of makers) – and in the Wardrobe Building series there are pieces providing greater detail.
The big problem with a capsule wardrobe is that it varies so much depending on lifestyle and working environment.
Some PS readers still wear a suit every working day; some never wear one. A capsule wardrobe cannot hope to cater to both.
So here I've aimed somewhere in the middle. This is a wardrobe for someone that wears a jacket most of the time for work, sometimes just knitwear. And isn't reduced to a T-shirt and sweatpants at the weekend.
Also, its aim is to create as many different outfits as possible, for a relatively small number of situations. In any capsule there is a tension between those two things, and I've aimed for the former.
Here, the objective is for everything to go with everything, so the clothes can be swapped around and produce the maximum number of combinations.
I'll do a separate post suggesting how the wardrobe could be acquired over a few years, with different budgets.
1. Navy wool single-breasted jacket
2. Dark-brown wool or tweed single-breasted jacket
These should both be soft in construction, with a natural shoulder, enabling them to be worn with jeans as well as flannels.
They are both dark in colour, because things will be most versatile when the jackets are all dark and the trousers all light. And they are in wool, rather than cashmere or cotton.
The jackets should also be mid-weight, somewhere around 10-13oz. Layers will be fine for colder weather, and we're not trying to properly cover hot weather.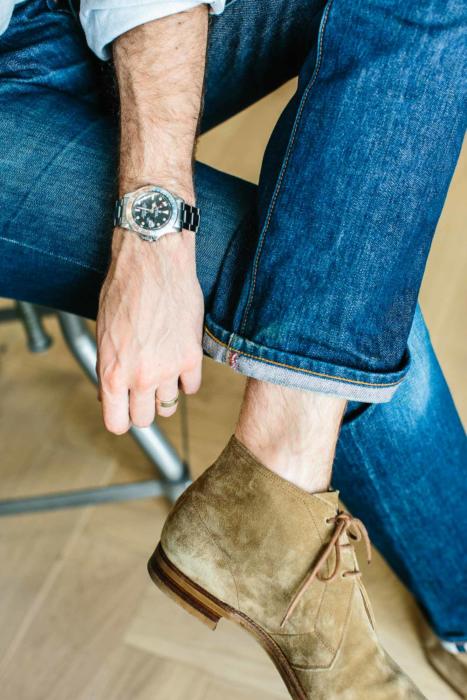 3. Mid-grey flannels
4. Beige chinos/tailored cotton trousers
5. Mid-blue jeans
All of these should go with both the jackets. So keep the chinos smart for that reason, and the jeans too.
Having the jeans a mid-blue rather than dark indigo means they will go with the navy jacket, knitwear and much else, as well as colours like brown, green or cream.
6. Blue oxford shirts
7. Striped blue/white oxford shirts
8. White oxford shirts
How many shirts you need will depend on whether you wear one every day, and how regularly you wash everything. But perhaps two blue, one white and one stripe would be a good balance.
They don't have to be in oxford cloth, but should sit sufficiently between casual and formal to work with both jeans and flannels. Oxford cloth is just particularly good at that.
And the most important thing in terms of style is that the collar works with and without a tie. Which will often be a button down, but doesn't have to be.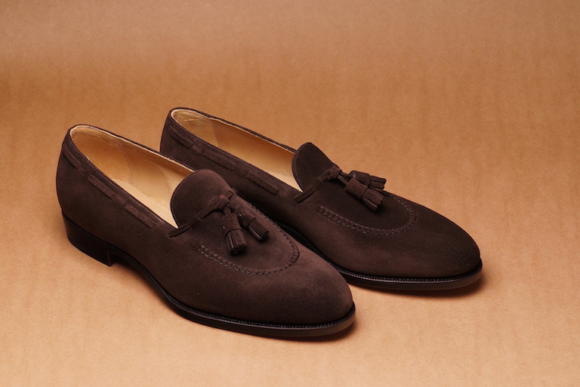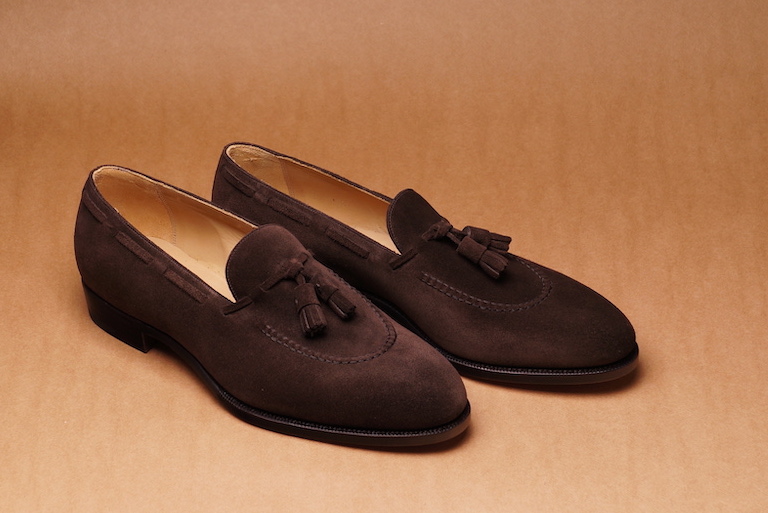 9. Dark-brown suede loafer
10. Dark brown derby or chukka boot
Shoes might be the hardest category, just because so few move easily between casual and smart situations.
The suede loafer is probably the only one that really does it all. A calf loafer might be too smart for jeans; a suede derby often isn't as versatile as a loafer.
So I'd suggest getting number 9, and then something else dark brown for 10: either calf or suede, boot or derby, depending on your circumstances.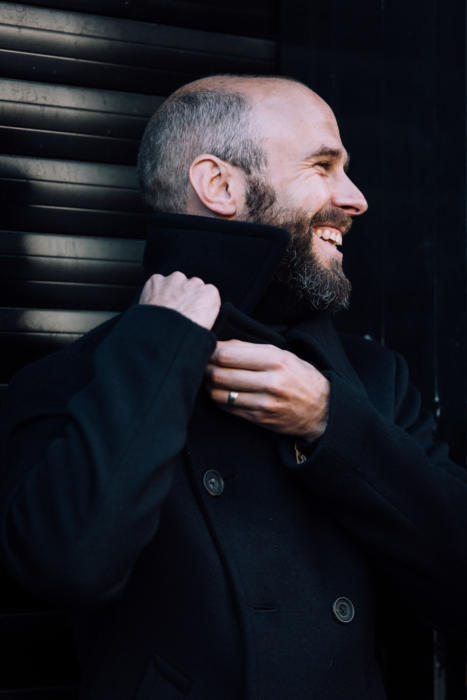 11. Wool double-breasted overcoat, or raglan coat
12. Navy pea coat
The material of the overcoat is more important than the colour. Cashmere will be smart, tweed more casual, plain wool perfectly in the middle.
It can be any colour as long as it's smart and goes with every colour of trouser. So most obviously navy, but dark brown or green might be more interesting – even grey herringbone, as long as it was different enough to the grey flannels.
A pea coat has the advantage of looking casual even in navy. And it would help if it was long enough to cover the sports jacket (like the Bridge Coat, above).
A raglan coat could make a nice substitute for either of these, with its smartness largely depending on colour and cloth.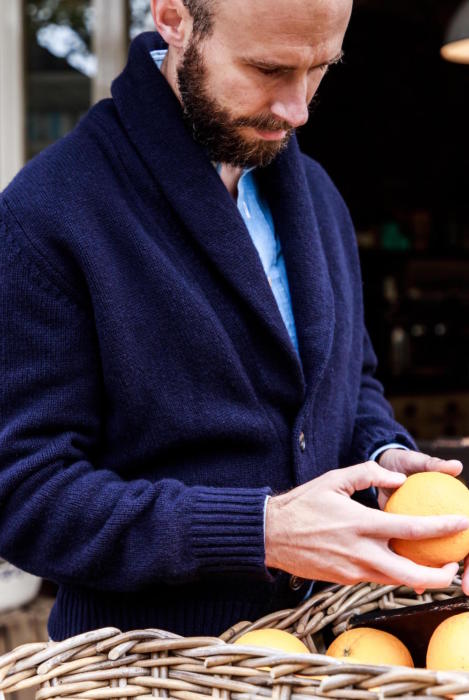 13. Crewneck sweater(s)
14. Navy shawl-collar cardigan
Sweaters can be any colour that works with all the trousers and the two jackets. Navy might be most useful, but we also haven't had any dark green yet, or indeed cream. Perhaps two of those.
The shawl-collar cardigan is great for many reasons, including the fact it's an effective jacket substitute, and looks good over a T-shirt as well as a shirt.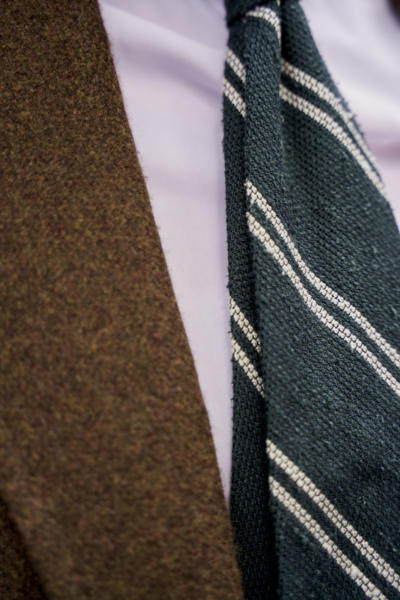 15. Navy knitted tie
16. Dark-green striped club tie
In a wardrobe like this, it seems unlikely a tie will be worn often – but a knitted navy would go with everything, with wool a little more versatile than silk.
A club tie would be too smart for jeans or probably chinos, but it would very quickly dress up a jacket and flannels, so it's worth adding.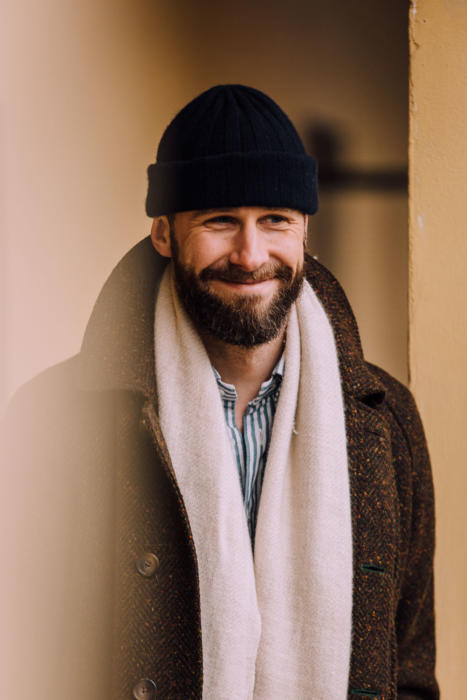 The rest
Handkerchiefs
White linen is always worth having, for the way it immediately smartens or dandifies. A good second would be a dark wool/silk – in green, burgundy or purple perhaps. It's an area with a lot more freedom in colour and pattern.
Umbrella and gloves
Both of these have to go with everything else, being functional rather than decorative. So probably dark-brown leather gloves, and a dark-green canopied umbrella.
Hats
Hats too are very functional, and therefore have to go with everything. A navy or grey watch cap (smart beanie, above) is probably the most useful. It could be followed by a cap or brimmed hat, depending on which you'd wear more.
Scarf
Functional, yes, but not as absolutely necessary as gloves or an umbrella. So perhaps this is another area (like handkerchiefs) to add colour or pattern. A mustard yellow, perhaps, or a burgundy spot. It's also a relatively economic way to freshen up a small, focused wardrobe.
This list could become surprisingly long, if we start including bags, glasses/sunglasses, blousons, perhaps raincoats and of course warm-weather clothing.
But for a functional and very focused collection of clothing, this could serve many readers well.