Tan shoes make such a lovely complement to grey flannel, don't they? And we know why the socks are green.
But of course the most beautiful thing here is the lines of the shoe. The tight waist that causes the sole to virtually disappear in the middle. The way – in profile, as below – you can see how that waist perfectly follows the shape of the foot. Some high-end RTW lines, such as Deco from Gaziano & Girling, cut a very tight waist too; but they can never follow the shape of the foot in the same way as bespoke.
This is my second pair of bespoke shoes from Tony Gaziano. The first were slip-ons, made out of a single, seamless piece of hatchgrain leather. They were lovely, and continue to wear well, but having slip-ons as the first pair was a mistake. Hard as it is to accept when you're paying thousands of pounds, the fit is always better on the second pair, and slip-ons are particularly difficult given there's no means of adjustment. It was the same with my second pair of Cleverleys, the imitation brogues.



This G&G pair fits beautifully. The key to good fit in a shoe is to be held tightly around the heel, ankle and instep – so there is no slip at all when walking – and then loose enough in the front to allow the toes to move freely. The difference you notice with good bespoke is the way that hold at the back is achieved: the pressure is uniform all around the heel and ankle, and particularly in the arch due to that perfectly shaped waist.
Indeed, the fit felt so good that I took them to Pitti in January after only a couple of wears. And they performed admirably, with no discomfort, despite 14 hours or so walking and generally on my feet.
The difference I described before between Gaziano & Girling and Cleverley holds true here as well. The G&G shoe is much more similar to Northampton peers in its weight and thickness of leather. Cleverley is very lightweight by comparison.
This G&G model is the St James II: a half-brogue Adelaide (the latter connoting the U-shape around the laces), vintage cedar. Current G&G price is £3000 plus VAT.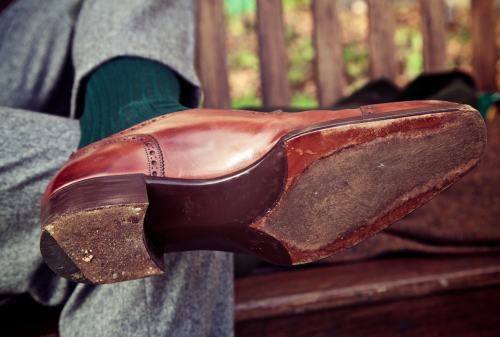 Photos: Jack Lawson