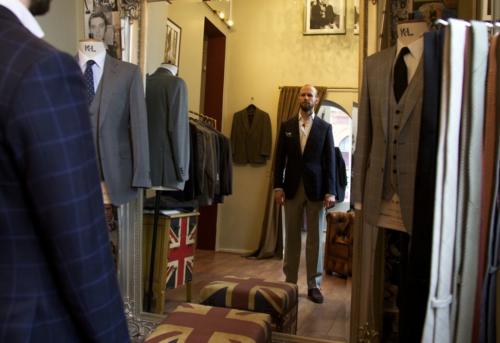 Men increasingly wear separate jackets and trousers. It is an inevitable result of more casual office wear, and dressing down more generally. But separates are hard. Men are not used to combining them effectively, and although I see more nice jackets around – navy hopsack, pale-grey cashmere, tan cottons – the trousers are often problematic.
Following a recent request from a reader for a guide to colours in separate trousers, here's my top five.

1. Cream
The most versatile trouser colour. Its paleness means it will be sufficiently different to almost any jacket. For those afraid of the possible nautical and/or 1980s connotations, avoid a navy blazer on top and go for grey cashmere, perhaps in a nice herringbone. Trousers could be in flannel, cotton or linen. Cotton chinos will be the most versatile.

2. Grey
Grey flannel trousers should be a central part of every man's wardrobe. Great with navy knitwear or jackets, and a range of other colours. As with any of these trousers, they can be given a youthful edge by being cut slimmer in the leg, and possibly given a deep turn-up (two inches or more). Pale grey (pictured top) just as good as mid-grey.

3. Brown
Best in moleskin, and in that material extremely versatile as a pairing for navy, light grey or green on top. Can also work surprisingly well in flannel. See article on PA Crowe coming up.

4. Charcoal
My favourite trouser colour at the moment. I have two pair, with my favourites from Elia Caliendo (pictures at all of these links, obviously). When nothing else seems to work on the lower half, go for charcoal. Nice in fresco, or a simple worsted twill (worsted being the finish on wool you get most commonly in suits). A bit of cashmere or a slightly more brushed finish avoids them looking like one half of a suit.

5. Navy
For me, navy works best as a chino. If charcoal is the fallback option for formal trouser-separates, navy is the fallback for casual trousers. Mine are from Incotex (stocked at Trunk) and they are used once or twice a week. I have yet to find a navy wool trouser I like as a separate – it suffers the one-half-of-a-suit problem more than any other colour.

Green can also work well if it's dark enough; tan can be very versatile but the subtleties of the shade make all the difference; black should be avoided at all costs.
Remember to have sufficient contrast between jacket and trouser, and if you're in any doubt about wearing a suit jacket on its own, don't.
Photo: Luke Carby