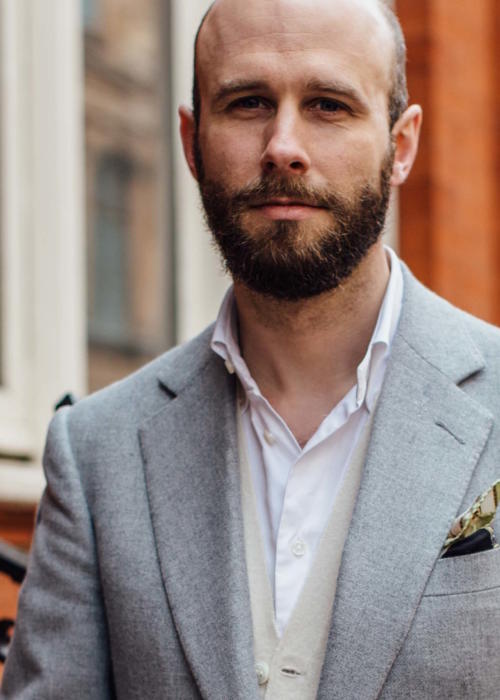 Hello Simon
I am struggling with a lighter grey jacket like in your Caliendo denim post, or a navy jacket. Are they really that versatile to be the top 2 odd jacket colours? (As you mentioned in your oatmeal jacket post.)
What are the trouser colours you can wear with them? Are we basically stuck with cream or charcoal trousers for mid grey jackets? Or navy chinos, cream or light grey trousers for navy jackets. I am not sure brown trousers would look as great
BW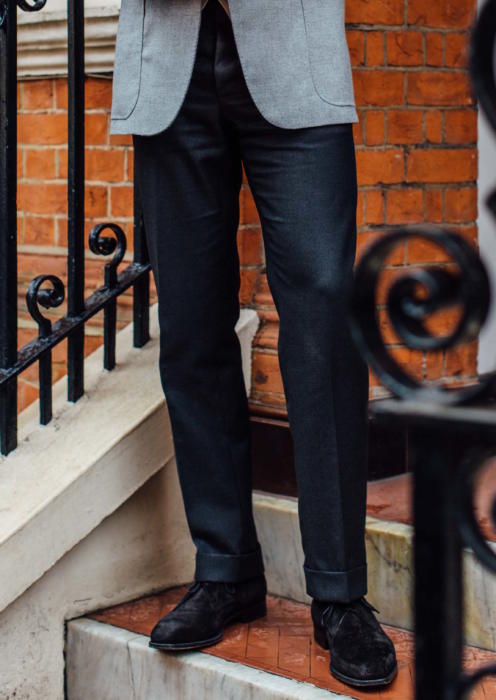 Hi,
Navy and grey are usually recommended as the first sports-coat colours in a wardrobe for their suitability to different occasions, rather than to different trousers.
Navy is the smartest of all colours, and with grey trousers can be almost as formal as a suit (with tie and black shoes); but it can also be pretty casual, with an open-necked denim shirt perhaps.
Grey is never as smart, but if anything is even more versatile. From a pale cashmere (or Lamlana - angora/lambswool mix as pictured above from Steven Hitchcock) to a hairy tweed like the Elia Caliendo piece you mention.

Navy can also go with a wide variety of trousers. There is the traditional mid-grey flannel or fresco. But I also find pale grey to be just as useful, if not more so. Then there is tan/beige. More unusual colours like brown and green. And cream, which goes with everything.
Navy is easy because it is so dark. The first step in pairing a jacket and trousers is ensuring there is enough contrast between the two; because navy is so dark, the majority of trousers are paler and contrast is not a problem.


Grey is never as dark, and rarely pale enough to be at the other end of the spectrum.
It also suffers because it can rarely go with grey trousers. This is a big loss, because grey is a very versatile colour for trousers (in terms of occasions) for the same reasons it is in a jacket. It is subtle, conservative and supports strong colours well.
As you imply in your question, navy odd trousers also rarely work. Their darkness means they nearly always look like the divorced half of a suit.


However, all is not lost. First there is charcoal, as you mention in your question and as I'm pictured wearing here. It's dark enough to work with any shade of grey, and is often best in a worsted wool rather than a woollen like flannel.
There is cream, which as I said goes with anything (being so pale) but is often too formal or summery in a smart trouser. Easier in a chino. (I wish I lived in an age wear more people wore cream trousers. Outfits were so much easier.)
There is tan/beige, which is fantastically useful group of colours. But you do have to get the shade right - there must be that sufficient contrast with the jacket. Good to have one darker/stronger tan and one paler beige in the wardrobe.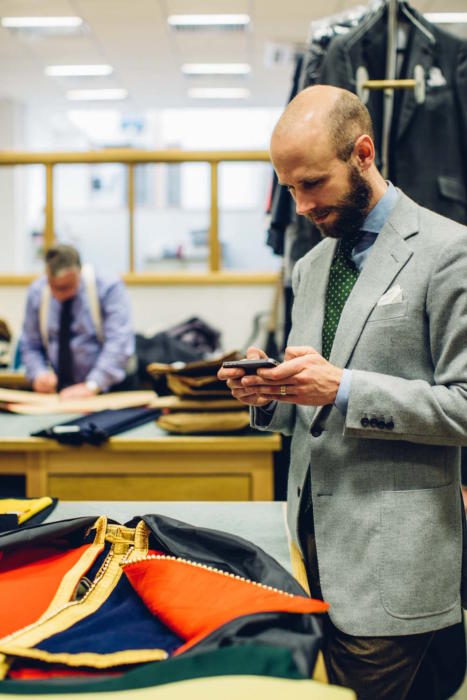 And finally there are the more unusual browns and greens. I quite like these as trousers, even just for their rarity. I like brown flannel or Crispaire (as with my Caraceni jacket and as pictured above, while touring Dege & Skinner) and I like green flannel or linen.
It sounds like tan/beige is the area you have yet to explore, but do give brown and green a go if you stumble across a pair you like.
Simon
Photography: Jamie Ferguson @jkf_man