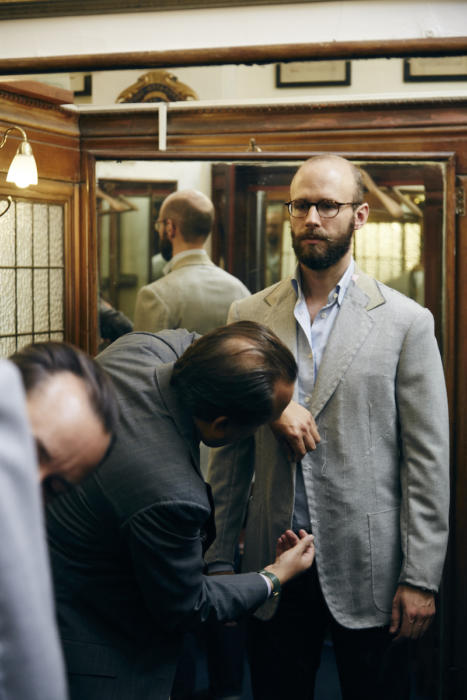 I return to the drape style with recognisable regularity. For those without a big chest – and not that bothered about big, wide shoulders – it is a very flattering shape. Many also forget how slim it is usually cut through the waist, enhancing the contrast with the chest.
But I wasn't going to talk about drape. I was going to use this excuse of a fitting with Steven Hitchcock on a new jacket – in a beautiful grey from the W Bill Lamlana bunch, which mixes lambswool and angora – to talk about the customer's interaction with his tailor.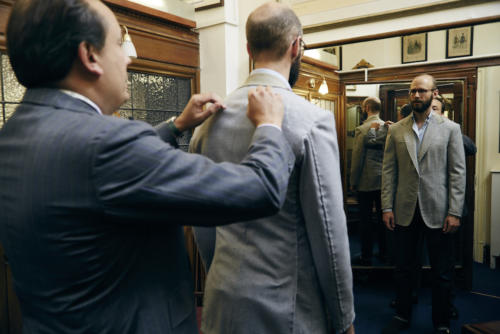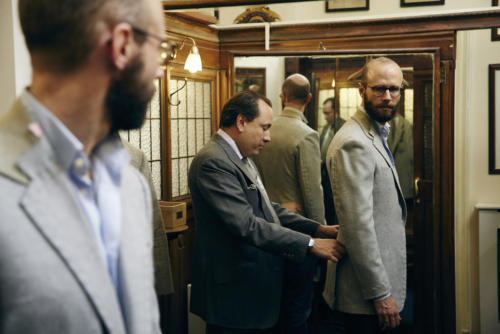 Men that are new to bespoke are often thrown by the number of options: width of trouser, length of sleeve, number of buttons. Unfortunately, some react by trying to learn about every single aspect of the suit, and then dictate to the tailor.
This is rarely a good idea. Almost every man I know that has suits from multiple tailors ends up coming to the same conclusion: just let the tailor cut their style.
Don't get an English tailor to cut a Neapolitan jacket. Distrust any tailor that says they can cut in every style. And don't start moving around buttoning points, lapel rolls and pockets.
I've made all these mistakes in the past – the English/Neapolitan one, the tailor in any style one, removing structure from a structured jacket, removing drape from a draped jacket, perhaps worst of all trying to make a traditional jacket 'younger'.
Just because there are so many variables in bespoke, it doesn't mean you should change them. You may get 8 out of 10 right, but not 10. The Florentine tailor, on the other hand, would have cut a perfect Florentine jacket.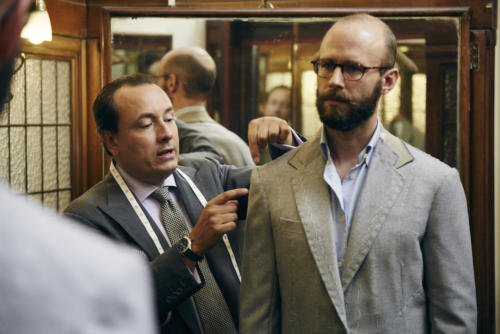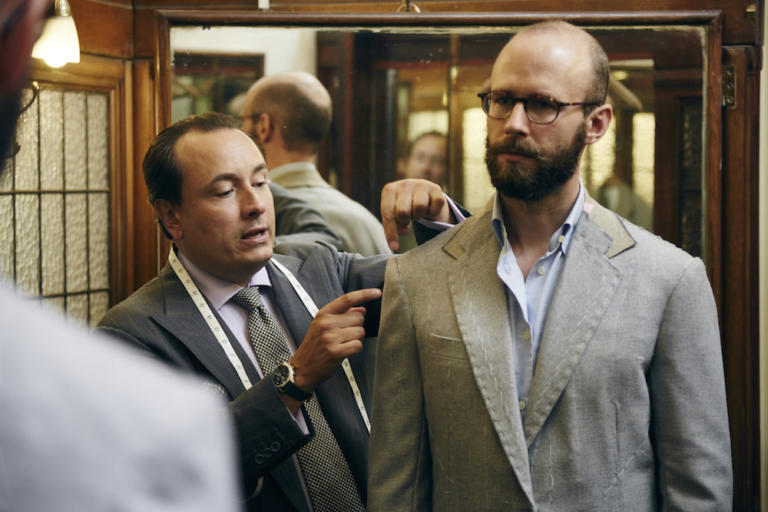 This same lesson goes for behaviour in a fitting room. For a start, leave the basted fitting to the tailor; it's about balance, not style; just stand there and answer if asked. Then, at the forward fitting, only consider the options that are obviously questions of personal taste. The obvious ones are sleeve length, trouser length and perhaps trouser width.
Some bespoke customers seem to be under the bizarre impression that tailors are trying to deceive them. That if they don't come in armed with requirements for every aspect of the suit, the tailor will screw them over.
They won't. The tailor will simply cut to his style and taste. And if you don't like his style and taste, you shouldn't be using this tailor.
Others seem to be under the impression that they know more than their tailor. You may know more about international styles, but you don't know more about how to cut his style that he does. And again, if you know more than your tailor, you shouldn't be using him.*
I mention all this, of course, because it occurred to me how few choices I made with this jacket from Steven. We have made a jacket before of course, so that helps. But all I really had to do was select cloth and buttons, the number of breasts and buttons, and confirm Steven's assumptions about my sleeve length.
Steven cuts a damn good jacket. I know his style and I came to him because I like his style. That's it.
It's also nice to see Steven and Celia settling into the premises on George Street. As soon as you walk in you can see them working away at the back, with Steven often preparing his own bastes (as he usually prefers to do). There are other tailors in the building, of course, but the downstairs area feels like Steven's pad, and it suits him to have one.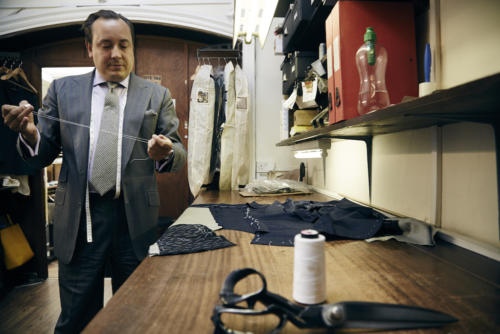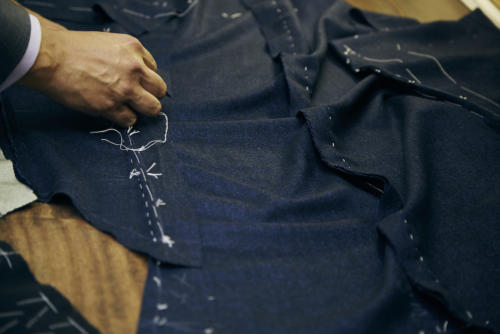 Steven is, by the way, in the US in a couple of weeks, and will be in Boston for the first time. Do give him a warm welcome.
Details:
New York: Sunday 4th to Tuesday 6th October (until noon), The Benjamin Hotel
Boston: Wednesday 7th to Thursday 8th October, The Eliot Hotel
Contact +0207 287 2492 and [email protected]
*The only possible exception is a very limited access to tailors, which means you're stuck with him.