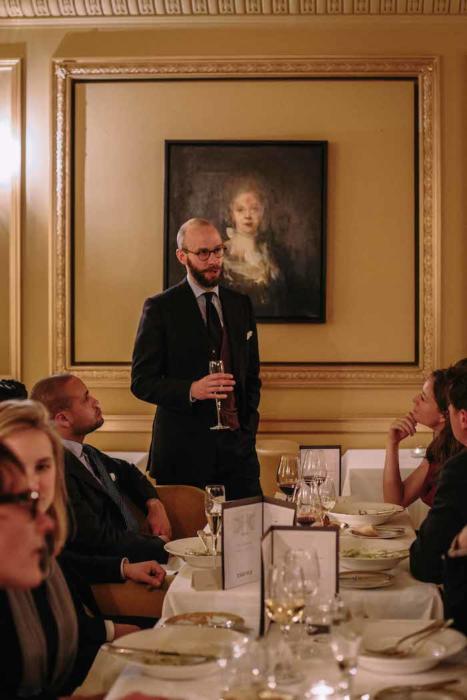 These are the first pictures from our first Permanent Style dinner, which was co-hosted with Essence Lifestyle on Monday at Club Cafe Royal – part of a series we are creating called The Gathering.
It was a really lovely event, bringing together some of our favourite people from around the UK, with a particular focus on young turks doing great things in the world of crafted menswear.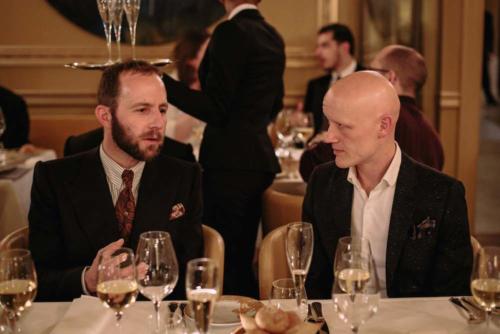 Community, or coming together, was the key theme – as it has been at other recent events. It was interesting seeing Alice Walsh of Alice Made This talking shop with James Deakin of Deakin & Francis, for example. Both make cufflinks and other men's accessories, but in completely different ways with completely different aesthetics. I believe a visit to the historic Deakin & Francis facility was arranged.
It was nice to hear some of the cutters say how much they liked seeing each other. Davide Taub of Gieves & Hawkes and Michael Browne of Chittleborough & Morgan, for example, get on very well and have a lot in common. But even though they work a few doors apart, they've only spoken a handful of times and never at such length.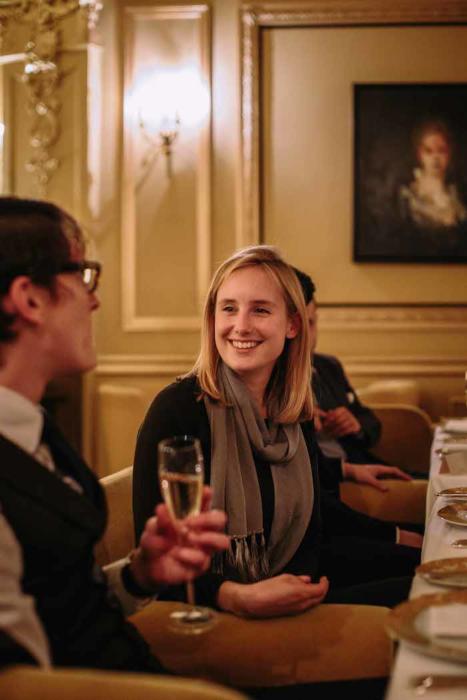 It turned out that Sophie Gordon of Kilgour and Claire Barrett of embroiders Hawthorne & Heaney went to school together, but hadn't seen each other in four years. Even Luke (Carby, photographer) had a connection there.
It may be a small world, but everyone is either sitting in a basement or flying back and forth to Italy.
Everyone enjoyed answering your questions by the way – thanks for sending those in. You will see the responses in the official film, which will be ready in a couple of weeks.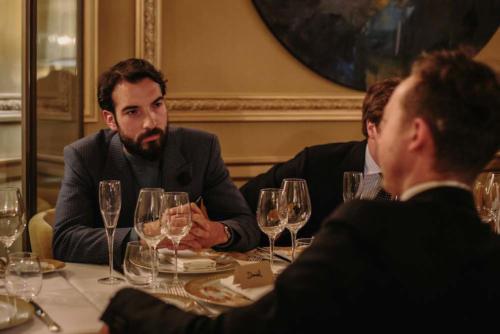 The attendees were:
Michael Browne, Chittleborough & Morgan
Euan Denholm, Edward Green
Elizabeth Radcliffe, Levi's
Alice Walsh, Alice Made This
James Deakin, Deakin & Francis
Thomas Brunschwig, Gaziano & Girling
Claire Barrett, Hawthorne & Heaney
Davide Taub, Gieves & Hawkes
Sophie Gordon, Kilgour
James Priestley, Drake's, Mackintosh and Joshua Ellis
Daniel Wegan, Gaziano & Girling
Adam Rogers, freelance illustrator and tailor
Oliver Trenchard, Anderson & Sheppard
Plus of course myself, Luke Carby and the guys from Essence Lifestyle, who co-hosted the evening. Credit goes to the them for the photography.