Cocktail attire: An argument for a new type of evening wear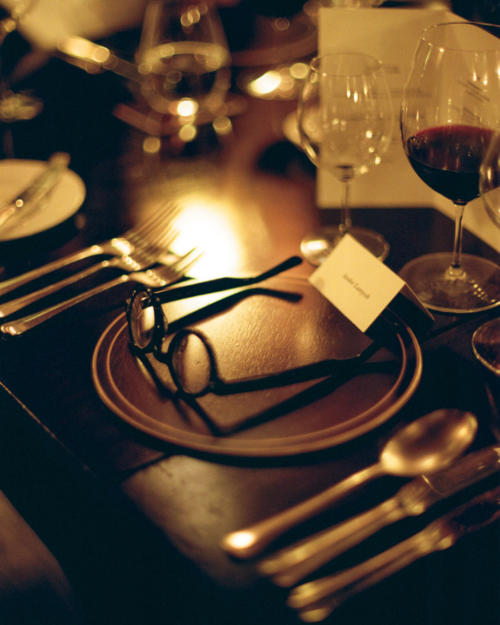 Just before Christmas, I organised a Permanent Style Christmas dinner, to thank a few people that had helped and supported PS in recent years.
We were hosted by Geordie D'Anyers Willis of Berry Bros & Rudd, which was kind of Geordie, and also meant we could use the Directors Dining Room - a fabulous old room at Berry Bros that's not normally available to the public. That's the room and the occasion you can see here.
It was a wonderful way to end the year, and it was nice talking to everyone outside the normal bustle of day-to-day work.
Probably more interesting to readers, however, is that I encouraged guests to dress up - but not in black tie. To be formal, perhaps even glamorous, but to eschew both the dinner jacket and, at the same time, their standard everyday clothes.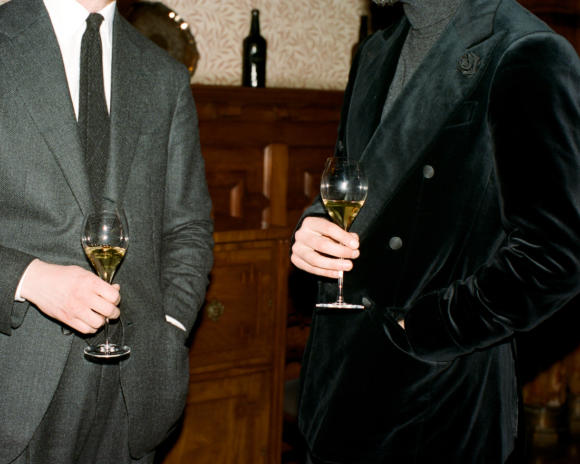 I did this deliberately because I feel there's a gap here in menswear.
Formal clothing today nearly always means black tie. Few people ever wear morning dress or white tie, and even events like weddings - the obvious time to wear tailoring that isn't a business suit or dinner jacket - have become so varied that it's almost impossible to give advice on what to wear. And of course, Americans often wear tuxedos to those anyway.
This wasn't always the case. Tailoring used to be more varied, with different styles worn to the office, to a board meeting, to church, to cocktails, to the theatre and to entertain at home.
Indeed, I think the reason you see so much 'alternative' black tie at black-tie events, is that people who love clothes really want to exploit the potential of tailoring, but have few opportunities to do so.
As offices have become more casual, tailoring has also been squeezed from the other end. When everyone is in a dark suit and shirt, with nothing at the neck, it's harder to wear a collar pin, a pocket handkerchief, a double-breasted jacket or even a waistcoat without looking out of place.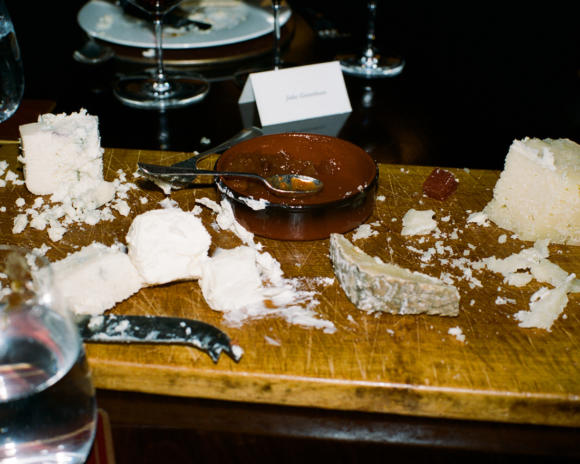 The solution, I think, is to urge a new appreciation of evening wear. Perhaps we should promote a style or dress code where little touches of glamour, of sartorialism, and even of dandyism are encouraged.
This is not business clothing, so there is no need for the sobriety that requires. It is a celebration, and the clothing should reflect that.
As it is in the evening, though - just like black tie - most of the emphasis will be on texture rather than colour. Super smooth worsteds that reflect the light; flannels and velvets that suck it up. Jewellery because it catches the eye.
The cuts can also be more dramatic too. The shoulders of an Edward Sexton suddenly come into their own, as do the sweeping lapels of a Cifonelli. It's an opportunity for personality and expression.
Let's face it - a lot of the tailoring we love was never really wearable to the office. Unless you were a big enough character to just wear a windowpane suit to the shops, it always struggled to be relevant.
That's why everyone gets excited about Pitti - because it's the one time and place they can wear anything they want. Plus there's the validation of photographers.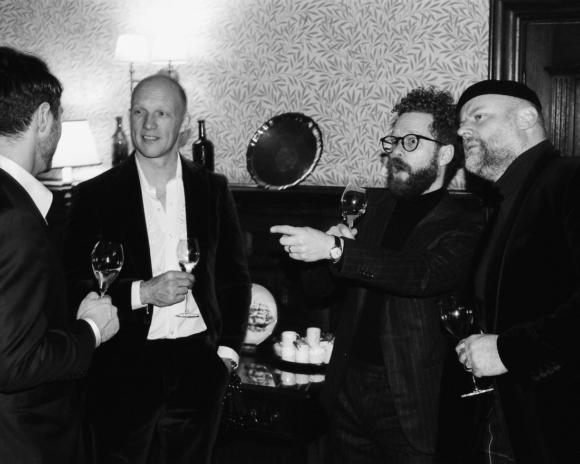 The place to revel in this dramatic tailoring is, I think, the evening event. The party in the suitably chic and glamorous location.
Perhaps we should refer to it as cocktail attire. That's a fairly well-established level of formality, and historically it was distinct from business clothing.
Today the term is usually used at weddings to mean a jacket and tie. But if it's actually cocktails, in the evening, I think we have the latitude to add other aspects of eveningwear: mohair, satin, perhaps a touch of embroidery.
My vote is to call it cocktail attire. The term 'semi-formal wear' has been used in the past, but I think that's vaguer and lacks the specificity of evening.
To be honest I don't think the historic language is worth burrowing into, because what matters is how we use it in the future. But I'm sure a reader or two will bring it up anyway. I'm certainly interested in any experiences, thoughts, or other suggestions you all have.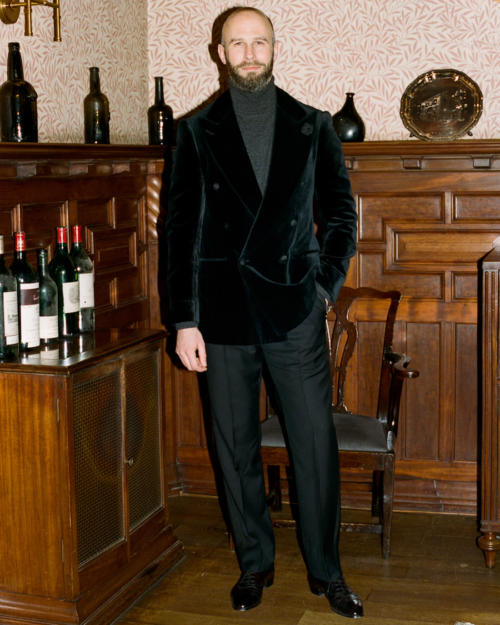 So, the point of the dress code for our Christmas Dinner was to play around with this idea, and see what people came up with. (I put the dress code as 'cocktail attire' but added copious notes.)
I wore my black Cifonelli velvet jacket with barathea trousers, highly polished oxfords, and a charcoal roll neck, plus a silk boutonniere. You can see that above.
This could pass for black tie at most events, were it not for the roll neck. With that added, it's an outfit that doesn't necessarily belong anywhere - unless you really do dine at home in velvet. But I think it's a very elegant tailored look, and this is a good setting for it.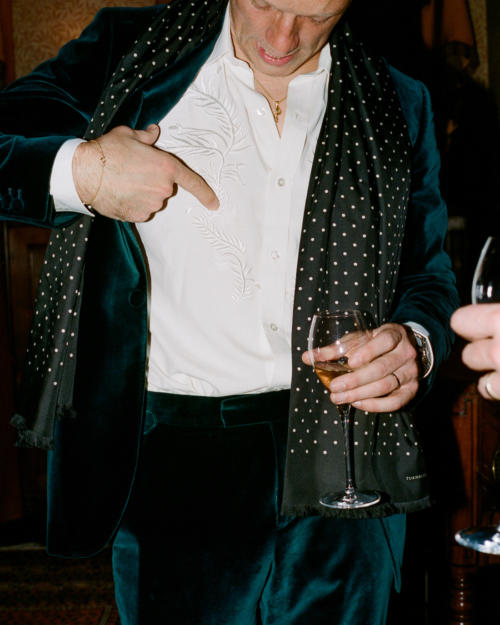 Ed Walsh, head of marketing at Turnbull & Asser (above), went for bottle-green velvet - but in a complete suit. Which took in further away from black tie.
He also wore a cream, hand-embroidered shirt from T&A, with a dash of jewellery. That's a necklace and bracelet from the ocean diamond collection at Alice Made This.
Plus a silk scarf.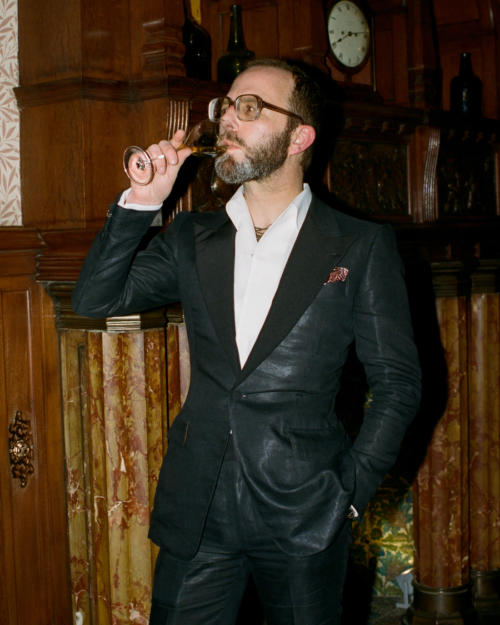 Davide Taub, head cutter at Gieves & Hawkes, frankly always looks like he's dressed in cocktail attire. He wears black, non-corporate materials, and jewellery.
Here his peaked lapel, mohair suit was worn without a tie, but with both a one-piece-collar shirt in marcella cotton, and a profusion of jewellery underneath.
Dominic Sebag-Montefiore of Edward Sexton was similar - also going tieless, but making sure the shirt added something by wearing a Sexton silk number. I don't think I've ever wanted one until I saw it on him.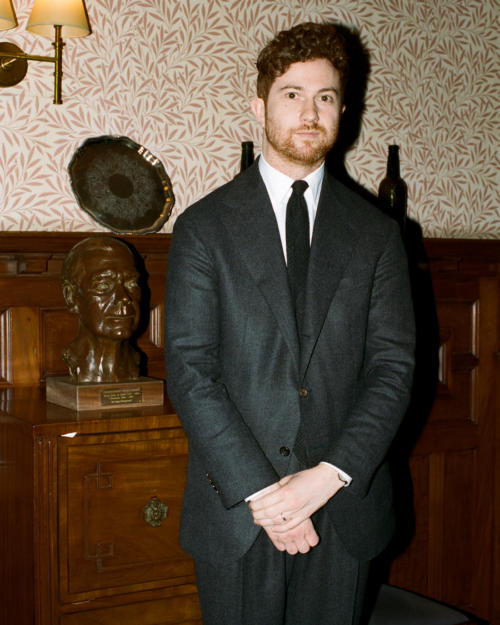 Jake Grantham of Anglo-Italian (above) did eveningwear in a very Anglo way.
It's not Anglo to wear anything shiny, not even normal things like superfine worsteds - and certainly not velvet or satin.
So instead, Jake made the standard Anglo look more uniform and higher contrast: a charcoal flannel suit, charcoal cashmere tie and (out of shot) black-suede shoes. Everything dark, everything matte.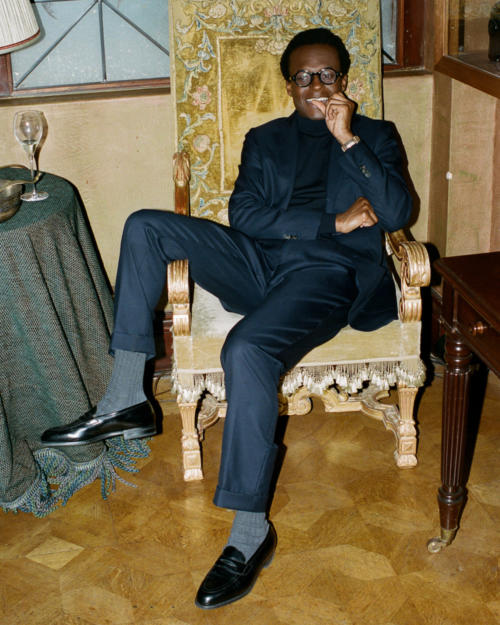 Tonal roll necks are probably the easiest way to turn a normal suit into cocktail attire, and both Jamie Ferguson and André Larnyoh (above) went for that option.
André wore navy on navy. Jamie had black under charcoal brown - although under artificial light, both could have just been shades of charcoal. It was only when photographer Alex Natt turned his flash on them that you saw the difference.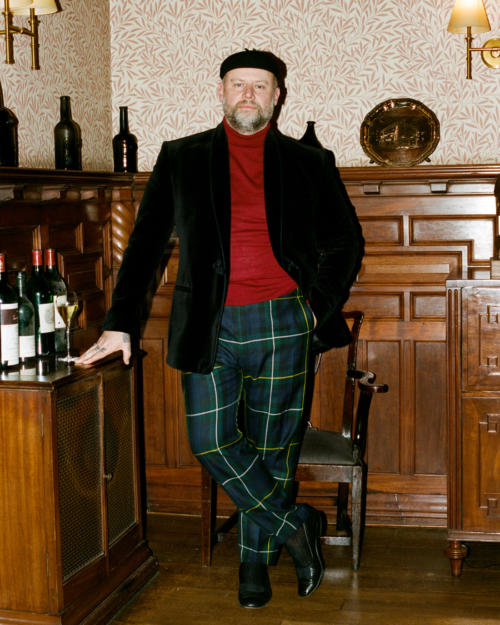 Tony Sylvester (above) wore the most colour, with a combination of tartan, black and red.
I've never been much of a fan of tartan as part of black tie, unless it is traditional dress. But it makes more sense in a setting like this - as celebratory clothing, but not necessarily formal wear.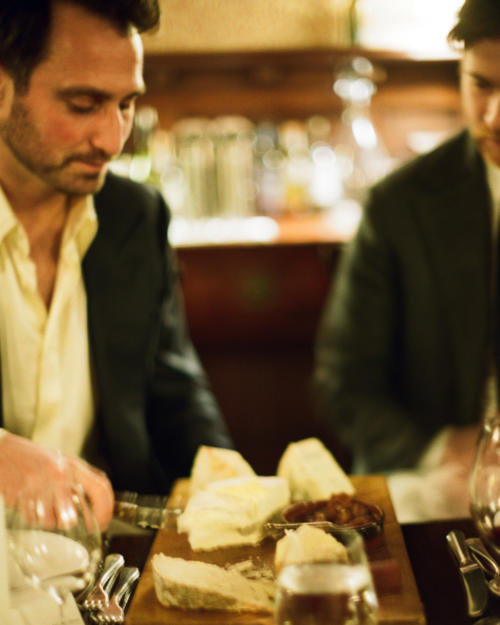 There were others, but those were the themes.
I think alternatives that would have looked great would have been a double-breasted suit with a satin tie, or a sharp three-piece suit with a tie and pinned collar. More sartorial combinations, basically, without necessarily eveningwear materials.
I find this category exciting because it gives me an excuse to wear dramatic tailoring, but also because it's a way to make tailoring appealing to others.
If you wear workwear or streetwear most of the time, the idea of a business suit might not be that attractive. But a party suit is something different. It can be sexy as well as elegant - have swagger as well as style.
The club where I work has motivational messages on the walls. Most of them I find clichéd, but there is a nice one about balance. The essence being, that it's good to embrace all sides of life.
It's addressed to women, and encourages them to wear yoga pants one day, but high heels the next. To stay healthy, but enjoy good wine as much as health shakes.
With men, there's nothing wrong with enjoying sweatpants, hoodies, denim and sneakers. But I think it's a real shame if you can't enjoy kick-ass tailoring too.