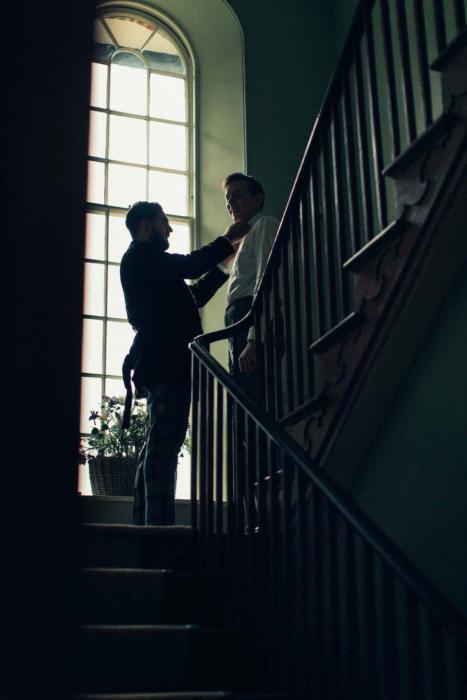 By Tony Sylvester
A couple of weekends ago, at the invitation of photographer Jamie Ferguson and writer Aleks Cvetkovic, a few friends got together for a weekend away in the Devonshire countryside. Obviously, social invitations and jaunts out and about have been thin on the ground for the past months, and even the simple act of packing a suitcase felt like blessed relief after being cooped up in town.
One of the first things we collectively decided was that a black-tie evening should form the centerpiece to the weekend. Jamie and Aleks had managed to book a rather grand Georgian country house for the proceedings, and it seemed appropriate to give our evening wear a much needed airing.
Of course, 'normal' black tie invitations come with a certain level of expectation. The hosts set the tone in this regard, along with the type of event the invite promises. This weekend was nothing of the sort. In the company of friends, shorn of social responsibility, and being specifically in a group of chaps who pride themselves on how they dress, all bets were off in terms of how the rules of formal wear could be applied.
It was fascinating to see how varied the interpretations were, and how much the fellows' personal style seeped into their ensembles. Here are four I'd like to focus on.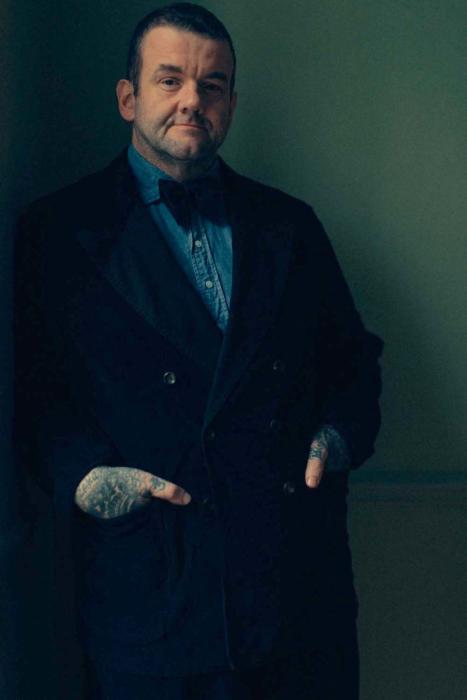 Benjamin Phillips
I'm sure a lot of readers will be aware of Ben from his tenure managing the Drake's store in London. Ben's quiet, polite demeanour creates a wonderful juxtaposition to his authoritative presence and personal style.
After four years of flying the sartorial flag for Drake's and wearing a suit and tie everyday, Ben's new role managing a Brazilian Jiu Jitsu academy calls for a more relaxed and 'athleisured' approach. The black tie invite offered him a chance to both dress up beyond the remit of his everyday pursuits, and display his new laidback sensibility.
Ben wore a made-to-measure DB dinner jacket with peak lapels - in the rarely seen make up of black corduroy and matte-cotton facings.
Made for him by Drake's, the cut very much followed their house style: unlined with a natural shoulder, and with the smaller ticket pocket nestling in the larger patch pocket. The theme was continued with the same cotton being used in lieu of grosgrain or silk in the evening stripe of the matching cord trousers.
A lovely play on the notions of formal and informal, corduroy has a similar sheen and handle to its more elegant cousin velvet, but is of course more often used for hardy outdoor pursuits. The informality continued with a pale-blue chambray button-down standing in for a dress shirt, while a heavy jacquard-weave bow tie with a plush diamond motif from London-based maker Labowtique echoed the deep undulations of the cord.
The ensemble was finished off with a pair of black velvet Albert slippers with the Prince Of Wales Creasy embroidered in bullion - from Broadland Slippers, with bare ankles.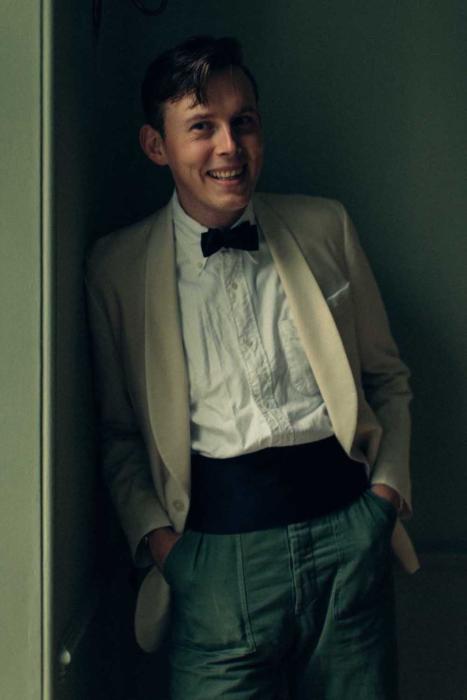 Jake Wigham
I mentioned Jake Wigham in my last column for Permanent Style. A shirtmaker based in East London, Jake has an encyclopaedic knowledge of classic Ivy/prep style and how it cross-fertilises with the British youth cultures of the 60s and early 70s - most notably in Mod, Soulboy and Suedehead subculture.
The shirts he makes are imbued with this passion, taking the classic six-button Brooks Brothers button-down 'polo' shirt with its unlined collar and roomy fit and offering his version made-to-order.
His take on black tie was full of allusions to these elements. The vintage off-white dinner jacket in a slubby tropical wool was made in the late 1940s by Burton. He paired this, perhaps surprisingly, with US Army- issued OG107 'Baker Boy" trousers. Perhaps more surprisingly, however, the washed olive green was wonderfully harmonious underneath the pale ecru of the jacket.
One of his own white button-down shirts was worn artfully wrinkled and unironed (in bona fide Ivy fashion) with a small batwing bow in matte satin and matching cummerbund, there were white socks and loafers by fellow london brand Horatio, and all worn with pennies in the vamp cutout, naturally.
What made the whole look work for me was the vintage details in the combination of youthful collegiate stylings and militaria. The overall look would not have seemed out of place in a Princeton yearbook from the 1950s, yet did not look costumey or contrived in any way.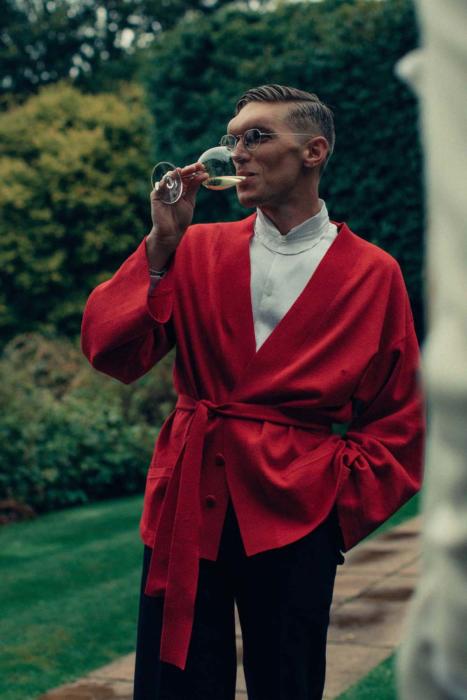 Scott Simpson
Scott Simpson is owner of the brand Scott Fraser Collection. Another devotee of vintage clobber, Scott came up similarly through the Mod and Soul subcultures, but his brand finds its expression across the decades.
Scott chose the Bryceland's white linen Farmer's Smock for the only bow tie-less black tie rig of the weekend. By tucking in the smock's long tails, he emphasised the dressier elements of the item, drawing on its similarities to old-fashioned formal shirts with its trapezoid bib front and soft stand collar. The black dress trousers, white socks and tassel loafers grounded the outfit and let the real hero piece sing out.
The one item that brought exclamations from the rest of the guests, Scott's choice of a vintage wool kimono-style wrap jacket was bold and adventurous.
This extremely rare piece of men's leisurewear was made by the celebrity designer Oleg Cassini. Cassini is remembered primarily for his womenswear, making gowns for Jackie Kennedy when she was First Lady. Scott stumbled across the piece while searching for inspiration for his range of Italian knit shirts.
What made the rather eccentric kit work for me was the simple colour palette of black, white and jewel-tone red, lending the outfit the formality of an officer's mess rigout.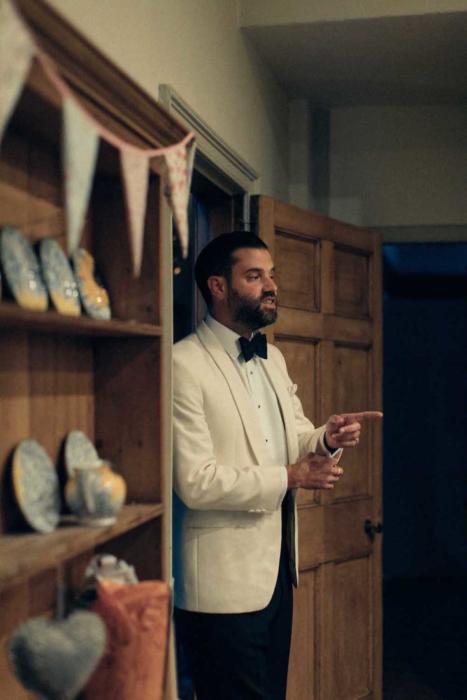 Tom O'Dell
Perhaps the most conservative look of the weekend, Tom's choice will resonate with more traditional readers.
Its simplicity and single-minded smartness showed Tom's personal style to a tee. Tom works primarily as a stylist and dresser in film production, and while knowledgeable about period detail and dress, I would say his personal look falls somewhere between heritage brands and more contemporary looks - so perhaps mixing Barbour jackets and gun-check overcoating with Margaret Howell knitwear and Paraboots.
Like Jake, Tom went for a vintage cream shawl-collared tuxedo jacket but, until Jake's take, let it ring clearly with more classic companions: black dress trousers, a white dress shirt with black studs on the placket, a medium-sized black satin silk bowtie with pleated velvet cummerbund, again handmade by Labowtique, white silk pocket square, black socks and loafers.
Understated, elegant and straightforward.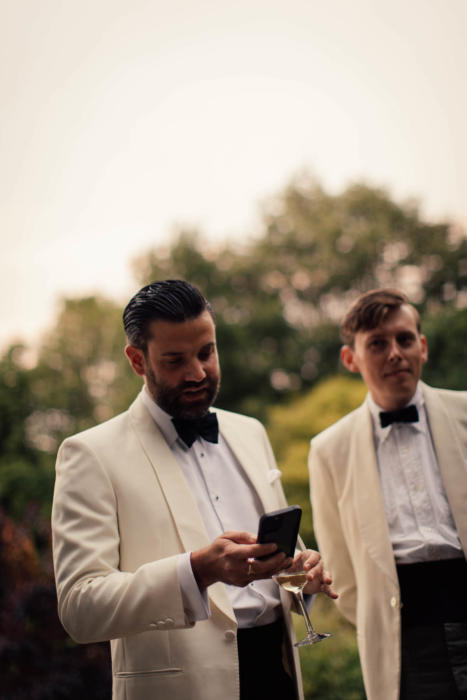 'Creative black tie' is a phrase that can really raise the hackles. It conjures up nightmarish visions of the gaudy and the garish, embodied by the horror that accompanies seeing photos of the Met Gala every year. Black tie's key function is that of a 'great equaliser' - a failsafe benchmark to be adhered to for both convention's sake and the tried and tested code of what 'works'.
But there are those of us of a more extravert demeanour who enjoy butting up against that with a gentle sense of brinkmanship. Deviation, to my mind, should be approached with caution and mindfulness. With experience and confidence, you can take the essence of what you find comfortable and resonant in your day-to-day wardrobe and also apply it elegantly to formal wear.
Now what the hell am I going to wear to the cocktail party on Saturday?