Great as Instagram is, a definite flaw is its lack of an effective archive. There's no way to search old images, so unless you save an image yourself, you can't find old pieces or browse effectively.
Just as important a frustration – for me – is that images cannot be grouped together. There are no larger features or presentations of a set of looks, which could present a certain outlook to the reader.
As a small attempt to address that, I thought I'd try an experiment with Peter of the account @UrbanComposition. We selected a group of his images together, with the aim of creating something more helpful and perhaps long-lasting.
By discussing the looks (and how they relate to each other) we also hope to be able to provide greater depth and analysis than you ever find on Instagram.
This selection is intended to demonstrate how you can dress well across a range of activities: from work to leisure, manual labour to formal events.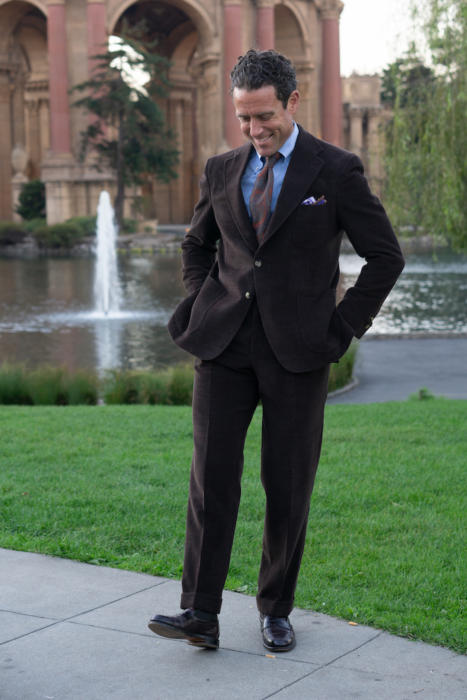 1. Suit and tie
"This suit is an example of how I dress for smart occasions, in particular for religious meetings, which are twice or three times a week. I've done that ever since I was a kid and it's a nice reason to wear a suit and tie.
The cloth is actually a wool corduroy, around 10oz. I don't know the mill, but being wool it has more natural stretch than cotton, which makes it really comfortable.
It was the first suit I had made by my now-current maker I Sarti Italiani, a workshop in Palermo, Sicily. I have family in Sicily so I go fairly often, and I stumbled across this place following a recommendation from the hotel.
They make everything from low-quality, fused RTW all the way up to full bespoke. With this first commission, I had it done in a week while I was there, with one fitting. It was pretty good after that, though I later sent it back for some small changes."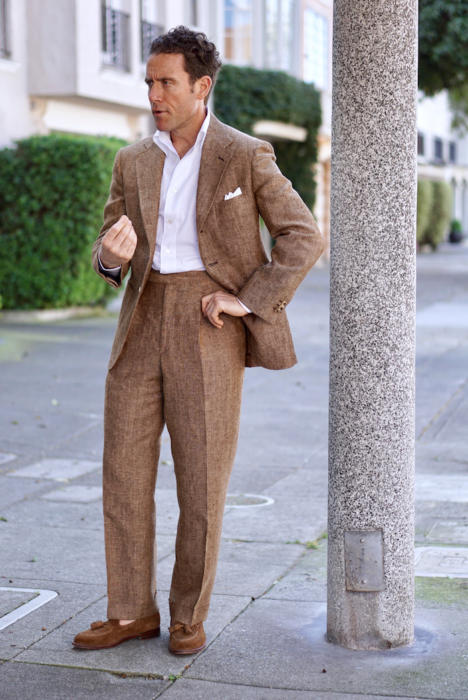 2. Casual suit
"I usually wear a tie with a suit, but I don't mind taking it off at some point in the day – usually because I'm hot. The day I was wearing this it was roasting, and I ripped my socks off too. It was unusual for a San Francisco summer day, above 30 degrees.
We were going out to dinner, I think, and that's when I took the tie off. I prefer to do that rather than remove my jacket when I'm hot, though my wife thinks it's more logical to take the jacket off. I prefer keeping the jacket because the suit still feels complete.
The shirt is from 100 Hands, and in a one-piece collar style so I think it works better without a tie than a standard collar. It looks less like a dress shirt.
The suit was the second full one that I Sarti Italiani made for me, and it's a little more classic now. Longer jacket, slightly fuller trousers.
The fabric is the 'summer tweed', something Derek at Die Workwear! did a while ago. I don't have many formal suits – they're mostly casual like this: tweeds, flannels, linens and plaids."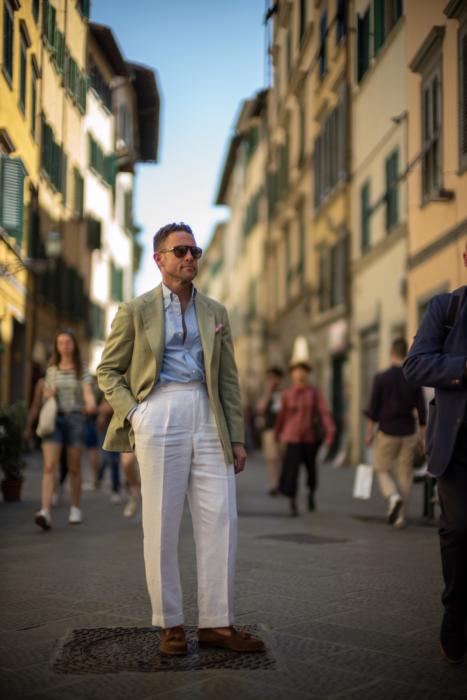 3. Jacket and trousers
"This was at Pitti recently, which I guess is it's own special occasion. Having that many buttons undone on a shirt would be ridiculous at any other time, but it was hellishly hot – as I'm sure you remember.
The trousers are 15oz linen, part of a suit, which wears surprisingly cool. Perfect for San Francisco actually.
The jacket is a vintage bolt from Hardy Minnis Riviera. I normally like cloths with more texture and this is rather smooth, but the colour appealed. It was a little out of my comfort zone, but then that does make it easier to convince my wife about – at least it's different to everything else!
I like white trousers and wear them a lot – those and tan. I have quite a few brown and tan jackets, and finding trousers to go with them can be tricky. But white always works. The closest for versatility is probably the lightest grey fresco."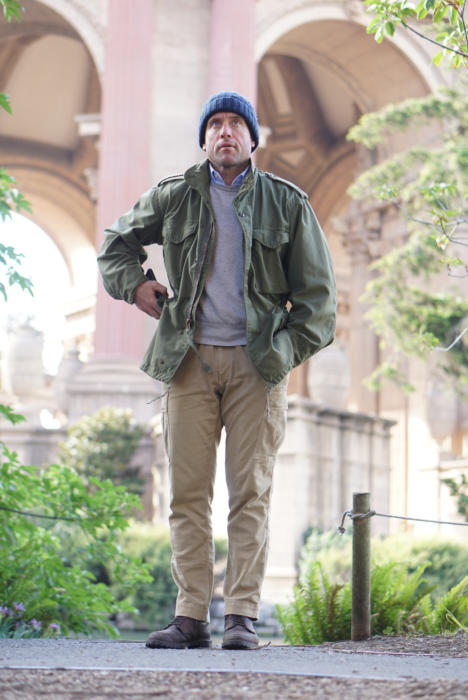 4. Casual wear
"This is what you'll see me in most of the time. When I'm not at work, when I'm not at a meeting or on a date. It's casual, and very American: the khakis, the Alden boots, the M65.
Actually, I've just noticed that all the shoes in these images are Alden – apart from when I'm on holiday. Nearly all my shoes are Alden or Saint Crispin's.
I know you said that a lot of readers ask about how they take their love of tailoring during the week, to weekend wear. Well I guess one common thread with me is that the colours are all muted – the khaki, the grey, the olive. I find generally that guys are more likely to stand out through colour than cut, so I tend to keep that subtle.
In fact the colours are pretty similar to tailoring – you could wear tailored khaki trousers, green jacket, blue shirt and brown shoes. And another thread is that all the pieces and the styles are very classic: the blue oxford button-down shirt, the sweatshirt and so on."
5. Casual wear with jeans
"I guess this might be one step down on the casual ladder, because it's with jeans. Again, it's something I wear a lot when I'm not working or dressed for a special occasion.
I really like coats – ulsters, top coats, anything – because they're a nice way to smarten up a casual outfit (as here) but also to casualise a suit. With a suit, the coat makes you look just smart, somehow, rather than dressed up.
In this image the coat smartens up jeans, boots and a shetland sweater. The tweed coat is still very casual, but smarter than knitwear or that M65 from the previous image.
I often buy casual wear that uses interesting patterns or materials – or with heritage. The coat is from Abercrombie & Fitch for example, which I would normally never shop with, but they did this one coat in an Abraham Moon cloth that I loved. And the shetland is from J Press, which has been doing sweaters like that for a long time."
6. Work wear
"I'm a construction worker and foreman, so this is what I wear for work every day. If it's really cold I'll wear a hoodie, but usually I wear layers, so I can take them off when it gets too hot. It might be freezing in the morning on the 20th floor of a building with no walls, but then much hotter later.
It's great that I get to wear clothes like this as well as tailoring – I'm fortunate to have such a varied life. I wear canvas double-knee trousers, a denim jacket (this one's actually reversible, to wool on the other side) and a chambray shirt.
I often get asked whether fashion 'workwear' holds up to actual work. Well, the broad answer is that yes it often does, but you don't need that expense. You need cloth that's practical, yet hard-wearing (it's always the cloth that goes, not the seams).
When you spend more on workwear, what you usually get is an interesting material or manufacturing process – like hand-shuttle looms – rather than longevity. There's cheap, disposable workwear of course, but if you jump from a $200 pair of work boots to $400, you don't get longevity, you get an interesting leather or a company that pays its workers more.
Generally with workwear I have to rotate things out after three years, and put them in my casual wardrobe – but then I like casual clothing that looks really beat up, so it works well."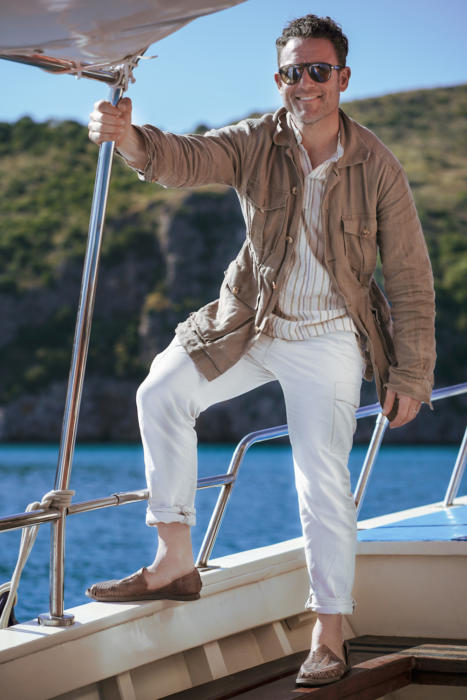 7. Holiday
"When I'm on vacation I think I tend to wear things that have a lot in common with tailoring, just in more relaxed styles and perhaps some casual elements.
So here I'm wearing a linen safari jacket, a shirt underneath and cream trousers. But the safari is very light and loose, the shirt is not tucked in, and the trousers are a combat style with pockets (though still quite flush to the leg – the bulk of the pocket is at the back of the leg, though you can't see that here).
With shoes, I like to cover my toes. After so many years of work, my toes are pretty horrible – little children would run screaming if they saw them. So I wear closed-toe sandals, like these huaraches.
The jacket is from Ascot Chang. Everything has to have pockets, I hate carrying sunglasses on my head on in my pants pocket. I'll just sit on them and break them."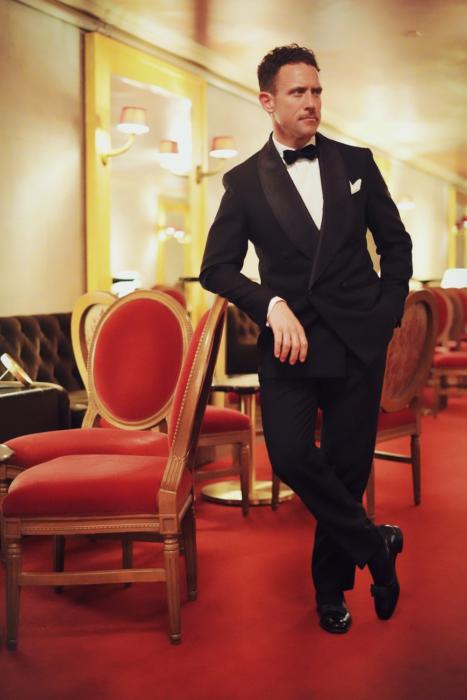 8. Black tie
"My wife and I go to the Opera or Symphony perhaps four times a year, so that's a great excuse to wear black tie.
These days I'd say perhaps a third of the audience wears black tie, depending on the day of the week. Another third wears suits or a jacket and trousers – making some kind of effort – and one third wears anything at all, perhaps a tie-dye T-shirt and shorts. There's no requirement to dress up, just a tradition.
The tuxedo is from Eidos, the shoes are Alden, and the shirt is Borelli. I can't remember where the tie is from – it might be vintage.
Looking back over all these shots, I think the biggest mistake people make is treating casual clothes like tailoring. They need to look after suits; they need to beat the hell out of casual wear.
My advice would be to get one pair of jeans, one pair of khakis, perhaps even just one sweater. And wear them until it really looks like you've worn them. They should be an extension of your personality."
You can follow Peter on Instagram @UrbanComposition.
I Sarti Italiani is currently starting to travel outside of Sicily for the first time, to San Francisco. Suits start at €2000 plus VAT and cloth.